WWE Raw Results and Report Card 2/25/13: Cena vs. Punk, Brock Lesnar and More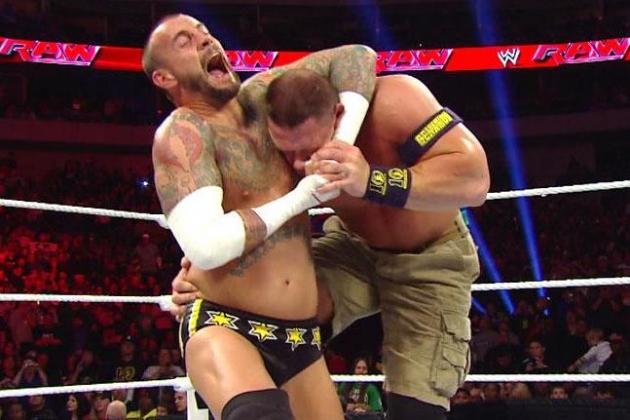 via WWE.com
We are officially on the road to WrestleMania now, and the action is picking up in a major way. This was an odd edition of WWE Raw. The filler and comedy material was awful and soul sucking for the most part.
But the good stuff? It transcended the variety show format and entered the realm of the truly special.
Brock Lesnar is back—and so is HHH. These two titans, it appears, will take their feud right into WrestleMania. The action was as intense as ever between the two, and they will be on a mission to steal the show right out from underneath The Rock.
Good old Dwayne, by the way, now officially has a dance partner. John Cena, in one of the best matches in Raw history, pinned CM Punk in the middle of the ring to punch his ticket to the big show. Finally, it's settled—The Rock and Cena will go head to head one more time: icon against icon.
Of course, those weren't the only two segments on this show. If they were, this would have been a tremendous hour of television. Unfortunately, Raw is a whopping three hours. And that means you take the good with the bad.
Which was which? I've graded every segment to answer that question, whether it was rhetorical or not. Disagree? We can go one-on-one in the comments.
Begin Slideshow

»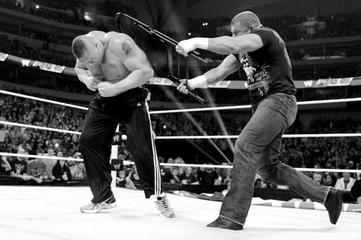 via WWE.com
After all these years, Vince is still using "No Chance" as his theme music. That, friends, is consistency.
Vinnie is looking for a fight, and Heyman is ready to deliver. He says, despite being positioned as a wimp on television, he's all man. Heyman cheap shots Vince, but the Chairman of the Board, crutches and all, one hip and all, turns the tables.
And then business picks up.
Brock Lesnar hits the ring. But before the former UFC champion can act, Triple H, sporting a new haircut, is there for the save. It takes him like five minutes to get down to the ring—lucky for Vince that Brock doesn't seem to be in any particular hurry either.
The men go after it hard. Brock is busted open the hard way on the steel ring post but gets revenge with an F-5 on a ringside table. Brock brings a chair into the ring, but HHH catches him with the spinebuster, a chairshot, and sends him scurrying.
Key Quotes: "Ladies and gentlemen, give it up for the Ultimate Fighter Paul Heyman." —Vince McMahon
"Tonight you're going to see a one-legged man in an asskicking contest. I have waited my entire life for this fight." —Paul Heyman
"I assure you, Vincent Kennedy McMahon, I am all man." —Paul Heyman
"Before we fight, before I do this to you. I just want to come and say straight to your face..." —Paul Heyman, right before delivering a cheap shot.
"Oh my God." —Michael Cole as Brock Lesnar's music plays.
Grade: A. Wow. I know a lot of people are tired of watching Brock and HHH, but I'd be happy to see wrestling that intense each and every week. Every Raw. Every SmackDown. Every pay-per-view. Feed me more. Predictable? Sure. But sometimes predictable is best.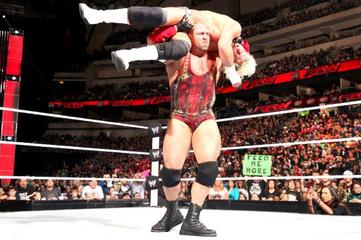 via WWE.com
Ryback is mad. Frustrated. Angry.
That's a storyline, but probably a shoot as well. After all, he's plummeting down the card at breakneck pace.
Ryback was in pure squash mode until "Big E" Langston evened the odds. Nothing, however, could help Ziggler in this match. Not Monday night. Not with Ryback in a "mood." A Shell Shocked put poor Dolph out of his misery.
Key Quotes: "How do you combat the flat out power of Ryback." —Michael Cole.
"What goes up must come down." —Jerry Lawler as Ryback held Ziggler up forever on a vertical suplex.
"I thought Ziggler had won this thing." —Lawler, his voice not quite making me believe it.
Grade: B. There was a great spot that saw Ziggler fly thought the air like he was going to deliver a Stinger Splash. Instead, he hit a brick wall by the name of Ryback. Other than that, this match was fairly pedestrian. If Ziggler does win the belt after cashing in Money in the Bank, man that will be a travesty of a title reign.
via WWE.com
CM Punk came out to the ring. His purpose was unclear. He talked about being more than a mere superstar. More than a legend. More than an icon.
He is a god.
Key Quotes: "Tonight is a night you will talk to your grandchildren about."
"Tonight is not about a match. Tonight is epic. But tonight is not about John Cena. And as much as you want it to be, tonight is not about the Rock...tonight is not even about WrestleMania. Tonight, obviously, isn't even really about the people. And as important and near and dear to my heart, the WWE championship...tonight isn't even about that. Tonight is about the one thing more important than the WWE championship... Tonight is about the future....tonight is about ME!"
"I am the best in the world. And the best in the world has earned the right to go to WrestleMania in the main event...I am an icon who walks among superstars."
"I am God."
Grade: C+. Punk swung and missed badly here. Maybe they are trying to get over that he is completely delusional? I'm not sure. But this, more than being a hot interview, seemed like filler. A main eventer should never have that feel.
via WWE.com
A lot of man meat in the ring as Mark Henry took on Great Khali.
Khali was trying to avenge Hornswaggle, but boy did he fail miserably.
Key Quotes: "Mark Henry's Hall of Pain is a traveling exhibit. It's actually an ambulance." —Jerry Lawler
"I ain't going nowhere." —Mark Henry
Grade: C+. Impressive finish as Henry picked Khali up like he weighed nothing. But that couldn't hide that this was just a squash match.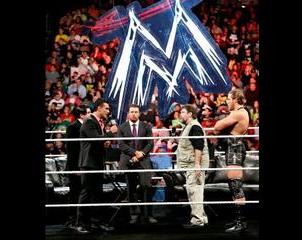 via WWE.com
WWE is pushing hard to get this angle over in the conservative media, taking on Glenn Beck head on. So far, it's been a dud. We'll see if it can get some traction.
Key Quotes: "We have 11 million undocumented workers in this country. And I call them undocumented because the politically correct crowd refuses to call them what they are—illegals." —Zeb Colter.
"You and your people drain us." —Zeb Colter.
"What is wrong with you? What is wrong with your people?" —Zeb Colter.
"When I talk, you listen." —Zeb Colter.
"Your time to talk is over. Now it is time for you to shut up." —Alberto Del Rio.
"America doesn't belong to you. America doesn't belong to me. This is the greatest country on earth because it belongs to everyone." —Del Rio.
"I don't like bullies. So if you two have a problem with me, and you have the cajones, why don't you do something to make us leave right now?" —Del Rio.
"We will see you at WrestleMania. We. The. People." —Jack Swagger.
Grade: B. As political pundits, these two are pretty good wrestlers. They really need to get Swagger more involved. He just stands there watching with a blank look on his face, and it kind of kills any momentum. Del Rio, as much as we want him to, isn't wrestling Zeb Colter. He's wrestling Swagger. Time for Swagger to jump into the fray.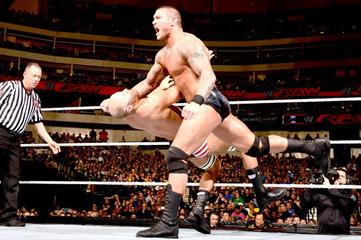 via WWE.com
Randy Orton has been a nine-time champion. That's more reigns than Harley Race. What's wrong with the world?
Orton beat Cesaro easily. The match didn't even continue through a commercial break. That's how you know you're watching a squash match.
Backstage Daniel Bryan tells Kane he could beat the Prime Time Players by himself. Not just by himself. Blindfolded. Kane says he could do it with one hand tied behind his back.
Vickie and Brad Maddox join the conversation, calling themselves Team Bricki, and make those stipulations official. I smell a five-star match coming.
Key Quotes: "You think Randy Orton is rounding into WrestleMania form?" —Jerry Lawler.
"I'm going to be blindfolded. I won't be able to see!" —Daniel Bryan.
Grade: Match: C-. That was really unfortunate. Cesaro has so much potential. I can't bear the thought of him in a jobber role. Interview: B. Team Brickie is already on my nerves, and this is their first official Raw appearance.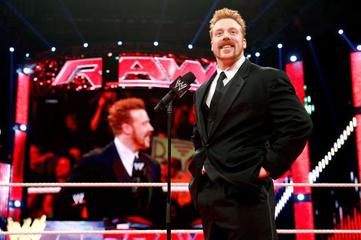 via WWE.com
Sheamus comes out to discuss the Oscars. Or so it seems. Really this is a chance for the WWE to show another commercial for Dead Man Down. And for Sheamus to mock Wade Barrett again.
Barrett comes out to confront him, but things don't get physical. Barrett, after all, has the premiere of the movie to attend.
Key Quotes: "This morning I woke up with a bone to pick with Hollywood...I have a problem with the Academy because they overlooked one of the greatest actors of the 21st century—Wade Barrett." —Sheamus.
"Look how Wade Barrett captivates the silver screen without even saying a word...he's so inspiring. So. So. So....out of focus." —Sheamus.
"We know the Irish love the color green. And it's never been more appropriate, with the amount of envy seeping out of Sheamus's pores." —Wade Barrett.
Grade: C. I have two words for you—not funny.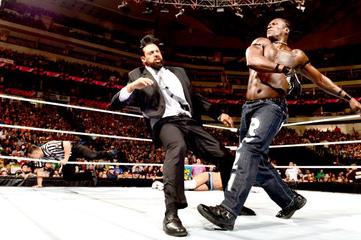 via WWE.com
Cody Rhodes and Damien Sandow have parted ways. That hasn't made them any more effective. R. Truth beat Rhodes, then took out Sandow who was sitting ringside on commentary.
Key Quotes: "That's not called disgusting. That's called getting crunk." —Jerry Lawler.
"He is a grown man. If he wants to grow a mustache, that is his right." —Damien Sandow on Cody Rhodes.
Grade: C. Truth is not good. Sorry if you're a fan. I'm just telling...the truth. See what I did there? Did you see?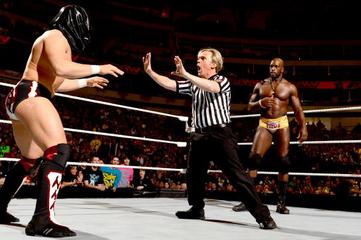 via WWE.com
Bryan had a trash bag over his head. Kane had one armed tied behind his back. Shenanigans ensued. This was really a weird match. It was set up for Bryan and Kane to lose thanks to the wacky gimmick. Instead, Kane cleaned house on the Prime Time Players and pinned Young with a chokeslam.
Key Quotes: "What is that blindfold? Is it a hefty bag?" —Jerry Lawler. It did appear to be a trash bag.
Grade: C. When you can't even have a competitive match when your opponents are blindfolded and/or have one hand tied behind their back and feuding with each other, it's time to consider a new career. What was the purpose of that match? Really awful television.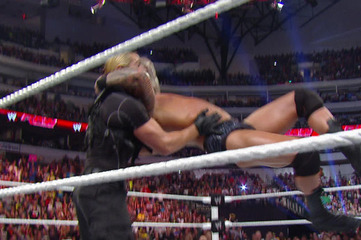 via WWE.com
The Shield is out and feeling awfully good about themselves. They ask who wants some? The answer? Sheamus.
He challenges them from the top of the ramp. Reigns and Ambrose take off to give him a whooping. Rollins lags behind, allowing Randy Orton to sneak up and RKO him. Looks like they are setting up Sheamus/Jericho/Orton versus the Shield at WrestleMania.
Key Quotes: "It's always got to get worse before it can get better. And believe us, it's going to keep getting worse." —Dean Ambrose.
"We're here to shatter your little comfort zone." —Ambrose.
"Stack every odd in the world against. We're going to stand here. We're going to fight. And we're going to win every single time....we're going to grind your bones to dust." —Roman Reigns.
"Is there no one else? Is there anyone else who wants to step up?" —Seth Rollins.
Grade: A. I'm a convert after being a skeptic for some time. I wondered if The Shield could work a match worthy of their push. They answered with flying colors twice. I'm excited to see this match at WrestleMania.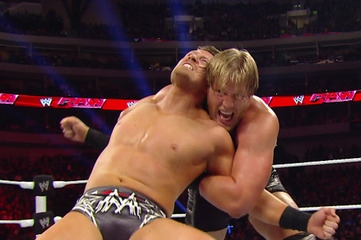 via WWE.com
Swagger and Colter weren't happy with the way Miz moderated their discussion with Alberto Del Rio earlier and let him know about it. Physically. That resulted in this match.
Colter and Swagger are all over this show. I'm not convinced the WWE universe is feeling them. He's certainly not getting a "main event" reaction. It's hard to go from opening act to superstar with no stops in between.
Key Quotes: "We the people." –Jack Swagger after planting Miz with a suplex outside the ring.
"Colter has Swagger believing in himself. Swagger is looking better than ever." —Michael Cole.
Grade: A-. This was a fantastic back-and-forth match. Swagger doesn't have much in the way of charisma, but I enjoy his new and much more aggressive ring work.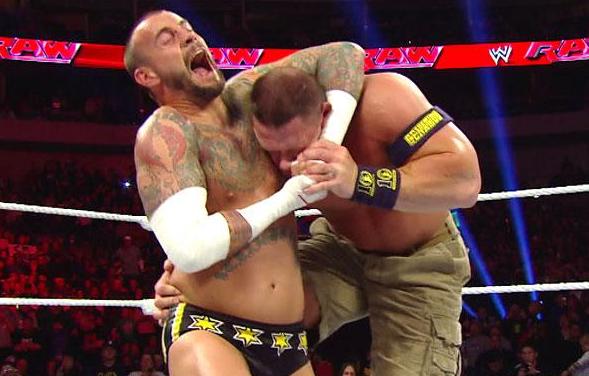 via WWE.com
We use the term "big fight feel" lightly when talking about the WWE. Usually it's overstated.
But not this time.
This wasn't just the best match on Raw in years. It was one of the best WWE matches I've ever seen period.
Key Quotes: "I don't know what the Rock is cooking, but I'm serving humble pie so I hope all my critics are hungry." —John Cena.
"Their time is up. Our time is now." —Cena.
"This match is for all the marbles." —Jerry Lawler.
"John Cena has every thing to lose tonight. CM Punk has everything to win." —Michael Cole.
"It was amazing." —Jerry Lawler.
Grade: A+. Some special spots here. Punk on Cena's shoulders, elbowing away. Punk ducking to avoid a flying Cena tackle. Punk with an amazing counter into the Anaconda Vice. Cena, determined, landing punch after punch. Cena's huge LygerBomb. Punk's piledriver. Cena's hurricanrana. This was incredible.