Bracketology: Analyzing Most Intriguing March Madness Contenders After Week 16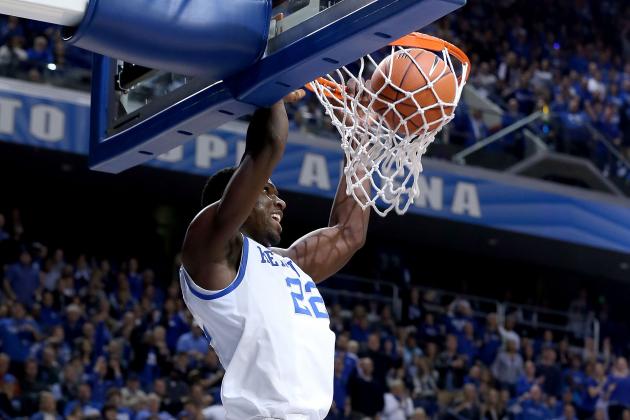 Andy Lyons/Getty Images

Every week of college basketball dramatically changes the outlook for the NCAA tournament.
With less than a month remaining until Selection Sunday, the committee is spending a lot of time watching to see what teams can do. Bad losses can burst a bubble, while good wins can clinch a spot in March Madness.
There are a lot of teams contending to be a part of the most exciting tournament in sports. Some are securely in, while others lost their chances a long time ago.
However, these bubble teams are worth a little extra focus as we predict which squads will make the tournament and which will not.
Begin Slideshow

»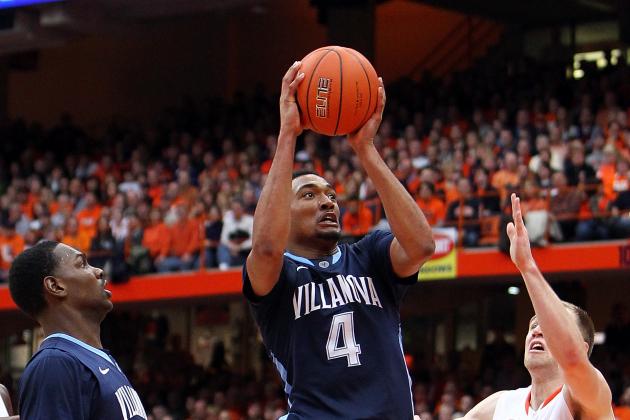 Nate Shron/Getty Images

Results: Win vs. Rutgers, 71-63; Win vs. No. 17 Marquette, 60-56
A little over a month ago, the prospect of Villanova reaching the NCAA tournament was downright laughable. However, few teams in the country have a better set of wins this year than the Wildcats.
With home wins over Syracuse, Louisville and Marquette, plus a road win over Connecticut, this team has as good of a resume of any other bubble team.
In addition, the Wildcats are closing strong, as they have won five of their last six games.
The bad losses are still there, including a horrible 18-point loss to Columbia, but this squad looks much different than it did earlier in the year.
Villanova can compete with anyone in the country, and that fact will put them into March Madness.
Prediction: IN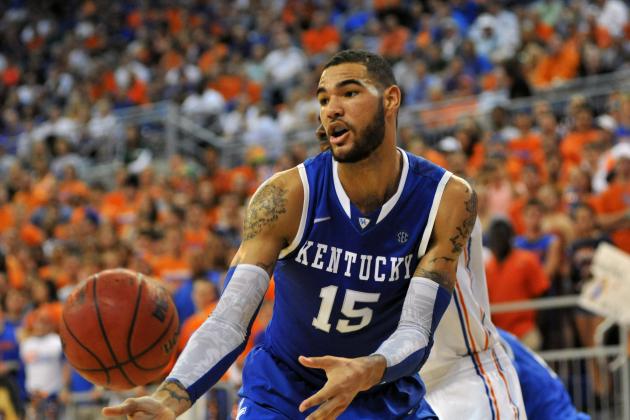 Al Messerschmidt/Getty Images

Results: Win vs. Vanderbilt, 74-70; Win vs. Missouri, 90-83
For Kentucky, the next few weeks is not only about wins and losses. The team needs to show that it is good enough to compete without Nerlens Noel, who is out for the year with a torn ACL.
As of last week, the Wildcats did not look even close after losing to Florida and Tennessee. However, they bounced back this week with a decent win over Vanderbilt and a big win over Missouri.
Even without beating a ranked team, Kentucky might have had the best week of any bubble team in the nation.
The schedule is relatively easy to close the year, save a rematch against Florida. If this squad can win the games it should, the selection committee will have no choice but to put it in the field.
Prediction: IN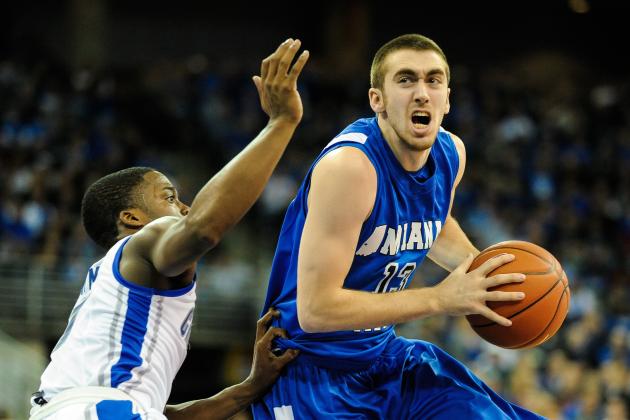 Eric Francis/Getty Images

Results: Loss vs. Wichita State, 66-62; Win vs. Iona, 65-64
There are a lot of people who love promoting the smaller schools to be included in the tournament, and cite great postseason performances like Butler and VCU as reasons for inclusion.
It is true that Indiana State is capable of great things—wins over Miami and Ole Miss are very impressive—but that does not make it worthy of a bid.
The Sycamores lost a chance to get a good win against Wichita State, but the bad losses are the thing that will keep this squad away from March Madness.
They are 9-7 in conference and have lost to each of the worst five teams in the Missouri Valley Conference. This type of resume would be suspect in any conference in the country.
Mid-majors need to be held to the same standard as the usual powers, and the bad losses would keep any team out.
Unless Larry Bird walks through that door, Indiana State is not going dancing.
Prediction: OUT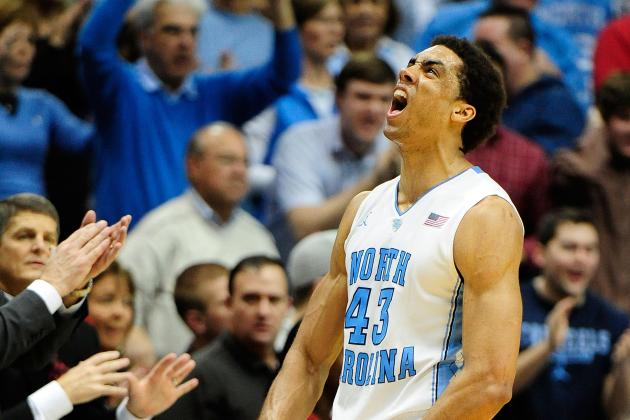 Grant Halverson/Getty Images

Results: Win at Georgia Tech, 70-58; Win vs. North Carolina State, 76-65
North Carolina does not seem like a bubble team. The Tar Heels are loaded with talent and have generally been winning the games they should.
Even the computer numbers have been kind, as they are currently No. 21 in the RPI.
However, UNC had few impressive wins entering Saturday. Aside from a victory over UNLV in December, the team's next best win was probably against Maryland.
That made the matchup against North Carolina State so important. While it was closer than the final score indicates, Roy Williams and his team showed what it can do when it plays up to its potential.
If the Tar Heels lost on Saturday, it would have made the final game against Duke much more interesting. Fortunately, winning that battle will just be a luxury at this point.
Prediction: IN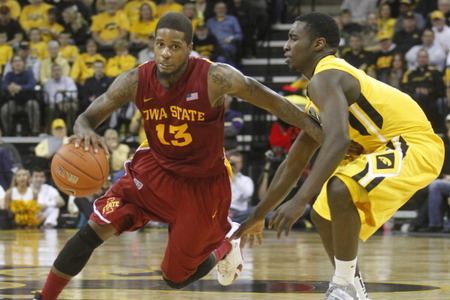 Matthew Holst/Getty Images

Results: Win at Baylor, 87-82; Win vs. Texas Tech, 86-66
Beating the teams you should beat and sneaking a few wins over the top teams in the conference is the perfect recipe for an at-large bid.
That is exactly what Iowa State has done for the most part this season.
Of course, losses to Texas and Texas Tech will hurt a little bit, but both were close losses on the road that can be forgiven.
However, this week's win over Baylor was important because it showed that the Cyclones can beat a good team away from home. Before this, the best road/neutral win was against bottom-feeding TCU.
Iowa State has a tough road ahead over the next three games with home battles against Kansas and Oklahoma State, plus a road game against Oklahoma. Fortunately, the breathing room this team has built up will only require one win out of three to feel comfortable heading into Selection Sunday.
Prediction: IN
Christian Petersen/Getty Images

Results: Win vs. Washington State, 69-57; Loss vs. Washington, 68-59
It is never good when a team lower in the standings sweeps a pair of regular-season games from a bubble team. Unfortunately, that is what happened to Arizona State, as it lost to Washington for the second time this year.
On the other hand, the Sun Devils have two wins over a solid Colorado team to go along with a good win over UCLA.
The problem is that things get more difficult from here on. Arizona State closes the regular season with three straight road games against UCLA, USC and Arizona. Two wins in this stretch will likely clinch a bid, while one would make things interesting.
While the Pac-12 is better than it has been over the past couple of years, 10-6 in the conference with a few bad losses might not be enough.
Prediction: OUT
Jamie Squire/Getty Images

Results: Win at Eastern Illinois, 80-49; Win vs. Ohio, 81-62
Belmont is currently leading the Ohio Valley Conference, but Murray State is the type of team that could challenge for that automatic bid.
Losing in the conference tournament will definitely force the committee to make a tough decision regarding the Bruins for an at-large bid.
Their current RPI of 23 is extremely impressive on its own and usually good enough to reach the NCAA tournament. Pair that with a good win over Middle Tennessee and the profile looks good.
This team also made a huge statement win in Bracket Busters with a 19-point victory over a solid Ohio team that had won 12 of 13 entering the game.
Although the Bruins had a setback last week against Tennessee State, they are still on track for a bid to the postseason.
Prediction: IN