The 2012 season has officially ended, and the writing of a new tale will commence less than two months from the present.
The 84th edition of Notre Dame's storied Blue-Gold Game, the program's annual finale to spring practices, will be the first opportunity fans will have to see the Irish in live action since a grotesque 28-point loss to Alabama in the BCS National Championship Game.
Despite the painstaking result, the Irish have officially returned to the forefront of the annual national championship race, which begins with spring practices and the Blue-Gold Game.
Where: Notre Dame Stadium (South Bend, Ind.)
When: Saturday, April 20, 2013, 1 p.m. EST
Watch: NBC Sports Network
Position Battle to Watch: Running Back
Notre Dame will have an open audition for the starting running back position, as two former starters, Cierre Wood and Theo Riddick, have taken their talents to the NFL.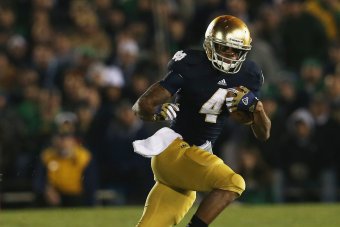 Jonathan Daniel/Getty Images
Typically, the loss of two stellar running backs would be particularly damaging, but such is not the case for the Irish this season. They boast a stable of backs, which includes George Atkinson, Amir Carlisle, William Mahone and Cam McDaniel.
Those four will be joined by incoming freshmen running backs Greg Bryant and Tarean Folston in the fall, who will each make a serious push for playing time.
Expect to see Atkinson and Mahone shoulder the load of the carries during the Blue-Gold Game, particularly in the first half of play.
Area in Need of Most Improvement: Quarterback
For the first time in the Brian Kelly era at Notre Dame, a quarterback derby won't be a storyline of spring practices.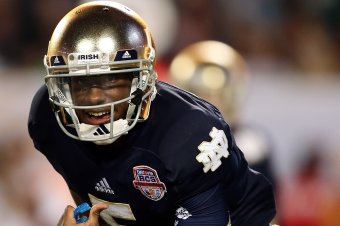 Streeter Lecka/Getty Images
Everett Golson locked down the starting gig during the Irish's 2012 run to the BCS National Championship Game, theoretically eliminating former starter Tommy Rees' chance of reclaiming his old job.
While Golson didn't commit the momentum-killing turnovers that Rees had such a penchant for, he struggled with consistency, which isn't unusual for a redshirt freshman in his first season as a starting quarterback.
Golson must improve his 58.8 completion percentage in 2013 for the offense to move at a more efficient and consistent clip, as well as his ability to make a variety of throws to all spots on the field.
What to Expect in 2013
For the nearly 21 years this writer has been alive, Notre Dame has entered each season with mountainous, and often unrealistic, expectations. The college football pundits talked time and time again about the Irish's chances of ever returning to national championship contention.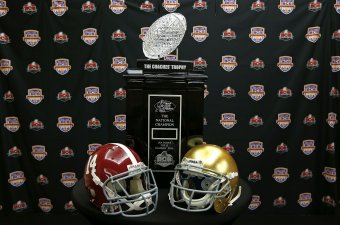 Mike Ehrmann/Getty Images
Well, with the Irish's appearance in last season's title game, those mountainous expectations will reappear leading up to the 2013 season, and they'll be legitimate.
And with a schedule that, at present, doesn't appear to be "daunting," as the 2012 schedule was deemed to be, a run at second consecutive undefeated regular season isn't out of the question. The one looming date on the calendar that should have Irish fans worried is Nov. 30, when Brian Kelly and Co. will travel to Palo Alto, Calif., to take on the Stanford Cardinal in a game that may be a de facto championship qualifying game.