Texas Going with Uptempo Offense Is Mack Brown's Last Stand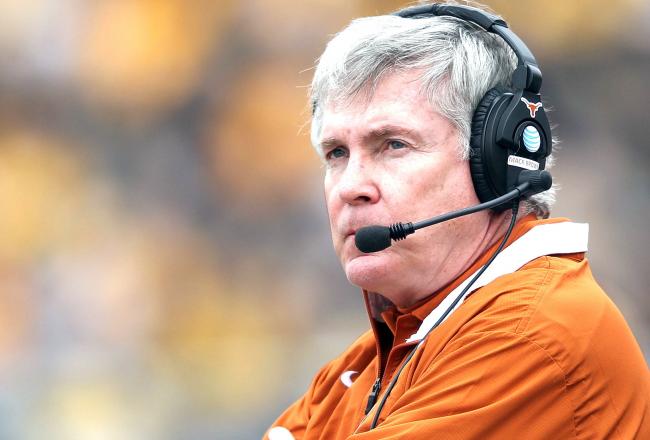 The Texas Longhorns kicked off spring practice this week, and as both the Austin American-Statesman and the Ft. Worth Star-Telegram tell us, the 'Horns are looking to pump up the tempo.
This is it, folks: With Major Applewhite running the show, this is Mack Brown making his last push to return to prominence.
Following the loss in the BCS Championship Game to Alabama, Mack Brown led a call for revolution. He wanted to use Garrett Gilbert to get back to the pro-styled attack that had just beat him for the crystal football. After recruiting to play the spread with the likes of Vince Young and Colt McCoy, Brown wanted to flip the switch and get back to pounding the rock and throwing play-action passes.
Oh, and it failed. Failed miserably.
The 5-7 season that ensued was Brown's worst since he was in Chapel Hill trying to make the Tar Heels respectable.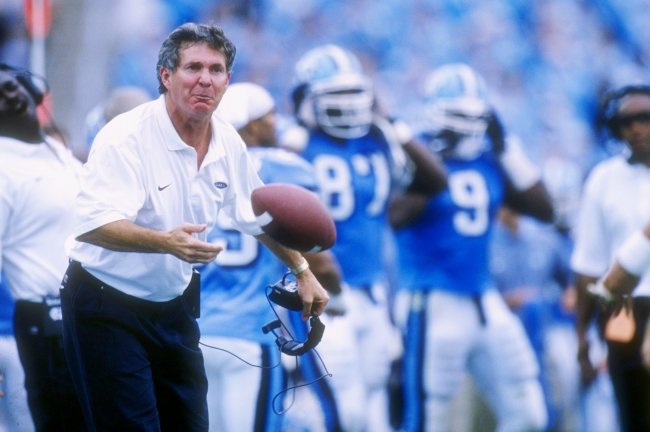 Doug Pensinger/Getty Images
Over the next two seasons we saw Brown fire people, change his recruiting strategy and struggle to find a quarterback. On the field, the team yo-yoed between a power running squad that wanted to beat people up and a team that dabbled in the spread and gadget plays.
It worked, sort of. Over the last two years, the 'Horns have won two bowl games, compiled 17 total wins and found themselves ranked during both seasons. They were even ranked in the Top 20 to finish the 2012 campaign.
The Alamo Bowl was nice but not what Texas wants or expects.
Still, the fact is that Texas is not where it wants to be. Not even close.
This is a team that has not been close to winning a Big 12 Championship since 2009. This is a team that's watching hated rival Texas A&M skyrocket to success—with a Heisman superstar on the field and outrecruiting the Longhorns off the field. This is a team that went out and got its teeth kicked in by Oklahoma in back-to-back years to the tune of 118-38.
This is a team that has to make something happen, and according to Mack Brown, that something is cranking up the tempo. From Brown, via the Statesman:
We'll have fewer formations. We'll substitute less because one of the real advantages right now for defenses is that when you substitute, the defense also gets to substitute. With uptempo offense, especially in this league, people got to where they couldn't call defenses.

You got so you couldn't substitute and you were wearing people out, much like what happened to Oregon State at the end of our ballgame.
And Brown is 100 percent correct. When the defense isn't allowed to substitute, the opponent can't rotate in package players, can't get fresh bodies into the game and has to stay in base packages or slip into chaos.
Do you think this latest move by Mack Brown is his final play for success?
Taken by itself, it sounds really, very, nice and good. However, when you look at it through the prism of the last few seasons in Austin, it's just another shot in the dark that Brown hopes hits successfully.
In 2010, pro style didn't stick to the wall, so what's next? In 2011 and 2012, Texas can't stick to the pro-style wall, so what's next? In 2013, let's try tempo—perhaps that will stick.
For Longhorns fans and Mack Brown's sake, I hope it works. The blending of a power rushing attack with some tempo-based principles can be exciting to watch. But, so too, could the personnel packages that afforded power rushing and played to each back's strengths.
In other words, the problem wasn't the theory. It has never been the theory. The problem is the execution of said theory, and the 'Horns full scale buy into the principles behind it.
When you look at tempo-based offenses like Oregon, Clemson and even Texas A&M, what you see is—win or lose, good or bad—those teams stick to their plan.
In Brown's case, sticking to the plan is going to be the true test. Not just in the spring but in fall camp and more importantly during the season. The 'Horns have lacked a certain "stick-to-itiveness" that makes an offensive system work.
Now, with the seat warming up and pressure being on, Brown has to hope this latest move is "the one" that works out for him.
He may not be around to try anything new in 2014.
This article is
What is the duplicate article?
Why is this article offensive?
Where is this article plagiarized from?
Why is this article poorly edited?

Texas Longhorns Football: Like this team?