WWE WrestleMania 31 and Beyond: Cities That Should Host Future WrestleManias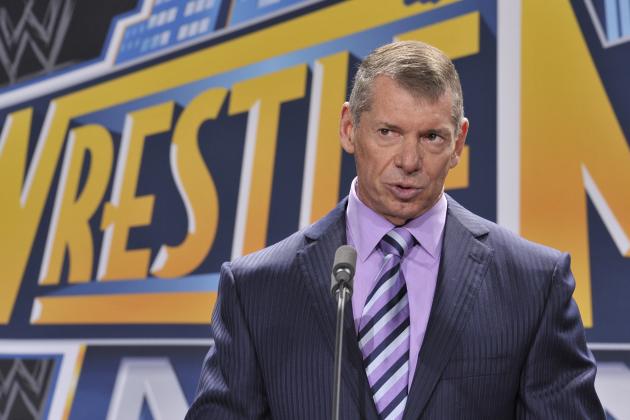 Michael N. Todaro/Getty Images

Should WWE decide to take their premier show to a new city for WrestleMania 31, 32 and beyond, there are a number of intriguing options that offer immense stadiums and attractive cities.
WWE officially announced on Monday that New Orleans and more specifically the Mercedes-Benz Super Dome will host WrestleMania 30. Check New Orleans off the list of awesome cities that have yet to host a WrestleMania.
With as much money as WrestleMania week brings in, winning the bid to host The Showcase of the Immortals is increasingly becoming an important financial move for cities across the country.
The locations on this list offer either warm weather or domed stadiums. They either have a rich wrestling history or represent a future market for WWE to tap or both.
While there are many deserving cities that could host for a second or a third time, this list is limited to cities that haven't hosted WrestleMania before.
Begin Slideshow

»
Ronald Martinez/Getty Images
Cowboys Stadium
The glitz and grandeur of Cowboys Stadium would be perfect for WWE and WrestleMania.
Vince McMahon reportedly (via PWTorch.com) wanted either WrestleMania 29 or 30 to be held in Arlington, but scheduling conflicts blocked that possibility.
Cowboys Stadium could pack in more than 100,000 WWE fans from around the world. You have to think McMahon is salivating at the thought of breaking the Pontiac Silverdome record of 93,000-plus.
The extravagance of the structure would aid to the grandness of the event as well. The building almost looks like the architects had WrestleMania, not the NFL, in mind when they designed it.
Perhaps even Jerry Jones could take part in this WrestleMania the way Donald Trump has in the past.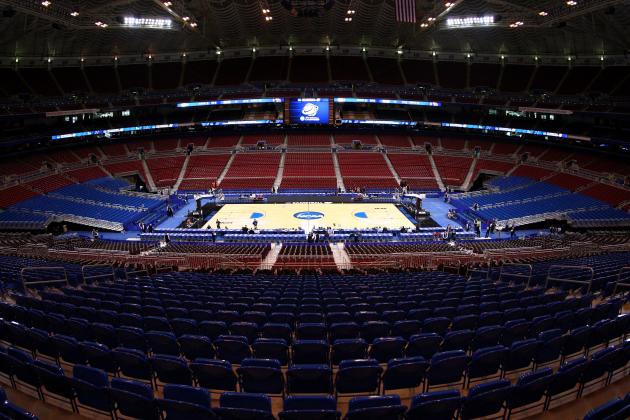 Chris Chambers/Getty Images
Edward Jones Dome before NCAA tournament games
St. Louis is a city rich in wrestling history. The home of Harley Race was the National Wrestling Alliance's hub.
River Front Times quotes Terry Funk as saying that St. Louis "was the best place in the world to wrestle."
Today's St. Louis fans showed how raucous they can be when the city hosted Raw 1000.
With a population of less than half a million, it's certainly not a large city; however, it offers a stadium that can hold over 66,000 fans. The fact that Edward Jones Dome is enclosed cuts out the cold weather issues that may cause problems for WrestleMania 29 in New Jersey.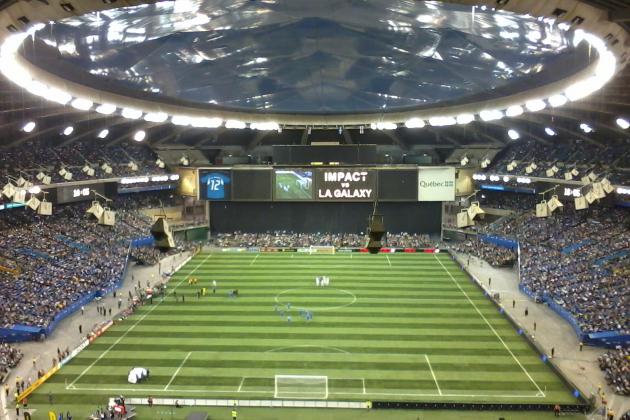 Stade Olympique (Photo from Wikipedia Commons, uploader Baiji)
WrestleMania has been in Toronto twice. Perhaps another Canadian city can follow Toronto's lead.
Montreal is both a North American city and a French city.
The host of the 1976 Olympic Games and the infamous Screwjob at the Survivor Series 1997 has been overlooked for major WWE events in recent years, but it deserves a second look. As Patric Laprade of Slam! Sports pointed out, "Montreal fans have always been known for their great reaction."
Aside from passionate fans, Montreal offers a unique stadium. The Stade Olympique (Olympic Stadium) in Montreal seats over 65,000. Its futuristic design provides a stunning backdrop to potential WWE action inside it.
Stephen Dunn/Getty Images

There's a reason San Diego came second in a Travel + Leisure ranking of the most attractive cities. It's a beautiful place year-round, marked by great beaches and postcard-worthy scenery.
Fans would love to gather here in the name of WrestleMania.
The warm weather would also allow WWE to hold its premier event in an outdoor arena, namely the home of the San Diego Chargers, Qualcomm Stadium. Qualcomm can seat over 70,000.
A San Diego WrestleMania may have to wait for a new stadium though. U-T San Diego called Qualcomm "too outdated and low-tech to be Super Bowl-worthy." WrestleMania is similar to the Super Bowl in many ways and follows some of the same patterns in terms of finding a host city.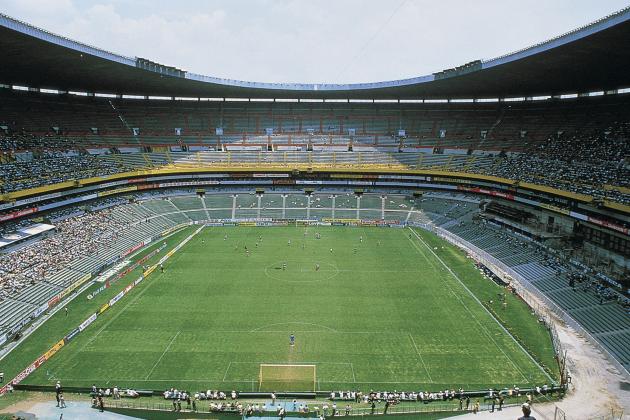 David Cannon/Getty Images
Estadio Azteca
As much as WWE would like to have WrestleMania in Europe, the time difference is too great for the logistics to work out. Mexico would be a doable compromise.
WWE would still get to expand its brand beyond the United States. It would still get to tap into a market that has a long tradition of pro wrestling.
In addition, Estadio Azteca (Azteca Stadium) can hold around 104,000 people, giving WWE another attendance record to claim. Azteca Stadium is a fitting location for WrestleMania's grandness. The massive structure has hosted both the Olympics and the World Cup.
Mexico City is also an exciting destination for American fans to travel to.
As a bonus, Alberto Del Rio and Sin Cara would get massive pops if they were included in the event.