Latest Salary Cap Breakdown for the Detroit Lions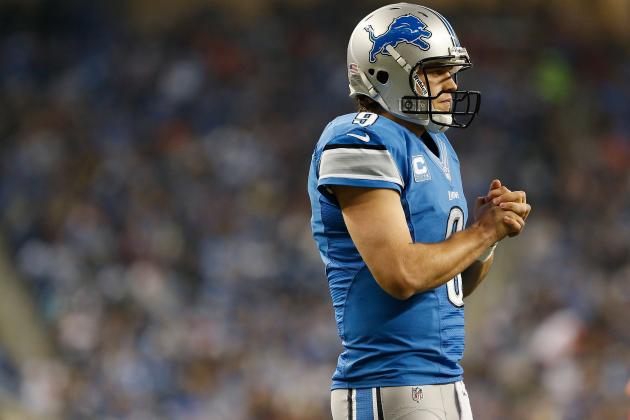 Gregory Shamus/Getty Images

To put it mildly, the Lions have...issues with the salary cap this year.
They cut Kyle Vanden Bosch and Stephen Peterman because their production wasn't at expectations, but they also had to do it just to comply with the 2013 salary cap figure.
The Lions are losing about a third of their roster to free agency, and yet they were still over budget for 2013. Where is that money, and how can the Lions get some of it back so they can actually put together a functional team next season?
That will be the focus of this piece: breaking down where the Lions' 2013 money is sunk, and what to do about it. Try not to panic, because to say some of these figures are ugly is an insult to ugly things. However, hopefully this will give an idea as to why we need, collectively, to stop talking about the Lions signing megabucks players like Greg Jennings and Andy Levitre.
The Lions currently sit at just over $119 million on what is reportedly a $121.1 million cap. Let's play "find the money."
Of course, we'll be starting with the biggest cap hit of all, with all relevant salary information provided (as usual) by Spotrac.com.
Note: Some figures will be noted as "dead." "Dead" money is guaranteed money being paid to players who are no longer on the roster. Yes, it counts against the cap.
Former training camp kicker Derek Dimke is one of those "dead" money players. The Lions owe him $2,500 in 2013, and I'm listing that here because the Lions have literally no other special teams players currently under contract, and it seems silly to dedicate an entire slide to Dimke's $2,500.
Begin Slideshow

»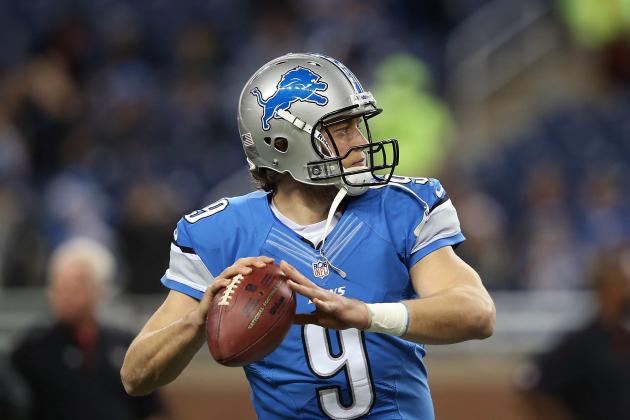 Leon Halip/Getty Images

2013 Cap Hits
Matthew Stafford - $20,820,000
Shaun Hill - $3,250,000
Kellen Moore - $481,250
Total - $24,551,250
It's no surprise why the Lions are so eager to re-work Matthew Stafford's deal. As it stands now, Stafford is taking up more than a sixth of the Lions' 2013 cap space by himself.
That's one-sixth of the amount of money allotted to 53 people, being taken up by one person.
This is the result of Stafford offering to re-work his deal in consecutive years and take minimum salary for immediate cap relief. Eventually he was going to have to get paid, and that time is now.
Luckily, the Lions are content with Stafford, so they don't have any doubts as to whether or not they want to keep him long-term. But this is a quarterback due roughly $40 million in the next two years alone. That means his next contract will need to include at least that much guaranteed.
Stafford and his agent hold absolutely all the cards in this negotiation, and if the Lions truly want him to re-work his deal in the name of immediate cap relief, it's going to result in Stafford's long-term figure being perhaps one of the richest in history.
The good news is that Shaun Hill's salary is manageable (if a bit high for a veteran backup), and Moore is a cheap developmental project. Not much needs to happen at quarterback other than the big number at the top to come down some.
Leon Halip/Getty Images

2013 Cap Hits
Jahvid Best - $1,976,500
Mikel Leshoure - $936,594
Devin Moore - $480,000
Total - $3,393,094
That's right, boys and girls. The Lions' best-paid running back in 2013 won't play in 2013. Best also made about $1.74 million in 2012, and is up for about that much more in 2014.
There's little the Lions can do about it at this point. What Best is making on his rookie contract right now is guaranteed money. If the Lions cut him, it would just turn into dead money on the cap. In other words, the Lions are paying him one way or another.
Also, there is a notable lack of Joique Bell on this list, because Bell is currently not under contract for 2013. He's an exclusive-rights free agent though, so it's likely the Lions will get him under contract for a third-year player's minimum salary (about $630,000), and that will be that.
Still, perhaps the most troubling thing is how much money is sunk into the running back position, but only one of these three contracts will take any snaps next year. Moore, another former Wayne State product, was signed to the Lions' practice squad in November, but there's little indication as to his long-term fate with the team.
Either way, the Lions are going to have to invest some more money here, either through the draft or free agency. Look for them to re-sign Bell, and look for a cheap speed option in free agency in March. If they can't find someone that suits their needs, they'll look again in the draft.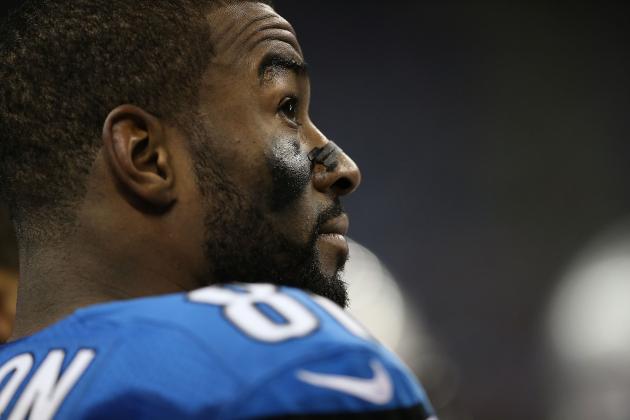 Leon Halip/Getty Images

2013 Cap Hits
Calvin Johnson - $12,200,000
Nate Burleson - $6,531,642
Mike Thomas - $1,500,000
Titus Young - $908,662 (dead)
Ryan Broyles - $836,025
Brian Robiske - $715,000
Devin Thomas - $555,000
Terrence Austin - $555,000
Dominique Curry - $555,000
Chastin West - $480,000
Lance Long - $480,000
Patrick Edwards - $405,000
Troy Burrell - $405,000
Total - $26,126,329
So basically, the story is that the Lions owe a lot of money to a couple players, and a little money to a lot of players. The Lions currently owe over $26 million to the 12 receivers currently under contract (and the one recently cut from his), though more than $20 million of that goes to just Johnson, Burleson and Mike Thomas.
Nate Burleson may take a pay cut, and many of the guys on the lower end of that list are practice squad guys, most of whom won't be with the team for more than another six or seven months.
Part of the reason cutting Titus Young was so painful (however necessary) is not only that he represents a bundle of wasted potential. He also represents a bunch of money that the Lions won't get back.
The Lions might consider cutting down on the number of dead weight players at the bottom of this list, because despite having 12 wide receivers under contract for next year, only about a third of them are actually in the running to have any sort of impact.
Dave Reginek/Getty Images

2013 Cap Hits
Brandon Pettigrew - $3,470,000
Tony Scheffler - $2,950,000
Nathan Overbay - $480,000
Total - $6,900,000
The Lions have issues all over the roster both in terms of talent and salary. Tight end is one of the more secure positions in both regards.
Though the Lions currently lack depth at the position, they field a pair of talented, yet modestly-paid players at tight end, in Pettigrew and Scheffler. Both have suffered from cases of drops and injuries. The Lions should still be happy with their situation in general, considering both have considerable room to improve.
The biggest problem here is that Pettigrew and Scheffler are both in contract years. If they play to their respective potentials, neither will find themselves making less money in 2014 than they are in 2013.
The Lions may look to free agency for their third tight end, even if that means re-re-re-signing Will Heller, who has done a blue-collar journeyman's work in his years in Detroit. It's unlikely that they look to the draft for new blood, unless it's with a late-round pick.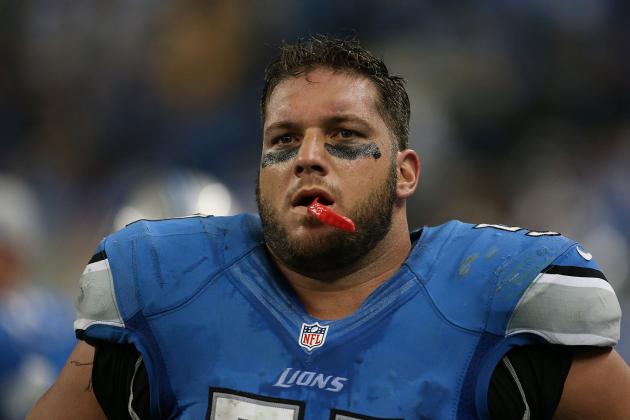 Leon Halip/Getty Images

2013 Cap Hits
Dominic Raiola - $6,062,500
Jeff Backus - $3,500,000
Rob Sims - $3,425,000
Riley Reiff - $1,816,750
Bill Nagy - $480,000
Rodney Austin - $405,000
Johnny Culbreath - $31,866 (dead)
Stephen Peterman - $28,000 (dead)
J.C. Oram - $2,500 (dead)
Total - $15,751,616
The biggest issue here is Dominic Raiola, who is both the highest-paid and the weakest starter on the Lions' offensive line. Problem is, he's also the most vocal locker room leader at a time when the Lions are in serious need of leaders, and there's no heir apparent (either at center or at locker room leader).
Both Raiola and Jeff Backus are in contract years, and both could be looking at retirement as soon as next year. Backus may even be considering it now, which would negate some of his cap hit (but not all). The Lions would save a lot of money on Raiola's deal, but it's unlikely that they'll forcefully remove their anchor, with the rest of the line undergoing an upheaval.
It's helpful to the Lions that Bill Nagy's cap hit is so low. If the Lions consider him a replacement for Stephen Peterman, (as is likely), the move represents savings against the cap of roughly $2.5 million, to say nothing of the potential upgrade in play.
Although the Lions could put together a reasonable starting lineup with just the players here, it's likely they'll look for more help. Restricted free agents Corey Hilliard and Jason Fox will likely be back and are long-term possibilities at a number of positions, but neither has had a chance to show their capability.
Note: Multiple sources have recently reported that Raiola has taken a pay cut to stay with the Lions. However, terms of his re-structured contract are not yet known. At the very least, this all but guarantees he stays on the roster in 2013.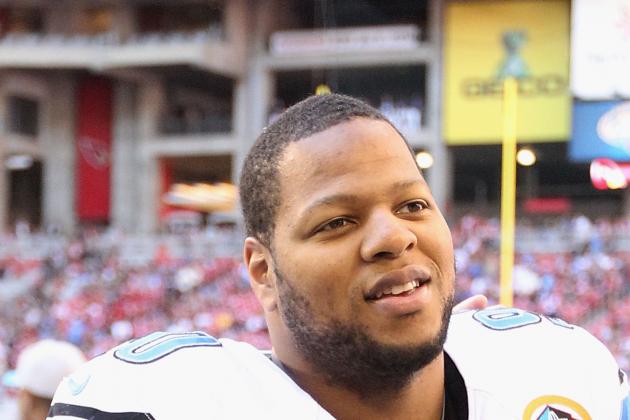 Christian Petersen/Getty Images

2013 Cap Hits
Ndamukong Suh - $18,172,500
Kyle Vanden Bosch - $5,723,750 (dead)
Nick Fairley - $2,696,500
Ogemdi Nwaguo - $630,000
Jimmy Saddler-McQueen - $480,000
Michael Cosgrove - $1,875 (dead)
Total - $27,704,625
The Lions' salary cap situation is so dire, they cut Kyle Vanden Bosch to save money, even though nearly $6 million of his salary will count against the cap anyway.
This is the drawback of "restructuring" contracts for cap relief. The reason players are willing to do that is because the money that gets moved back in the contract becomes guaranteed. Vanden Bosch did that to help the Lions with the cap in 2012, and now he's getting paid the money he would have gotten at that time.
The really frightening thing here is that the Lions are still up against the wall in terms of the salary cap, and they have literally no defensive ends under contract. They have Ronnell Lewis, who is still listed as a linebacker, and they will bring Willie Young back as a restricted free agent, but other than that, the cupboard is bare.
For a unit that already has almost $28 million tied up in it, you'd think that they would at least have some players at each position. But that's not the case at the moment, and the Lions will look for a number of thrifty free agent signings (two of which might be Willie Young and Lawrence Jackson) to fill the void.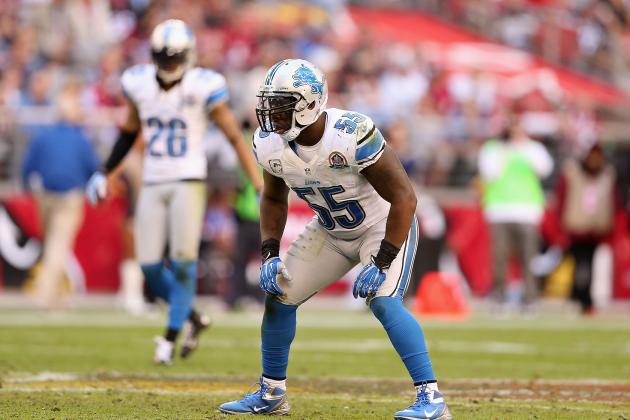 Christian Petersen/Getty Images

2013 Cap Hits
Stephen Tulloch - $4,800,000
Ashlee Palmer - $1,500,000
Ronnell Lewis - $579,272
Tahir Whitehead - $533,000
Travis Lewis - $494,750
Carmen Messina - $405,000
Doug Hogue - $89,054 (dead)
Ronnie Sneed - $2,500 (dead)
Total - $8,403,576
The most notable omissions here are 2012 starters DeAndre Levy and Justin Durant, both of whom are free agents. If one or both of them is re-signed, this cap number gets a whole lot bigger.
For now, it's a modest figure, especially considering Ronnell Lewis' number truly belongs to the defensive line. But unless the Lions think they have two starters in the Ashlee Palmer/Tahir Whitehead/Travis Lewis/Carmen Messina group, this is a group that will need a free agency investment.
It's possible that the Lions spring for a new linebacker in the draft, but unlikely. The front office is satisfied with the starters they had last season, and there's plenty of youth on the team already. If they're going to bring someone in other than Levy or Durant, it will likely be a veteran.
It's nice to see Stephen Tulloch on this list, as he represents something the Lions have far too few of: reliable starters with reasonable (not astronomical) contracts.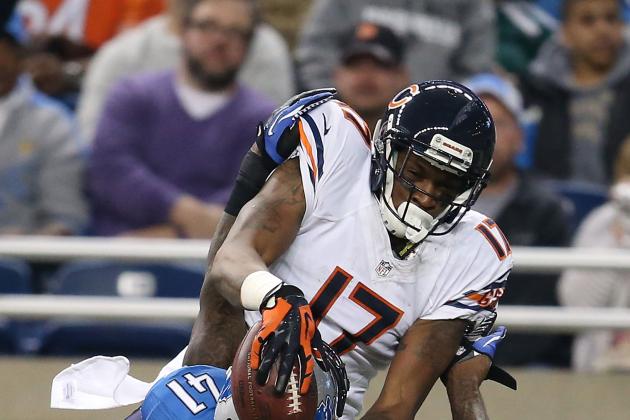 Leon Halip/Getty Images

2013 Cap Hits
Ron Bartell - $1,000,000
D.J. Johnson - $715,000*
Don Carey - $680,000
Bill Bentley - $637,278
Chris Greenwood - $528,000
Jonte Green - $504,250
Conroy Black - $405,000
Lionel Smith - $405,000
Ross Weaver - $405,000
Total - $5,360,528
Sure, it seems like a modest amount now. But once the Lions get an actual starter on board, that cap figure will double (triple?). If Ron Bartell is still the highest-paid cornerback when the season starts, it'll be time to start looking for candidates for the top overall draft pick in 2014.
Of course, the Lions know this, and even if they expect some of their rookies to step into bigger roles on the defense this year, they still know they don't have the kind of talent they need, unless somebody has an unexpectedly huge year.
The Lions might try drafting a stud cornerback, but with so many second-year players on the roster, why would they bring in more youth? Their top priority will be signing a veteran, preferably Chris Houston. No veteran (Houston included) will be cheap, though. The Lions will have to find money for this one.
It's worth noting that Don Carey is listed as a cornerback, but technically converted to (and played at) safety last year.
*UPDATE (02/16/13) The Lions recently signed former Washington Redskin D.J. Johnson. Terms of the deal (one year, $715,000) are now available and have been included in the table above.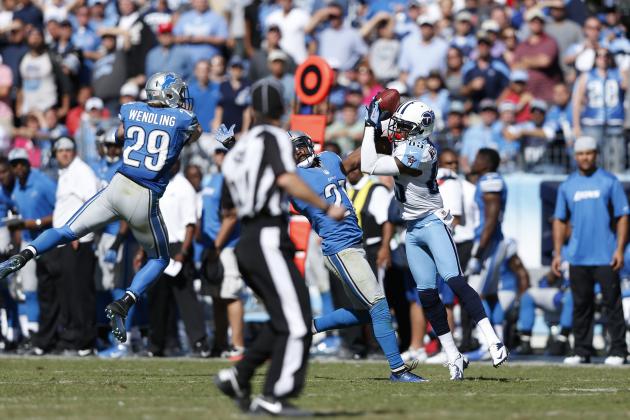 Joe Robbins/Getty Images

2013 Cap Hits
John Wendling - $938,333
Tyrell Johnson - $715,000
Total - $1,653,333
Some people wonder why I'm not incredibly concerned about the Lions' cornerback situation.
This is why.
The Lions need to find a solid starter at cornerback. After that, they have a pack of talented young players who can grow into their roles, and some journeyman veterans.
At safety, the Lions have a special teamer and a guy nobody's heard of.
Louis Delmas is a free agent. Amari Speivey and Ricardo Silva will likely be back, but they're not under contract yet and so they don't count against an already incredibly tight salary cap.
This is maybe the biggest trouble spot on the roster, and one that needs both cash and talent. Presuming the Lions re-sign everyone from last season (somehow), there is still a serious lack of reliability. It wouldn't be a bad idea for the Lions to look in the draft for a safety, but a capable veteran would be a better option in the short-term.