Minnesota vs. Michigan State: Live Score, Updates and Analysis for B1G Game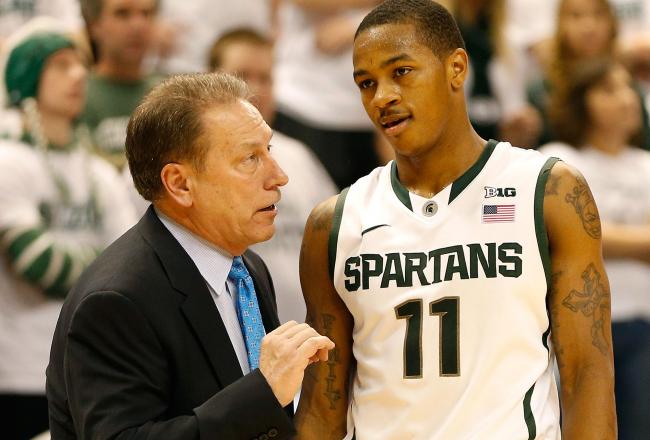 Spartans coach Tom Izzo will need Keith Appling to impose his will on Minnesota in order to avoid another loss.
Gregory Shamus/Getty Images
Talk about Big Ten basketball, and the first thing that gets mentioned is the physicality of the league.
That much was true Wednesday night as the Michigan State Spartans (19-4, 8-2) defended their home court with passion and intensity during a 61-50 victory over the Minnesota Golden Gophers (18-5, 5-5).
Fouls, blocks and quite possibly a dislocated shoulder (Keith Appling) couldn't keep Michigan State from bouncing back from an absolutely horrid first half. The Gophers, who had troubles of their own, led the 12th-ranked Spartans 20-18 after the first 20 minutes.
However, about seven minutes into the second, Michigan State finally woke up and went on a 21-4 run. Trailing by eight to 10 points for most of the final 10 minutes, the Gophers refused to walk away.
Trevor Mbakwe, as he usually does, led Minnesota with 14 rebounds (he leads the Big Ten, too). His nine points were important, as scoring was difficult throughout the entire night.
Andre Hollins paced the Gophers offense with 11 points.
Spartans super frosh Gary Harris led with 15 points, with 12 coming from three-point land. Keith Appling scored 14, Adreian Payne finished with 11 and Denzel Valentine contributed eight by coming off the bench.
Follow Bleacher Report's Michigan State Spartans basketball writer Adam Biggers on Twitter @AdamBiggers81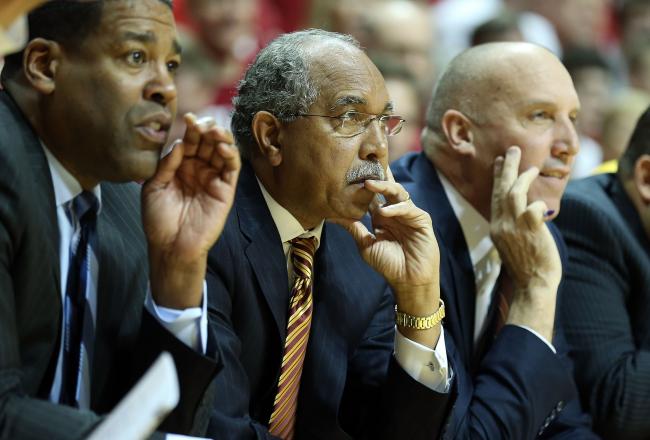 MSU 61, MINN 50 (final)
It wasn't pretty -- but it was definitely Big Ten basketball.
The Spartans defended their home court with an incredibly physical effort against Minnesota.
Junior guard Keith Appling, Michigan State's leading scorer, appeared to have popped out his shoulder late in the second half.
Without Rodney Williams, Trevor Mbakwe and Andre Hollins, the Gophers would have been in a world of hurt. Minnesota led 20-18 at the break, but the Spartans busted the game open in the second with a 21-4 run.
Minnesota showed a lot of toughness -- never backed down, not once.
MSU 59, MINN 48 (51.9, 2nd)
Oh no! Appling is being helped off the court holding his shoulder.#spartans

— Ronda Bowen (@Ronda_Bowen) February 7, 2013
Not good news for Michigan State.
I have same problems with my left shoulder; Keith Appling looked like he dislocated it. I hold mine the same way when it happens.
Not comfortable. Not at all.
MSU 56, MINN 45 (1:35, 2nd)
Gary Harris was playing "possum" for most of the game, says BTN analysts. You have to love his competitive spirit, playing through back spasms is a tall order.
Thanks to Harris and Keith Appling, along with toughness from Derrick Nix and shooting from Denzel Valentine, the Spartans look like they'll pull out this win by the skin of their teeth.
Crucial minutes coming up for the #Spartans Big Ten season.

— jonanibal (@jonanibal) February 7, 2013
My thoughts, too. Keith Appling has to know that this game is important in the big picture. Can't get too far behind Indiana (or Michigan).
MSU 49, MINN 44 (3:03, 2nd)
We'll see how much the Gophers and Spartans want this one -- what a wrestling match this game has been. Definitely lower scoring that I expected.
MSU 45, MINN 44 (3:21, 2nd)
Payne returns with a vengeance, strong post-up move right to a finger-roll. #Spartans

— Ryan Schuiling (@ryanschuiling) February 7, 2013
I couldn't agree more. BTN analysts made comment about when Payne "gets mad," he gets energized. Payne has compared himself to a dog being let out of its cage (said after win versus PSU). That's about right.
MSU 47, MINN 41 (4:16, 2nd)
Spartans' freshman Matt Costello is difficult to analyze. At first, he appears unwilling to take contact, then, during the next play, he goes wild and throws elbows when hauling down a rebound.
With more experience, he'll develop into a suitable rebounder for Tom Izzo.
Time for the "war" drill, Matty.
Keith Appling has played well on both ends with 12 points, 3 assists and 2 steals. #Spartans lead #Gophers 41-33, mid 2nd half.

— Sparty Blogger (@SpartansSpotUps) February 7, 2013
Appling is getting his late-game heroics in order.
MSU 45, MINN 37 (6:02, 2nd)
Rodney Williams and Trevor Mbakwe are battlers, pure warriors. These guys are willing the Gophers right now. If not for them, the Spartans would have run with a previous 21-4 spree and closed out this game a couple of minutes ago.
This is why the Big Ten is so difficult to play in this season. On any given night, any team can knock off a ranked opponent. Spartans learned that lesson this past week against Illinois, which led 37-27 at the break before losing 80-75 at the Breslin.
MSU 45, MINN 35 (7:11, 2nd)
Trevor Mbakwe isn't going to let the Gophers go down without a fight. Love his tenacity on the glass; he's battling Derrick Nix with energy and a ton of fight.
TM stats: nine points, 10 rebounds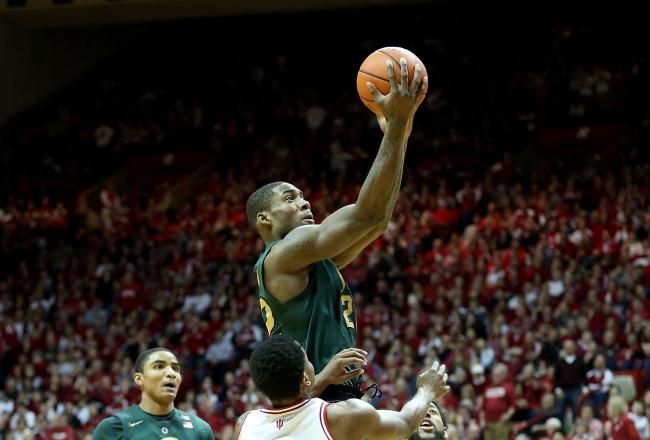 MSU 41, MINN 29 (9:49, 2nd)
Branden Dawson's dunk causes Gophers to regroup.
Spartans' 21-4 may be what the doctor -- and Tom Izzo -- ordered. Closing the game out with passion. As long as the job gets done, the Spartans will be happy.
MSU 39, MINN 29 (10:20, 2nd)
Michigan State is on a 19-4 run. That's how you take control of a second half.
Michigan State has 12 field goals, eight of them from 3-land.
Can we say one-sided offense?
The Spartans aren't known for being a great three-shooting team, but when Gary Harris and Keith Appling have their distance going on, it's OK to go long.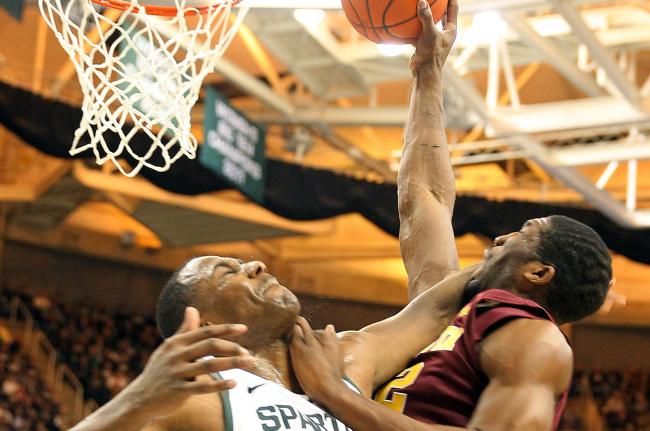 MSU 36, MINN 20 (11:44, 2nd)
Derrick Nix is cleaning the glass with Windex-like efficiency; he has just four boards, but they're going to come in handy against Minnesota, which out-rebounds teams by about 12 per night.
#Spartans are living at the three point line. Don't like seeing that.

— Adam Martinez (@MarFrickintinez) February 7, 2013
Michigan State is 8-for-15, so it's certainly not dying at the three-point line. But Adam Martinez makes a good point -- can't rely on the longball all night.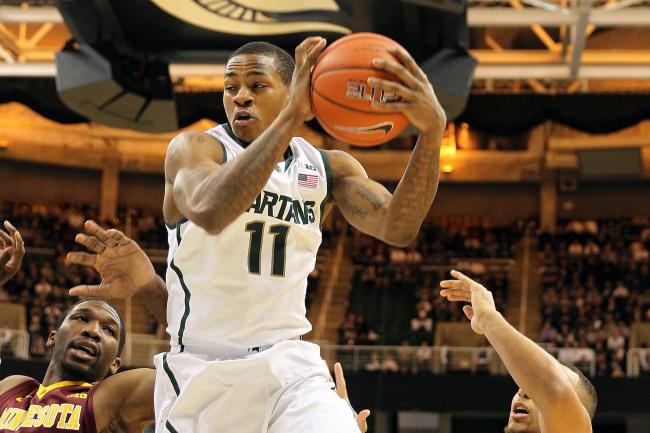 MSU 36, MINN 29 (13:49, 2nd)
Keith Appling's shot from MAC gives Michigan State a seven-point lead. Appling averages 14 points per game, so it's only a matter of time before he starts knocking down jumpers.
Minnesota may want to give Rodney Williams a few more touches; he scored five points in the first half.
MSU 33, MINN 29 (14:21, 2nd)
Offense has been hard to come by, but each team has players capable of filling up the rim.
Spartans' Gary Harris looks like he's trying to get into scoring mode; his back is obviously bothering him, though.
Score: MSU 26, MINN 25 (16:30, 2nd)
Minnesota's Andre Hollins hits a three-pointer, proving that the Gophers have a little sense of urgency. But then Gary Harris and Keith Appling followed with three-pointers of their own.
Someone score more, please.
Score: MINN 22, MSU 20 (19:00, 2nd)
Yes, the Spartans can make a bucket. Derick Nix's left hand needs to get more involved.
This #gophers vs. #spartans game can't get any more boring can it?

— Steve Luchies (@SteveLuchies24) February 7, 2013
He's not alone in thinking this. I'm not sure, can it get anymore boring?!
Can't remember a worse half from the Spartans than this first half against Minnesota.
Does Shawn Respert, Shannon Brown or Scott Skiles have anything going on tonight? Michigan State needs a dose of passing and shooting.
Look at all of these crooked numbers and squiggly symbols.
Try to decipher what they mean...
RT @latenighthoops: Half: #Spartans 18 #Gophers 20 in 25 poss. eFG: MSU 32% MN 45%; TO% MSU 0%, MN 24%; OR% MSU 15%, MN 21%; FTM MSU 2, MN 1

— J.B. Bauer (@JBBauer612) February 7, 2013
This article is
What is the duplicate article?
Why is this article offensive?
Where is this article plagiarized from?
Why is this article poorly edited?

Michigan State Football: Like this team?