Boise State Football Recruiting: 3 Recruits Who Will Start in 2013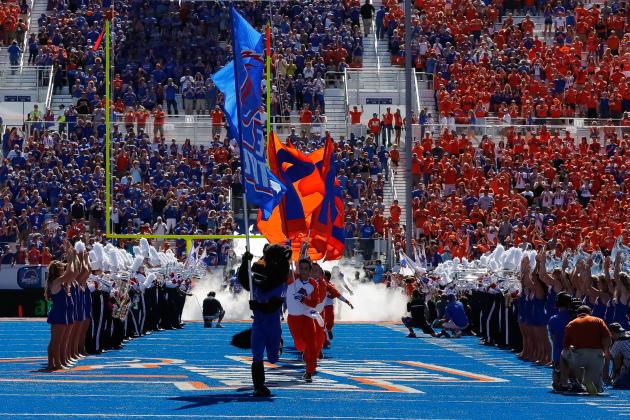 Otto Kitsinger III/Getty Images

As recruits sign their letter of intent on national signing day, many fans are looking toward the future and trying to figure out how these young men will help them down the road.
What about those players that may be able to make an impact from the onset? While rare, there are some players from the Class of 2013 who could see the field in a starter's role as early as this coming season.
In Boise State's case, the Class of 2013 probably won't play a huge role in the upcoming season. The Broncos are bringing back a lot of key pieces on offense, and what they lost on the defensive end will probably be filled in nicely by players who are already with the team.
However, that isn't to say that Chris Petersen won't rely on at least a few fresh faces to help his team.
Let's take a look at three players from the recruiting Class of 2013 who could find themselves in a starter's role on the blue turf this year. In addition, we'll highlight some other areas where the Broncos could be looking for a helping hand from the young guns this season.
Begin Slideshow

»
It is no secret that Chris Petersen likes to recruit players from the state of California, especially from the junior college ranks. Bakersfield College standout Mercy Maston is the latest recruit from the area, a solid pickup considering the Broncos' situation in the defensive secondary heading into the 2013 season.
Maston will be competing with several other players for a starting cornerback job in 2013, as both Jerrell Gavins and Jamar Taylor have graduated for the Broncos. It is likely that Maston will be competing with current Bronco Ebo Mankinde for Taylor's vacated position.
Although nothing is set in stone at this point, it would appear that the coaching staff is looking forward to having Maston compete for the position. Makinde, who will be a redshirt senior next season, has a lot of raw speed but is not the best cover man. Maston is looked at as being the better of the two players in that department, based on his play at Bakersfield.
There aren't many recruits who could see starter's time this season, but Boise State went after Maston with the intent of having him contribute as early as possible.
One of four recruits that has signed his letter of intent to play for the Broncos before national signing day, according to Rivals.com, Cleshawn Page joins Mercy Maston as the other cornerback looking to contribute on the blue turf as early as this coming season. Like Maston, Page is a junior college recruit, playing ball for two seasons at Los Angeles Harbor Community College.
At 5'10", 190 pounds, Page is the smaller of the two juco recruits who play cornerback. Page is also rated lower than Maston, according to 247sports.com, but will have a chance to secure a starting job because the Broncos lose their starting cornerback from 2012 on both sides.
Page will be competing with guys such as Donte Deayon and Deon'tae Florence for a starting job, which makes it less likely that Page will be pegged as a starter. Deayon may have the most potential of the bunch but is only going to be a sophomore in 2013 and may need to put on some weight before he is ready for a starting role (Broncosports.com lists him at 5'9", 143 pounds).
Both Deayon and Page should get equal looks leading up to the 2013 regular season. If Page performs well in spring practice, then Boise State's 2013 roster could see the cornerback position handled by a couple of 2013 junior college recruits.
Junior college freshman Tyler Rausa from Riverside City College has had an odd road to the FBS division ranks.
According to an article by Examiner.com, Rausa was originally supposed to head to Nevada to become a member of the Wolf Pack. Unfortunately, he was unable to get admitted and spent a year in Riverside, California.
The Broncos offered the freshman a scholarship before the end of last season, and Rausa accepted. The kicker has actually been enrolled at Boise State since last month.
Despite Dan Goodale still being a Bronco, it appears as though Rausa has the inside track to become the starting place-kicker in 2013. Goodale, who will be a redshirt junior, lost his starting job in 2012 to Michael Frisina. Goodale was the kicker who missed the 39-yard field goal in 2011 that would have given the Broncos a victory over TCU.
Rausa was one of the more highly sought recruits coming out of high school, and Boise State should be very pleased to have him starting next season.
Although we may not see any other Class of 2013 recruits in starter's roles for the Broncos this coming year, there are other areas where they could make an impact in limited roles. Those areas include:
Linebacker
With Tommy Smith, J.C. Percy and Dextrell Simmons all gone, the linebacking corps is going to have a totally different look for the Broncos in 2013.
Although Blake Renaud and Tyler Gray appear set to take the starting linebacker spots next season, the Broncos are getting a number of promising recruits at the position, including Joe Martarano and Tanner Vallejo.
Martarano probably won't start (assuming he stays at Boise and doesn't opt to play baseball), but the 2013 recruits at linebacker could see some time on the field this coming season.
Running Back
Jay Ajayi could be the next solid running back for the Broncos, but 2013 recruit Aaron Baltazar may push him heading into next season. Baltazar is one of the most highly rated recruits for the Broncos, and it would be silly to think that he would just accept a backup role without a fight.
At any rate, Baltazar gives Boise State depth at the position, and it would not be surprising to see him get some playing time as a freshman.