Kobe Bryant has been playing basketball for the Los Angeles Lakers for a long time now. A very long time. And he's spent almost all of that time donning his own line of signature sneakers.
Of course, Kobe hasn't been wearing the same pair of shoes for his entire career—far from it. His sneakers have changed and evolved just as surely as his game has. And that's saying something.
Adidas EQT Elevation—1997
We've got to rewind all the way back to 1997—Kobe's rookie year— for these bad boys. Though it wasn't technically a Kobe signature, Kobe wore these sneakers throughout his inaugural season in the NBA, which included his memorable 1997 Slam Dunk Contest victory.
He may have seen the court for just 15 minutes per game that season, but all these years later, people still remember the sneakers.
The KB8 was considered a pretty bold design back in the day, but still not as bold as Adidas' decision to give Kobe a signature shoe in the first place.
It's hard to believe now that he's become one of the greatest ever to lace them up, but Adidas took a huge risk in giving Kobe his own shoe. Remember, he was in just his second season in the league. He was no sure thing back in the day.
The doubters were in full force that year, strong to the point that Adidas actually decided to launch an ad campaign around all of the uncertainty (highlighted by this bizarre commercial). Considering both the way Kobe's career ended up shaking out and how great the shoe was—it's perhaps his best with Adidas—I think it's fair to say that Adidas made a good call.
Adidas Kobe Bryant: KB8 II—1998
This shoe never happened. We won't talk about it. Not even to mock it. It looked that bad.
Kobe's been in a lot of shoe commercials over the years, and it started when he was just a rookie.
Adidas Kobe Bryant: The KOBE—2000
Famously designed after the Audi TT sports car, The KOBE has got to be, at the very least, one of the most unique sneakers to ever hit the hardwood.
People seem to be fairly split on this shoe. Some people love the sleek look, the clean body and the unique toe…and some people want their shoe to look more like a shoe.
However you feel about it, it certainly worked for Kobe. He averaged over 28 points per game that season and captured his first title to boot.
Adidas Kobe Bryant: KOBE TWO—2001
Apparently Adidas thought, "You remember that time we made a shoe based on a car? Well this time, let's make the shoe look exactly like a car." Needless to say, the results weren't spectacular.
The only really good thing to say about the KOBE TWO is that it gave birth to one of the best sneaker commercials ever. In fact, Kobe himself actually disliked these sneakers and switched back to the original KOBE for the Lakers' Finals run that season.
Good call, Kobe. Good call.
Nike Air Zoom Huarache 2K4—2004
Kobe left Adidas for Nike soon after the release of the KOBE TWO (yes, it was that bad), thus beginning a new era in Mamba sneakerdom.
Ongoing legal trouble prevented Bryant from being given his own signature shoe line, so he turned to a generic Nike shoe—the Huarache 2K4. It may not have technically been his own, but Kobe's name eventually became synonymous with the Huarache nonetheless.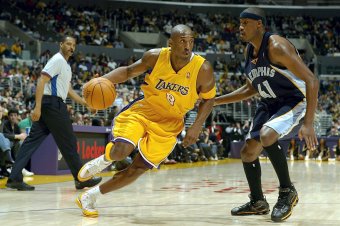 Jeff Gross/Getty Images
Nike Air Zoom Huarache 2K5—2005
The very next year, Kobe donned yet another Huarache model, the 2K5.
The 2K4 was about as successful as a shoe can be, prompting Nike to take an "if it ain't broke, don't fix it" approach with the 2K5.
However, the 2K5 did distinguish itself from the 2K4 in two major ways. First, the shoe was far lighter and more flexible than its predecessor (which Kobe requested pretty much every year).
Perhaps more importantly though, the shoe became the first to be emblazoned with Kobe's signature "Mamba" emblem, making it his in all but name.
Nike Zoom Kobe I—2006
Nike Zoom Kobe II—2007
In 2006, after Kobe's legal problems (and subsequent PR beatdown) had subsided, the world finally got a taste of his first ever signature shoe from Nike—the Zoom Kobe I. And boy was it awesome.
Kobe had the best statistical season of his career during the 2005-06 season, averaging 35 points per game to go along with nearly five assists and five rebounds.
But what makes the Kobe I really special is that it's what Bryant wore when he infamously dropped 81 points on the Toronto Raptors in one of the greatest scoring displays in basketball history.
The Kobe II couldn't quite match Bryant's first signature shoe in terms of amazing moments, but the shoe—modeled after the Huarache 2K4—was solid, nonetheless.
Kobe's shoes got a bit of a workout on this night.
Nike Zoom Kobe III—2008
It's hard not to be torn when it comes to the Kobe III.
On the one hand, Kobe had one of his best years ever in the shoe, averaging 28 points, six rebounds and five assists per game, capturing the MVP award and leading the Lakers to the NBA Finals. Impressive stuff.
On the other hand, the shoe appears to have been based on a waffle. Curious decision.
Regardless, however you may feel about this shoe, it certainly worked for the Mamba. And in the end, that's really all that matters.
Nike HyperDunk Kobe—2008
Kobe actually wore the HyperDunks a few times at the tail end of the 2007-08 season. But the shoe is best known for being Kobe's sneaker of choice during Team USA's gold medal run in the 2008 Olympics.
Not many people remember now, but Team USA was on the verge of being beaten by Spain in the gold medal game. Spain started hitting shots, the USA started getting flustered and it started to look like an upset was in the works. Right up until Kobe put the team on his back.
Also, he jumped over an Aston Martin in this sneaker. Or so he claims.
Gotta love Ronny Turiaf's little cameo.
Nike Zoom Kobe IV—2009
The Kobe IV probably marked the most drastic change between any of the Zoom line.
Though the shoe is generally similar to the HyperDunk, it comes with one huge difference—the low-tops. At the time this shoe came out, it was commonly thought that any shoe without ridiculous ankle support would lead to disaster. And then the Kobe IV debuted.
Not only did Kobe win his fourth title wearing this shoe, it was also the subject of one of his funniest commercials ever. Watch out for those ankles, guys.
Nike Zoom Kobe V—2010
Nike Zoom Kobe VI—2011
Nike Zoom Kobe VII—2012
Another year, another Kobe Bryant shoe.
Honestly, the differences between the Zoom Kobe V, VI and VII are pretty small when compared to other previous changes. They get lighter and lighter every year, but that's been the primary form of evolution when it comes to the Kobe series.
Actually, that's not entirely true. As you can clearly see, the Kobe VI takes the whole "Black Mamba" moniker to the next level and actually tries to imitate the texture of a snake. Now that's innovation.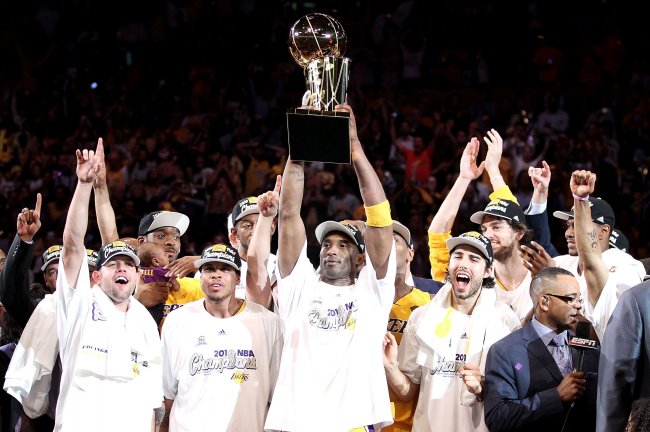 Christian Petersen/Getty Images
Nike Kobe 8 System—2013
It's all led to this point.
You can see different bits from Kobe's other shoes in the Kobe 8 System—the snakeskin pattern, the low-tops, the Mamba emblem—it's all there.
Kobe explained the idea behind the shoe, saying (per the Nike official release):
I'm always focused on improving my game, to perform at my best. I want my shoes to mimic the speed of my game. By shaving fractions off the height and weight, it allows me to play faster with more control so I can maneuver across the court – I want to feel like I'm moving at the speed of light.
It's taken a lot of shoes to get to the Kobe 8 System. With any luck, we'll see several more before Kobe finally decides to lace it up for good.