An NBA trade-deadline deal of J.J. Redick to the Chicago Bulls is a match made in heaven.
The defensive-minded Bulls are reportedly interested in bringing Redick to Northern Illinois after missing out on him in 2010, according to Hoops World's Alex Kennedy:
The Chicago Bulls are one team that has been linked to Redick. The Bulls were the team that extended a three-year, $19 million offer sheet to Redick in 2010, and they may pursue him again before the trade deadline.
A move like this would come contrary to recent statements by Bulls executive John Paxson. Pax said the team would likely not make a significant move before the NBA's Feb. 21 trade deadline.
However, if anyone understands the significance of having a lethal three-point shooter like Redick on a roster in the NBA playoffs, it's Paxson.
Anthony Gruppuso-USA TODAY Sports
Luckily for Chicago, making a move to bring in Redick would be an under-the-radar type of deal that could end up paying huge dividends for the team down the stretch.
With Derrick Rose likely back in the lineup for the second half of the season, he'll greatly appreciate having a shooter with Redick's pin-point accuracy coming off of the bench.
Not only can Redick connect on the long ball, but he can create his own shot, too. That would help take some of the pressure off Rose, who is routinely asked to take the big shots and put the offense on his shoulders at times.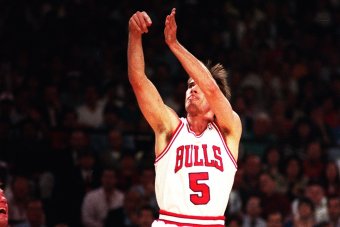 Jonathan Daniel/Getty Images
Redick wouldn't come in and steal a starting shooting guard position; his true value would come off of the bench where he would be able to pick apart tired or reserve defenders based on the situation.
The Bulls has been successful in Rose's absence by replacing him and other injured players by committee. In the process, they've grown accustomed to lineup changes and different combinations throughout the season.
That has made them very adaptable and versatile to change, something they're going to experience once Rose is thrust back into action. They're battle tested, though, especially defensively and are ready to make another run at an NBA championship.
The value of adding a shooter with Redick's ability cannot be quantified into numbers. Still, let's try for a moment.
He's currently fifth (as of Jan. 29) in the NBA in total three-pointers made with 105 and 25th in the league with a .404 shooting percentage from beyond the arc.
Should the Bulls make a deal for J.J. Redick?
The Miami Heat added veteran three-point specialist Ray Allen in the offseason and have reaped the benefits of having him come off of their bench all season.
His playoff experience is only going to make Miami more lethal in the postseason.
Paxson needs to use his own experience and judgment to make the right decision, but Redick is the missing piece to the puzzle for his team.
Until Feb. 21, the ball is in firmly Chicago's court. Let's see what happens.