Frank Lampard: 5 Potential Summer Replacements for Chelsea Star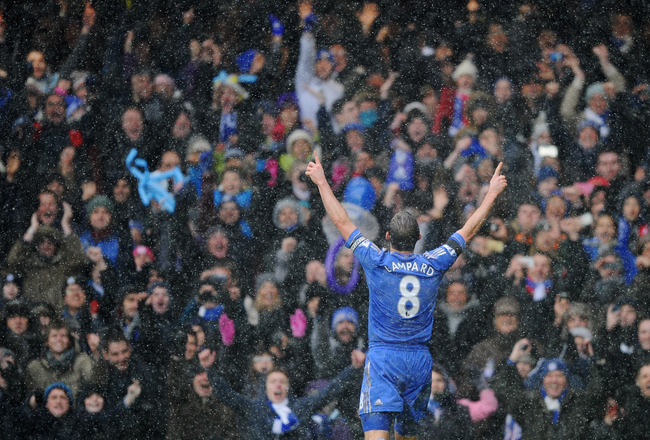 Frank Lampard celebrating in front of the fans after Chelsea beat Arsenal 2-1 at Stamford Bridge.
Laurence Griffiths/Getty Images
Chelsea fans' hopes of Frank Lampard being offered a deal to keep him at the club until the end of his career are fading fast. The club's short-sighted policy of not offering players over 30 any more than a one-year extension to their current contracts looks likely to see off one of their greatest servants of recent years.
Lampard is currently the second-highest goal scorer in the club's 108-year history, and he needs seven more to overtake Bobby Tambling's record of 202 goals for Chelsea. As the first-choice penalty taker he could get that number this season, although if he falls short it will not be through lack of trying.
The man the fans call "Super Frank" scored 20 goals or more every season between 2005-06 and 2009-10, an amazing feat from a box-to-box midfielder. He has also amassed 130 assists throughout his Chelsea career and captained the side to their greatest victory ever in the Champions League Final in 2012.
His work rate is second to none, and he often stays behind for extra work after a training session. It is this dedication along with his respect for the club and its fans that have led him to acquire legendary status in West London, despite his roots at West Ham.
Although Ashley Cole has been offered an extension to his current deal, Lampard looks set for an exit at the end of the season even though he has offered to take a pay cut. This will leave Chelsea with a gaping hole in their midfield, and although there will be nobody who can replace Lampard in the hearts of the fans, whoever is in charge of the team in the summer could do a lot worse than look at these five players to fill the void on the pitch.
Marouane Fellani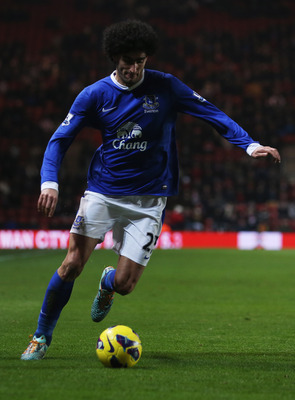 Ian Walton/Getty Images
Marouane Fellani has been the subject of much transfer speculation despite his current deal at Everton keeping him on Merseyside until 2016. His strength and stamina would be a perfect fit at Chelsea, and his heading ability would ease the pressure on the centre-backs for set pieces.
Whilst he would be an excellent replacement for the midfield powerhouse side of Lampard's game, Fellani's goal tally of 29 in 158 appearances for Everton shows that he is unlikely to reproduce the form in front of goal which has made Frank so revered across the footballing world.
His disciplinary record is a concern as well. In his first season in the Premier League he picked up 10 yellow cards in 17 games, and he was recently punished retrospectively for headbutting Ryan Shawcross when Everton played Stoke City.
Even when you factor in the price tag, which would likely be somewhere in the region on £22 million, Fellani would be an excellent signing for Chelsea, but he would have to improve his goal-scoring ability to ever come close to replacing Lampard.
Axel Witsel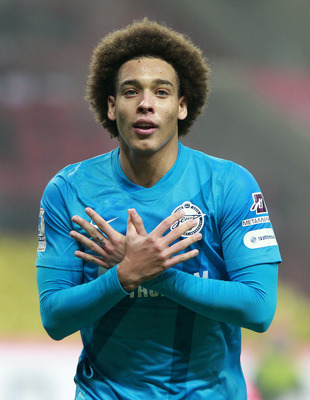 Dmitry Korotayev/Getty Images
Continuing the Belgian theme, Axel Witsel is a player cut from the same cloth as Fellani, and the similarities don't end at their hairstyles. The 24-year old began his career at Standard Liege where he scored 45 goals in 194 appearances. After a brief spell at Portuguese side Benfica where he found the net five times in 51 outings, he moved to Zenit St Petersburg in 2012.
Like Lampard and Fellani, Witsel plays as a box-to-box midfielder, and like Fellani, he has a fiery temper. In 2009 he was criticised for breaking an opponent's leg by stamping on it whilst playing for Standard Liege.
His transfer from Benfica to Zenit was worth somewhere in the region of £32.5 million, making him the ideal backup plan if Fellani is unavailable. He would link up well with Eden and Thorgan Hazard and could be a star of the future.
Check out his highlights here on YouTube.
Benat Etxebarria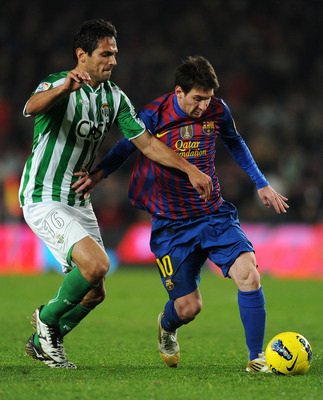 Benat Etxebarria attempts to dispossess Lionel Messi as Real Betis face FC Barcelona.
Jasper Juinen/Getty Images
Widely known by his first name, luckily for the non-Spanish speakers out there, Benat is currently plying his trade at Real Betis. So far in the 2012-13 season he has scored four goals and assisted another five in 23 appearances.
His £8.8 million price tag represents excellent value, although it is likely that Chelsea will need to offer more if they decide that Benat is their man, but his ability to link up with Juan Mata and his eye for a long-range shot could be worth shelling out for.
If you want to know more about Benat, take a look at his highlights reel here.
Luka Modric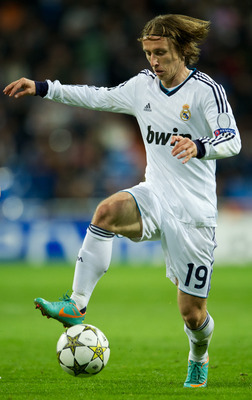 Jasper Juinen/Getty Images
Luka Modric started his career at Dinamo Zagreb where he scored 31 goals in 112 appearances for the Croatian club. He moved to England in 2008 and spent four years at Tottenham Hotspur where he found the net 13 times in 127 outings.
His goals-to-games ratio has not improved since his £33 million transfer to Real Madrid, and he was recently voted the worst La Liga signing of 2012. It looks very likely that he will leave Spain in the summer with a return to the Premier League on the cards.
Modric has proven himself as a creative midfielder in the EPL, and with Chelsea having offered Spurs £40 million for him in the January 2012 transfer window they could get the player they have been chasing for years for a fraction of that price.
Despite the quality he has to offer and the benefit of Premier League experience, his record to date shows that he will not be a like-for-like replacement for Frank Lampard.
Oscar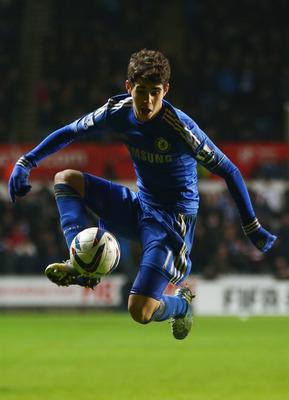 Chelsea might need to look no further than current squad member Oscar to replace Frank Lampard.
Michael Steele/Getty Images
As an alternative to splashing more cash, Chelsea could do worse than working with a player they already have. Oscar signed in 2012 and at 21 he is still very young for a midfielder. He has excellent pace and has a passing accuracy of 85 percent for the season so far.
It is his tackling ability which is most surprising, though, as he has completed 77 percent of his tackles and attempted 25 more than his other two amigos. His slight build would be the only concern, but some work in the gym would sort that easily enough.
Oscar is young enough to switch from an attacking midfield role to a box-to-box role, and he is creative enough to eventually match Lampard's goals-to-games ratio.
Most importantly, he is already at the club and it would be extremely sensible if Chelsea can get Lampard to tutor Oscar while he is still at the club, saving time, money and disappointment in the future.
Keep Reading

Chelsea: Like this team?