Rating the Arsenal Players Against West Ham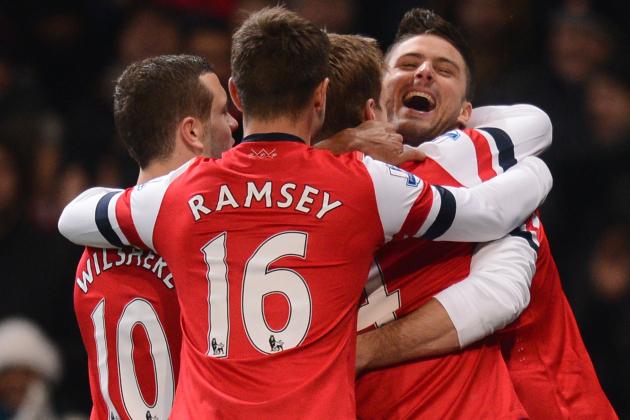 Mike Hewitt/Getty Images
Arsenal celebrate against West Ham.
Despite an early scare, Arsenal responded to thump five past West Ham in this Premier League clash on Wednesday.
While Arsene Wenger would have enjoyed putting one over his old rival Sam Allardyce, the Arsenal manager should be most pleased by the style with which the Gunners dispatched the Hammers.
Who were the key men in the Gunners' armoury? Go to the next slide to find out.
Begin Slideshow

»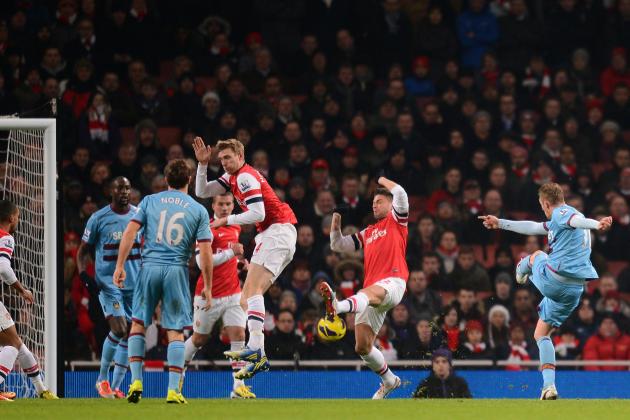 Mike Hewitt/Getty Images
There was little Arsenal's defence could do about Jack Collison's strike on goal.
GK Wojciech Szczesny (6/10)
Beaten by a super strike from Jack Collison, Szczesny then found himself having a relatively relaxed evening.
DR Bacary Sagna (7/10)
After his Stamford Bridge nightmare, Bacary Sagna should have been delighted to get back to something like his usual self against West Ham.
As the West Ham defence tired, he was able to provide a constant outlet on the right side, allowing Theo Walcott make runs in-field.
CB Thomas Vermaelen (7/10)
Before succumbing to injury, Thomas Vermaelen was enjoying a steady, if not unspectacular game at centre-half.
Arsenal fans will be hoping his injury is not a serious one—they are now just one injury away from seeing Sebastien Squillaci in the first team in the Belgian's stead.
CB Per Mertesacker (7/10)
In the first half, Per Mertesacker seemed to be struggling with Carlton Cole's physical approach. Nevertheless, he overcame those difficulties and, like the rest of the Arsenal defence, had a very comfortable second period.
One aspect of Mertesacker's game that is often overlooked is his willingness to receive the ball from the goalkeeper and begin Arsenal's passing moves. This important role as an instigator of attacks really came to the fore as the Gunners began to dominate possession.
DL Kieran Gibbs (8/10)
Kieran Gibbs is quickly becoming one of the first names on the Arsenal team sheet. It's amazing to think that last season the battle between he and Andre Santos was relatively close. Now, there is a gulf between them.
Gibbs' stamina is quite incredible. He spent this game tearing up and down the left flank in support of Lukas Podolski. His speed and close control around the opponent's penalty box made him a constant attacking threat. Defensively, he was untroubled.
Subs
CB Laurent Koscielny (6/10)
Laurent Koscielny slotted in alongside Per Mertesacker and used his pace and positional intelligence to guarantee there would be no chance of an improbable West Ham revival.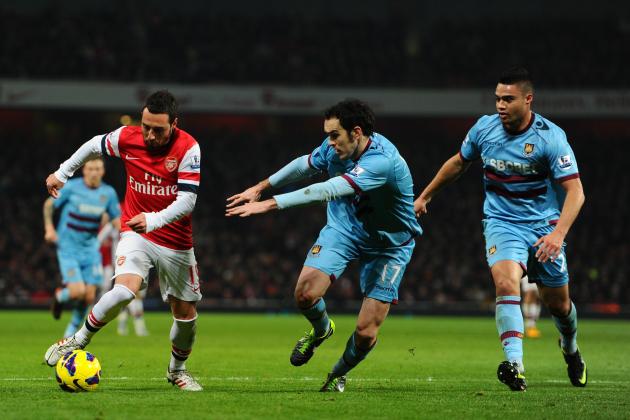 Mike Hewitt/Getty Images
West Ham struggled to get to grips with Santi Cazorla.
CM Aaron Ramsey (8/10)
Aaron Ramsey was in danger of becoming a much maligned figure at the Emirates Stadium. A series of poor performances, mostly on the wing, had incurred the wrath and frustration of the Arsenal fans.
Against West Ham, restored to the centre of midfield, he was excellent. Asked by Arsene Wenger to play in an unfamiliar holding role, he put in a disciplined, dogged display, even showing great positional awareness to clear off the line when the game was finely balanced at 1-1.
Arsenal fans will be hoping for more of the same from the Welshman between now and the end of the season.
CM Jack Wilshere (8/10)
In recent matches, Jack Wilshere has stood head and shoulders above his Arsenal teammates. On this occasion, he was spared having to do it all on his own by a strong team performance.
However, it was Wilshere who got things started, lifting a clever pass in to the ball of Lukas Podolski to hammer home the equaliser.
This will be remembered as the night Wilshere first wore the captain's armband at Arsenal. When Thomas Vermaelen was withdrawn with injury, it was the young midfielder who took over as skipper. It will surely not be too many years before the title is his on a permanent basis.
AM Santi Cazorla (8/10)
Santi Cazorla was relatively quiet in the first half, but after halftime Arsenal's midfield matador tortured a tiring West Ham defence.
With the Hammers leaden-footed and down to 10 men, Cazorla was afford the space he revels in. There was one remarkable cross-field pass to Theo Walcott that had the Arsenal fans blinking in disbelief.
His goal was also a real moment of magic, back-flicking the ball between his own legs and beyond a despairing goalkeeper.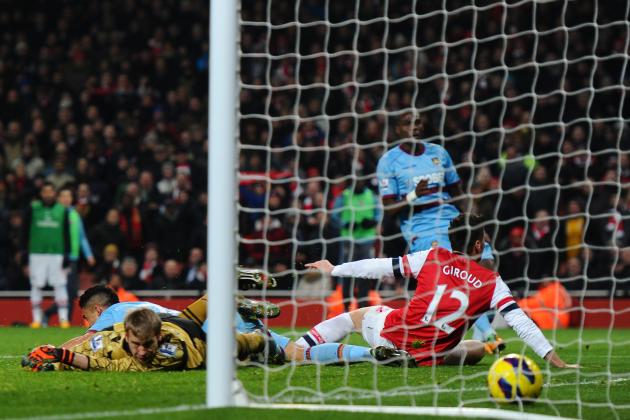 Mike Hewitt/Getty Images
Olivier Giroud bundles in his second goal against West Ham.
RW Theo Walcott (9/10)
Theo Walcott took his goal with all the swagger of a man who is at the peak of form.
It wasn't just that strike that stood out, though. His speed both on and off the ball provided a constant threat, and his set piece delivery was also above its usual standard.
CF Olivier Giroud (9/10)
Olivier Giroud's application is never in question, but his finishing occasionally is. Against West Ham, however, he scored two very well-taken goals that will do his confidence the world of good.
Arsenal fans will have been particularly delighted to see him score from a corner: the Gunners are notorious for wasting opportunities to provide a threat from set-pieces.
LW Lukas Podolski (10/10)
You can't ask for much more from a left-winger than a goal and a hat trick of assists. In this match Lukas Podolski gave a mouth-watering demonstration of just how ruthlessly efficient he can be.
Arsenal fans will be hoping that he can produce this form on a more consistent basis. If he can, he could be the man to power them to Champions League qualification.
Subs
LW Andre Santos (6/10)
It was something of a surprise to see Santos used in an attacking role, and perhaps a sign that Arsene Wenger ought to be looking to add more depth in the forward positions.
RW Alex Oxlade-Chamberlain (6/10)
Oxlade-Chamberlain played like a man who had placed a bet on himself to score, firing in shots from all angles in his brief cameo. He showed enough energy and enthusiasm to earn him a likely start in the FA Cup this weekend.
---
What did you make of the Gunners' performances? Have your say below.