5 Signs Damien Sandow Will Soon Be a Top Heel in WWE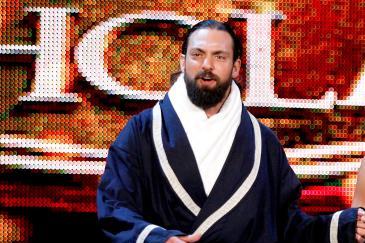 courtesy of wwe.com
Damien Sandow has the tools and trade to become a top heel in the future.
As of last year, the current partner of Cody Rhodes has stepped up and made a name for himself. With 2013 barely beginning, Sandow is in a prime position to make 2013 his year.
Sandow and Rhodes have a title shot for the tag titles come Royal Rumble this Sunday. Rhodes Scholars have a great chance winning the titles, and that could be the catalyst to an exciting year for Sandow.
Here are five signs Damien Sandow will be a top heel for the WWE.
Begin Slideshow

»
Sandow worked his way up feuding with the right people.
His first feuds consisted of the usual faces, including Zack Ryder. Soon, he worked his way up feuding with former world champions, namely Kane and Daniel Bryan.
The storyline with Team Hell No really put Sandow in a prime position to excel. So far, he's done that. The feud still has legs, which has led to his team getting the title shot this Sunday.
Sandow's also wrestling top-tier talent during this feud. Besides Kane and Daniel Bryan, he has already fought Randy Orton, Sheamus and John Cena during the feud.
It's only a matter of time before Sandow enters a feud with each of them.
Sandow and Rhodes have created a great heel tag team, which was sorely missed when the tag team division was nonexistent.
Their alliance, under the name Rhodes Scholars, soared during the latter half of 2012 where they battled nearly every tag team and became the second-best team in the WWE.
That's not all Sandow has teamed with. The Superstar joined forces with CM Punk and Paul Heyman for a Survivor Series tag. Plans changed, and Sandow teamed with Dolph Ziggler instead. Despite being the first one eliminated, Sandow still took part in a marquee match, which was all that mattered for him.
Sandow's wrestling ability has grown as well.
His pirouette elbow, better known as the "Elbow of Disdain," has become synonymous with his character. His finisher, the "Terminus" or also called the straight jacket neckbreaker, puts many of his opponents away.
Time with Kane and Bryan only makes Sandow a better wrestler. The same can be said when he takes on other main-event and midcard talents.
Sandow hasn't had that definitive match yet, but he can this year. If he's given a singles run, Sandow will run with it. With plenty of wrestlers to test him, Sandow will only grow in time.
Sandow has an unconventional gimmick in today's era.
His current character is a blend of Matt Striker's teacher tactic and Triple H's old Hunter Hearst Helmsley regal stunt, which has drawn more comparisons to Triple H's former persona.
The way he presents himself is with class and dignity. He also believes he's above the WWE Universe. In fact, his promo work only enhances his elitist character.
Sandow insults the audience in traditional heel promos. He works the crowd turning them against him. He recently looked for an apprentice while Cody Rhodes recovered from a concussion. The promos were great and only strengthened his heel persona even more.
Sandow's gimmick can last long because of his good promos. As long as he keeps it up, he'll be a top heel in no time.
Every wrestler needs "it" for them to succeed. Damien Sandow has "it."
Sandow's charisma makes everything work for him, from his wrestling skills to his promos. He's part of the reason why Rhodes Scholars is a top tier tag team.
Sandow is a legitimate threat in the WWE landscape and most definitely become a major player in 2013. He's already a major player in the tag team division. Who knows what could happen when his singles career takes off.
Damien Sandow will become a top heel in the WWE. He has all the tools to become the next top bad guy in the business, and it should only be a matter of time.