Buffalo Sabres: 5 Players This Team's Potential Depends Upon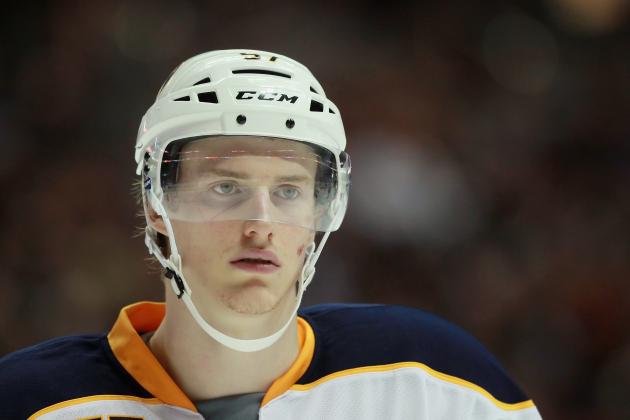 Jeff Gross/Getty Images
Tyler Myers needs to put it all together in 2013.
Now that the Buffalo Sabres' opening game of the season is less than 72 hours away, it's time to really analyze what they have the potential to do this year. Both Lindy Ruff's and Darcy Regier's future rest with that potential. So what players does this team's success (or lack thereof) depend upon most?
Surprisingly enough, it's not Thomas Vanek or Jason Pominville.
Sure, they're both veteran leaders who Buffalo will need to produce offensively. But if they stay healthy, you know you're going to get that from them, no matter who their center is.
No, this team's playoff hopes rest more so with guys like the one who'll start the season in the middle of those two talented wingers.
Ahead, we're going to look at five players crucial to the Sabres' hopes in 2013, ranked in order of importance.
Begin Slideshow

»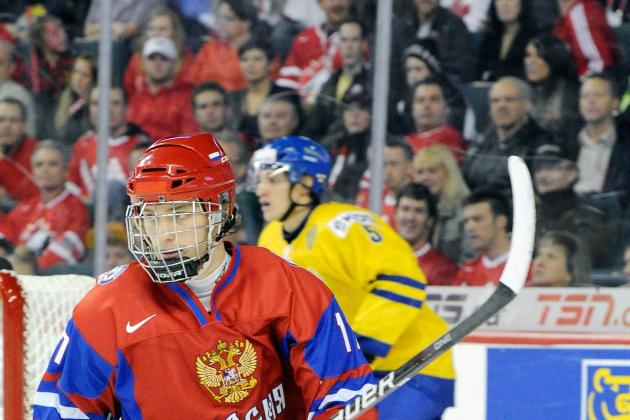 Richard Wolowicz/Getty Images
Can Ruff actually think Jochen Hecht is a better choice for third-line center?
Plenty has been written about Buffalo's No. 1 pick from last June's draft. Mikhail Grigorenko has become a household name in western New York, especially since it was announced he was coming to camp.
It would be a colossal mistake for the Sabres to allow him to return to juniors this season.
This team needs a third-line center. There is no argument for choosing Jochen Hecht over Grigorenko.
Hecht is fine on the fourth line, but for a team that needs a scoring boost from last year, the 18-year old is the obvious choice.
Compare these two possible third-line combinations for Buffalo: Steve Ott-Grigorenko-Ville Leino, or Ott-Hecht-Leino.
The young Russian could be the only thing that makes Leino not look like the worst free-agent signing in franchise history. And no offense to Hecht, but he's not exactly someone who makes his teammates better, and certainly not offensively.
Out of necessity, Grigorenko's role should be pretty important in his rookie campaign. What remains to be seen, though, is how Lindy Ruff brings him along.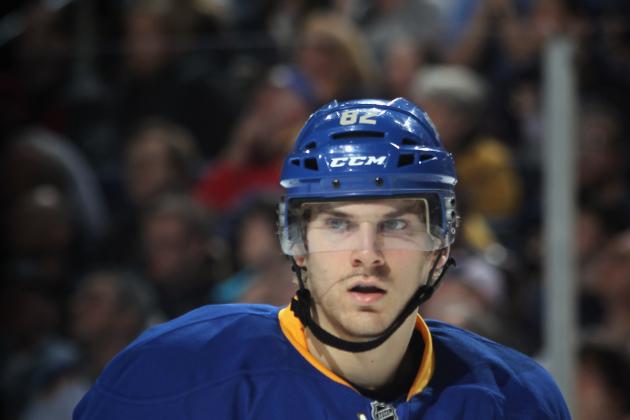 Bruce Bennett/Getty Images
Foligno is a physical force on the ice.
Another youngster with a lot of buzz surrounding his rookie season is left-winger Marcus Foligno.
The son of the former Sabres captain quickly became a fan-favorite at the end of last year. He finished the season with 13 points in Buffalo's final 13 games.
He also showed the ability to dominate a game physically. That makes him even more valuable to a team that was lacking size and toughness.
Foligno can more than handle himself in a scrap as well. The 21-year-old resembles an old school power-forward in the vein of Cam Neely or Brendan Shanahan.
As Mike Harrington of The Buffalo News reported, the hype about Foligno isn't just local either:
Plenty of publications and websites expect big things from the 6-foot-3, 226-pound Foligno. TSN, the Canadian sports television giant, has Foligno on a list of 20 Calder Trophy candidates.
The Sabres could become an incredibly dangerous team if the line of Foligno-Tyler Ennis-Drew Stafford can continue their chemistry.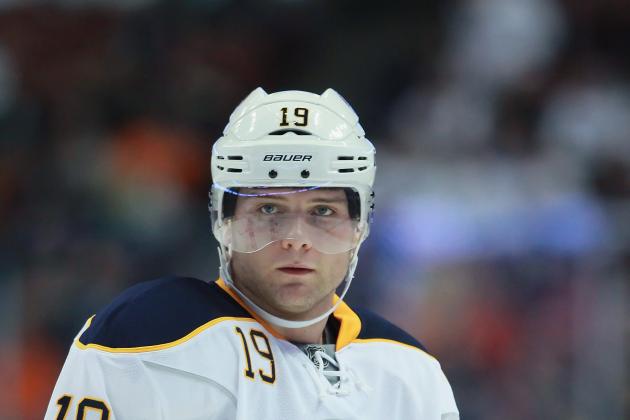 Jeff Gross/Getty Images
Hodgson will have to fill the void left by Derek Roy.
Yet again, we continue to talk about youngsters on this Sabres team that they're depending on big-time in 2013.
Cody Hodgson tops that list, as he prepares himself to take over the No. 1 center role between Vanek and Pominville. But is he ready for that responsibility?
Darcy Regier definitely thinks so. That's what he had in mind when he acquired the Toronto native along with Alexander Sulzer from Vancouver in exchange for Zack Kassian and Marc-Andre Gragnani in February 2012.
He does have big shoes to fill offensively with the departure of Derek Roy. Say what you will about Roy, but when he was healthy, he produced.
Hodgson has two snipers on his wings, so he has the opportunity to be a point-per-game player. Buffalo is counting on that production, too, and they're in trouble if they don't get it.
Hodgson also needs to realize Grigorenko could be a star-in-the-making, so that first-line spot could be short-lived if he struggles.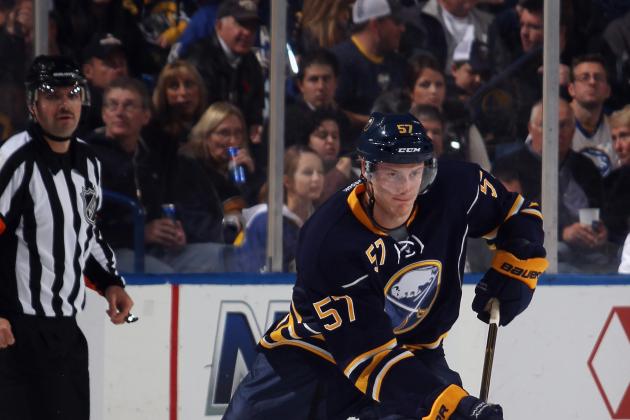 Bruce Bennett/Getty Images
Myers needs to play himself into the Norris discussion this year.
If the Sabres hope to not only make the playoffs, but also make some noise there, Tyler Myers needs to elevate his game to the next level.
Since winning rookie of the year three years ago, Myers' game hasn't progressed into making him an elite defenseman...yet.
After being a healthy scratch early in 2011-12, Myers came on strong later in the season. The most noticeable improvement was the physical part of his game.
At 6'8", 227 lbs., there's no reason Myers shouldn't be a dominant two-way force on the ice.
The comparisons between him and Zdeno Chara are inevitable because of their size. But Myers is leaps and bounds ahead of where Chara was entering his fourth year, especially skating- and scoring-wise.
One can argue the only elite player on Buffalo is Ryan Miller.
Myers needs to join that group in 2013 by excelling in all facets of the game. His offense seems to come naturally to him, so he needs to continue to focus on being someone opponents fear playing against.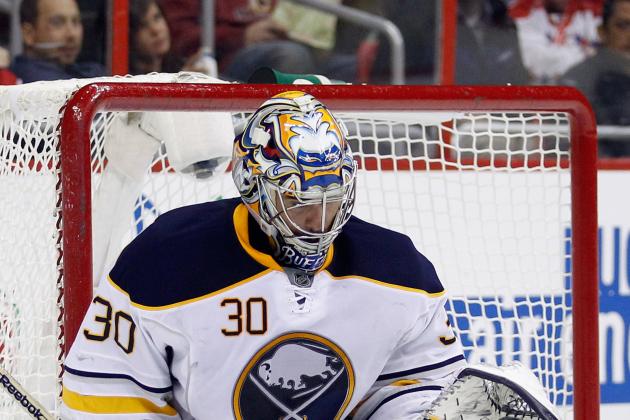 Rob Carr/Getty Images
Miller was too inconsistent in 2011-12.
Sabre fans should know that even if the four players we've already discussed all have career years, it'll matter not if Ryan Miller can't stay consistent throughout this shortened campaign.
There's no bigger cliché in hockey than to say you need superior goaltending to succeed. However, for the Buffalo Sabres, that's especially true.
He may not wear the "C" on his jersey, but Miller is this team's leader on and off the ice. They go as he goes, evidenced by the late-season run they had last year that saw Miller post five shutouts after the All-Star break.
Many a column has been written about how Buffalo basically abandoned Miller after Milan Lucic ran him early in 2011-12.
The Sabres' netminder responded after returning from injury by playing with a chip on his shoulder. He still has to prove he can return to his Vezina form consistently before anyone can think this squad is ready to advance in the playoffs.
That trek finally begins on Sunday afternoon, and the city of Buffalo couldn't be more excited about it.