Alex Rodriguez Has Hip Surgery, Should Return to Yankees Around All-Star Break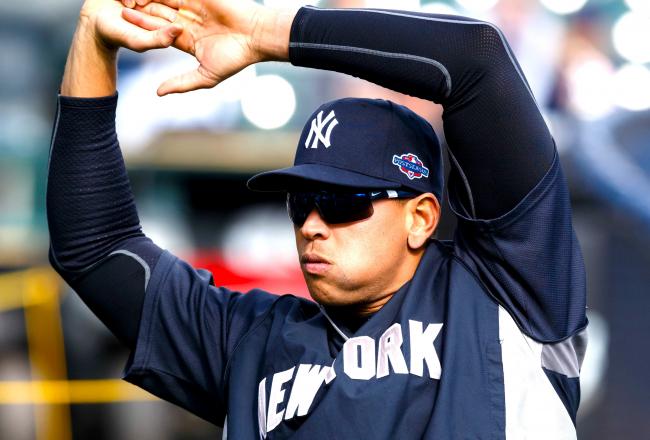 Alex Rodriguez underwent hip surgery in New York on Wednesday. The surgery, long planned and intended to correct the issues that led to his utter collapse during the playoffs, was successful.
The expectation is that Rodriguez will need six months of rehab and will return to the Yankees around the All-Star break. Until then, Kevin Youkilis will handle third base for the Yanks.
Dr. Bryan Kelly of the Hospital for Special Surgery in Manhattan performed the surgery, using an arthroscope and small incisions to minimize damage. Normally, this surgery would involve Dr. Kelly repairing cartilage damage inside the hip using an arthroscope, anchoring the damaged acetabular labrum and attempting to minimize the ongoing impingement and friction inside the joint. Kelly did not immediately release how many anchors he used to make the repairs, but more would be an indication of more extensive damage.
Rodriguez had previous surgery in 2009. This surgery, performed by Dr. Marc Philippon in Vail, Colorado, was a modified version of the surgery performed today. In that procedure, Philippon shaved down the head of the femur and removed debris inside the joint space, but did not repair the labrum itself to reduce healing time. This "halfway" procedure, as Dr. Philippon deemed it, was successful and held up to the rigors of MLB for nearly three full seasons.
The surgery on Wednesday was deemed successful, which merely means that the doctor was able to perform the procedure as planned and the patient woke up from anesthesia. The hard work is yet to be done, with Rodriguez facing months of rehab and steroid jokes. (It's important to note here that Dr. Kelly was quoted as saying he did not believe that any of Rodriguez's admitted use of anabolic steroids had any effect on his hip injury. The same was true in 2009.) The rehab is widely quoted to take six months, but standard physical therapy guidelines are three to six months on this type of procedure.
I spoke with Dr. William Long, medical director of the Orthopaedic Computerized Surgery Institute at Good Samaritan Hospital in Los Angeles. While Dr. Long has not examined Rodriguez, he was able to give me details on the procedure. Long called the need for a second surgery, even years after his first, "very worrisome."
He was also worried about the lack of strength. "If he couldn't do a straight leg raise maneuver, that is very serious," Dr. Long said. "Anyone should be able to do that. He'll be deconditioned."
That could complicate the rehab.
More problematic is the encroachment of arthritis. "If [Rodriguez] has arthritis in the hip, recurrent arthritis, then he already needs a hip replacement. They just don't want to do it because he's an athlete. They'll do this to delay the inevitable."
Dr. Long told me we should watch for two milestones in the rehab process. "Once he starts running, that's a great sign. He'll be ready shortly after, on a physical basis."
The other is more problematic. "If the arthritis is advanced, he'll have a limp and it won't go away, not at six weeks and not at six months."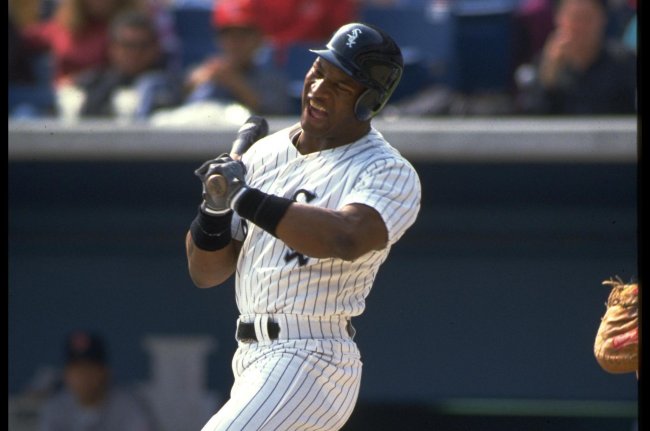 Jonathan Daniel/Getty Images
One additional factor in play is the insurance on Rodriguez's big-dollar contract. Most MLB policies involve an elimination period of 90 days. The elimination period is like a deductible for home or car insurance, requiring that a player miss a certain amount of days before the policy begins to pay. The longer the elimination period, the lower the premium. This in no way suggests that the Yankees are holding Rodriguez out beyond a needed period to collect.
The team will pay him during the first 90 days regardless of whether he's playing.
Rodriguez is planning to do the rehab in Miami, going as far as pulling his home there off the market. This is something of a surprise, since the Yankees had strongly encouraged him to have the surgery in New York rather than in Colorado as previous.
The final decision on surgery always stands with the patient, but Rodriguez was comfortable with the suggestion. It's quite possible that Rodriguez will make regular trips to the Yankees' facility in Tampa, a reasonable drive over on Alligator Alley (or a much more reasonable flight on Rodriguez's Gulfstream plane).
This article is
What is the duplicate article?
Why is this article offensive?
Where is this article plagiarized from?
Why is this article poorly edited?