Belfort vs. Bisping: Bold Predictions for the Brazil Fight Card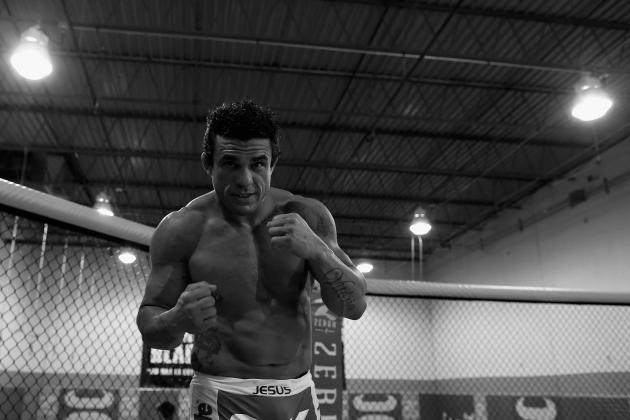 Chris Trotman/Getty Images

Vitor Belfort can make a huge statement in front of his home country crowd at UFC on FX 7 Jan. 19.
In the night's main event, the quick and powerful Brazilian fireplug squares off against perennial contender and heel Michael Bisping in a bout that will hugely affect the middleweight title picture moving forward.
Will Belfort seize his opportunity to shine in front of his countrymen, or will Bisping emerge from hostile territory with a title shot in hand?
With an explosive main event and rising stars like Edson Barboza, Nik Lentz, Andrew Craig and Khabib Nurmagomedov on the card, the evening promises its fair share of surprises and unexpected finishes.
Start the slideshow to check them out.
Begin Slideshow

»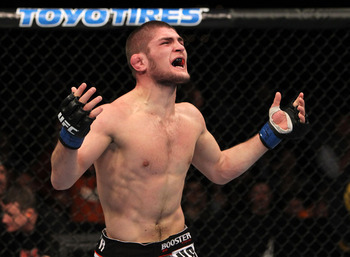 CREDIT: mmadiehards.com
Young Russian Sambo artist Khabib Nurmagomedov is an animal.
Before bursting onto the UFC scene in January 2012, Nurmagomedov posted a ridiculous 16-0 professional record.
After facing tough veterans in Kamal Shalorus and Gleison Tibau, the American Kickboxing Academy stud now rides an 18-fight winning streak, and he is poised for a run to the top of his division.
At UFC on FX 7, Nurmagomedov again drew a tried and true veteran in Thiago Tavares.
While Tavares will have home-court advantage in this matchup, I see the AKA standout having his way for the bout's duration.
Following an impressive suplex that lands him in side-control, Nurmagomedov will halt the action with vicious elbows in Round 2.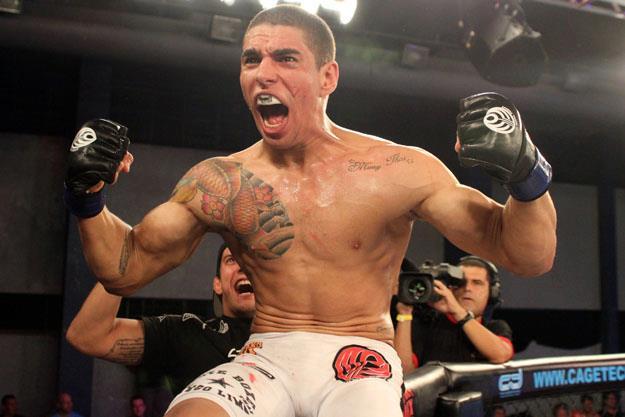 CREDIT: mmaprime.tv
Edson Barboza is not all he's cracked up to be, folks.
Judging a fighter on one spectacular knockout (and it was spectacular; I'll give you that) is a dangerous thing to do, and outside of his spinning-wheel kick knockout of Terry Etim at UFC 142, we really have not seen Barboza light up the Octagon.
He arguably lost to Ross Pearson at UFC 134, and he was recently knocked out by Jamie Varner in dramatic first-round fashion. After getting tagged, Barboza had no idea what to do, and he folded into a heap of Brazilian laundry along the cage wall.
Lucas Martins will do the same to him.
At just 24 years old, Martins boasts a 12-0 record as a professional, and eight of his wins have come via knockout.
Martins hits hard. He will be pumped and he will be ready.
Edson Barboza faces the pressure of becoming a bust, and he does not like to get hit.
You do the math.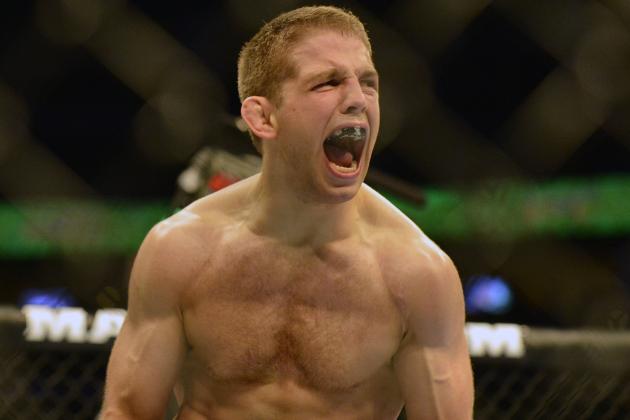 Ron Chenoy-USA TODAY Sports

Nik Lentz looks incredible at featherweight.
Granted, we only have one fight against a questionable opponent in Eiji Mitsuoka to base this claim upon, but Lentz, despite being pretty boring, has posted an impressive 6-2-1 (1) record inside the Octagon since his debut in 2009.
He has experience, he has grit, and he has the grinding grappling style that is an absolute nightmare for opponents.
Now at 145 pounds, Lentz is stronger and more overbearing than ever, and Nunes is set to face the fury.
Look for Lentz to win a dominant unanimous decision in this one.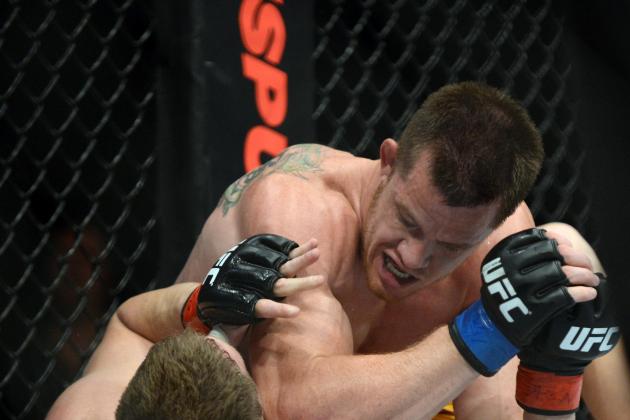 Ron Chenoy-USA TODAY Sports

C.B. Dollaway is just the worst.
Thankfully, he put together a lackluster run in the UFC's middleweight division, and his opponent, Daniel Sarafian, is primed for victory in this matchup.
The Brazilian Sarafian has six career submission victories in seven total wins, and C.B. Dollaway is the kind of guy who wants to constantly force a boring ground fight.
Because of this, "The Doberman" will be neutered by a scissor sweep that turns the ground-positioning table and allows Sarafian to secure a fight-ending armbar from mount.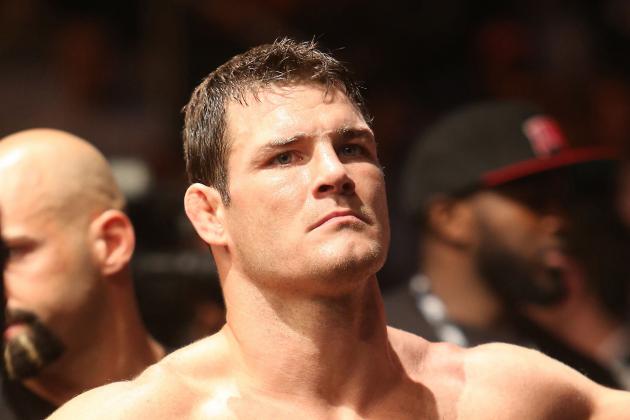 Tom Szczerbowski-USA TODAY Sports

Say what you will about Michael Bisping, the man is a talented mixed martial artist.
With the greatest opportunity of his career on hand, Bisping will come out sharper, more focused and more disciplined than ever, and this will lead him to victory over the muscle junkie Belfort.
After weathering an early storm (as he did against Brian Stann), Bisping will establish a rhythm and jab, clinch and dance his way to an infuriating unanimous decision.
The crowd wants blood, but they will get none in this one.
The fans want Vitor Belfort to assume the role of Dan Henderson circa UFC 100, but he will instead become a sparring target for Bisping's quick hands and deft footwork.
Sorry guys, but this fight will disappoint, and Bisping will get the worst reward ever: a fight with Anderson Silva.
Yeah, good luck with that one, chap.