Oklahoma Football: Projecting the Sooner 2013 2-Deep Depth Chart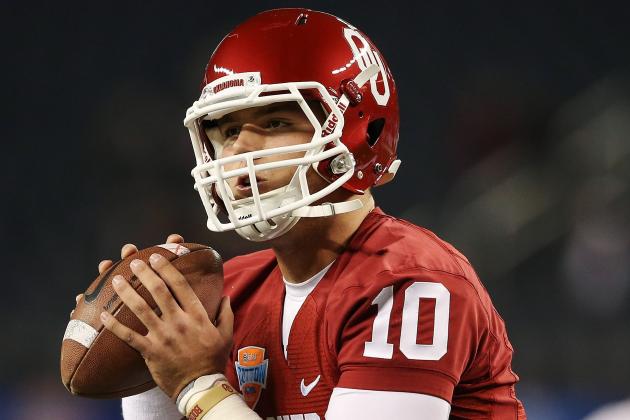 USA TODAY Sports
Blake Bell is poised to become the next starting quarterback at OU.
For Oklahoma football fans, it's never too early to take a look at the upcoming season's depth chart.
The Sooners lose several talented players, including Landry Jones, Kenny Stills and Tony Jefferson. Without a doubt, the 2013 team will feature plenty of new faces.
But OU is lucky to retain several key players. Tailback Damien Williams, center Gabe Ikard and cornerback Aaron Colvin bring much-needed leadership to next season's team.
Sure, it's only January. But preseason camp is just around the corner. Here is an early projection for the 2013 Sooner 2-deep depth chart.
(Note: some statistics are from soonersports.com and may not include Cotton Bowl statistics).
Begin Slideshow

»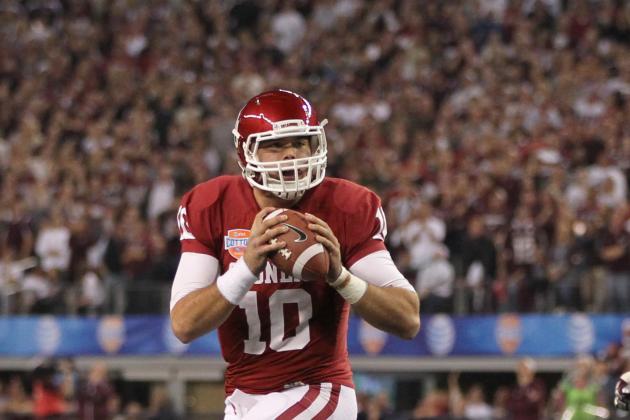 USA TODAY Sports
Will Blake Bell be able to pass as well as he can run?
Starter: Blake Bell
Backup: Trevor Knight
Quarterback figures to be the biggest question mark for OU entering the 2013 season.
At this point, it's logical to assume Blake Bell will inherit the position from Landry Jones. He was Jones's backup all season, and it's hard to imagine the coaching staff relegating him to a backup role again.
Bell at 6'6", 254 pounds, has proven to be a very effective runner in short-yardage and goal-line situations. But his passing ability remains shrouded in uncertainty.
If he proves to be an effective dual-threat quarterback, Bell should thrive as signal-caller. If not, the Sooners could go with Trevor Knight.
Knight, who will be a redshirt freshman next season, is a promising dual-threat athlete. He received high praise from his teammates for his performance on the scout team this season.
Additionally, Sooner co-offensive coordinator Jay Norvell hinted at the possibility of Knight competing with Bell for the starting job next fall.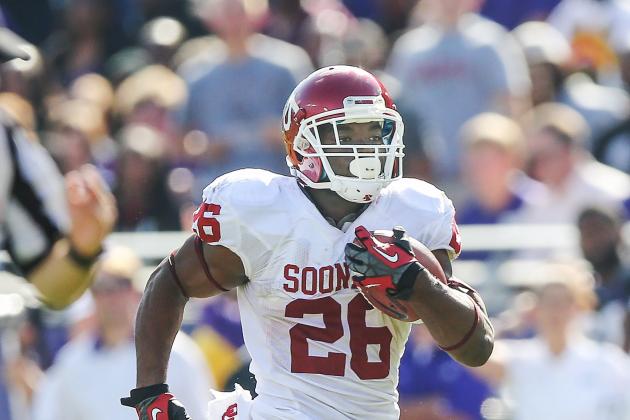 Kevin Jairaj-USA TODAY Sports
Damien Williams made his mark on the program immediately in 2012.
Starter: Damien Williams
Backup: Brennan Clay
Amid uncertainty at several positions, tailback should be a source of familiarity and comfort for OU in 2013. Starter Damien Williams and backup Brennan Clay should both return.
Williams had an impressive debut last season. The JUCO transfer 946 yards and 11 touchdowns. He also added 34 catches for 320 yards and another score.
Clay produced solid numbers as a backup, totaling 555 rushing yards and six touchdowns on the ground.
Running the ball with more effectiveness should be a priority for the Sooners. They ranked 57th nationally last season in total rushing yards. If they are to develop a well-rounded attack, they need to have more consistency in this area.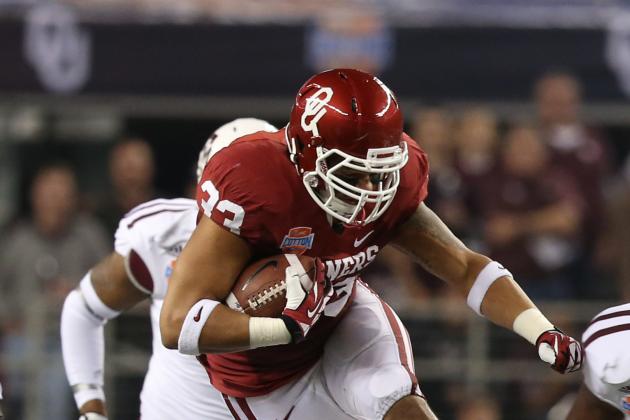 USA TODAY Sports
Trey Millard should continue to run over defenders in 2013.
Starter: Trey Millard
Backup: Aaron Ripkowski
One of the best recent developments in Sooner football is Trey Millard announcing he will return for his senior season.
Millard has been a versatile beast for OU the past three seasons. This past season, he totaled 535 yards and four touchdowns in addition to providing valuable blocking ability.
It would be nice to see the bruising back get more opportunities to run and catch the ball next season. As he proved against Texas this season, he can do amazing things with the football.
Aaron Ripkowski will provide depth to the position. He saw the field on a consistent basis this season and started against Texas.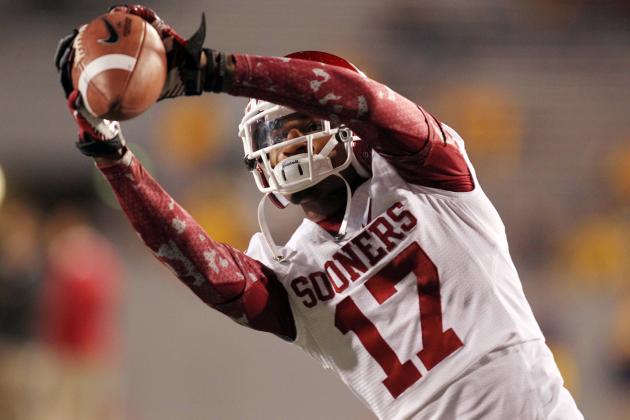 Charles LeClaire-USA TODAY Sports
Trey Metoyer could be the next star wideout at OU.
Starter: Trey Metoyer
Backup: Lacoltan Bester
With Kenny Stills bolting for the NFL, look for the highly-touted Trey Metoyer to take his spot.
Metoyer's freshman campaign was not as impressive as many expected, but he was surrounded by considerable talent. He still managed to start four games and catch 17 passes for 148 yards and a score.
With top target Stills gone, the sophomore will be poised to excel in the starting role. He has plenty of ability; the only variable is playing time.
There are several possibilities for Metoyer's backup. Look for Lacoltan Bester to have the best shot at the role. He was No. 3 on the depth chart behind Stills and Metoyer in 2012. He also saw decent playing time, a considerable accomplishment given OU's depth at receiver.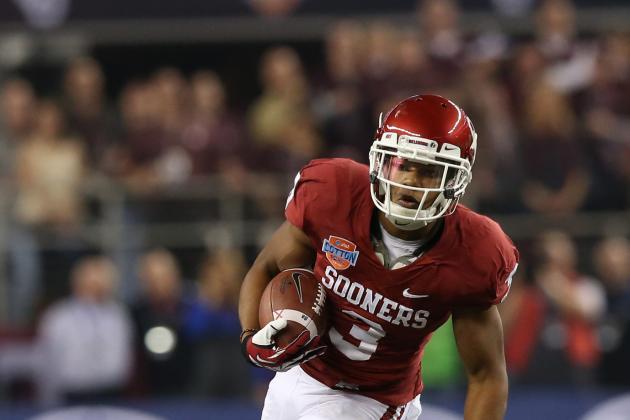 USA TODAY Sports
Look for an impressive sophomore campaign from Sterling Shepard.
Starter: Sterling Shepard
Backup: Durron Neal
Sterling Shepard is another touted prospect who should thrive as a starter.
He proved to be the most impressive freshman Sooner receiver last season with 45 catches for 621 yards and three touchdowns.
Considering his output in year one, it's exciting to think of what Shepard could accomplish with three more years. He could have a breakout season in 2013.
Durron Neal, meanwhile, should earn the No. 2 spot. He saw game action last season and shows considerable promise. Expect him to get plenty of playing time.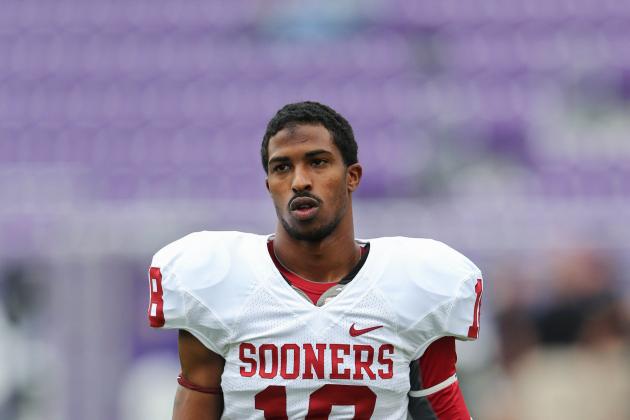 Kevin Jairaj-USA TODAY Sports
Jalen Saunders had no trouble adjusting to OU's offense.
Starter: Jalen Saunders
Backup: Derrick Woods
Rounding out the Sooner receiving corps will be the talented Jalen Saunders.
Saunders, a Fresno State transfer, adapted quickly to the Big 12 last season. He ended up with 62 catches for 829 yards and three touchdowns.
He is also in line for a huge senior season. As long as he stays healthy, he should continue to shine.
Behind Saunders could be Derrick Woods. The 6'1" 185-pound target opened eyes on the scout team last season. It's only a matter of time before he makes his mark. He's one to keep an eye on for the next several years.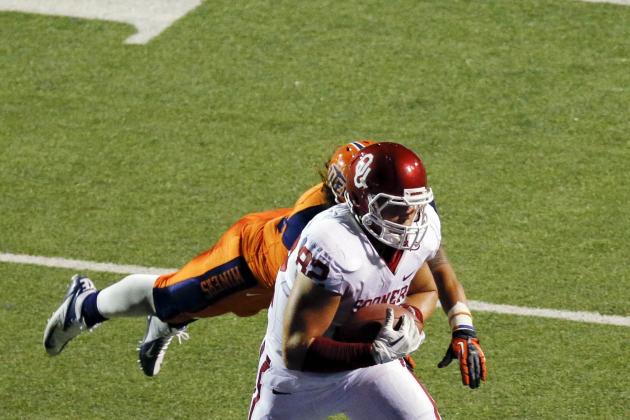 Jim Cowsert-USA TODAY Sports
Will Brannon Green be a factor in the receiving game in 2013?
Starter: Brannon Green
Backup: Taylor McNamara
Tight end is another area the Sooners need to work on for next season. The great Sooner teams featured great tight ends. Be it Keith Jackson, Trent Smith or Jermaine Gresham, a versatile tight end added dimension to the offense.
The starter next season should be Brannon Green. He was the consistent starter last season after Taylor McNamara's injury. Green did catch one touchdown, but he only logged three receptions.
Hopefully, Green will have a role in the receiving game in 2013. He could provide a valuable safety blanket for Blake Bell.
It will be interesting to see what Taylor McNamara does next season. He made two appearances and one start before suffering a season-ending shoulder injury.
If McNamara recovers, he could compete with Green for the starting job.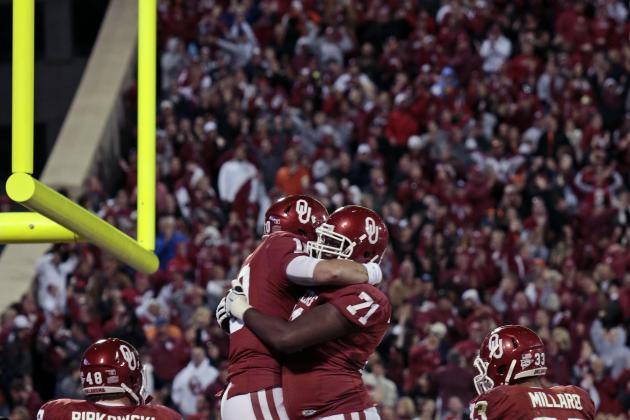 Brett Deering/Getty Images
Tyrus Thompson (71) is ready to start at left tackle.
Starter: Tyrus Thompson
Backup: Derek Farniok
Tyrus Thompson will have big shoes to fill at left tackle.
The junior will step in for Lane Johnson, who provided consistency and reliability protecting Landry Jones's blind side.
Thompson did play in every game last season and made five starts. At 6'5", 303 pounds, he shouldn't have too much trouble transitioning into the starting role.
It's anyone's guess who earn the No. 2 spot. It could be Derek Farniok. He has formidable size (6'9", 319 pounds) and was Thompson's backup at right tackle.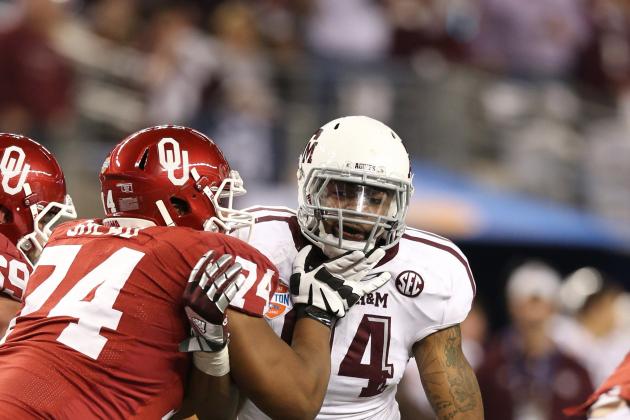 USA TODAY Sports
Adam Shead brings consistency to the left guard position.
Starter: Adam Shead
Backup: Austin Woods
Adam Shead seems to have the left guard position locked down. He started all 13 games in 2012-13. He'll enter 2013 with three seasons of experience as a redshirt junior.
Austin Woods will most likely remain on the second string. He is currently listed as Shead's backup and should be a capable replacement once again next season.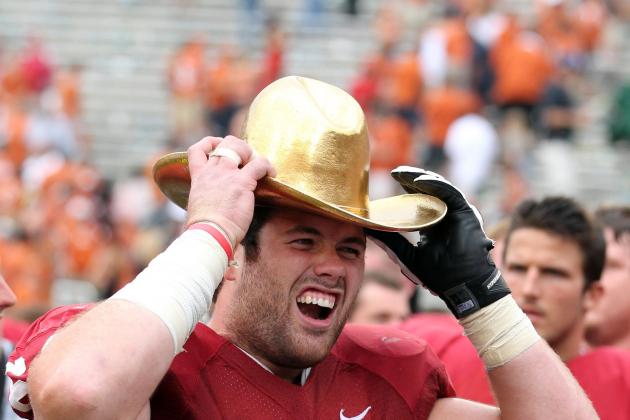 Tim Heitman-USA TODAY Sports
Sooner fans should be encouraged by the return of Gabe Ikard.
Starter: Gabe Ikard
Backup: Ty Darlington
Back for his senior year is dependable center Gabe Ikard.
Ikard has had a standout career in Norman, earning two All-Big 12 first team honors and maintaining a 4.0 GPA.
He has played in 39 games, with 37 starts at center and left guard. Barring injury, he should start every game at center in 2013.
If Ikard does go down, expect sophomore Ty Darlington to be a competent replacement. The former U.S. Army All-American is patiently awaiting his opportunity to start. When he gets it, he won't disappoint.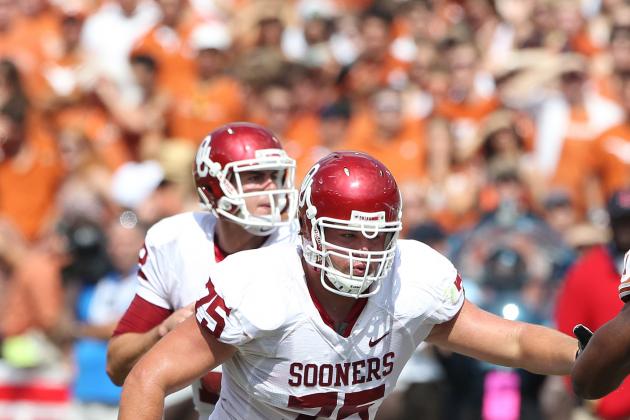 Matthew Emmons-USA TODAY Sports
Hopefully, Tyler Evans will be injury-free in 2013.
Starter: Tyler Evans
Backup: Bronson Irwin
Tyler Evans missed the entire 2012-13 season with a torn ACL, a huge loss for the O-line. But he should be back for one more season at right guard.
Evans has logged 29 starts at the position and has proven to be one of the Sooners' best linemen since 2009.
Hopefully, he stays healthy. His skills and experience will be important for the cohesion of the front five.
If for some reason Evans can't play, Bronson Irwin should be effective. After starting every game of the past season, he has proven he can handle the position.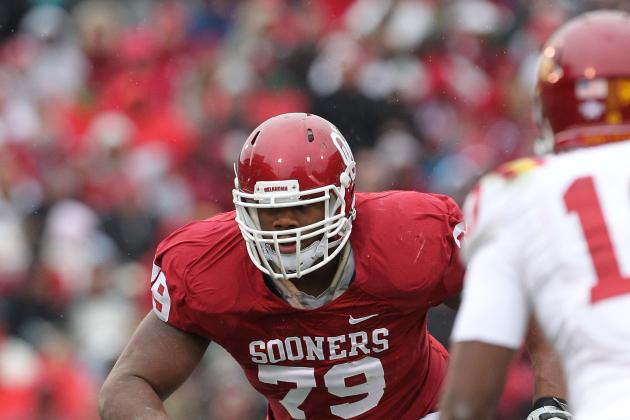 Matthew Emmons-USA TODAY Sports
Daryl Williams has a chance to be one of the Sooners' best O-linemen next season.
Starter: Daryl Williams
Backup: Tyrus Thompson
Junior Daryl Williams will be the starter at right tackle as long as he stays healthy.
Williams missed the past three games with an MCL sprain. Tyrus Thompson took over for him. With Williams back, Thompson should move over to left tackle.
Overall, Williams was solid for OU at tackle last season. He started every game before his injury on a line that provided solid protection Landry Jones.
Tyrus Thompson may remain Williams's backup. But if Williams gets injured again, the coaching staff will probably re-work the depth chart. Austin Woods and Bronson Irwin could potentially fill in.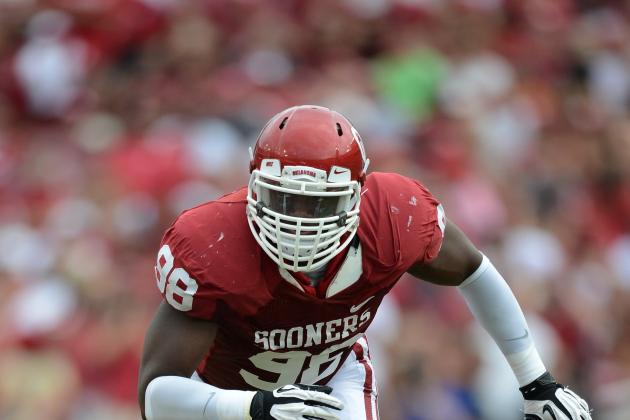 Matthew Emmons-USA TODAY Sports
Chuka Ndulue will be the leader of the D-line next season.
Starter: Chuka Ndulue
Backup: Rashad Favors
Chuka Ndulue will be the most proven player on a new-look D-line next season.
The Dallas native made 10 starts in 2012-13. He recorded 45 tackles and a team-high five sacks. He could be on the verge of a breakout junior season.
It's likely that Rashod Favors will be behind Ndulue. He will also be a junior next season. At 6'1", 250 pounds, he's also seen action at linebacker. Depending on the depth at that position, he may get more time there as well.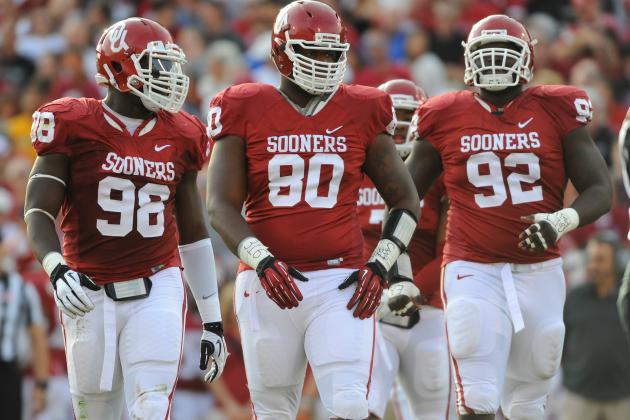 Denny Medley-USA TODAY Sports
Jordan Phillips (80) has the potential to be the next standout tackle in Norman.
Starter: Jordan Phillips
Backup: Damon Williams
Defensive tackle may be the hardest position to project. The Sooners lose starters Stacy McGee and Jamarkus McFarland as well as Casey Walker.
Jordan Phillips is a logical choice to earn one of the starting jobs. He played in 10 games as a redshirt freshman last season.
The 6'6", 318-pound former Under Armour All-American should be fun to watch.
A number of players could earn the No. 2 spot. Damon Wiliams only played in one game this season, but that sets him apart from other players on the roster.
Jordan Wade and Torrea Peterson could also be penciled in on the second string. They'll probably both see playing time.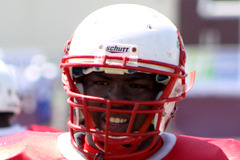 Quincy Russell is a key addition at tackle for Oklahoma (photo courtesy of 247sports.com).
Starter: Quincy Russell
Backup: Marquis Anderson
An intriguing tackle will be incoming recruit Quincy Russell. Bob Stoops gave props to the JUCO standout, labeling him a "huge difference maker."
Russell should be a major competitor for the starting job. At the very least, expect him to get substantial playing time.
Marquis Anderson appeared in four games in 2012-13, making him one of the most experienced returning linemen. The former touted prospect could give Russell competition for the starting position.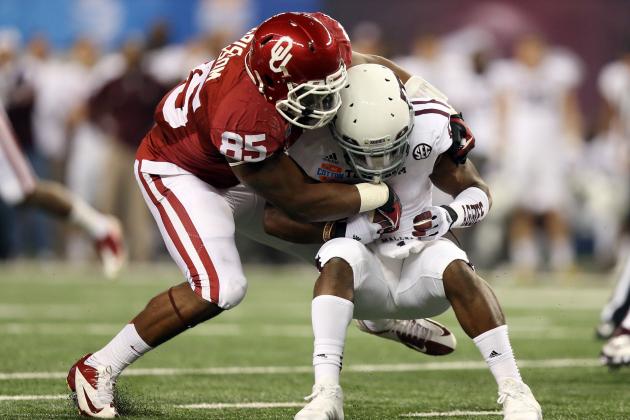 USA TODAY Sports
Geneo Grissom needs to step up at defensive end next season.
Starter: Geneo Grissom
Backup: Chaz Nelson
With David King leaving, Geneo Grissom is the heir apparent at defensive end.
Grissom has played in 16 games the past two seasons and started in the 2013 Cotton Bowl. He should maintain his spot at the top of the depth chart.
JUCO transfer Chaz Nelson didn't play last season, but he may end up on the second string.
Nelson was an accomplished player at Garden City (Kansas) Community College. He'll be a senior next season, and the coaching staff probably intends to use him.
Hopefully, Nelson can provide solid spot duty for Grissom.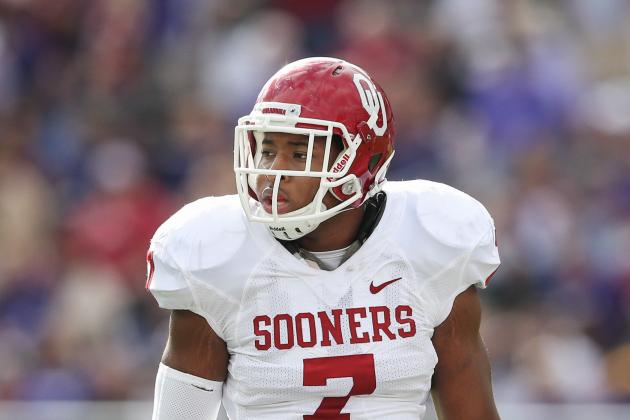 Kevin Jairaj-USA TODAY Sports
Corey Nelson is a key returning starter for the Sooners.
Starter: Corey Nelson
Backup: Aaron Franklin
The linebacking corps was ghost-like this season. That needs to change in 2013.
An encouraging start is the return of Corey Nelson at outside linebacker.
With middle 'backer Tom Wort leaving, Nelson will be the leader of the unit. He's played in 40 games the past three seasons and started 22 contests.
Aaron Franklin will be a capable replacement for Nelson, should he need one. Franklin has seen consistent playing time the past two seasons and has size and experience.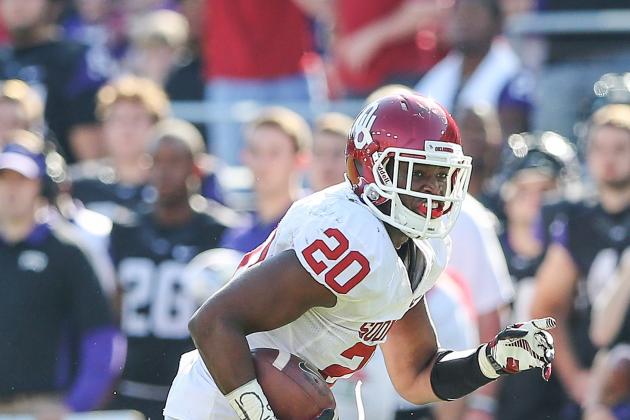 Kevin Jairaj-USA TODAY Sports
Will Frank Shannon have a breakout season in 2013?
Starter: Frank Shannon
Backup: Eric Striker
With Tom Wort leaving for the NFL, the middle linebacker position seems to be in Frank Shannon's grasp.
Shannon started two games as a freshman last season and played in eleven. He made 38 tackles, two sacks and a fumble recovery.
The 6'1", 230-pound Dallas native will have a pressure-filled role. He needs to step up immediately and bring life to a sluggish linebacking unit.
Despite being listed at a mere 198 pounds, Eric Striker saw action at linebacker in 12 games this season.
Considering his game experience, this puts Striker at the front of the pack for the backup job. But P.L. Lindley (6'2", 240 pounds) and Caleb Gastelum should vie for playing time as well.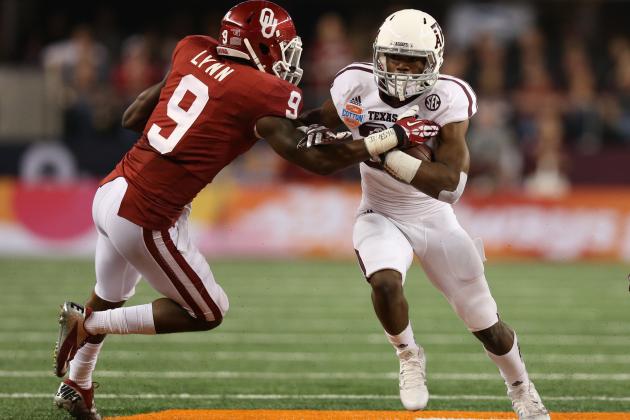 USA TODAY Sports
Gabe Lynn is reliable in the secondary.
Starter: Gabe Lynn
Backup: Julian Wilson
All of a sudden, Gabe Lynn is one of the most seasoned players in the OU secondary.
With Javon Harris, Tony Jefferson and Demontre Hurst leaving, it will be up to Lynn and Aaron Colvin to steer the Sooner secondary through the pass-heavy Big 12.
Lynn definitely is capable of fulfilling this role. He played in every game this season and tallied 34 tackles.
He will be expected to perform at a high level for his senior season.
Look for Julian Wilson to get playing time in the secondary as well. He saw the field on a consistent basis last season and broke up three passes.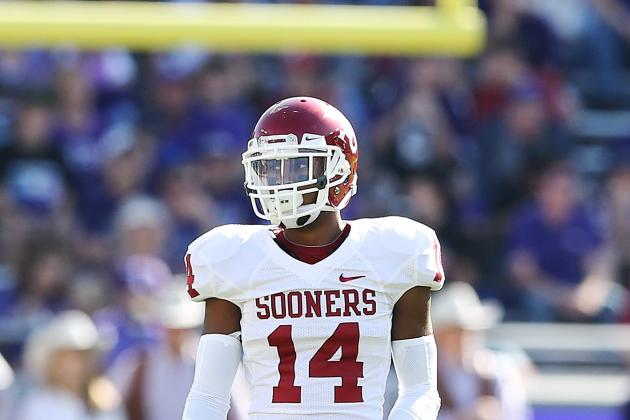 Kevin Jairaj-USA TODAY Sports
Aaron Colvin's return is a huge plus for Oklahoma.
Starter: Aaron Colvin
Backup: Gary Simon
Aaron Colvin's decision to return for one more year was great consolation after the Cotton Bowl blowout.
Colvin is the best player returning on the Sooner D. The All-Big 12 stud turner in another solid campaign in 2012-13. Four interceptions and 11 passes broken up are among his accomplishments.
Colvin's talent and experience are comforting amid the holes in the Oklahoma defense. At the very least, one knows he'll bring a high level of play every week.
The No. 2 cornerback behind Colvin is currently Gary Simon. He should retain his role. He may see more playing time considering the loss of personnel in the secondary.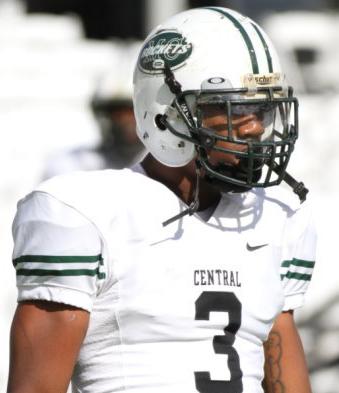 Ahmad Thomas could be an immediate starter at OU (photo courtesy of 247sports.com).
Starter: Ahmad Thomas
Backup: Cortez Johnson/Eric Doughtie
Starting at safety as a true freshman is very hard to do. But the departure of star Tony Jefferson makes doing so a real possibility for Ahmad Thomas.
Preseason camp will give fans a better idea about Thomas's readiness to start. But at 6'0", 210 pounds, he already has the size.
The backup could be Arizona transfer Cortez Johnson or possibly Eric Doughtie. Based on size, they seem to be the only players currently suited for the role.
Incoming recruit Dominique Alexander could also work his way into the discussion.
Hatari Byrd will be fun to watch in the Sooner secondary (photo courtesy of 247sports.com).
Starter: Hatari Byrd
Backup: Gabe Lynn
Physically, Hatari Byrd is ready to play strong safety. The 6'2", 200-pound prospect from California is lauded for his hitting skills and aggressiveness.
Again, the bigger question is whether Byrd is mentally ready to be a starting safety in the Big 12. It'll be intriguing to see how he develops.
For now, let's assume Byrd will win the starting job. Otherwise, it's possible Mike Stoops and Co. would move Gabe Lynn to safety.
Eric Doughtie, Quentin Hayes and Cortez Johnson are other defensive backs to keep an eye on.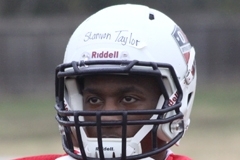 Stanvon Taylor could see playing time at cornerback in 2013 (photo courtesy of 247sports.com).
Starter: Kass Everett
Backup: Zach Sanchez
Kass Everett played in 10 games this season after transferring to OU from junior college. With Demontre Hurst and his backup, Lamar Harris, leaving, Everett has a good chance to start.
Everett's backup may be Zach Sanchez, currently No. 3 on the depth chart at cornerback. Sanchez will be a sophomore in 2013.
The incoming 4-star recruit (according to Scout.com) should also compete for playing time. He could end up on the second string or even compete with Everett for the top spot.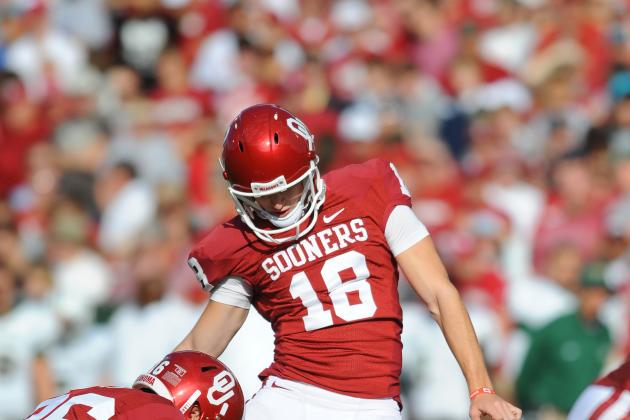 Denny Medley-USA TODAY Sports
Michael Hunnicutt has been a strength for the Sooners.
Kicker: Michael Hunnicutt (Backup: Erik Hosek)
Punter: Jed Barnett (Backup: Dylan Seibert)
Long Snapper: Austin Woods (Backup: Ty Darlington)
Holder: Trevor Knight (Backup: Jed Barnett)
Kick Returner: Roy Finch (Backup: Brennan Clay)
Punt Retuner: Jalen Saunders (Backup: Sterling Shepard)
Kicker Michael Hunnicutt's return is a plus for the Sooners. Hunnicutt made 17-of-21 kicks this season, ameliorating OU's frustrating inconsistency at the position.
At punter, JUCO transfer Jed Barnett will most likely take over for departing Tress Way. Bob Stoops praised his kicking ability. Dylan Seibert is the only punter currently on the OU roster.
In the return game, Roy Finch and Jalen Saunders both boast speed and elusiveness. Both logged a touchdown return in 2012 and should continue to help the Sooners in the field position game.