Losing the commitment of 5-star defensive end Dee Liner could go down as the most devastating recruiting loss of the 2013 cycle for Gus Malzahn and the Auburn Tigers.
Liner is ranked as the No. 2 strong-side defensive end in the country by Rivals.com and he has superstar potential. He would have been a huge recruit for Malzahn and his staff to hold on to in their first recruiting cycle, but according to Justin Hokanson of AuburnSports.com, Liner is no longer committed:
Muscle Shoals (Ala.) five-star defensive lineman Dee Liner has de-committed from Auburn, Liner told AuburnSports.com on Monday evening.

"I de-committed from Auburn today," Liner said. "I'm going to make my decision on signing day. I had to do what's best for me and I appreciate what Auburn is and has done for me. I appreciate them, I just have to do what's best for me. I appreciate all the Auburn fans."
To make already bad news even worse, Auburn won't even have a chance to win Liner's commitment back, per Hokanson's report:
"Auburn is out of it," said Liner. "There's a couple of schools I'm looking at, I don't want to let many people know. I'll just make my decision on signing day."
The timing of this decommitment couldn't be any worse (as if there's ever a good time for a decommitment) and Liner's decision may lead way to other recruits leaving Auburn's class—specifically the Tigers' final 5-star commit, Carl Lawson.
Which NFL Player Does Carl Lawson Compare to?
This Tigers had a very rough year on the field, but the one thing they were able to "hang their hat on" was the fact that their recruiting class looked very strong—especially defensively. There was a time when Auburn boasted three 5-star defensive players in Liner, Lawson and Reuben Foster, and those three represented a ton of hope for the future of the program.
All three are elite recruits, and all three will be game-changers at the college level.
The first to go was Foster, and that was a devastating recruiting loss for Auburn, but one that many saw coming. Losing his commitment was bad for Auburn, but the Tigers still had Liner and Lawson on board.
In fact, having two elite defensive ends committed still made Auburn a very attractive option for big-time defenders, including Foster. It was an outside chance, but the Tigers still had the pieces in place to pull of a recruiting miracle by the time national signing day came around.
The one big maybe was the status of Lawson (who just took an official visit to Clemson), but it looked like that as long as Liner was still committed, Auburn had a chance to keep him committed.
That chance could be gone now that Liner has decommitted. Lawson has watched two 5-star players leave the program and now he's the lone elite recruit in the class. What started off as a promising defensive future has slowly but surely fallen apart.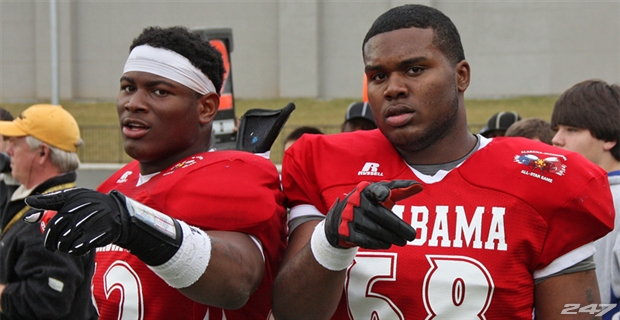 Will Lawson remain committed to Auburn?
Lawson already had his foot halfway out the door in regards to Auburn, so one could only imagine how Liner's decommitment will impact that.
Auburn's only hope in this situation is to pitch Lawson on being "the guy" for Auburn, but Liner's decommitment could be too much to overcome.
By leaving Auburn, Liner has essentially left the door open for Lawson to follow, and that's what makes this such a monumental decommitment for Auburn.
Will Lawson be the next recruit to leave Auburn?
Let's just say I, for one, won't be surprised.