Nonito Donaire Doesn't Need Mares or Rigondeaux, 5 More Huge Fights He Can Take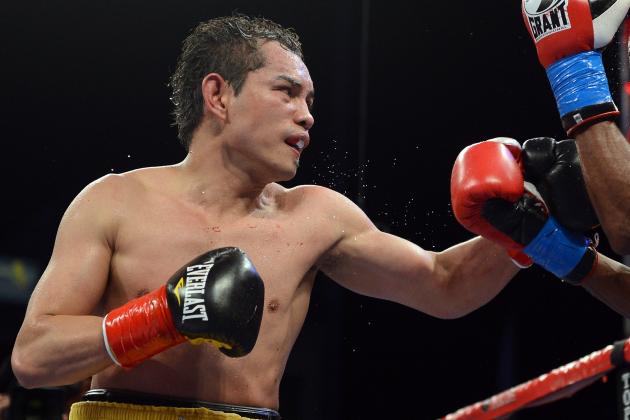 Harry How/Getty Images
Nonito Donaire is looking forward to his future at featherweight.
Nonito Donaire has been heckled by the boxing community lately demanding he fight Abner Mares and Guillermo Rigondeaux as if they are all that's left in the super bantamweight division
The truth is: Yes, they are all that's left in the super bantamweight division, but there are still even more bankable and legacy-improving fights north of the 122-pounds weight class.
The featherweight and super featherweight divisions each have good fights for Donaire. His build is that of a super featherweight and the extra weight will only make him stronger.
As can be seen since his move up from 118 pounds to 122, Donaire has become a force to be reckoned with.
Of the four former 122-lb champs he's faced since moving up in early 2012, he's knocked out two of them and knocked down the other two in dominating performances—breaking a fighter's jaw in the process.
Rigondeaux stated he can move up to 126 easily and Mares said he's looking forward to moving up to 126 too. That means super fights with either fighter aren't dead with a move in weight.
Demand for both fights will actually only grow while each fighter continues to rack up career-defining victories. But until then, Donaire's best star-nurturing options are at featherweight and beyond.
Begin Slideshow

»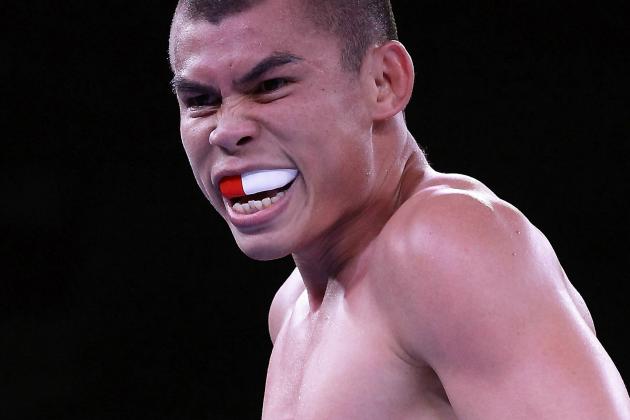 Suhaimi Abdullah/Getty Images
Chris John rocking the Indonesian flag colors on his mouth piece.
WBA featherweight champion Chris John holds a win over the man who knocked out Manny Pacquiao, Juan Manuel Marquez, and he's held his title for nearly 10 years.
With recent rumors of Donaire's promoter Top Rank looking to stage events in the Philippines and other Asian countries, Donaire could very well fight John in his native Indonesia.
John commands a rabid fanbase and a fight with Donaire, who will likely be billed as the Filipino-American successor to Manny Pacquiao, would command enough attention to make it a pay-per-view.
Between the multiple Asian television deals, international pay-per-view buys and sizable live gate, Donaire would easily make his first multi-million dollar payday.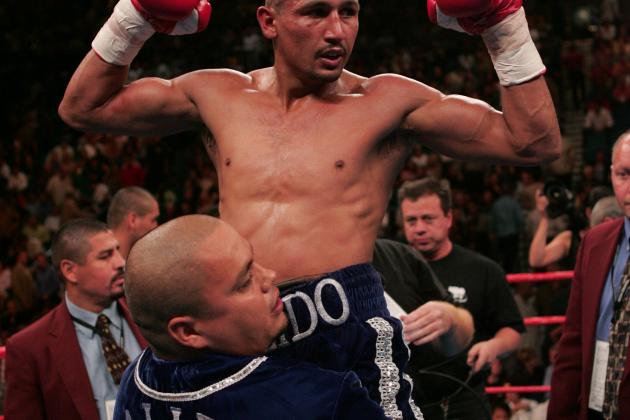 Jed Jacobsohn/Getty Images
Orlando Salido basking in the glow of yet another victory.
WBO featherweight Orlando Salido's popularity among Mexicans has grown immensely since his two knockout victories over Puerto Rico's once-rising star, Juan Manuel Lopez.
When Donaire fought Jorge Arce, Mexicans filled the Houston Toyota Center despite Arce having no chance. That support will only intensify when a Mexican warrior appears who actually has a chance.
Unfortunately Salido's Jan. 19 fight with Mikey Garcia is pretty 50-50, meaning Salido could very well lose.
Garcia and Donaire have already stated they will never fight each other due to having the same trainer, Robert Garcia, Mikey's brother.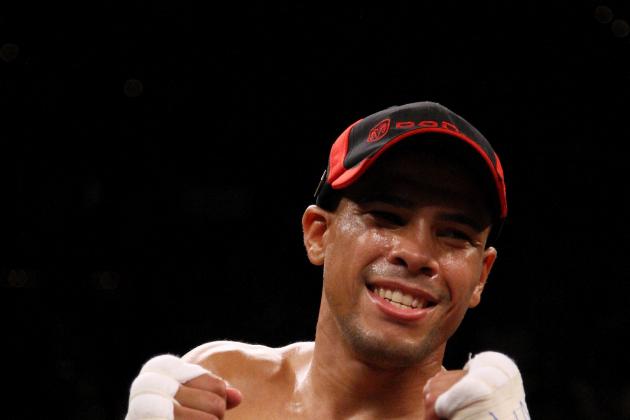 Jed Jacobsohn/Getty Images
Juan Manuel Lopez during his better days as a world champion.
Juan Manuel "Juanma" Lopez was once the hottest young star coming out of Puerto Rico. Two knockout losses later and Lopez is moving up from featherweight to super featherweight.
Donaire could take this fight in Puerto Rico, where Lopez still fills arenas and get the show on HBO. Lopez just needs to win his February comeback fight and Donaire needs to make the move.
Lopez may hit hard, but he's been knocked down and hurt badly throughout his career due to a lack of defense and a chin that's ripe for the taking.
And with Donaire doing so well with retaining his power as he moves up in weight, Donaire could very well power through Lopez for a big KO victory to add to the highlight reel.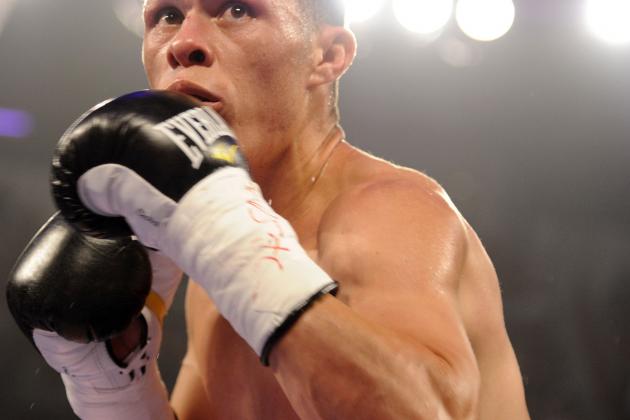 Jeff Bottari/Getty Images
Roman "Rocky" Martinez is another tough Puerto Rican veteran.
Roman "Rocky" Martinez holds a victory over Miguel Beltran Jr. and his only loss is by unanimous decision to one of the two best lightweights in the world right now in Ricky Burns.
Martinez currently holds the WBO super featherweight world title. Should Donaire win a title at featherweight, he'll want a title at 130 to become the third fighter to win world titles in six weight classes.
Martinez is exciting and is a Puerto Rican on the rise. Should he get by Juan Carlos Burgos, Martinez should make for a good fan-friendly challenge.
He's a bit taller, but Donaire's superior speed will definitely help him get in and take care of business.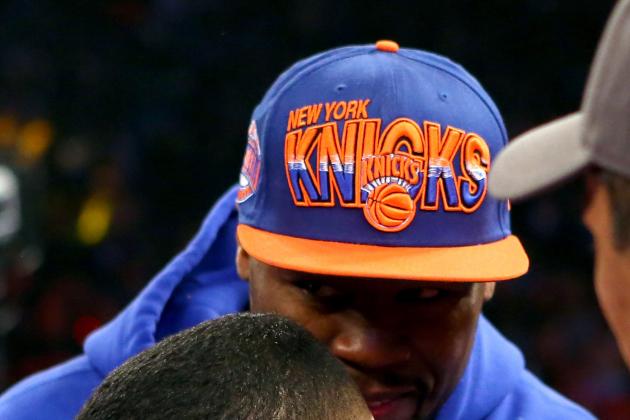 Al Bello/Getty Images
Promoter 50 Cent giving out more money-making advice to Yuriorkis Gamboa's open ear.
For all Gamboa's promoter 50 Cent's talk of one day making a Gamboa vs. Adrien Broner fight, he's allowing Gamboa to compete for and defend a title at 130, a division below where Broner fights.
The reason: he's got a much better chance of landing Donaire than Broner. That's due to 50 Cent's feud with Floyd Mayweather disturbing his relationship with Golden Boy, Broner's promoter.
50 Cent tried to place his IBF featherweight titlist Billy Dib on the undercard of of Cotto-Trout this past Dec. 1 to no avail. The event was co-promoted by Golden Boy, who ousted Dib from the show.
50 Cent's relationship with Top Rank's CEO Bob Arum is much better, hence Gamboa co-headlined the Pacquiao-Marquez IV HBO PPV this past December.
With 50 Cent's alliance with Top Rank, a push for a Donaire-Gamboa battle much more feasible.
With Gamboa in line to possibly unify his title with super featherweight champ Takashi Uchiyama of Japan, perhaps 50 Cent and Arum will work a out a deal where Donaire and Gamboa co-headline first.
The sky is the limit with a fight like this, two fighters with immense speed, power, technique and star-quality intangibles.
Unless Golden Boy and Mayweather decide to bury the hatchet with 50 Cent or a major upset happens, expect Donaire-Gamboa sooner rather than later.