8 Things Oakland Athletics Fans Need to Know about Hiroyuki Nakajima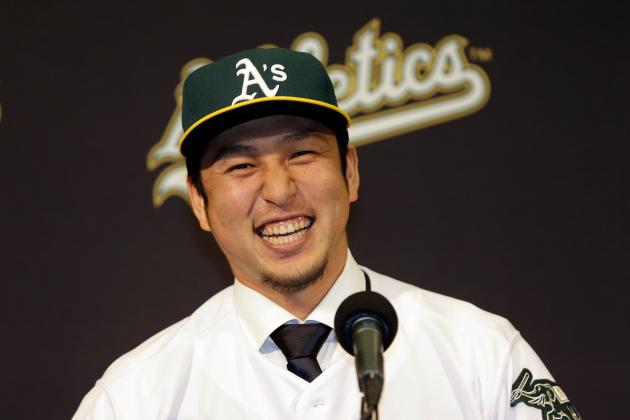 Ezra Shaw/Getty Images
Oakland's next big thing is here
The newest member of the Oakland Athletics is engaging, quick with a smile and has charmed the East Bay. Yes, Hiroyuki Nakajima brings a personality that already has the fans won over and appears to be the type of player that will fit right in with Oakland's fun and free-spirited clubhouse.
However, there is also an enigmatic nature to the man known as "Hiro." Who is he? What are his credentials? Nakajima won't be the key to the A's duplicating the success of 2012, but he's definitely an important factor. The following is what I hope will be a bridge to getting to know the man Oakland hopes is a piece to a larger championship puzzle later this year.
Begin Slideshow

»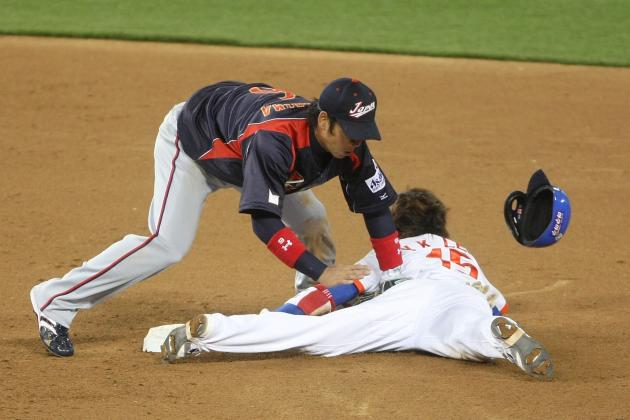 Stephen Dunn/Getty Images
Nakajima will not be a project in 2013.
Which means the A's won't be getting a developmental player. As a point of reference, Ichiro was 30 when he hit a career high .372 and broke the all-time single season hits record with 262 in 2004.
Does that mean I think Nakajima will be that kind of player?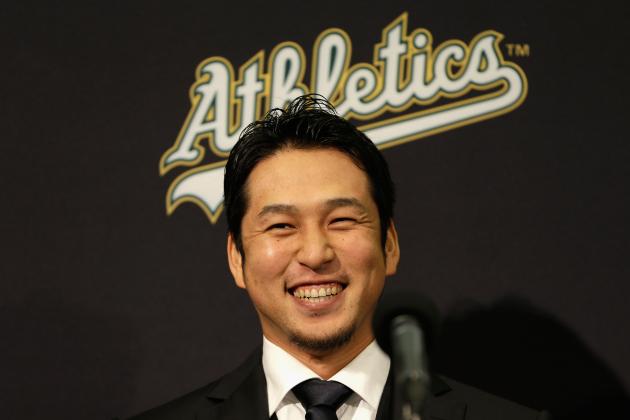 Ezra Shaw/Getty Images
Chances are, no matter what he does, it won't be an extended stay with the A's for Nakajima.
So this search is likely to resume in a couple of years. Best case scenario: Nakajima plays out of his mind (.300-plus hitter, better than average defense, great contact/some pop at the plate) and essentially gets a bigger deal after 2014.
Worst case scenario: He's another Kaz Matsui or Akinori Iwamura. Either way, gone after two years. So enjoy the show and let's hope the A's get him for a bargain instead of overpaying for another import that can't hit.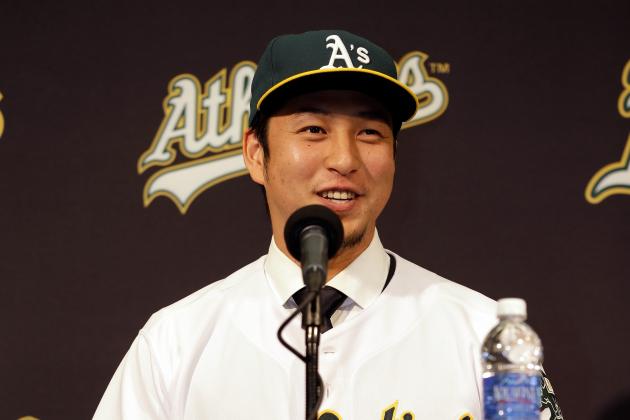 Ezra Shaw/Getty Images
Nakajima is the first Japanese player from the city of Itami to make the major leagues.
Nakajima becomes the first Japanese player from the city of Itami to make the jump to the majors. When you consider there have been 49 total Japanese players (most recently Nakajima and Chicago Cubs pitcher Kyuji Fukijawa) signed to play with MLB clubs and that Itami is a city of nearly 200,000, it is pretty interesting.
Oh yeah, Itami literally means "pain" in Japanese. Here's hoping Nakajima is a pain to opposing clubs this season.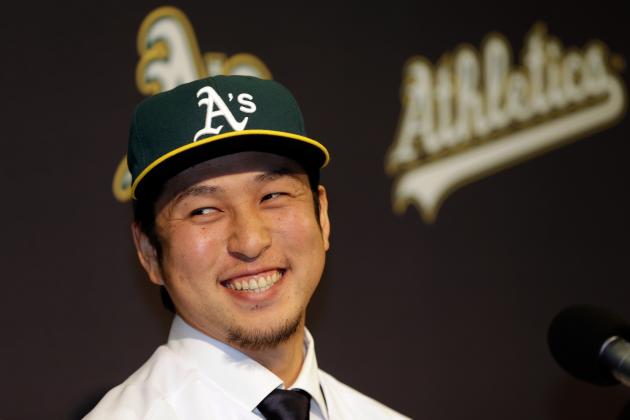 Ezra Shaw/Getty Images
Size wise, Nakajima fits the bill.
Well, average in terms of size at least. According to a study assisted by Baseball1.com, the average MLB shortstop stands 71.5 inches, or 5'11.5" based on data going back to 1960. Nakajima is 5'11" and just under 200 pounds.
Does that translate to the field? Well, we won't see for sure until spring training at the earliest. But at least Hiro will look the part.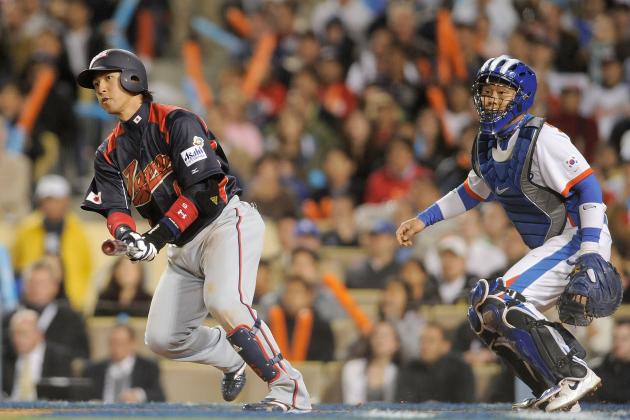 Kevork Djansezian/Getty Images
Nakajima's Japanese numbers are impressive.
In 11 seasons with the Seibu Lions in the Japanese League, Nakajima had a career average of .310, never hitting below .297 in any season. There is also some pop, as he averaged 9.5 home runs and 47 RBI in his career.
In other words, his history suggests a hitter that can sting the ball a bit. Considering what the A's got out of the position last year (.203 batting average and .313 slugging percentage), just okay is going to be better.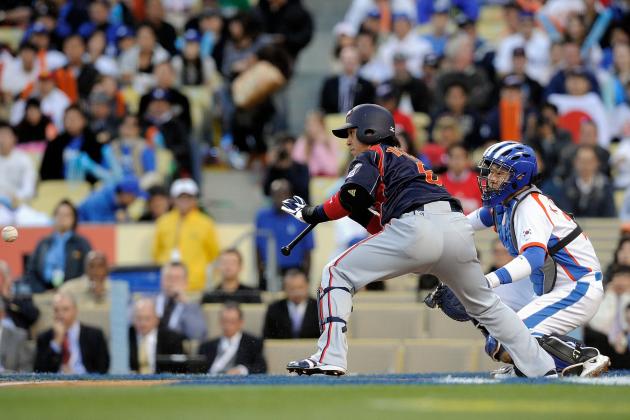 Kevork Djansezian/Getty Images
This may be more of the capacity Nakajima is used in Oakland.
All that said, the history of Japanese infielders is a bit spotty at the plate. Akinori Iwamura and Kaz Matsui each had promising starts to their careers, winding up as .267 hitters for their respective careers. Matsui was an All-Star and Iwamura a piece of the amazing 2008 Tampa Bay Rays team that won the American League pennant.
There is also Tsuyoshi Nishioka. An absolute superstar in Japan, his rights were won by the Minnesota Twins in 2010 after he put up a season with .346/.423/.482 splits while leading the Pacific League in multiple categories.
But it just didn't translate over to the U.S., as Nishioka batted a meager .215/.267/.236 in 254 plate appearances (in 71 games) with the Twins before electing to return to Japan.
There is really no way to handicap this except that no one has exceeded their Japanese league numbers. So if Nakajima hit .285, the A's would be thrilled.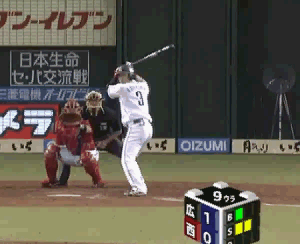 Courtesy: Carson Cistulli, NotGraphs
It's not a good hot dog without just a little mustard. And Nakajima's bat flip, given the brilliant label "The Dismount" by fellow B/R writer Mike Rosenbaum, is definitely Grey Poupon. Give that GIF a whirl and tell me it is not immediately on the list of best flips ever.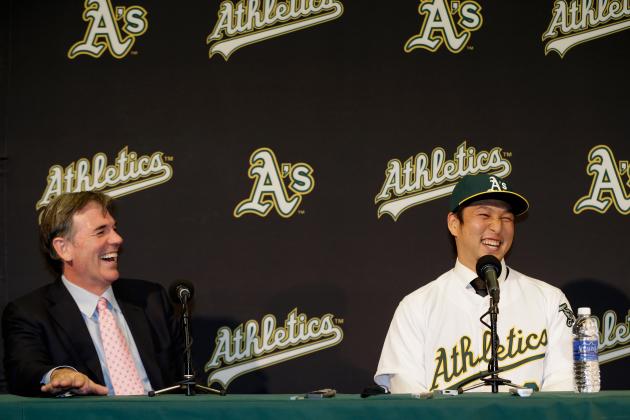 Ezra Shaw/Getty Images
Sexy and cool indeed.
Need I say any more? Shades of the Moneyball guys all over again. Personality will not be in short supply in the East Bay. The question is, will the success? Hiro Nakajima is a key, but he is not THE key.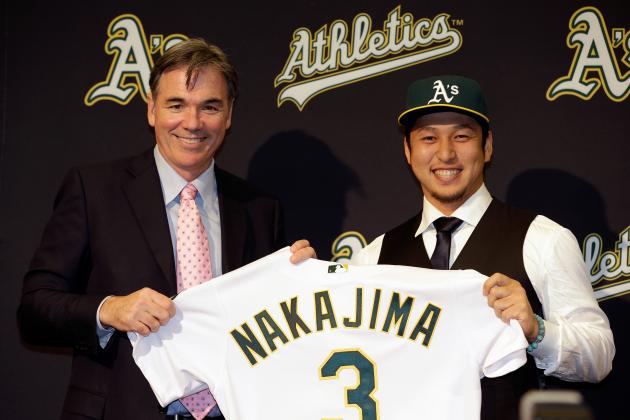 Ezra Shaw/Getty Images
Oakland can only hope the winning formula is re-brewed in 2013.
The bottom line from what I can see is this: The A's rolled the dice on an guy that is unproven in the States, but has the potential to be an absolute steal in comparison to what was available at the position. Hiro Nakajima is a classic Billy Beane signing and based on the alternatives, brings very little downside.
The hope is that his play reminds you more of a Kaz Matsui than a Tsuyoshi Nishioka. His fielding is also a question mark, but unless he has rocks for hands (highly unlikely), I can't see Nakajima being a tremendous drop-off from Cliff Pennington or Stephen Drew, both solid but not spectacular fielders.
And yes, Nakajima brings something that for all of their winning, the A's did not receive until late in the season: Buzz. His press conference injected life into a rather blase offseason. Will his play match the persona in the East Bay? That is the question I too wait to find the answer to.