Daniel Sturridge's Goalscoring Debut Spoiled by Luis Suarez Controversy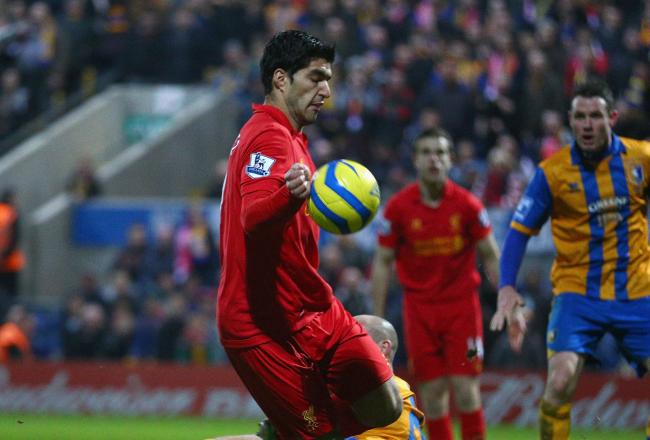 Clive Mason/Getty Images
On a day that should have been famous for Daniel Sturridge's goalscoring debut for Liverpool, the world media will instead remark with interest on yet another Luis Suarez controversy.
The fact that Sturridge slotted a first-time finish into the bottom right corner for the Reds' opener is no longer the main talking point, as Liverpool's second goal is far more interesting.
Brendan Rodgers' side had a barnstorming opening 45 minutes, dominating the play and creating numerous chances to take a three- or four-goal lead. It took just seven minutes for Sturridge to open his account in red, latching onto a Jonjo Shelvey through-ball and slotting home with ease.
The link-up play between the two was superb all game long, and the fact that the two had played together at England youth level became apparent almost immediately.
Sturridge had several chances, and could have feasibly scored a hat trick by the time he was substituted (for Suarez) early in the second half.
Fans at the Field Mill were hoping for a glimpse of the Uruguayan all game long, but by the final whistle they would be sick of the sight of him.
At 1-0 and with Mansfield Town pressuring the Reds, the home crowd had every right to believe they were in with a shout. Considering the final result was 2-1, it's even more distressing for the Mansfield faithful that the difference was an illegal act.
Much has been made of Suarez's questionable decisions in other games, and it's arguable to suggest that the striker has been tarnished by a rather large brush.
Whatever the acts of his past, whatever the character he shows on the field, his handball in the build up to Liverpool's crucial, game-killing second was blatant.
The forward's first effort is blocked, so he controls the ball—going past his right side—with his hand, then half-heartedly smashes the ball into the net; Even he expected the officials to pull him up and yellow card him.
What did you make of the decision? Ex-Liverpool striker and legend Robbie Fowler wasn't impressed with the commentator's scathing remarks:
Commentators out of order.... It hit his hand but he couldn't get it out of way.. Both calling him a cheat, wrong
— Robbie Fowler (@Robbie9Fowler) January 6, 2013
Do you agree with Fowler?
Miroslav Klose took matters into his own hands (excuse the pun).
After he scored a goal with his hand against Napoli, he told the referee which part of the body he used to score with and the goal was instantly rescinded.
Mansfield Town manager Paul Cox said after the game: "I would like to give Luis Suarez the benefit of the doubt and say it was a reaction." (via BBC).
Even if it was a reaction, should Suarez be taking notes from Klose if he wants to repair his reputation?
Whether or not he's gained one fairly or unfairly, justifiably or unjustifiably, and whether he likes it or not, he's got one. He's experienced targeting from referees because of it, so should he have made a move to correct the decision himself like Klose did?
This article is
What is the duplicate article?
Why is this article offensive?
Where is this article plagiarized from?
Why is this article poorly edited?