Oakland Athletics: Players Who Will Be Even Better in 2013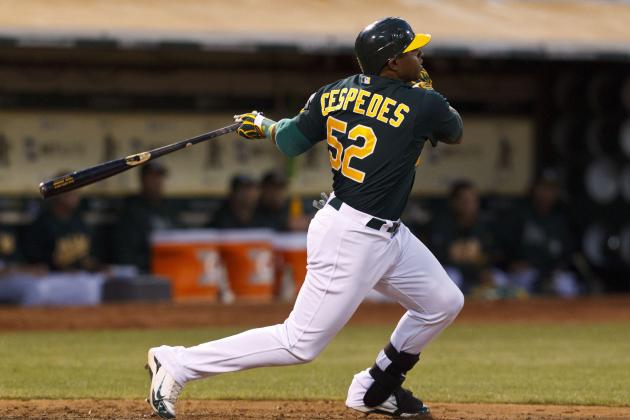 Jason O. Watson/Getty Images
Some have predicted Cespedes to be a 30/30 guy.
Given the ages of many of the Oakland Athletics players, it would be all too easy (and optimistic) to say that all of them will be better in 2013. However, it's wise to remain realistic and separate those who stand with the best chance of continued development from the rest of the squad.
The fact of the matter is, not all of the A's players will best their 2012 production, but you can guarantee that at least a handful of them will, without question.
Yoenis Cespedes is in his prime at 27 years old, while 25-year-olds Josh Reddick and Tommy Milone have yet to even enter theirs. Jarrod Parker (24) is even younger.
Then there's a slew of other guys.
Chris Carter, Derek Norris, Sean Doolittle, Dan Straily, A.J. Griffin, Brett Anderson and Ryan Cook—none of them were older than a quarter century during the 2012 season. The heart of a team who won 94 games and the American League West division has the potential to be very scary in the near future, should they stick together.
This is not to mention the Oakland veterans who could thrive in 2013 as well.
Coco Crisp isn't close to being done career-wise. Brandon Moss arrived on the major-league scene, but can he keep it going? Grant Balfour rebounded from a rough start to solidly and effectively close out the season.
So who among this group has the highest potential, and who is most likely to expand upon their 2012 stats and improve upon them next year?
It's conceivable that the following men are the answer.
Begin Slideshow

»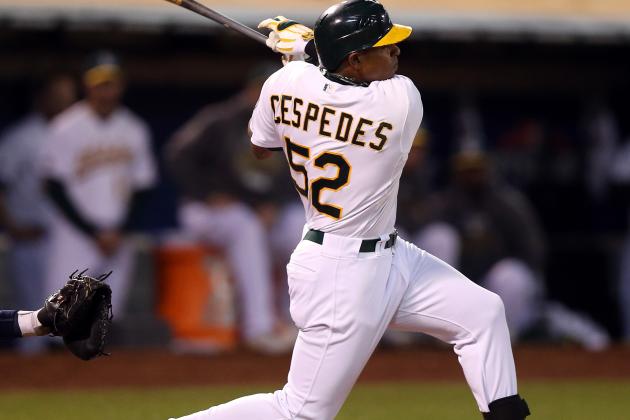 Ezra Shaw/Getty Images
Cespedes translates in Oakland dialect to, "amazing."
Key 2012 Stats: .292/.356/.505/.861, 142 hits, 23 HR, 82 RBI
Why he'll be better in 2013: There are two large factors to start with: age and games played.
First, the 27-year-old is in the early stages of his prime. At his age, he could hypothetically have a minimum of four more quality years of increased production.
Second, in 2012 he played in only 129 games. In May, he missed time from a strained muscle in his hand. In June, it was a hamstring, and in August, Cespedes injured his wrist. If he can stay healthy, he is guaranteed to play more.
With the acquisition of Chris Young, Cespedes could benefit from days off for rest too.
Cespedes has an opportunity to not only play in more games, but to spend more time playing healthy, too. His hits, home runs, stolen bases and RBI could very well all rise.
On Jan. 13, 2012, Jack Moore of FanGraphs.com wrote about Cespedes' potential:
Just looking at the statistics Cespedes compiled in Cuba, there isn't a glaring weakness which looks to tank his game upon landing with an American squad. He was as complete as a player can be in any league. Much of his value depends on his ability to play center field, of which there seems to be optimism around scouts. His Cuban numbers seem to suggest above-average power for the position already, and with any sort of plate discipline he has the ability to push an All-Star level in MLB.
We've seen his ability to smoothly make the transition.
There's little in the way of Cespedes having an even better season in 2013.
Projected Stats: .285 BA, 33 HR, 27 SB, 116 RBI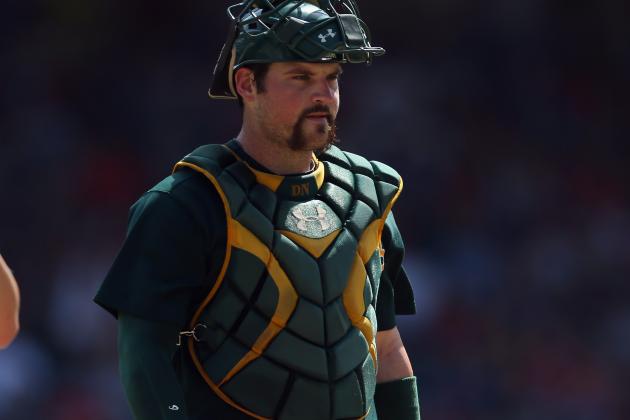 Ronald Martinez/Getty Images
The 23-year-old already looks like he's been around 10 years.
Key 2012 Stats: .201 BA, 7 HR, 34 RBI, 26 caught stealing percentage
Why he'll be better in 2013: Time and lack of excuses.
Norris came to Oakland after a June call up. Even after he came up, he was never fully named the starting catcher. However, in 2013, he'll have the opportunity to earn that designation outright.
As it stands, his competition is George Kottaras. Comcast SportsNet's Greg Cadaret described Kottaras (h/t: Casey Pratt/CSNBayArea.com) as a major league backup, and he is not a fan of splitting the two catchers again:
If you are splitting them 50/50 I think you are weak there. Norris will improve once he gets the pressure off and stops trying to hit too many home runs. He has a tendency to let the frontside fly open and try and hook everything."I think he'll throw alright. I think he tried to be too fast sometimes. He showed the capability to block a ball, good hands, and the ability to call a game. A couple times he got lazy blocking balls and let a couple get away from him, but he looked like a guy that has some pop. He'll be a good major league catcher once he understands he doesn't have to try to do too much.
Norris has much working in his favor. He's only 23 years old, so he has time to learn. His .201 average last year is low, so low that it's realistic for it to rise. He will also benefit from more time and will now be able to utilize the experience gained from his half season in the Bigs, in which he was forced to learn young pitchers, veteran opposing hitter tendencies and the rush of postseason play.
Not that Norris used any, but in 2013, he won't have many excuses to use if he struggles.
Projected Stats: .236 BA, 16 HR, 78 RBI, 33 caught stealing percentage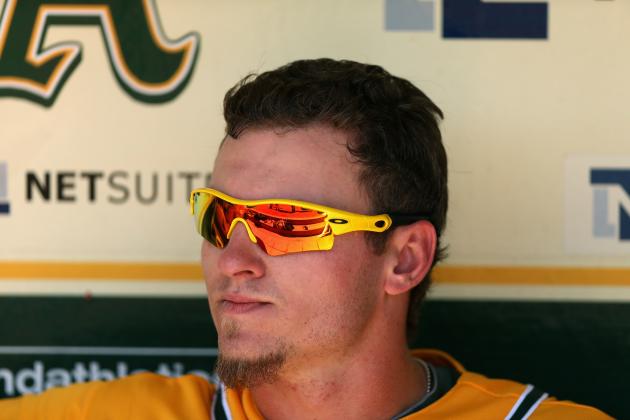 Ezra Shaw/Getty Images
Donaldson will have a lot less games to watch from the dugout.
Key 2012 Stats: .241 BA, 9 HR, 33 RBI, 12 errors at third in 71 games
Why he'll be better in 2013: Last season, Donaldson was thrust into the "hot corner" after spending his minor-league career as a catcher, and the last minute injury fill-in performed admirably, given the circumstances.
Of course, toward midseason, Donaldson struggled. But that should work to his advantage in 2013.
Like Norris, Donaldson shouldn't suffer from missing too much of the season. Finding a rhythm should work to his advantage, and best of all, he ended 2012 on a very high note—.290 in the second half, .344 in August.
He now enters this season with a spot to lose (rather than trying to find one), and he know also has had the Major League experience of finding consistency, struggling a bit and how to handle both situations.
Projected 2013 Stats: .247 BA, 13 HR, 52 RBI, 13 errors in over 100 games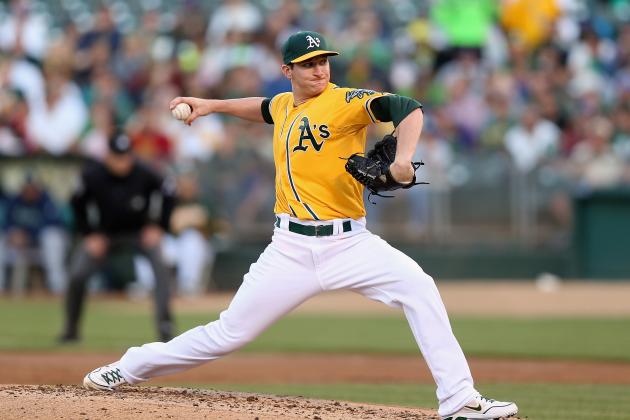 Ezra Shaw/Getty Images
Fans will see Parker in the No. 1 spot again soon.
Key 2012 Stats: 13-8, 3.47 ERA, 140 K
Why he'll be better: In 2012, this young man went from vying for a spot on the major league roster to being the Oakland Athletics ace.
If you thought his stuff was impressive at the top of the rotation and as the go-to guy during the ALDS, just wait until you see him perform without all that pressure. Next season, Parker projects to be Oakland's No. 2 pitcher.
The Los Angeles Angels may have gotten stronger, but the Texas Rangers have lost key parts and the Houston Astros should even out the potency of the Angels in terms of dangers in the AL West. Add in the fact that Parker's teammates on offense remain nearly in tact and should continue to grow together.
Age, experience, the division and run support will benefit Parker in 2013.
Projected 2013 Stats: 15-11, 3.69 ERA, 158 K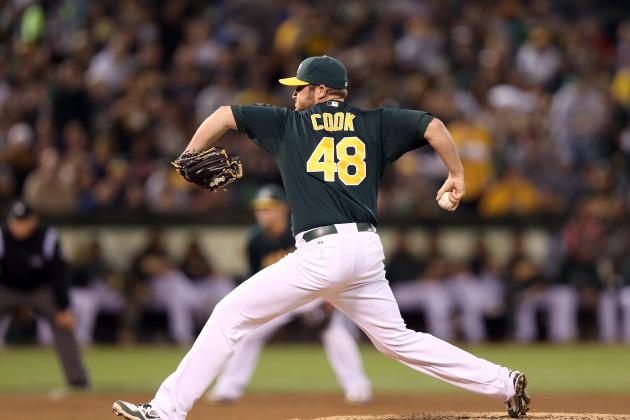 Ezra Shaw/Getty Images
Cook on the hill is like a chef in the kitchen—masterful.
Key 2012 Stats: 6-2, 2.09 ERA, .941 WHIP, 14 saves
Why he'll be better: Ryan Cook came out of nowhere in 2012 to suddenly be thrust into the spotlight without a moment's notice. This year, the bullpen will be more clear.
First, Cook was utilized in a setup role before closer Grant Balfour lost closing duties. Cook then participated in Oakland's "closer by committee" group, joining Balfour and Brian Fuentes to close out games.
While none of the trio were officially named as the team's closer, it was Cook who earned All-Star honors for his work.
Cook worked as the primary closer for a stint, before he too lost the job.
Heading into 2013, things are much more clear: Balfour is the closer, and Cook is the setup man. Barring a trade or flip-flopping again, Cook can benefit from the comfortability of knowing his role—one he performs exceedingly well.
Projected 2013 Stats: 2.41 ERA, .962 WHIP, 10 saves