It's the most wonderful time of the year, all right: It's the time when sports books start posting World Series odds for the coming season.
Bovada.lv did the honors recently. A quick look at the table tells you what you probably already knew. The Philadelphia Phillies are not a darling of the book entering 2013.
The good news is that, per Bovada, the Philiies at 16/1 have an equal chance to win the World Series as a division rival, the Atlanta Braves (who unlike the Phillies made the playoffs last season), and in a somewhat gasp-worthy call, the defending World Series champion San Francisco Giants.
As an aside...what exactly do the Giants have to do to make anyone believe that they are good? Two world championships in three years and they are lumped in with the likes of the Braves and the Phillies. That is unconscionable. Along those same lines, the St. Louis Cardinals (one year removed from winning it all) are 25/1.
The bad news is that, per Bovada, there are eight teams with better odds to win the title—and three of them are in the National League.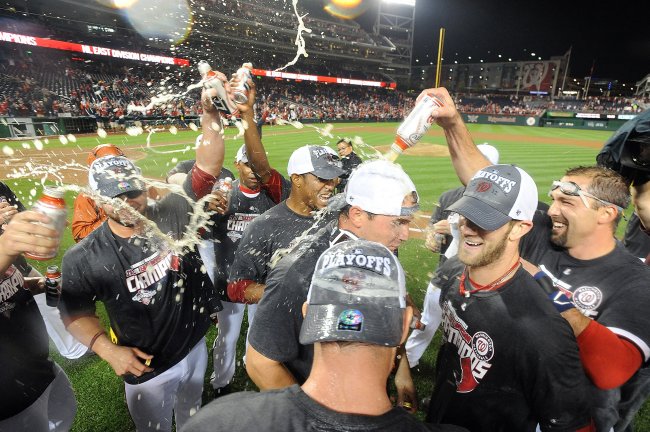 Greg Fiume/Getty Images
The oddsmakers presently project the Washington Nationals as the National League East's most likely World Series winner at 9/1. Incidentally, the National League East is the only division with three teams with odds better than 20/1 to win.
Both the Los Angeles Dodgers (17/2) and Cincinnati Reds (12/1) are also preferred to the Phillies.
The 16/1 odds on the Phillies are probably very fair and might even be optimistic. The Phillies enter the season with a lame-duck manager; Charlie Manuel is in the last year of his current contract, and Ryne Sandberg looms as a ready in-season replacement.
Additionally, in the event that the team starts poorly, the Phillies have big-name veterans with playoff pedigrees on expiring contracts (Roy Halladay, Chase Utley, Carlos Ruiz and Michael Young) who would likely draw interest from contending teams in midseason.
For that matter, players with expensive deals like Cliff Lee—who the Phillies placed on waivers in August—could be traded or even placed on waivers again if the Phillies look like a team in need of a full rebuild as the daylight starts fading in 2013.
Oddsmakers are far from perfect. The Phillies were a favorite to beat the St. Louis Cardinals in the 2011 National League Division Series, and they were a heavy favorite to win Game 5 behind Roy Halladay. It did not work out that way.
Even last fall, the Detroit Tigers were "significant" favorites over the Giants to win the 2012 World Series. Hopefully you had the other side of that play.
But the 16/1 line against the Phillies winning the World Series suggests tempering expectations of a parade down Broad Street in 2013.