Erik Spoelstra said Miami Heat's LeBron James could score like Michael Jordan.
LeBron James is having another MVP-caliber season for the defending champion Miami Heat. Count coach Erik Spoelstra as a growing admirer of his star player, including a veiled reference to another Michael Jordan comparison.
Spoelstra, as reported by Tom Haberstroh of ESPN.com, said of James that, "He could average 37 points a game, realistically I think."
Club 37
Spoelstra's speculation is to classify James as one of the elite scorers of all time. There are only three players in NBA history who averaged at least 37 points a game for a full season.
| | | | | |
| --- | --- | --- | --- | --- |
| Rk. | Player | Team | PPG | Year |
| 1 | Wilt Chamberlain | Philadelphia Warriors | 50.4 | 1961-62 |
| 2 | Wilt Chamberlain | San Francisco Warriors | 44.8 | 1962-63 |
| 3 | Wilt Chamberlain | Philadelphia Warriors | 38.4 | 1960-61 |
| 4 | Elgin Baylor | Los Angeles Lakers | 38.3 | 1961-62 |
| 5 | Wilt Chamberlain | Philadelphia Warriors | 37.6 | 1959-60 |
| 6 | Michael Jordan | Chicago Bulls | 37.1 | 1986-87 |
| 7 | Wilt Chamberlain | San Francisco Warriors | 36.9 | 1963-64 |
Thirty-seven points per game has only been accomplished by Jordan in nearly fifty years. Even scoring minded superstars such as Kareem Abdul-Jabbar, Dominique Wilkins, Allen Iverson and Kobe Bryant have fallen well short of this benchmark.
Club 37 is exclusively for talented superstars who wish to score above all other facets of the game. It takes a lot of shots, but the price for 37 has never been a successful one.
To Score or to Win?
The top twenty scoring seasons have led to exactly zero championships.
Jordan's champion 1992-93 Bulls saw their superstar score 32.5 per game. He tops the list for championship scoring leaders, but comes in at a mere No. 22 for scoring seasons.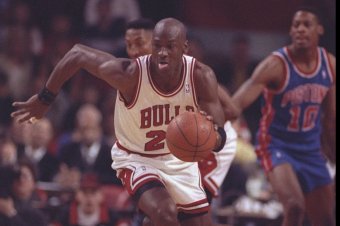 Jonathan Daniel/Getty Images
Clearly one player's scoring heroics is a tough burden to carry. Jordan's Bulls did not feature other prolific scorers or a prolific bench.
The great teams have always sought to spread the scoring wealth. Magic Johnson's Lakers and Larry Bird's Celtics were constructed to include several Hall-of-Fame players with their prolific offenses.
Nobody scores and wins alone.
James and Bird
Bird's three championship seasons featured his all-around talents and teammates more prominently.
Larry Bird Boston Celtics 21.2 1980-81
Larry Bird Boston Celtics 24.2 1983-84
Larry Bird Boston Celtics 25.8 1985-86

Conversely, when Bird was asked to score more in his prime years, his team did not win championships. Injuries were certainly factors, but it was also an indicator of his team's balance and success.
Larry Bird Boston Celtics 28.7 1984-85
Larry Bird Boston Celtics 28.1 1986-87
Larry Bird Boston Celtics 29.9 1987-88
Meanwhile, James became a champion in 2012 following a season in which he averages 27.1 points per game. It's a much greater scoring load than Bird carried because the Heat average fewer points per game than the mid-80s Celtics.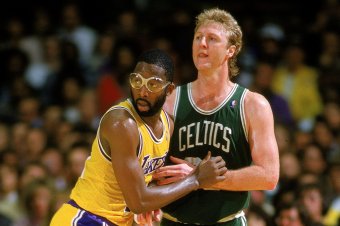 Rick Stewart/Getty Images
Currently, James ranks fifth in NBA, scoring at 25.2 points per game, and ranks behind Bryant, Carmelo Anthony, Kevin Durant and James Harden. They are all players who have a greater reputation for looking to score.
But James is special for being the consummate team player. His athleticism and strength are well-documented, but his basketball unselfishness and IQ are special assets. James, like Bird and Johnson, has elevated his teammates. They know he will shoot with efficient shot selection and look to get them the ball. It's the trump card for championship chemistry.
As the season rolls along, Spoelstra's comment about James' scoring could have a curious twist. James is unlikely to approach 30 points per game, but his average will indicate just how well his team is playing.
If James must look to score more, it could be trouble for the Heat.