AC Milan Transfers: Time for the Rossoneri to Sell Kevin-Prince Boateng?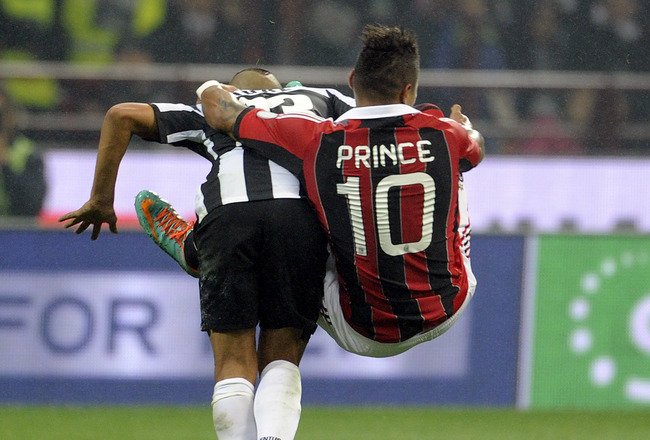 Claudio Villa/Getty Images
AC Milan's German-born Ghanaian, Kevin-Prince Boateng, has been as clueless in front of goal as highly rated Swedish international Andreas Andersson was during the 1997-98 season.
The former Göteborg star didn't last long in Milan and was swiftly sold to Newcastle United in 1998.
Is it time for the Rossoneri to offload Boateng like they did with Andersson?
This article will examine the possible reasons why KPB has been an utter failure this season.
Kevin-Prince Boateng's Sharp Decline in Form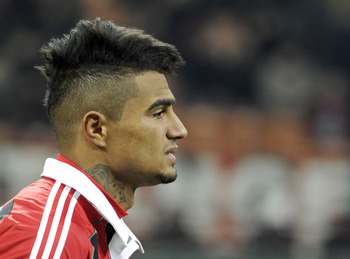 Claudio Villa/Getty Images
| | | | | |
| --- | --- | --- | --- | --- |
| League Only | Games/Goals | Shots Per Goal | Assists | Key Passes Per Game |
| 12-13 | 13/1 | 49 | - | 1.4 |
| 11-12 | 19/5 | 8.2 | 4 | 1.2 |
| 10-11 | 26/3 | 13.3 | 2 | 1 |
| 09-10* | 22/3 | 24.7 | 2 | 1.8 |
* for Portsmouth
Kevin-Prince Boateng suffers from "Roberto Carlos syndrome," where netting several spectacular goals has created an insatiable need to score more goals in similar fashion.
It partly explains why Boateng is the worst shooter in Europe's elite leagues. His 49 shots per goal isn't bad, it's not awful—it's sabotaging your own team.
Luis Suárez, who is the Premier League's biggest culprit when it comes to wasting chances, takes 9.6 shots per goal.
Cristiano Ronaldo, who leads Europe with shots per game, registers 8.4 shots per goal.
Fernando Torres regularly chokes in front of goal, but his 6.0 shots per league goal looks economical compared to Kevin-Prince.
Let's take a look at some of Europe's best finishers.
| | | |
| --- | --- | --- |
| League Only | Games/Goals | Shots Per Goal |
| Lionel Messi | 16/25 | 3.3 |
| Falcao | 15/17 | 3.2 |
| Miroslav Klose | 16/10 | 2.7 |
| Dario Cvitanich | 15/10 | 3 |
| Adám Szalai | 17/9 | 3.6 |
Before you ask, Stephan El Shaarawy's 17 Serie A goals have come at 4.1 shots per goal. That can be considered efficient, while anything above 5.0 shots per goal is straying into the inefficient zone.
The biggest problem with KPB is his selfishness. He averages 3.8 shots per league game compared to El Shaarawy's 3.4.
What Boateng is effectively doing is denying SES chances to score more goals, and therefore hurting AC Milan.
The whole idea of playing Kevin-Prince in an advanced attacking role, even though he's not a facilitator, is his dynamism. This enables him to create his own shot.
Now that he's in an epic slump, Milan are basically playing with 10 men whenever he starts.
Kevin-Prince Boateng: A Misfit at AC Milan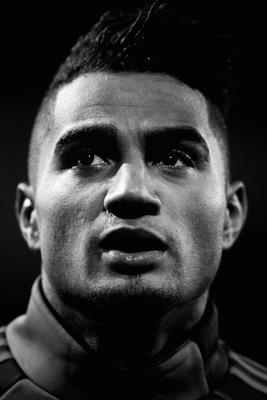 Dean Mouhtaropoulos/Getty Images
Kevin-Prince Boateng is physically gifted, he has a cannon of a shot and he did his marking duties for then-Ghana manager Milovan Rajevac.
Boateng's performances as a box-to-box midfielder at the 2010 FIFA World Cup prompted AC Milan to sign him.
I hope you know he's being played out of position as a trequartista or as a wide forward.
Kevin-Prince's phenomenal goal against Barcelona, the super-sub hat-trick vs. Lecce, the cracking volley vs. Arsenal and countless individual moments last season can be summed up in two words—Totò Schillaci.
KPB as a trequartista that can't create is a gimmicky role which has been exposed this season.
Without Zlatan Ibrahimović to divert attention away from Boateng, AC Milan's new No. 10 has struggled to shoot cleanly—he's failed to convert 97.8 percent of his chances this season (via Squawka).
It's symbolic that as soon as he switched from No. 27 to No. 10, he's no longer the footballer that thought he could emulate Clarence Seedorf's achievements.
There's also the matter of Boateng's significant other, Melissa Satta—the former WAG of Christian Vieri, John Carew, Matteo Ferrari and others.
AC Milan owner Silvio Berlusconi once vented about the control Andriy Shevchenko's wife had over the prolific-scoring forward (via Robin Hackett at ESPN FC): "When Shevchenko's wife shouts, he runs under the bed like a lap-dog."
Forget about the hypocrisy of Mr. Bunga Bunga. In this case, his quote does raise a relevant point.
Is Satta a distraction for Kevin-Prince?
She actually voiced her opposition to that school of thought (via MTNFootball.com):
I saw and I read the Gazzetta dello Sport's report on Boateng's form but it is not my fault. I'm not the problem for Boateng. I am a normal girlfriend and he will regain his form soon. I have always supported him and AC Milan.
Yet, she has also said in the past (via Thom Gibbs at The Telegraph): "I'm afraid that's the reason for the strain. The reason why he [KPB] is always injured is because we have sex seven to 10 times a week."
Boateng has an attention-seeking WAG, his form is dire, he is being played out of position, he can't shoot to save his life, he isn't a creator and he's under pressure to live up to expectations that come with wearing the No. 10 shirt.
No wonder he has underperformed.
Sell Kevin-Prince Boateng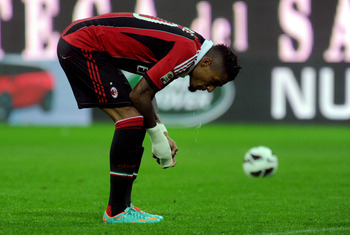 Dino Panato/Getty Images
Unless Kevin-Prince Boateng plays as a box-to-box midfielder, it's pointless for AC Milan to stick with him as a trequartista or a wide forward.
In the past, the club have gotten rid of unproductive attacking players like Andreas Andersson, Javi Moreno, José Mari, Klaas-Jan Huntelaar, Luther Blissett, Mancini, Ricardo Oliveira, etc.—Kevin-Prince shouldn't be any different.
Should Milan sell Boateng? Comment below.
What Should the Blues Do with Wonderkid Lucas Piazon?
Connect with +allanjiang
Statistics courtesy of WhoScored.com and Squawka.com
Keep Reading

AC Milan: Like this team?