Penn State Football: How Lions Match Up vs. Every Bowl-Bound SEC Team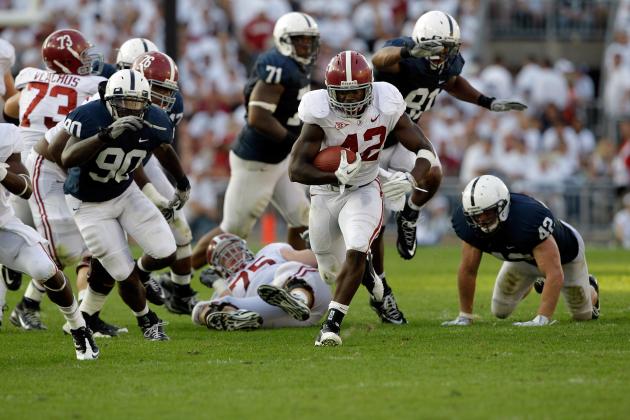 Rob Carr/Getty Images

Without being allowed to play in a bowl game this year, Penn State can only sit and watch all the bowls this season.
Although the Lions are bowl-eligible, the sanctions put on the program by the NCAA is keeping Penn State out of any postseason action for the next four years.
But while having to watch all of these teams play, many Penn State fans have to wonder whether or not the Lions could beat some of the teams that are playing.
This year the Southeastern Conference once again is a powerhouse, with nine teams playing in bowl games and six teams ranked in the Top 10.
So how would Bill O'Brien's surprising team fare against bowl-bound teams in the top conference in college football?
Begin Slideshow

»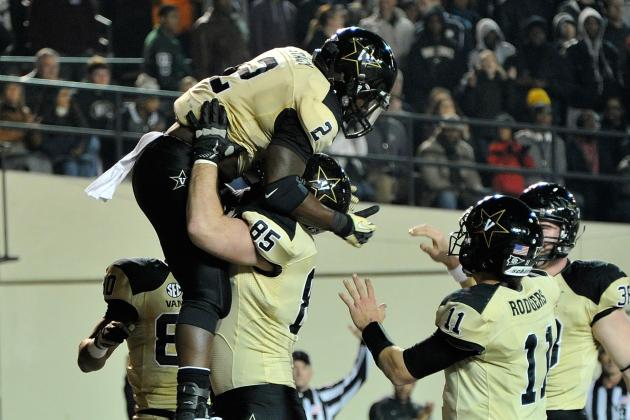 Frederick Breedon/Getty Images

With an 8-4 overall record, the Commodores might seem like a solid team to matchup against Penn State.
But they aren't.
Vanderbilt's biggest wins were against Missouri and Ole Miss, and lost big against Georgia.
The Commodores have a big time offense with Jordan Rodgers passing for 2,431 yards and 13 touchdowns, and Zac Stacy rushing for over 1,000 yards.
Penn State's defense though would be able to slow this offense. Rodgers was sacked 23 times this year, and the Commodores fumbled 25 times.
Vanderbilt's defense gave up 150.6 rushing yards per game this year, and running back Zach Zwinak would be able to capitalize on that.
The Lions match up very well with the Commodores, giving up 225 yards passing per game and averaging 273.2 yards per game.
If they contained the Vanderbilt offense, the Lions would be able to win.
Winner: Penn State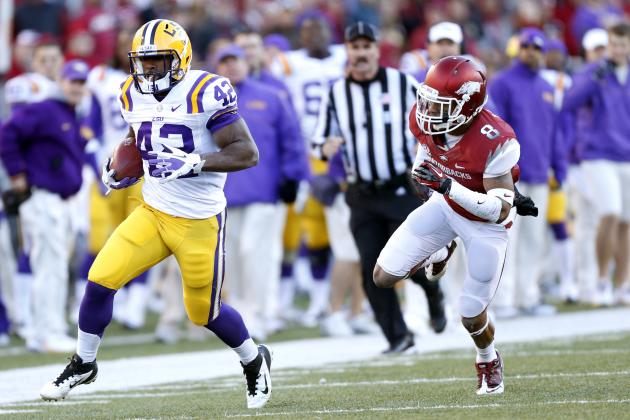 Wesley Hitt/Getty Images

The No. 8 Tigers only losses this season came against Alabama and Florida, losing by a combined score of 12.
LSU also was able to go into College Station against Texas A&M and win.
The Tigers have a diverse offense, with multiple threats on the ground. Although Jeremy Hill leads the LSU rushing attack, Kenny Hilliard and Michael Ford were key contributors.
Zach Mettenberger commanded Les Miles's offense and threw for 2,489 yards and 11 touchdowns.
On the defensive side the Tigers are strong as well, giving up under 200 yards per game through the air and only 101.8 yards per game on the ground.
Junior linebacker Kevin Minter leads that defense with 111 tackles and 13.5 tackles for a loss.
Against LSU, Penn State would simply be out-manned. The Tigers have multiple threats on the ground and two solid receivers in Jarvis Landry and Odell Beckham Jr.
LSU is slightly underrated in the SEC, with losses only against two of the top three teams in the nation.
The Tigers would swallow up Penn State.
Winner: LSU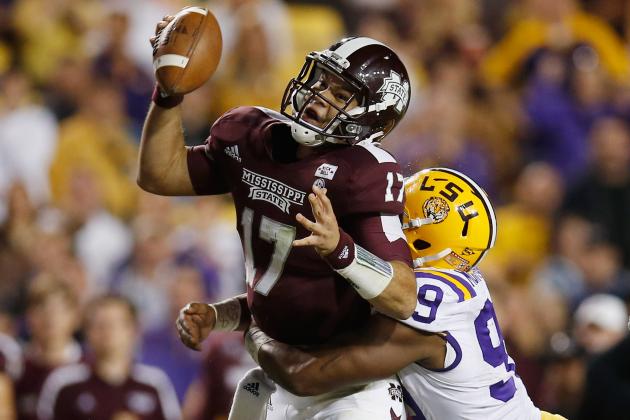 Chris Graythen/Getty Images

After starting off the year strong, the Bulldogs stumbled into the end of the season losing four of their last five games.
Although Mississippi State has eight wins this year, their biggest wins came against Arkansas and Tennessee.
The Bulldog offense isn't as explosive as most SEC teams, and it averaged 389.4 yards per game compared the Penn State's 417.9 yards per game.
Quarterback Tyler Russell led Mississippi State, throwing for 2,791 yards and 22 touchdowns and Chad Bumphis caught 55 passes for 904 yards.
The Nittany Lions would be running into trouble against this strong passing game, but their pass defense has only allowed for 225 passing yards per game.
The key for Penn State in this game would be Zwinak. The Bulldog defense gave up 166 yards rushing per game this season, and the Lions would have to expose this so that Matt McGloin could throw off play action.
Penn State would have to get their offense going to beat a team like Mississippi State, because Russell would be looking to throw all over the Nittany Lion secondary.
Winner: Penn State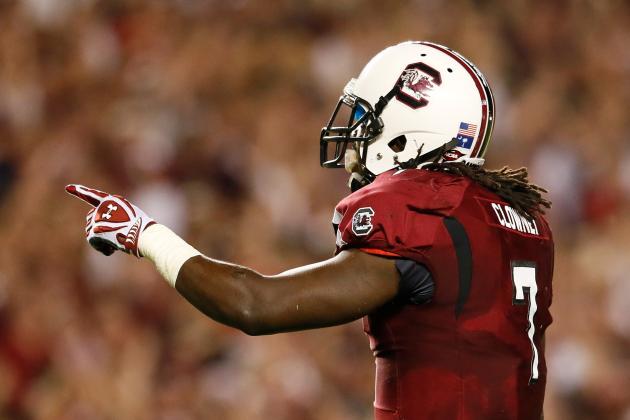 Kevin C. Cox/Getty Images

Even after losing Marcus Lattimore to a horrific knee injury, the Old Ball Coach was still able to guide his team to a 10-2 season.
Although the Gamecocks were blown out by Florida, they lost to LSU by only two points.
South Carolina has a very strong defense that is ranked fourth in the SEC, led by defensive end Jadeveon Clowney, who has 13 sacks and 21.5 tackles for a loss.
Penn State would not be able to rush against this defense. Zwinak is a gamer and can grind teams down, but the Gamecock defense would be too much for the Nittany Lion offensive line.
The Lions might see success on the defensive side of the ball. South Carolina has given up 35 sacks this year, and without Lattimore the offense rests on Connor Shaw's shoulders.
Nonetheless, Penn State would not be able to do anything on offense against South Carolina's defensive front that has recorded 40 sacks on the season.
Winner: South Carolina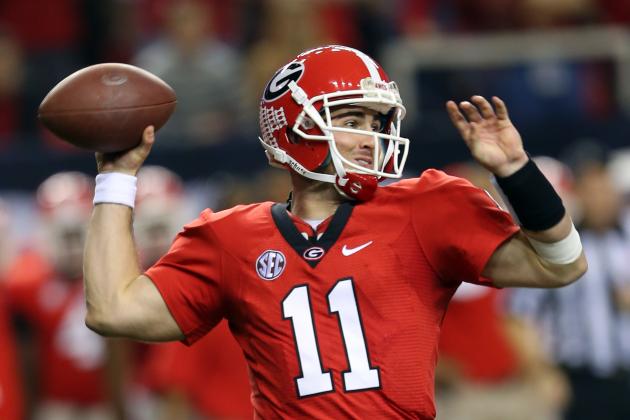 Mike Ehrmann/Getty Images

After losing in one of the best college football games in a long time against Alabama, Georgia fell into playing in a non-BCS bowl game against Nebraska.
The only hiccup on the Dogs schedule was a 35-7 loss to South Carolina in Columbia on October 6; aside from that loss, Georgia cruised through its season.
Aaron Murray torched defenses all season, throwing for 3,466 yards and 31 touchdowns with a 65.4 completion percentage.
The Dogs also had a one-two punch at running back with Todd Gurley and Keith Marshall.
Although Tavarres King led the team with 846 yards receiving and eight touchdowns, four other Georgia players had four or more receiving touchdowns.
Penn State would simply be overwhelmed in a game against Georgia.
The Dogs have a strong offensive line that has only let Murray get sacked 25 times, and their pass defense only allows 173.5 yards through the air per game.
Murray would be able to pick apart the Penn State secondary all day.
Winner: Georgia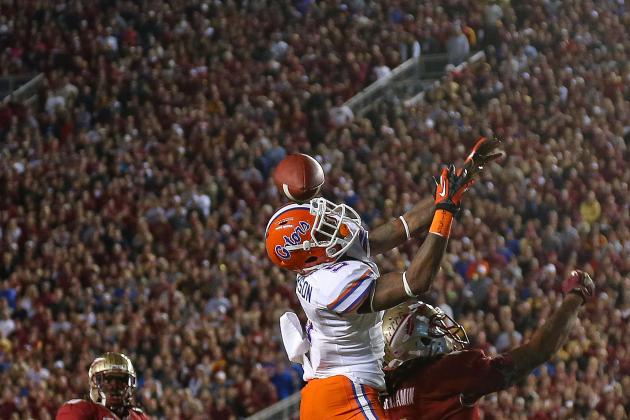 Mike Ehrmann/Getty Images

The last time Penn State played against Florida it didn't go too well, and this year there wouldn't be much of a difference in the score.
The Gators have the third-best rush offense in the SEC, averaging 194.1 yards per game on the ground.
Florida's only loss this year came against Georgia, where the Dogs were able to win by a final score of 17-9.
Will Muschamp has the second best defense in the SEC only behind Alabama, giving up 282.6 total yards per game.
Zwinak would most likely struggle against a fast Florida defense that has allowed less than 100 yards rushing per game this year.
Although McGloin has only thrown five interceptions all season, Florida's defense has 19 interceptions on the year.
The Lions would have to find a way to score points against this stifling defense, and it simply wouldn't happen.
The Gators have a lot of team speed, something that Penn State lacks, and would be able to expose that weakness.
Winner: Florida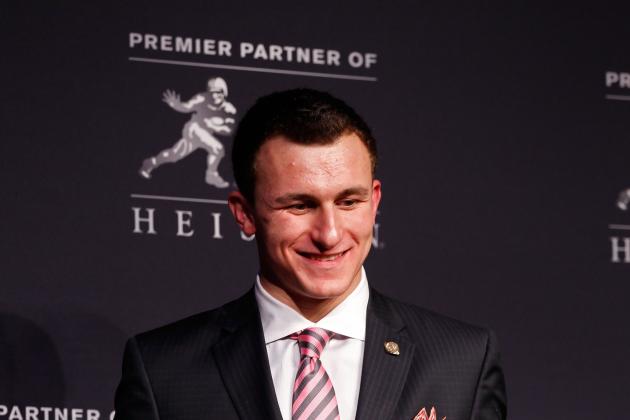 Mike Stobe/Getty Images

As Johnny Manziel accepted his Heisman Memorial Trophy on Saturday, we were all reminded why Texas A&M finished the season 10-2.
"Johnny Football" led the Aggies in their biggest wins against Alabama and Mississippi State.
A&M's two losses, against Florida and LSU, were by a combined eight points.
Manziel threw for 3,419 yards and 24 touchdowns, with his main targets being Mike Evans and Ryan Swope.
Manziel is also the team's leading rusher with 1,181 yards and 19 touchdowns. Ben Malena is second on the team with 752 yards rushing on the year.
Although opponents only averaged 22.5 points per game against the Aggies, Penn State's biggest challenge would be the obvious: slowing down Manziel and the Texas A&M offense.
The Nittany Lions were exposed in their two biggest games against dual-threat quarterbacks, with both Braxton Miller and Taylor Martinez rushing for over 100 yards against Penn State.
Even with the Aggie defense allowing 140.9 yards per game on the ground and 248.4 through the air, Penn State would have to be determined to stop Manziel.
Florida and LSU were able to slow down Manziel in their wins, but it is doubtful that the Lions would be able to.
Winner: Texas A&M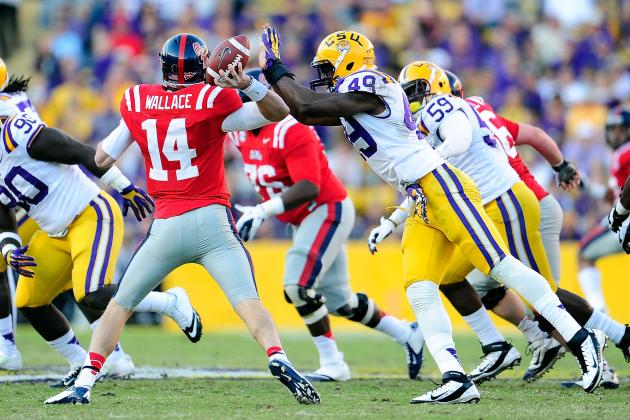 Stacy Revere/Getty Images

The Rebels had an up-and-down regular season in 2012, coming close to beating Texas A&M and being blown out by Texas.
Ole Miss is a middle-of-the-pack team in the SEC and isn't ranked first or last in the conference in any major offensive or defensive categories.
Quarterback Bo Wallace leads the Rebel offense with 2,843 yards passing and 19 touchdowns, but also threw 15 interceptions.
Wallace is also second on the team in rushing with 363 yards and eight touchdowns. Jeff Scott leads the team with 828 yards and six touchdowns.
Penn State's defense would be able to shut down Ole Miss by capitalizing on the mistakes of Wallace.
Defensive coordinator Ted Roof has shown that his creativity can fluster opposing quarterbacks into turning over the ball.
The Rebels defense isn't terrible but isn't great either, and if Zwinak could find success, McGloin would be able to throw on defense that surrenders over 250 yards per game through the air.
If the Nittany Lion defense was able to get in the face of Wallace, Penn State could beat Ole Miss.
Winner: Penn State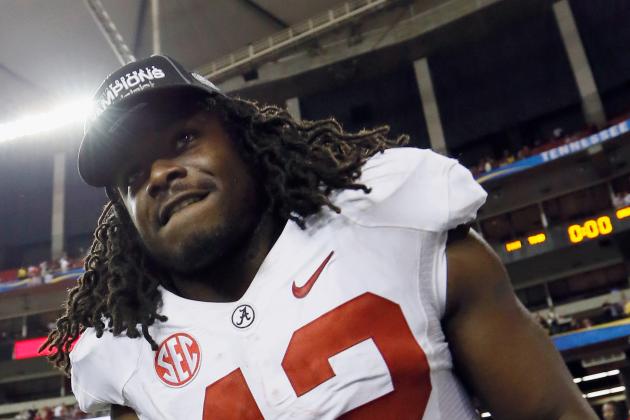 Kevin C. Cox/Getty Images

In their past two meetings with Alabama, the Nittany Lions have been outscored 51-14. It would be the same story, new game if these two were to play again.
Aside from their loss against Johnny Manziel's Aggies, the Crimson Tide has been dominant.
A.J. McCarron manages the game very well for the Tide and has thrown for 2,669 yards and 26 touchdowns.
Both Eddie Lacy and T.J. Yeldon have rushed for 1,000 yards or more both have 10 more touchdowns.
Nick Saban's team is exceptional on both offense and defense, with opponents only averaging 10.7 points per game.
With the Crimson Tide only allowing 79.8 yards per game on the ground, Zwinak would have his hands full against a powerful defensive line.
The fact is that Penn State would simply not be able to hang with Alabama.
The Lions are outmatched at almost every position on the field, aside from linebacker.
McGloin would be hurried all day against a defense with 33 sacks and 17 interceptions.
Alabama would roll right over Penn State.
Winner: Alabama