5 Reasons Chicago Bulls Shouldn't Rush Derrick Rose's Return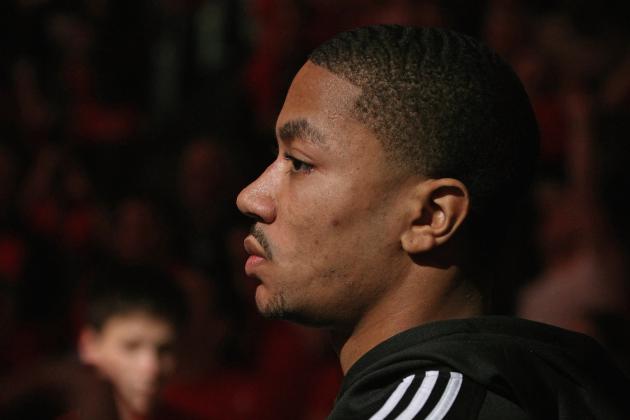 Jonathan Daniel/Getty Images

Reports out of Chicago have been exciting for Derrick Rose and Bulls fans. The star point guard could be just "weeks away" from a return to the practice floor (according to what an NBA source told Joe Cowley of the Chicago Sun-Times).
The timeframe for his return to an NBA game may still be up in the air, but just this news alone has to be comforting for a club still trying to find its way without its former MVP leader.
The temptation to hurry former Rose back from his April ACL tear exists for both the Chicago Bulls and their star point guard. With a sputtering offense and inconsistent performances from his replacement, Kirk Hinrich, coach Tom Thibodeau and company have surely gauged just how long they can wait for Rose to return.
Luckily for Chicago, they've played well enough (8-7) to keep themselves afloat in the Eastern Conference playoff picture. Credit their stingy defense (they've held opponents to 43.4 percent field-goal shooting, tied for seventh best in the NBA) and some lackluster play from their Central Division peers for helping to weather this storm.
Should their defense spring a leak, though, or those division rivals (namely Indiana and Milwaukee) embark on any lengthy winning streaks, the Bulls may have trouble retaining their playoff position. If either of those happen, then the temptations will greatly increase.
But it's in the best interest of the Bulls (and Rose himself) to make sure that this rehab process is given the necessary time to ensure the best opportunity for the player to return to his pre-injury form. Not only would a healthy Rose have the chance to lead his team to the postseason in 2012-13, but he'll keep them in the playoff discussion for years to come.
All statistics used in this article are accurate as of 12/3/2012.
Begin Slideshow

»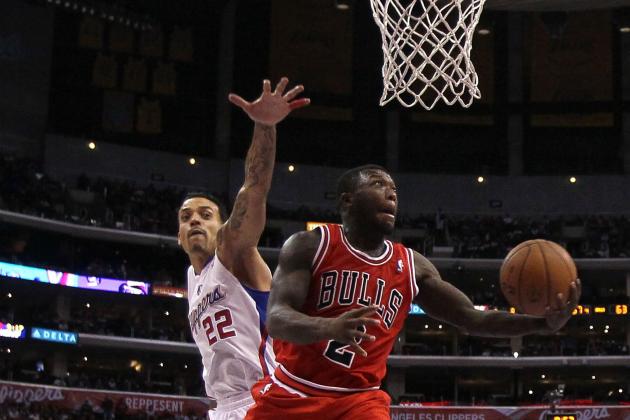 Stephen Dunn/Getty Images

For as disappointing as Kirk Hinrich has been (6.2 points on 32.2 percent shooting), Nate Robinson's been equally impressive (11.2 points on 46.8 percent).
He continues to distance himself from those years lost as the forgotten man in Boston and Oklahoma City (2009-11). And he's actually done a better job of efficiently finding his offense than he did while starring in a reserve role for New York.
The typically trigger-happy guard has improved his shot selection and as a direct result he's shooting better now than he has at any point in his seven-plus-year career. And while he won't ever be a great decision-maker, he's been good enough (3.6 assists to 1.7 turnovers) to keep the Bulls' offense flowing.
With Hinrich, Richard Hamilton and Marco Belinelli all vying for backcourt minutes whenever Rose returns, Robinson should have cemented his place in Thibodeau's rotation.
Nate Robinson's play, Rose's future health, Draft position, Increased opportunity for Thibodeau to adjust rotation, Good chance at making the playoffs without him.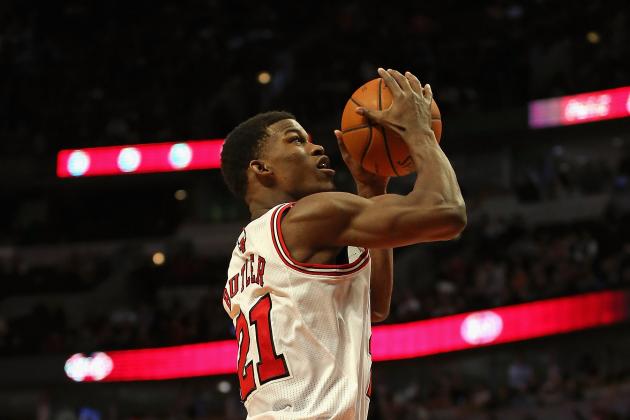 Jonathan Daniel/Getty Images

Outside of Robinson, the Bulls haven't gotten more than seven points per game from any of their reserve players. And that includes Taj Gibson, who saved his worst statistical performance (7.0 points on 44 percent shooting) until after he signed a four-year, $38 million extension in November.
Gibson's struggles have embodied that of all Bulls reserves (Chicago's bench has scored just 29 points per game, eighth worst in the NBA). Jimmy Butler and Marco Belinelli have enjoyed small success, but both players have been limited by a lack of playing time (15.9 and 14.7 minutes per game, respectively).
Given Chicago's offensive struggles, the absence of Rose should open the door for increased minutes for some players not originally slated for major minutes. Perhaps Robinson finishes the season with more playing time than Hinrich.
Thibodeau should take advantage of the fact that his backcourt has some unexpected openings and target players for increases in playing time even after Rose returns. Butler has shown the ability to be an effective two-way player during his brief run. Belinelli gives this club a badly needed outside threat. Even rookie Marquis Teague deserves a look to see if the 29th overall pick can add anything to this team before the season is over.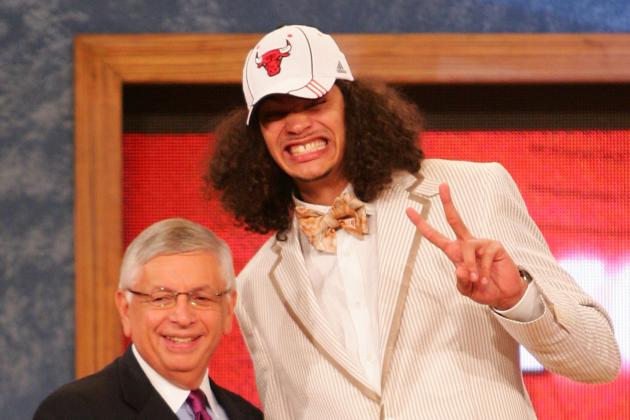 Chris McGrath/Getty Images

As an organization, the Chicago Bulls have found great success in targeting players on draft night that have proven to be effective rotation players.
Chicago hit the lottery jackpot with Rose in 2008, but he wasn't the first good draft-day move for the organization. Gibson, Butler, Hinrich and Joakim Noah were all drafted by Chicago, and Deng was acquired in a draft day trade in 2004.
Assuming Rose is even a shadow of his former self when he returns, his addition will only lead to more victories (and thus a worse draft pick). If Chicago can remain relevant in the Eastern Conference without Rose, they have the talent to endure a grueling playoff run that may venture in to New York, Brooklyn, Miami or Boston.
Sure, the Bulls may face a more difficult first round matchup, but it's not as if a championship run wouldn't bring them through some of those aforementioned cities.
If Chicago can retain a valuable draft choice and still sneak their way in to the postseason, they have the ability to enjoy a lengthy postseason run and bolster that talent base over the offseason.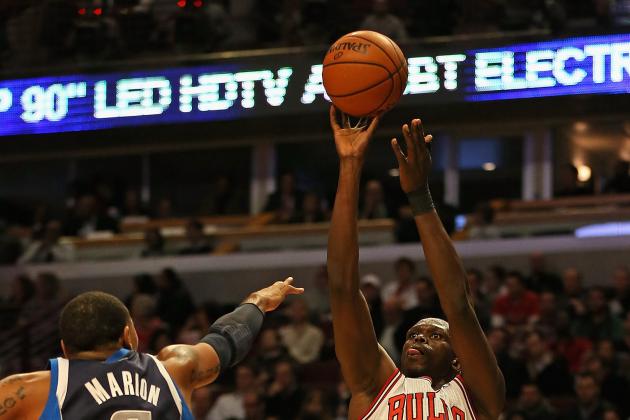 Jonathan Daniel/Getty Images

The Milwaukee Bucks matched their 6-2 start with a 2-6 stretch that has brought reality crashing down on coach Scott Skiles' group. The Indiana Pacers, meanwhile, have struggled to an 8-9 start without their own star, Danny Granger (sidelined indefinitely by a knee injury).
The only other competition for a Central Division crown are the rebuilding Cleveland Cavaliers and Detroit Pistons.
In other words, the Bulls won't need to go through murderers' row in their postseason chase.
Sans Rose and Granger, Deng may be the best player in the division. Likewise, Chicago's frontcourt collection of Noah, Boozer and Gibson may form division's deepest interior.
Add Robinson, Hinrich, Hamilton and Butler to the mix, and Thibodeau may already be coaching the best team in the division. So Chicago may already hold a postseason roster even without its star point guard.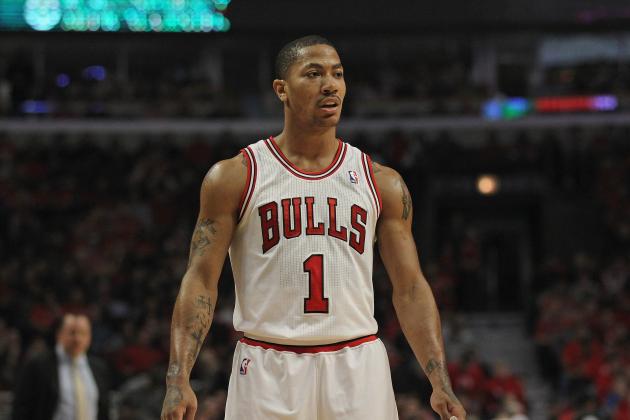 Jonathan Daniel/Getty Images

The 24-year-old Rose is already one of the league's great players. But what speaks best for Chicago's dynasty potential is the fact that the point guard still has so much room to grow (and the time to see that growth realized).
He can still improve his distributing (something he's accomplished in each of the past two seasons). His decision-making hasn't been horrific (3.1 turnovers in 2011-12), but it hasn't been the source of his accolades either. His shooting range (career 31.0 percent three-point shooter) is still a work in progress.
So Bulls fans have yet to see just how bright their star can shine.
The last thing that the Bulls can afford to do is risk the future health of Rose for the chance at a great 2012-13 season. As long as he is a part of this roster, the Bulls will continue to be an Eastern Conference powerhouse.