The Top 10 Tiger Woods TV Commercials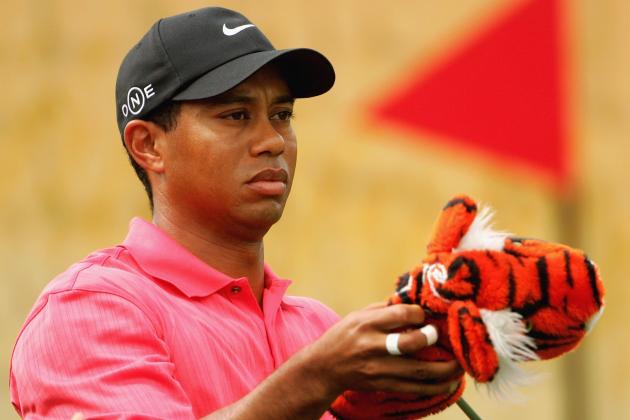 Tiger Woods takes off headcover, which became known as Frank.
When Tiger Woods blasted his way to dominance on the PGA Tour in the late 1990s, his spectacular golf turned into spectacular amounts of money from endorsements and business deals.
He also became the star of television commercials and did several of those before his world imploded on Thanksgiving night 2009.
Here are 10 of the best commercials he made.
Begin Slideshow

»
Go to the 2:10 mark of this video to catch Tiger Woods doing some off-the-course acting.
Buick was one his prime sponsors and this showed him getting comfortable in a Buick SUV and finding his golf ball deep in the rough, led there by the SUV.
Pretty good stuff.
At one time, Tiger Woods had quite a portfolio of high-end sponsors that he represented.
Among them was Accenture, and Woods starred in some entertaining commercials for them.
This one showed Tiger ripping shot after shot down the middle of the fairway and onto the green and then switched to a couple shots that weren't so good. He then proceeded to get creative and pulled off a couple miracle shots.
It shows how it's not all easy on the golf course or in business.
Some of Woods' best commercial work came on the ones for Accenture.
This one is built around the concept of high-end performance, delivered.
As he practices, he's interrupted by the sounds of shots being taken at the other end of the range.
He turns and see it's a little girl pounding her driver.
The look on the little girl's face is priceless.
While some of the other commercials showed off Tiger Woods' creative and performing abilities, this one is entirely and strictly a showcase for the power and athleticism that he brought to the game.
In slow motion, this is a tribute to the new way golf was played once Woods arrived on the PGA Tour.
No words were spoken in this video portrait of Tiger Woods' powerful swing for Nike.
Tiger Woods tells viewers a little bit about his life, how he looks forward to rainy days so he can be a fan, be a kid, be lazy.
He tells viewers that his life is about never settling and shows him practicing in the pouring rain.
The commercial was designed to show how hard he worked on his game, at a time when that was very believable because of how he was dominating at the time of the commercial.
Television commercials look easy as finished products, but sometimes they are tough, grinding ordeals that take many takes to complete.
The origin of this one was Tiger killing time, and it turned into an impressive commercial.
He juggled a golf ball on his club for 30 seconds in a variety of ways -- between his legs, behind his back and off to the side -- and ended the commercial by popping the ball in the air and then hammering the down out of the air.
This commercial for American Express was probably the first good look the viewing public got at the personality Tiger Woods worked so hard to keep under wraps.
Woods does a great job of mimicking the classic performance by Bill Murray, all the way down to the goofy hat and untied boots.
Definitely one that both golf fans and movie fans can relate to.
Nike put together a collection of clips of Tiger Woods and his dad, Earl, for this Father's Day commercial.
The commercial shows father and son at various stages of his development, starting with what looks like some of Woods' earliest swings all the way through some of his junior golf accomplishments.
The two had a special relationship, no doubt about it, even though that relationship has been criticized after Earl's death in 2006.
This one was shot following all of Tiger Woods' difficulties on Thanksgiving night 2009, and it shows Woods somberly listening to the voice of his late father, Earl.
Check out the facial expressions, or lack thereof, as Tiger listens to the voice.
Seems to me you can see the hurt and embarrassment in his eyes.
Tiger Woods was the star of the commercials, but Frank, his headcover, quickly became a fan favorite because of his irreverent, wise-cracking style.
This clip has two scenes with Frank and another scene for American Express.
Frank is the perfect complement to Tiger's arrogance and comes back with some snappy lines that upstage Tiger on several occasions. You can't watch the commercials with breaking out into a big laugh.