USC Football: The Recruits Who Will Save Lane Kiffin's Job Beyond 2013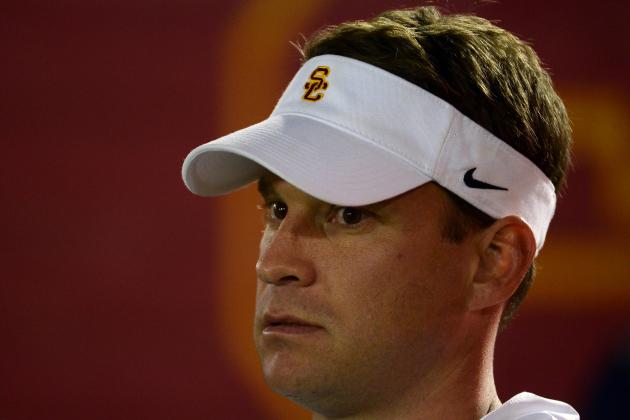 Harry How/Getty Images

As the USC Trojans prepare to close the book on a very disappointing 2012 season, fans of the program can look forward to high school letter-of-intent signing day and the promise of a top-five nationally ranked class that will be delivered in February.
For head coach Lane Kiffin, it is this class that will hold off those immediately calling for his job because from top to bottom, the 2013 Trojan recruits will be the most talented in the nation.
But what about beyond next year? How will Kiffin attempt to build on what will no doubt be a "make or break" season?
This slideshow will take an early look at the 2014 recruiting class as Kiffin and his recruiting staff look to cement a solid foundation for the future.
In a continuing series, we will look at five prospects who have received scholarship offers from the Trojans.
We will begin with three who have already given USC their verbal pledge. From there, we will look at the two prospects ranked highest by Scout.com.
Begin Slideshow

»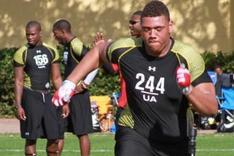 photo from 247sports.com
Scout.com's No. 3-ranked offensive tackle, Jordan Poland was also USC's first verbal commitment for the 2014 class.
Big (6'8", 335 pounds) but surprisingly nimble, Poland has the talent to become one of the best at his position but like most juniors in high school, he is still learning the nuances of the offensive line.
With another year under his belt, Poland will come to USC as a guy ready to make an impact almost immediately.
In addition to the USC offer, Poland also is coveted by programs such as Arizona and Arizona State, among others.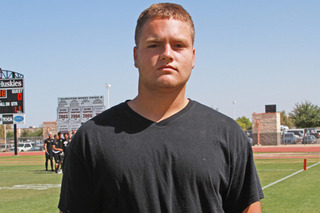 photo from 247sports.com
The second of three offensive linemen to verbally commit to the Trojans in this class, Casey Tucker, who hails from Chandler, Ariz., is probably the most athletic.
Dominant physically at 6'5", 270 pounds, Tucker's quickness in the trenches is what sets him apart from his "big ugly" counterparts.
A 4-star prospect rated the No. 4 tackle in the nation by Scout.com, Tucker holds offers from programs such as Michigan, Notre Dame, Oklahoma and others.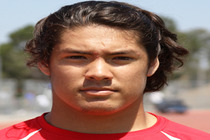 photo from scout.com
The third offensive lineman to give USC his verbal commitment, Lakewood, Calif., tackle Toa Lobendahn has all of the tools to be successful at the next level.
At 6'5", 285 pounds, Lobendahn has the size and speed to dominate and as a coach's son, he also excels technique-wise in the trenches.
A 4-star prospect, Lobendahn doesn't hold many offers, but that is largely due to his acceptance of the USC offer and his ensuing praise of the program.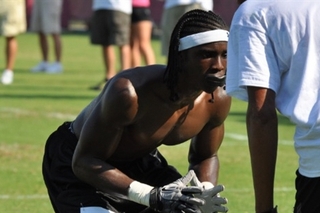 photo from scout.com
If one were to design a prototypical cornerback, he would look just like Beaumont, Texas, defensive back Tony Brown.
He combining excellent size (6'1", 185 pounds) with even better (4.35 40-yard dash) speed, he also has excellent technique and is blessed with swivel hips that allow him to turn with even the quickest receivers.
Rated a 5-star prospect and No. 1 at his position by Scout.com, Brown holds more than two dozen offers, including those from all of the major programs and says his interest in them is "medium" at this point.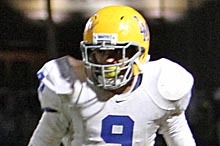 photo from scout.com
Rated the No. 1 tight end, La Mirada, Calif.'s Tyler Luatua is the most skilled at his position in the nation.
At 6'3" and 215 pounds, Luatua has prototypical size for his position, but it is his skill set that makes him different from other prep tight ends.
Equally adept at catching the ball and blocking, Luatua will become even more dominant as he adds weight and strength at the next level.
Luatua has received more than 20 offers, including those from the best programs in the nation but at this point, it looks like a two-team battle between hometown favorite USC and Alabama, where his brother is playing.