2013 Cleveland Browns Roster: Who They Should Cut Ties With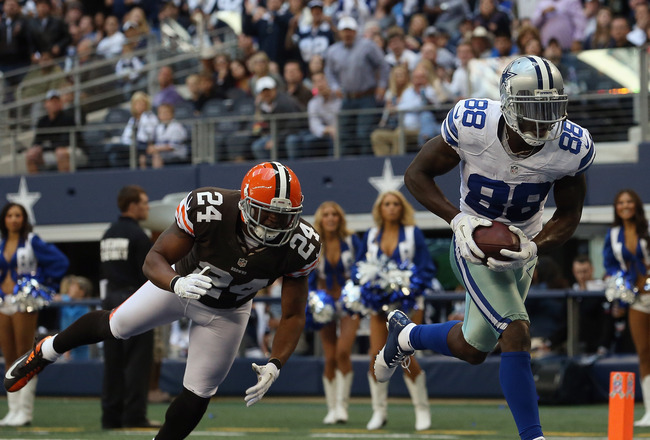 Ronald Martinez/Getty Images
In order for any team to improve, its roster must evolve. While the Browns have been knocking on the door of victory nearly every game this year, one thing or another has kept them out of the win column in all but two games during the 2012 campaign.
When it's time to shuffle the roster once more in hopes to find the formula for success, the slides that follow reveal the players the team is best leaving off their roster for 2013.
Browns Free Agents Going into 2013 That Should Not Return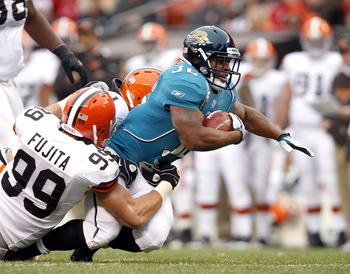 Matt Sullivan/Getty Images
The Browns have 10 players that are going to be unrestricted free agents heading into 2013. Of those, seven should remain on the team. Below is a list of the players that should not be back in a Browns uniform, and a brief explanation why they shouldn't.
TE/FB, Alex Smith - Alex has not adapted well to the H-Back position. The Browns would be better served finding a younger, more athletic player to fill the position. Judging by the statement earlier in the year regarding a botched hand off, when Alex Smith said it was the first time he's ever carried the ball before, I'm willing to bet that he would, likewise, be comfortable in a more traditional tight end role.
LB, Scott Fujita - Injured or not, he is currently 33 years old and his production while on the Browns has been underwhelming. If Scott chooses to return to the game next year, it would serve both the team and him to do it elsewhere. The Browns must find an impact player of the future at outside linebacker, and should Fujita decide to return, one would surmise that it is in effort of playing in the big game again before he calls it quits. The Browns are improving, but they aren't at championship caliber.
CB, Sheldon Brown - Sheldon is indisputably, the second-best corner on the team, but he's also 33, and that is indisputably a major weakness on this roster. The Browns must add talent at the corner position, and youth is the deciding factor regarding the players that are already on the roster. The Browns backup corners have an average of two years of NFL experience. While they aren't great now, there is a potential for growth that Sheldon just doesn't possess at this stage of his career.
The next slide looks at players without expiring contracts that the Browns should part ways with.
Players Under Contract That Should Not Be Back in a Browns Uniform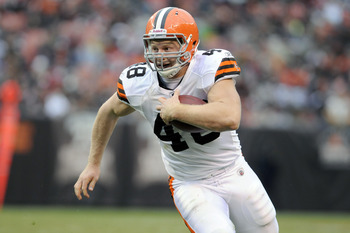 Owen Marecic
Jason Miller/Getty Images
Some players currently under contract simply have not earned the right to return to the Browns roster in 2013. Whether it is the injury bug or that they have simply underachieved on the field, the following list of players are those that are still under contract that the Browns must cut ties with.
FB, Owen Marecic - Owen was a trade-up fourth-round pick in the 2010 draft. What magnifies his poor play on the field is that the Browns got rid of fan favorite, Lawrence Vickers, who was seen as someone that could only do one thing well: block. The result was the Browns gained a player that can do no things well. Owen rarely makes it on the field, and when he does, the only time you know he's there is because he's done something bad like drop a pass, or miss a block. Tom Heckert has been pretty good in the draft, but he missed badly on this one. The Browns did draft Brad Smelley this year, if he isn't the answer, they could address the position further down the 2013 draft.
HB, Montario Hardesty - Montario's talent and potential has been hard to decipher. The oft-injured halfback shows flashes from time to time but then backs those moments up with stretches of mediocrity or bench sittings. In three seasons, he's played a total of 17 games. This, no doubt has stunted any potential development at the pro level. He was another trade-up miss by Heckert (Montario was a second-round pick in 2010), it's time for the Browns to cut their losses and allow him a fresh start on another team. More and more, productive running backs are found deeper in the draft, the Browns should be able to find a suitable replacement. Were it not for health concerns, he might be worth holding on to.
WR, Mohamed Massaquoi - I could very nearly copy and paste my thoughts on Hardesty in regards to Massaquoi. He may have some trade value, because when he's on the field, he has shown some ability. He is not consistently on the field, unfortunately. And like many of the Browns' young receivers, he has been inconsistent on the field. It's Year 4 for Mohamed, and at this point, the Browns should know whether he is a true No. 2 receiver, my feeling is that he is not. The Browns have a lot of young receivers in the mix with upside; what they need is a sure-handed veteran guaranteed to produce numbers. There are no guarantees with Mohamed, therefore, his window of opportunity has passed.
LT, Oniel Cousins - Oniel is listed as Joe Thomas' back up on the depth chart, listed behind Oniel is no one, and yet I'd still be OK without him on the team in 2013. The Browns could head to the draft for a replacement; they've also added a couple of young O-linemen that could fill his roster spot. Point blank, this is Oniel's fifth year in the league, and while I understand that not every player is going to be a superstar, that some players are meant to be backups, that some players' peak is being a great backup, I don't feel that Oniel is one of those players. I use his play on the field as supporting evidence.
Players That Should Not Return to the Browns, in Conclusion
Ezra Shaw/Getty Images
There are seven players in total that the Browns would be better off using the roster spot elsewhere. The good news in that, is that the number has the potential to go down next year.
There are some key additions this team needs to make in the offseason, but they must be sure they have the right personnel on the field from the crop of talent they already have before they can add new talent.
Keep Reading

Cleveland Browns: Like this team?