Iowa vs. Michigan: Live Scores, Analysis and Results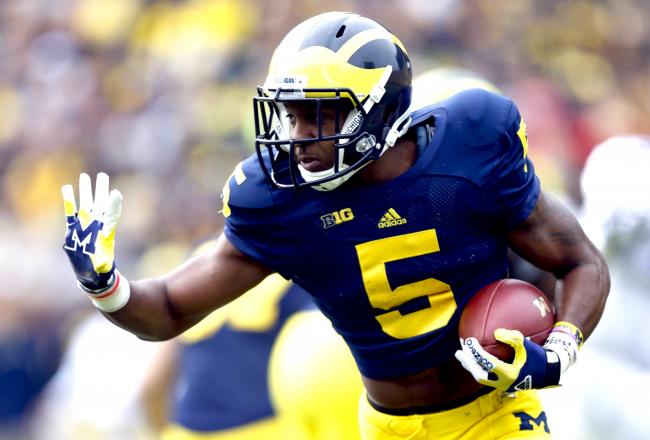 Michigan 42, Iowa 17 -- final
Denard Robinson didn't start at quarterback for the Michigan Wolverines today against the Iowa Hawkeyes.
But it didn't matter.
Robinson, who suffered ulnar nerve damage in his right elbow three weeks ago against Nebraska, has been missed by the Wolverines' offense and Michigan fans.
However, backup Devin Gardner continues to show that he's more than capable of driving the attack while Robinson recovers.
Gardner accounted for six touchdowns (three rushing, three passing) and 314 passing yards in Michigan's 42-17 victory on Saturday over the Hawkeyes at the Big House in Ann Arbor.
He couldn't be stopped, routinely stretching plays for big gains to receivers Roy Roundtree and Jeremy Gallon. Roundtree had five catches for 83 yards and a touchdown, while Gallon finished with five catches for 133 yards.
Robinson rushed for 98 yards, averaging 7.5 yards per carry during limited action. While he didn't play much, the amount of snaps he saw Saturday came as a surprise. It was reported earlier this week that Robinson may only participate in a few plays, making a "cameo" on Senior Day rather than being a full-on contributor.
Bonus material (yes, you want to read it): Here are 10 things we learned from Michigan's win.
Update: A photo on Twitter (on this blog) appears to show Fitz Toussaint's ankle bent in half -- it doesn't look good at all. He may have broken his ankle (judging by photo).
However, an ESPN sideline reporter stated that Toussaint was checked into a local hospital and was "in good condition."
Follow this blog for updates, commentary and other game-related content.
Follow Bleacher Report's Michigan Wolverines football writer Adam Biggers on Twitter @AdamBiggers81
Score update: Michigan 42, Iowa 17
Mark Weisman's touchdown reception makes no difference. None. Not one bit.
Post-game chatter
What did you think of Michigan's decision to leave in starters until the fourth quarter? This game was over by halftime, really.
I wasn't too thrilled how Hoke left in Gardner, who nearly fumbled the ball after scrambling from the goal line up the middle of the field.
Denard
He had a nice game, averaging 7.5 yards per carry and rushing for 98 yards is a good line.
Michigan is lucky that it recovered that fumble. Not smart leaving starters on the field,shocked that we haven't seen Russell Bellomy in at quarterback.
#Football101
Hard to believe Martin-Manley's catch was his first today. He and Davis were players to watch (or at least I thought) entering this game. They've combined for over 1,000 yards and over 90 catches this year.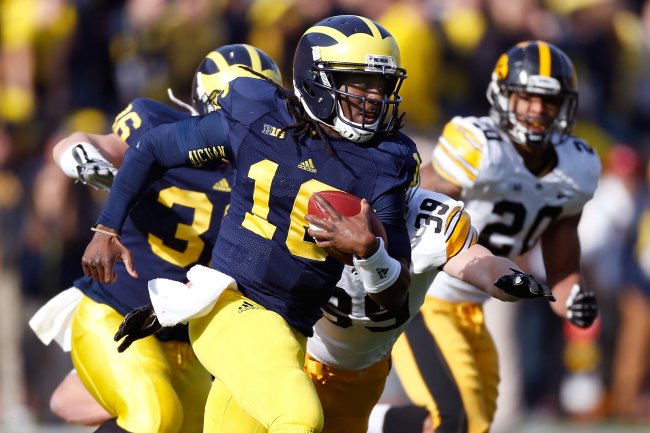 Gregory Shamus/Getty Images
I can't imagine the feeling of knowing that you're playing your last home college game. Has to be rough. Team 133's seniors have showed up today, and that's what counts most for Michigan, not so much the soon-to-be resounding win over Iowa.
Michigan has done a great job containing Iowa running backs, especially Mark Weisman.
Video oF Fitz Toussaint's injury in second quarter vs. Iowa.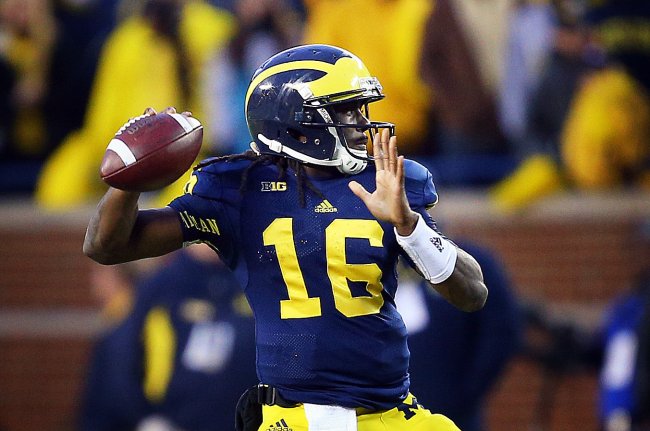 Mike Carter-US PRESSWIRE
Only Denard Robinson can turn a 10-yard loss for a big gain like that. You know he has fun switching directions. He has to.
I wonder if Brendan Gibbons is bored... just a random thought.
Score update: Michigan 42, Iowa 10
Devin Funchess could have crawled on his knees with the football lodged in his facemask and still scored that touchdown.
Yeah, he really could have.
A 29-yard bomb from Devin Gardner to the "Funch Bunch" puts this one in sleeper mode. Get it -- "sleeper?" Bad Iowa joke.
Take out Denard Robinson. No need to risk injury.

— Adam Biggers (@AdamBiggers81) November 17, 2012
I'd penalize Gardner just for blindside spinning with rushers on his tail.
If I were Brady Hoke, I'd remove Denard Robinson from the game right now. There is no need for him. I'd let Devin Gardner play through the third quarter, throw in Russell Bellomy for the fourth, but keep Garnder ready in case of a Bellomy-like performance.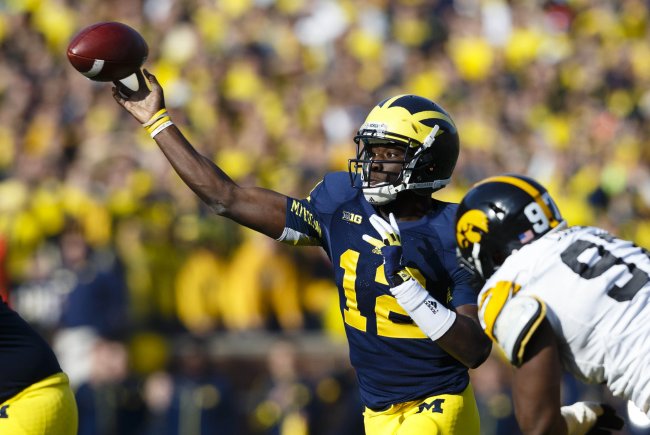 Rick Osentoski-US PRESSWIRE
Score update: Michigan 35, Iowa 10
The Wolverines converted a 4th-and-1 on the two-yard line by way of a Devin Gardner rushing touchdown, his third rushing score of the game.
Game. Over. Thanks for playing along.
Fitz Toussaint update: Toussaint in "good condition" (per ESPN report) after suffering an apparent ankle injury in second quarter.
For those who love Twitter: Denard Robinson and Vincent Smith are trending. And Fitz Toussaint's "lower extremity" injury sounds serious.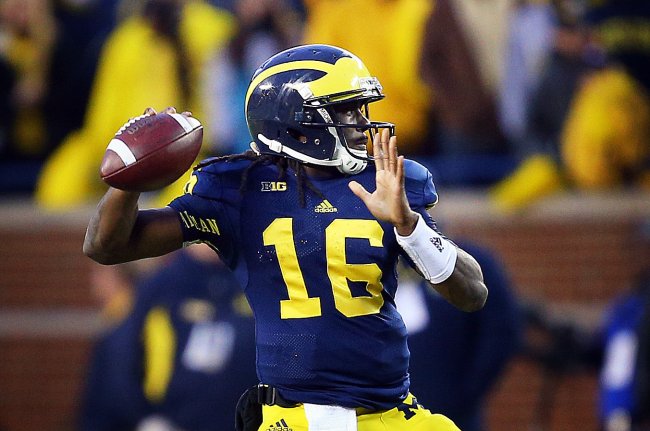 Mike Carter-US PRESSWIRE
From the comments (thanks to Frankie R):
The Big House says goodbye to the impressive, disappointing, amazing, perplexing, inspiring, bittersweet, too fast, too small, lightning rod that is Denard Robinson. I cheered his big plays, cursed his big errors, and I sure will miss those shoelaces flapping in the wind. Here's to Denard. Go Blue
I couldn't agree more with Frankie. And I would further argue that Denard Robinson should always start at quarterback if he's healthy, of course.
Score update: Michigan, 28, Iowa 10
Vincent Smith took a screen pass 18 yards for a score. Big plays come on Senior Day.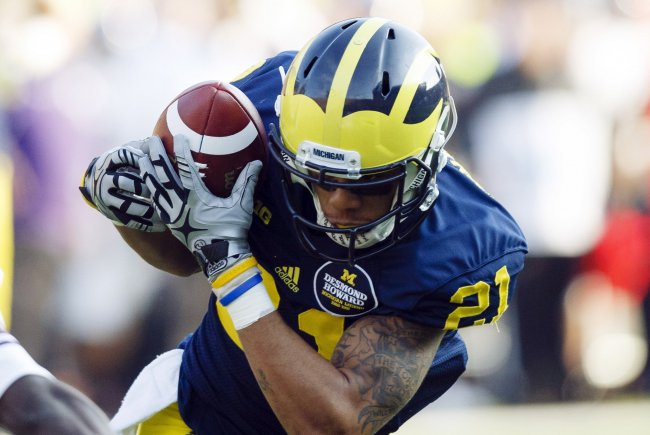 Rick Osentoski-US PRESSWIRE
Roy Roundtree likes making difficult catches. He makes it look easy, too. Move the chains, and keep them ready for Roundtree.
Joe Bolden laid a Jordan Kovacs-like hit on Mark Weisman. Bolden has impressed in a few games this year; he gets at it defensively and is ferocious like Jake Ryan (almost).
I think Devin Gardner recorded a full-length album in the course of that 3rd-and-goal play.

— Matt Hinton (@MattRHinton)
Score update: Michigan 21, Iowa 10
Devin Gardner continues to get it done on the ground, this time rushing for a two-yard touchdown on 4th-and-goal and giving Michigan a commanding lead over Iowa.
Christian Kirksey waited for Devin Gardner on that one. Literally. I made easy-mac, ate it, and Gardner was still in the pocket.
I wasn't sure how much we'd see Denard Robinson today, but I'm a little surprised that he's played so much.
ESPN commentators mentioned how he's carrying the ball with his left hand. If he's that worried about his right elbow, why play today? Why not conserve energy and speed up recovery by waiting for Ohio State.
This article is
What is the duplicate article?
Why is this article offensive?
Where is this article plagiarized from?
Why is this article poorly edited?

Michigan Wolverines Football: Like this team?