Patriots Roll over Colts 59-24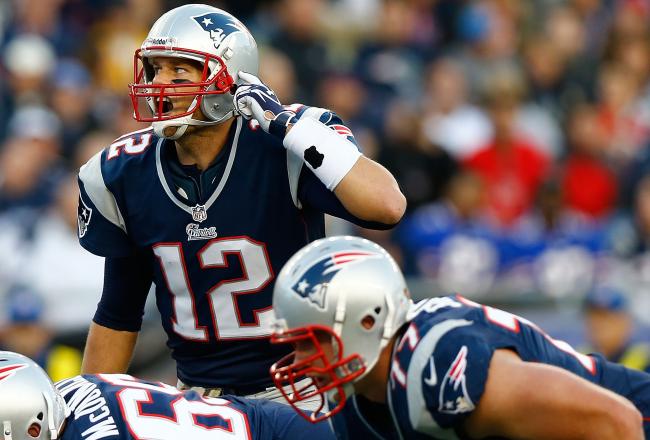 Jared Wickerham/Getty Images
The Patriots overcame a brief stuttering start for their defense, where they allowed back-to-back 80-yard touchdown drives, to soundly beat the Indianapolis Colts 59-24, tying a Patriots record for points in a game.
Both teams put up over 400 yards, but it was the two pick sixes by Andrew Luck that ultimately made the biggest difference and sparked New England to the big victory.
The Patriots offense was dominant from start to finish in a sign that things are starting to come around in the consistency department. They had just one punt when the game was still in question.
Julian Edelman had what might be a breakout game for the versatile Patriot weapon. The Pats had been trying to incorporate him more into the offense early in the year, but this was the first game where things really started to come together. He had 222 all-purpose yards.
Rob Gronkowski continued his dominance against the Colts with seven catches for 137 yards and two touchdowns.
The defense was inconsistent early, but allowed just seven total points in the second half in what is a positive sign. Aqib Talib made an impact both on the good side (pick six) and the bad side (two touchdown catches allowed).
Once again the yards allowed and horrible third-down percentage (Colts 8-for-14) didn't matter. What mattered were four turnovers by the Colts to none for the Patriots. When you turn the ball over that much against Tom Brady you're going to lose, and probably lose big.
This was one of the best all around team efforts of the year for the Patriots, and they'll have a quick turnaround having to travel to the Jets on Thanksgiving night.
Once again it looks like New England is starting to play their best football at the end of November.
Another interception for the Patriots as Tavon Wilson picks off a tipped ball. That should be the end of this one. Our final wrap up thoughts coming shortly...
Shane Vereen takes it in and this thing is officially a monster blowout, 59-24 Patriots. Patriots now have tied their record for most points in a game.
Edelman with another big punt return and this has turn into the big game from him that Patriots fans had been waiting for with him.
He now has:
47 yards rushing
58 yards receiving
117 yards in punt returns
With 307 yards tonight, Brady now has 51 300+ yard games in his career, tying him w/ Dan Fouts for 6th on the @nfl all-time list

— New England Patriots (@Patriots) November 19, 2012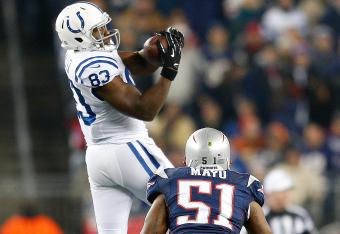 An Edelman end-around took the ball down inside the five yard line and Stevan Ridley finishes it off as teh Pats have broken 50.
52-24, Patriots lead late in the fourth.
Patriots offense avoids a three and out with a conversion to Gronk. Pats offense still has something to prove in the fourth quarters of games, but Brady just went over 300-yards and it's looking like they'll look to seal this thing here on this drive.
And the Colts refuse to go away, with Talib getting beat for another touchdown to T.Y. Hilton. It's now 45-24 and there's not a Patriots fan on the planet that feels completely comfortable with the lead.
Announcement from press box: Patriots have two INT returns for TDs in game; marks first time they've done that since 2002.

— Mike Reiss (@MikeReiss) November 18, 2012
Alfonzo Dennard gets a pick six of his own and that should put this one out of reach, 45-17 Patriots. Just what you can't do if you're the Colts. Turnovers are one thing, but two pick sixes? You're never beating the Patriots by doing that.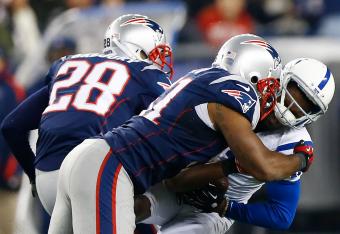 Colts are driving as the third quarter comes to an end, and we're reminded that this game still has a little ways to go before the Patriots break out the victory cigars. Last year's game between these two teams looked like a blow out for a second before the Colts started putting up touchdowns and the Patriots offense went dead quiet.
Still time left for the Colts, but they'll need to finish this drive with a touchdown. One more quarter to go...
The Colts had a good plan and executed it well early on but since the first quarter they've fallen apart. The one thing you cannot do is turn the ball over to the Patriots and the Colts have given them two that have led directly to 14 points.
Rob Gronkowski just became the first tight end in history with three consecutive seasons with 10 touchdowns.

— Jeff Howe (@jeffphowe) November 18, 2012
that's Rob Ninkovich's 5th forced fumble of the season - Mike Vrabel had 5 in 2007. they're only 2 NE players in 20 years w/ 5 FF

— shalise manza young (@shalisemyoung) November 18, 2012
Ninkovich comes through in the clutch yet again with a forced and recovered fumble. Patriots take over at the Colts 29 and immediately go for the end zone and it pays off!
Brady to Gronk for another six and the Patriots are running away with this one, 38-17.
Patriots offense picks up one first down but then stalls and punts. It's still close enough, someone is going to have to step up to close this one out, especially with the Colts about to come out guns blazing.
Patriots offense starting to sputter in the second half is nothing new.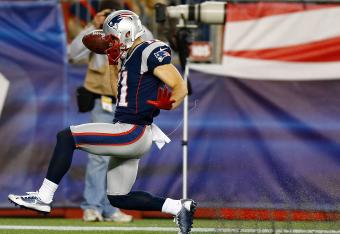 It's a rare occurance but the Patriots just forced a punt that wasn't off a three-and-out. The Patriots defense is starting to play a lot better since giving up back to back 80-yard touchdown drives to open the game. They've now only given up a field goal since then.
Brady and the offense getting the ball back with a chance to put this one away.
Julian Edelman scores his second touchdown of the game, this time a two yard reception. It looks like Edelman is really having the kind of game the Patriots thought he could.
Patriots now lead 31-17, and the Colts need to answer on this next drive.
Patriots first possession of the third qurter and they're driving, converting on a third-and-11 with a screen pass to Edelman.
Not good...
Chandler Jones has not returned to the game since leaving with an ankle injury. He is not on the sideline at the start of the second half.

— Mike Reiss (@MikeReiss) November 18, 2012
395 yards of total offense combined for both teams in the first half.

— Greg A. Bedard (@GregABedard) November 18, 2012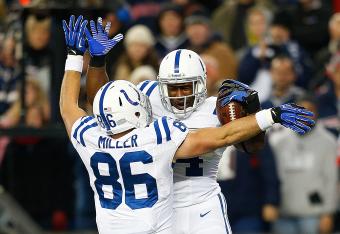 Patriots lead Colts 24-17 at the half as Adam Vinatieri misses a career long attempt.
Solid stand by the Patriots defense to not give up any points at the end of the half, but overall just more of the same ugliness that we've seen all year. They give up lots of yards and lots of first downs, but a pick six has made the big difference.
Offensively the Colts have a good game plan, with Andrew Luck already attempting passes on 27 dropbacks. The Colts started well on the ground but have gotten away from the run game that has put up 71 yards already.
The Colts also ran 41 plays in the first half. They're doing everything they need to do, but the punt return and turnover have been the difference in the game.
If this game continues to follow the Patriots season-long script it should come down to the very end.
Gostkowski's kick is good and the Patriots are back on top by a touchdown, 24-17. Andrew Luck and the Colts offense have plenty of time to score some points.
Patriots get the ball to start the second half.
Patriots stall in the red zone at the two minute warning and will attempt a field goal. It doesn't really matter how quickly you get to the red zone if you can't finish there, and the problems for the Patriots in this area continue.
Patriots offense back on the field after a 20-minute break. They're driving down the field again with Welker and Gronk leading the way. The key as always will be finishing with touchdowns.
Patriots hold on third down with good pressure from Jermaine Cunningham. The Pats are busting out the pressure on third down and it's having some results.
Adam Vinatieri kicks the field goal to cut the lead to 24-17.
This article is
What is the duplicate article?
Why is this article offensive?
Where is this article plagiarized from?
Why is this article poorly edited?

New England Patriots: Like this team?