Green Bay Packers: Handing out Midseason Awards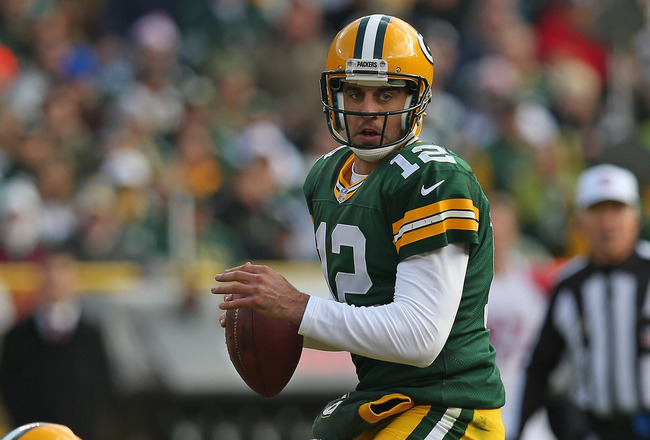 Jonathan Daniel/Getty Images
Although the Green Bay Packers have played nine of their 16 games, the bye week presents a feeling of the midway point.
The team gets an extra week to rest and recover before the real playoff race begins.
So, why not hand out side midseason awards?
Here are my picks to honor five guys who are making truly large contributions to the Packers' 6-3 record so far.
The honorable mentions listed are in order from most deserving to least.
MVP: Aaron Rodgers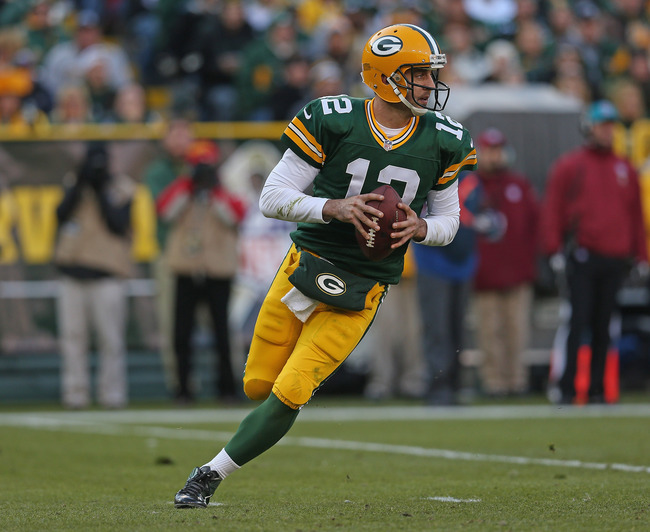 Jonathan Daniel/Getty Images
This one is a no-brainer.
The reigning NFL MVP hasn't produced quite on the same level as his 2011 form, but he still might be the best player in the league, let alone the Packers.
I could throw all his incredible stats at you right now, but I'll just give a simple one. The one time Aaron Rodgers sat out an offensive snap that wasn't in a run-out-the-clock situation, Graham Harrell fumbled the football inside the opponent's 5-yard line.
Needless to say, Green Bay wouldn't be nearly the same without Mr. Rodgers.
Honorable mentions: Clay Matthews, Randall Cobb
Defensive MVP: Clay Matthews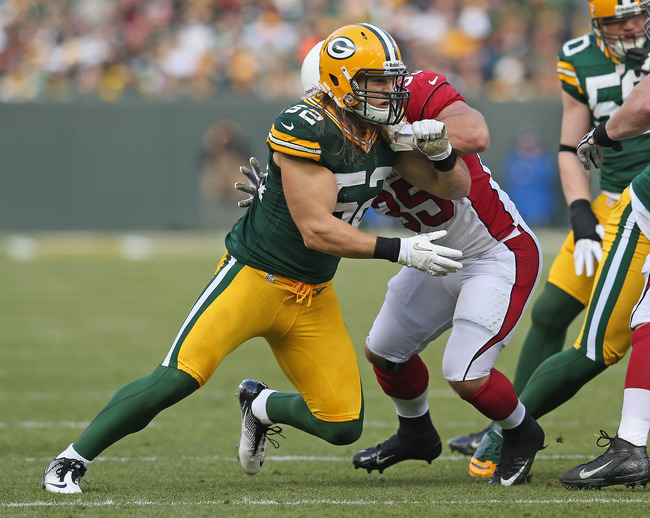 Jonathan Daniel/Getty Images
After struggling to rack up his usually high sack numbers in 2011, Clay Matthews has started the 2012 season with a bang.
He's already recorded nine sacks, putting him in a tie for second place in the entire NFL. Despite being the guy all opponents double-team and chip at the line, Matthews is on pace to set a career-high mark in the category.
On top of his incredible pass-rushing abilities, Matthews might also be Green Bay's best run stuffer (although Ryan Pickett may have something to say about that).
Hopefully that hamstring injury isn't too serious, because Matthews is the Aaron Rodgers of the defense.
Honorable mentions: Charles Woodson, Pickett, Casey Hayward, Tramon Williams
Special Teams MVP: Tim Masthay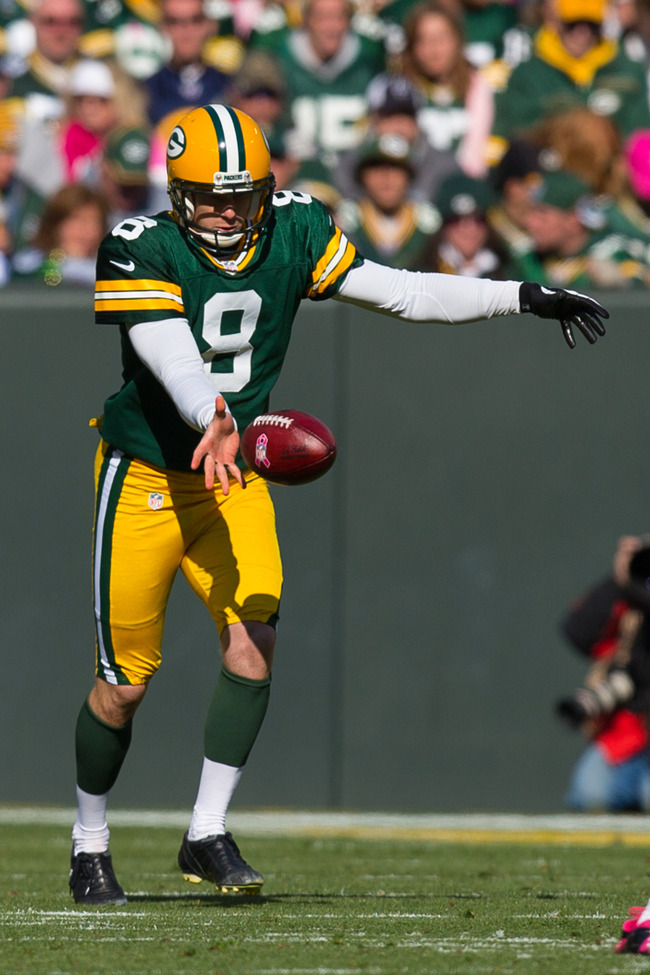 Jeff Hanisch-US PRESSWIRE
Tim Masthay doesn't get all the attention like an Andy Lee or Shane Lechler does, but he's quietly having maybe the best year out of any punter in the NFL.
While he doesn't have the booming leg like those two do, Masthay has proved his leg to be one of the most accurate in the league.
He leads the NFL in punts downed inside the 20, is tied for the lead in fair catches forced and is fourth in yards allowed per return.
Masthay is always pinning opponents deep and not giving them opportunities to make an explosive return.
Honorable mentions: Randall Cobb, Jarrett Bush, Jamari Lattimore
Rookie of the Year: Casey Hayward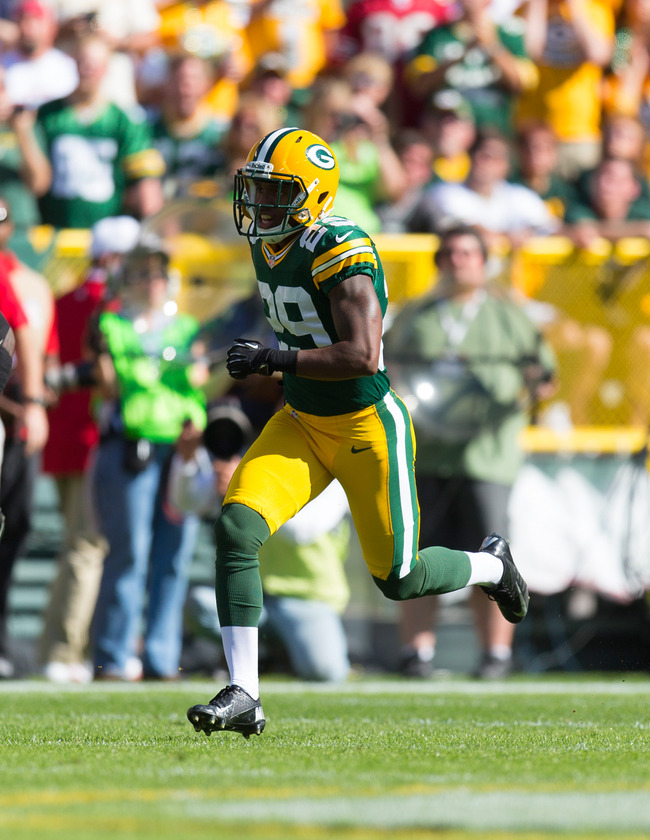 Jeff Hanisch-US PRESSWIRE
He's only played in nine games, but Casey Hayward already appears to be the exact type of defender the Packers have thrived with.
He hasn't been a shutdown corner necessarily, but his ball-hawking skills are undeniable. He's already intercepted four passes, which ties him for third best in the league.
Hayward has also forced one fumble and has proved to be a solid tackler.
In 49 passes thrown in Hayward's direction, opposing quarterbacks have only completed 49 percent of their attempts and posted a dismal 36.9 passer rating.
He surely will be a special player for the Packers in many years to come.
Honorable mention: Jerron McMillian
Most Improved: Randall Cobb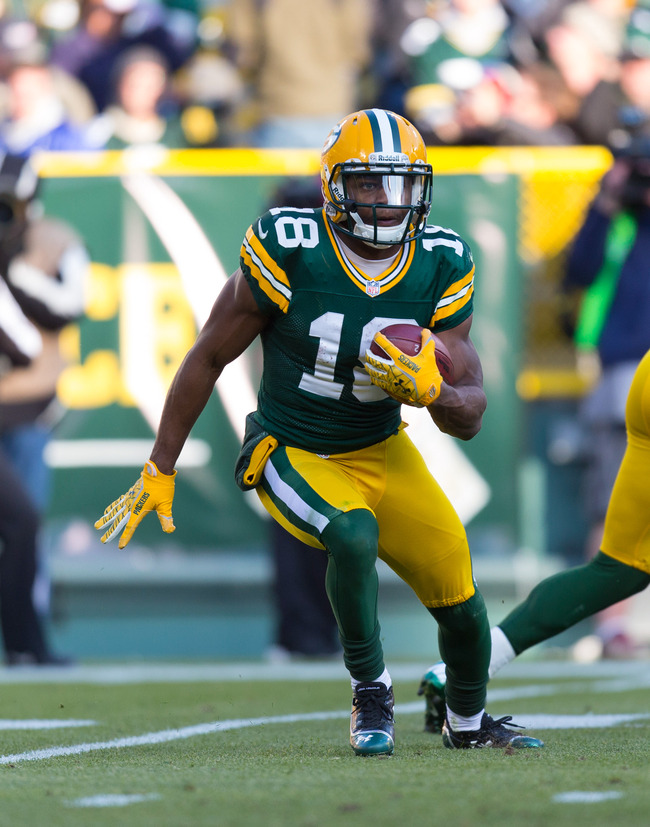 Jeff Hanisch-US PRESSWIRE
This was a tough call between James Jones and Randall Cobb. With Greg Jennings and Jordy Nelson struggling with injuries, a no-show from the entire tight end corps and Donald Driver's age finally catching up to him, Jones and Cobb have both stepped up big time as Rodgers' go-to targets.
I decided to give the edge to Cobb. I think Jones could have been just as productive last year if given the chance. He was rarely thrown to but still made numerous incredible grabs. He was just buried in Rodgers' pecking order behind Jennings, Nelson and Jermichael Finley.
Cobb's breakthrough is more a result of maturation after a year's experience in the NFL. He now understands how to use his natural abilities, both in route running and rushing.
His production is also slightly superior to Jones'—45 catches, 500 yards, seven total touchdowns and 96 rushing yards for Cobb, compared to 40, 462, eight and zero for Jones.
Honorable mentions: Jones, A.J. Hawk, Sam Shields, C.J. Wilson, Mike Neal, Brad Jones, Tramon Williams
Keep Reading

Green Bay Packers: Like this team?