Arsenal Transfers: Should Arsene Wenger Rescue Yann M'Vila's Career?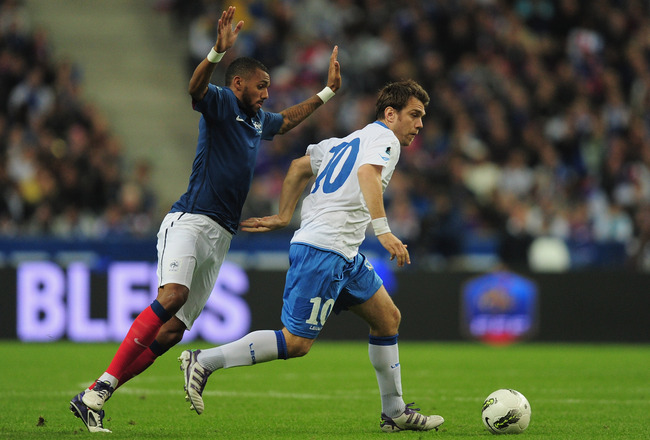 Jamie McDonald/Getty Images
Rennes' 22-year-old French international Yann M'Vila has been frequently linked to Arsenal.
Since rising to prominence, the defensive midfielder's transfer value is currently at its lowest point following problems on and off the field.
Should Arsène Wenger rescue M'Vila's career by signing him?
Timeline of Yann M'Vila's Problems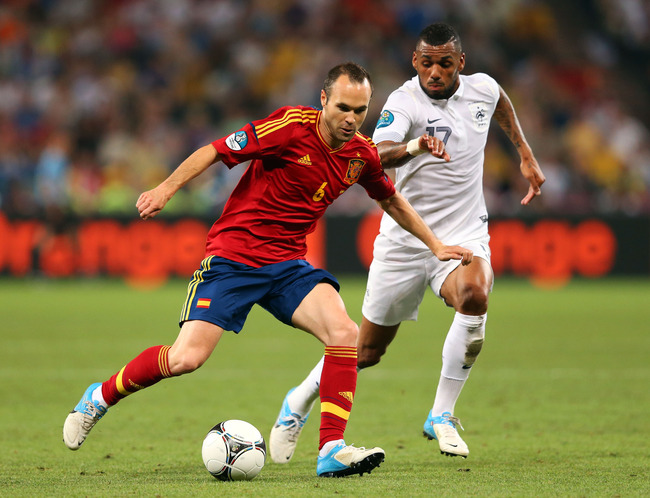 Alex Livesey/Getty Images
December 17, 2007 - June 3, 2009: Former Ligue 1 Manager of the Year Guy Lacombe went out of his way to deny Yann M'Vila the chance to play for the first team. Here's an excerpt from Andy Brassell's article on ESPN FC about the incident:
If M'Vila's own doggedness is only to be admired, he owes plenty to the faith of his current coach—and fellow straight-talker—[Frédéric] Antonetti. The bluff Corsican's predecessor in the Rennes hotseat, Guy Lacombe, viewed M'Vila as a loose cannon despite his talent. Yet Antonetti gave M'Vila his first-team chance within weeks of arriving at the Stade de la Route de Lorient, and promoted his protégé's chances of a France call-up when M'Vila had barely 20 first-team matches under his belt, to the sniggers of a not-inconsiderable number of journalists.
Writing in Sports Illustrated, Ben Lyttleton stated that Lacombe was also irritated by M'Vila's attitude.
September 27, 2008: While playing for the reserves, M'Vila was sent off in the 36th minute after getting into an altercation with Pontivy player Fabrice Péru.
August 30, 2009: M'Vila was shown a red card in the 70th minute after a dangerous two-footed lunge on Lens midfielder Razak Boukari. It was an incomprehensible decision by M'Vila for two reasons.
First and foremost, Rennes had a one-man advantage with the game tied at 1-1 (Lens defender Marco Ramos had been sent off 19 minutes earlier).
Furthermore, Razak was facing the other way when the tackle was made. How on earth was M'Vila going to win the ball?
Two minutes later, Lens scored—the match ended 2-2 after an equaliser in stoppage time from Asamoah Gyan.
M'Vila's playing style would later evolve into one that only included high-percentage tackles. A year later, Boukari became M'Vila's teammate.
September 25, 2010: Le Mensuel de Rennes reported that M'Vila admitted his involvement in a January road rage incident.
November 3, 2011: A minute after Celtic forward Gary Hooper was booked, M'Vila—already on a yellow card and with Rennes down 3-1—was sent off for a second bookable offence. If M'Vila ever needs a new P.R. man, he should hire Craig Burley.
April 12, 2012: If M'Vila wasn't held back by a security guard, the French international may have assaulted a heckler.
May 1, 2012: Ouest-france.fr reported that M'Vila was arrested for assaulting a 17-year-old.
June 23, 2012: M'Vila gave the cold shoulder to manager Laurent Blanc after being subbed off against Spain at Euro 2012.
October 13, 2012: M'Vila, Wissam Ben Yedder, Antoine Griezmann, M'Baye Niang and Chris Mavinga abandoned training camp to go nightclubbing in Paris before the crucial Under-21 Euro qualification playoff second leg against Norway. France were beaten 5-3 and M'Vila was given a 2/10 performance rating by L'Équipe (h/t Matt Spiro).
You can just imagine Lacombe wagging his finger at Rennes management and saying: "I told you so."
Yann M'Vila's Performance Drop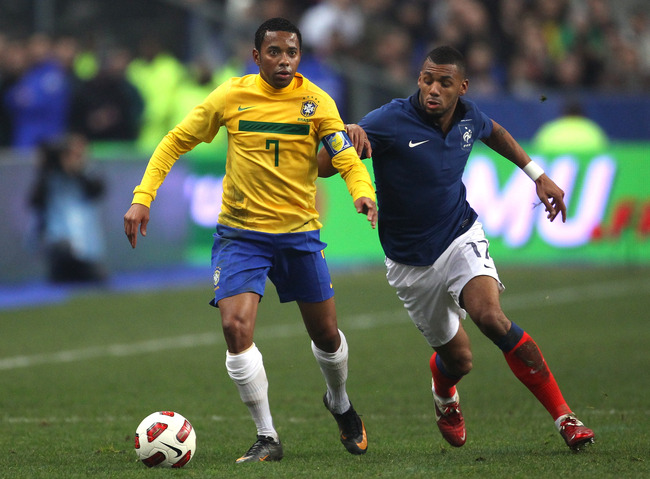 Alex Livesey/Getty Images
| | | | | |
| --- | --- | --- | --- | --- |
| League Only | 09-10 | 10-11 | 11-12 | 12-13 |
| Tackles Per Game | 3.1 | 2.9 | 3.1 | 1.6 |
| Tackles Per Foul | 3.8 | 2.7 | 3.7 | 6.5 |
| Interceptions Per Game | 2.1 | 2.4 | 2.5 | 1.4 |
| Pass Completion % | 78.9 | 82.2 | 83.2 | 85.6 |
| Passes Per Game | 47.5 | 61.2 | 71.8 | 53.9 |
| Long Passes Per Game | 3.1 | 5.5 | 7.7 | 6 |
| Long Pass % | 53.7 | 66 | 67.7 | 70.6 |
The reason for Yann M'Vila's high rate of tackles per foul this season is because he's been shirking his defensive duties.
He started all 38 league games for Rennes last season. This season, he watched from the bench in first-rate defensive midfield matchups against Lille's Rio Mavuba and Toulouse's Étienne Capoue.
Coincidentally, those were the two players keeping M'Vila out of last season's UNFP Team of the Year.
This season, L'Équipe have given M'Vila an average performance rating of 4.67 in Ligue 1, the worst on the Rennes team.
What's the reason for his dip in form?
He's gone off the rails because Rennes didn't sell him in the summer.
His misdemeanors off the field, his refusal to perform at 100 percent for his club, his propensity for extracurricular activities and the abuse he's receiving from his supporters are all factors in his transfer value plummeting to an all-time low.
For Gooners wondering how M'Vila's statistics compare to past Arsenal players who have played a deep-lying position, here it is:
| | | | | |
| --- | --- | --- | --- | --- |
| League Only | Arteta [1] | Song [2] | Wilshere [3] | Denílson [4] |
| Tackles Per Game | 4.2 | 2.9 | 1.7 | 2.6 |
| Tackles Per Foul | 1.9 | 1.4 | 1.7 | 1.6 |
| Interceptions Per Game | 2.2 | 1.9 | 1.5 | 3.1 |
| Pass Completion % | 93.1 | 84.3 | 86.1 | 86.4 |
| Passes Per Game | 93.4 | 66.1 | 54.4 | 63 |
| Long Passes Per Game | 7.1 | 3.3 | 3.1 | 3.4 |
| Long Pass % | 90.1 | 67.7 | 70.4 | 80 |
[1] 12-13 season; world-class defensive midfielder right now—can he keep it up?
[2] 11-12 season; led the Gunners in league assists with 11. Should have been sold for £25-30 million.
[3] 10-11 season; people gloss over the fact he was caught out of position time after time like Song.
[4] 09-10 season; wasn't great, wasn't terrible. If only Arsène Wenger took a risk to sign Hernanes, who flew under the radar as a late-bloomer.
Why Arsène Wenger Should Rescue Yann M'Vila's Career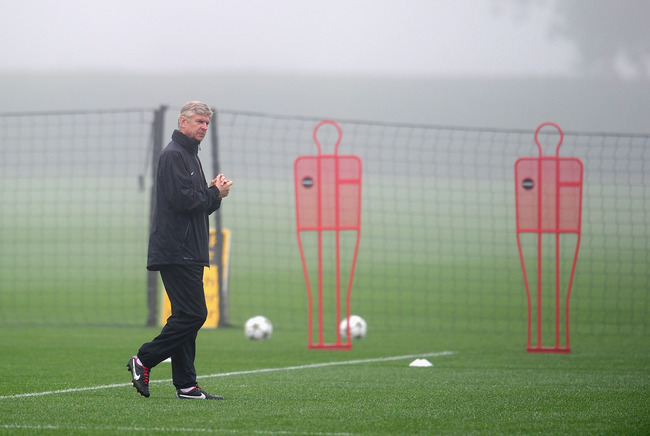 Shaun Botterill/Getty Images
Yann M'Vila's potential for greatness is just too hard to ignore. When he's at his best, he is a cerebral midfielder, who sweeps up mistimed passes and is one of the most efficient tacklers in Europe.
I know, you're probably thinking: "Arsène Wenger shouldn't sign M'Vila because there are too many red flags, including petulance, persistent insubordinate behaviour and nonexistent form."
Only one club was willing to sign Feyenoord's Robin van Persie in 2004, whose reputation was just as bad as M'Vila, for £2.75 million.
Arsenal.
Rennes manager Frédéric Antonetti, the man who believed in M'Vila, had some harsh words for him and his clubbing buddy Chris Mavinga (via ESPN FC):
We can talk about betrayal. I talked so much with them, but it was useless. I'm the first to suffer in this situation. I won't have confidence in them as men anymore and I can't make the difference between the man and the player. That's why I'm affected—more than I show.
Rennes owner François-Henri Pinault (yes, that's the guy married to Salma Hayek), son of François Pinault, will not accept behaviour that taints the image of the club, which in turn brings shame to the Pinault family.
The relationship between M'Vila and Rennes is irreconcilable—just like Van Persie and Feyenoord.
Right now, M'Vila is a train wreck. The club have no leverage and will have to accept a derisory bid from Wenger.
£2-5 million for a defensive midfielder, who in the past few seasons has been world-class, is a risk worth taking.
To think M'Vila's transfer value was around £20-25 million pre-Euro 2012.
Comment below with your thoughts.
Is Cleverley Good Enough for Manchester United?
Statistics courtesy of WhoScored.com
Follow @allanjiangLIVE

Connect with +allanjiang
Keep Reading

Arsenal: Like this team?