As the old Tom Petty song says, "the waiting is the hardest part."
For Tennessee and Auburn, the wait to see if head coaches Derek Dooley and Gene Chizik can turn around disappointing seasons may have gone on too long.
But maybe the two programs with the hottest seats in the SEC learn something from one of its SEC brethren—the Georgia Bulldogs.
Just two short seasons ago, Georgia head coach Mark Richt lost to Central Florida in the 2010 Liberty Bowl 10-6 to cap off a sub-.500 season. It was the culmination of a disappointing two-year stretch that saw the once-strong program go a combined 14-12 and landed Richt squarely on the hot seat.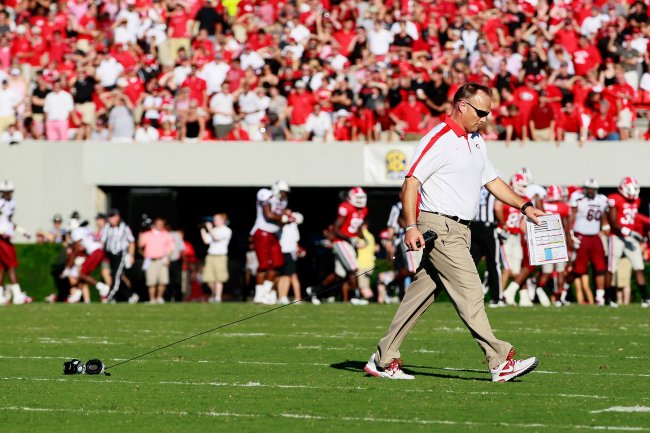 Kevin C. Cox/Getty Images
Losses to Boise State and South Carolina to open up the 2011 season didn't help Richt, but the patience of the Georgia administration paid off. Georgia won its next 10 games, won the SEC East title and came within 30 minutes of springing the upset of then-No. 1 LSU in the Georgia Dome.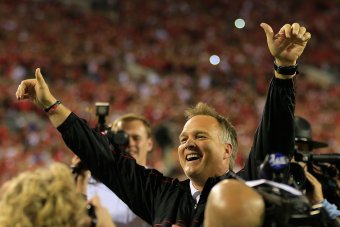 Sam Greenwood/Getty Images
Even then, the 2011 Georgia Bulldogs were widely regarded as a team that benefited more from a weak schedule that didn't include Alabama, LSU and Arkansas in the regular season, rather than a team that had figured itself out.
Then 2012 happened.
Georgia has won seven of its last eight games, is ranked No. 6 in the Bowl Championship Series (BCS) and controls its own destiny in the chase for the SEC East title.
And to think, 14 months ago, Richt was on the hottest seat in America.
Can Tennessee or Auburn learn from the patience showed by the Georgia administration?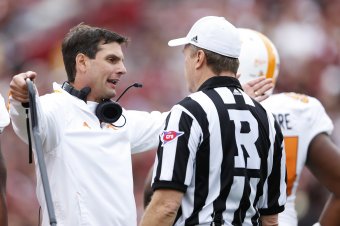 Joe Robbins/Getty Images
In Tennessee's case, absolutely.
Losers of four straight and five of its last six games, Tennessee is about as low as it possibly can get. But help is on the way in the form of a rather easy path in November vs. Troy, vs. Missouri, at Vanderbilt and vs. Kentucky.
An undefeated November isn't out of the question. In fact, I'd call it likely based on how polished the Tennessee offense is and how much it's improved—specifically in the running game—from a year ago.
If Tennessee finishes 7-5 and Sal Sunseri's defense shows marked improvement over the last month of the season, giving Dooley another year should—at the very least—be discussed.
That won't sit well with a large contingent of Tennessee fans who have dreams of Jon Gruden—or anyone not named Derek Dooley—gracing the sidelines on Rocky Top. But there is still time for Dooley to turn the Vols around, even though that sounds far-fetched at the moment.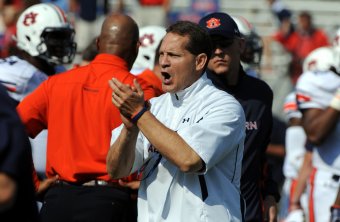 Chuck Cook-US PRESSWIRE
For Auburn, that ship has sailed.
Head coach Gene Chizik has come under immense pressure this season after starting the season 1-7, with the only win coming in overtime over Louisiana-Monroe.
Auburn should never be this bad. Just two years removed from a national title and with three straight top 15 recruiting classes, the Tigers' ineptitude this season should be especially alarming.
But more important than that, the program shows no signs of improving and is, in fact, regressing after getting smoked 63-21 at home.
Sometimes the best move for a program is the one that isn't made. Georgia proved that two years ago, and that rule could become applicable following this season at Tennessee if the Vols turn things around. For Auburn though, Chizik's seat has become too hot.