USC vs. Arizona: Live Scores, Analysis and Results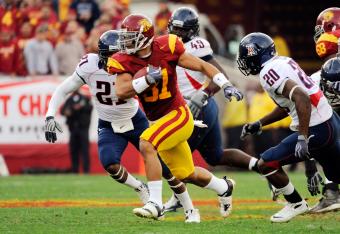 Kevork Djansezian/Getty Images
FINAL

Arizona 39
USC 36
Arizona outlasted USC to win. I will be back in a few hours with my follow-up. For now, I'm going to go...commiserate with other heartbroken and angry Trojan fans. This was all a failure on the part of the coaching. Turnovers and penalties killed USC. It is not acceptable. Not by a long shot.
USC has decided to take the 4th quarter off. It is going to be a rough November for Trojan fans. Hint: My 10 things we learned piece is going to be BRUTAL later, folks.
Marqise Lee has broken a 16-year old USC record for receiving yards and set a new Pac-12 record through three quarters.
Marqise Lee had over 200 yards in the first half, helping USC get and maintain the lead over Arizona. Penalties are a huge issue, but USC is besting Arizona when it comes to sheer speed.

Marqise Lee with a 49 yard TD reception to give USC its first lea of the game.

Penalties are the name of the game, with USC racking them up on nearly every play.

Matt Barkley and the USC offense had a lengthy opening drive that resulted in Barkley throwing three picks in a row (2 dropped). Arizona then quickly turned that into the first score of the day.
USC faces off against the University of Arizona Wildcats in Tucson at 12:30 p.m. PT. This clash of Pac-12 South Division teams features Arizona head coach Rich Rodriguez's high powered offense which will provide a good test for USC who faces Oregon next weekend.
USC is expected to further hone their new no-huddle style offense versus the Wildcats.
USC enters the game 6-1, while Arizona is 4-3.
And that's a wrap. USC falls to Arizona.

Oh my 10 Things We Learned article will be scathing tonight, Trojan fans. This is unacceptable.
Less than a minute left. No time outs. Long field. Wouldn't it be nice to have that penalty yardage back?
2:34 remaining. No more timeouts. Do you think if we all hold our breath USC will pull this win out of their...
Yeah, me either.
Well, that's one. Please go for the PAT not the 2 point conversion, Kiffin.
USC has been completely outplayed in the 4th quarter, just like at Stanford. Kiffin incapable of in-game adjustments.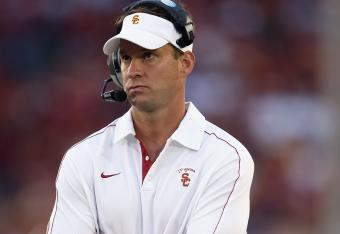 Lane Kiffin is immature and petulant and it shows in the play of his team. Those penalties come from somewhere, and they aren't improving.
TD AZ.
USC is going to lose this game.
UGH
USC defense really needs to step it up here and prevent the score. Obvious statements all I am capable of right now. The rage, it threatens to overtake me.
Another personal foul. This has to be some sort of dubious record.
I'd like to think USC can get this done. And they CAN, objectively, but I think Arizona wants it more... and there you go! As I am typing this, Barkley is sacked.
SEE? TD AZ. USC Defense taking 4th quarter off, apparently. I need a cocktail.
USC wants to lose. I am convinced of it.
4th quarter. Let's do this Trojans!!!!
oh JEEBUS. USC fumble. Arizona recovery. Pardon me, I have to go be sick, and it is not because of the hangover from my party
USC D looking much better in the second half. I am full of obvious statements today.
Wonders will never cease! Kiffin's halftime adjustments have been effective. All is not lost!
The best thing of all? Marqise Lee cannot go into the NFL draft until 2014.
The pace of this game is odd, right? Fits and starts. Only time it is dynamic is when Lee has the ball.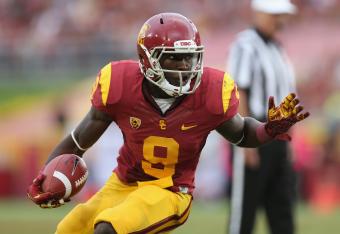 Marqise Lee with another TD and 300 yards on the day. AMAZING. 44 yard TD pass. He is scary fast.
Are USC and Arizona setting a record for the number of personal fouls in this game?
Attending to some stuff around the house, back when the game is back on. Just saw South Carolina's Marcus Lattimore injury-- that was gruesome.
Oh Thank Jeebus, it's halftime. Let's hope the second half is less sloppy. Not sure how much more of this I can take. ;-)
Well, with the excpetion of Lee, it "ain't" pretty but at least USC is hanging in there. And winning.
Jeebus, Lee is putting on a show. 12 catches in the first half. Over 200 yards.
This article is
What is the duplicate article?
Why is this article offensive?
Where is this article plagiarized from?
Why is this article poorly edited?

USC Football: Like this team?