New York Mets: 6 Players Who Should Be Replaced This Offseason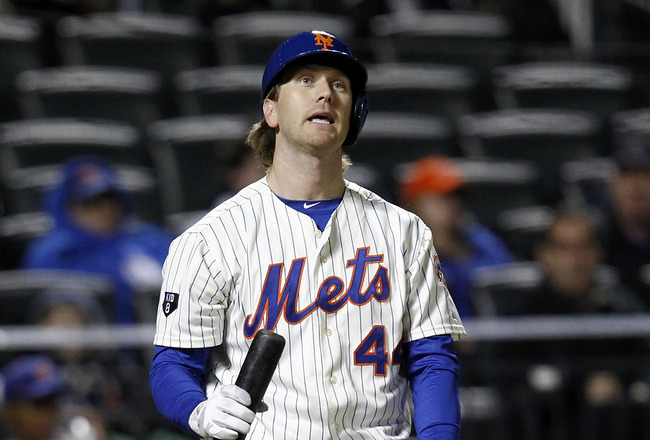 Jeff Zelevansky/Getty Images
The New York Mets finished the 2012 season with another losing record, making it four in a row.
After another seemingly promising start, the club faded in the second half of the year and quickly ended all hopes of making a surprise playoff run.
So inevitably, changes will be made this offseason in an effort to make this club better.
Mets general manager Sandy Alderson has vowed that he will field the best possible roster while continuing the rebuilding process of this franchise. Taking a look at the Mets' current 40-man roster, some major overhauling could and should occur.
Judging by the way the current makeup of the team is now, not a lot of positions are safe. Here are some Mets that should be replaced this offseason.
Jon Rauch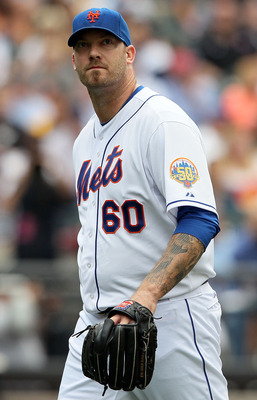 Alex Trautwig/Getty Images
Signing Jon Rauch to a $3.5 million contract before the 2012 season was absurd to begin with. How can it be justified he earned that when he had a 4.85 ERA with the Toronto Blue Jays just a season before?
To Rauch's credit, he has been a gamer, and the Mets got the most out of him with 73 appearances this past season. But a lot of times, his outings did not fare well.
Rauch finished 2012 with a 3-7 record and a 3.59 ERA. He had trouble holding leads for the club and helped contribute to the team having one of the worst bullpens in the league.
Rauch lost some velocity on his fastball, a lot of times struggling to reach the low 90s.
He is a free agent this offseason, and it will be a shock to see him back in a Mets uniform. New York can do better with the setup role and should.
Andres Torres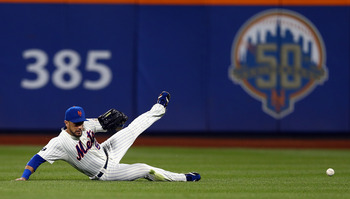 Elsa/Getty Images
The Mets might want a do-over here.
Last offseason, New York shipped center fielder Angel Pagan to the San Francisco Giants and got outfielder Andres Torres and reliever Ramon Ramirez in return.
Everyone can see how well Pagan is doing now. He has played remarkably well all season, and that has carried over into the postseason, helping lead the Giants to another World Series appearance.
Torres, on the other hand, struggled in New York in 2012. He batted .230, which is bad for any player, let alone a leadoff hitter.
The journeyman proved that he is past his prime and that 2010 was an aberration.
Torres is arbitration eligible but mostly will be non-tendered. The alternative is Kirk Nieuwenhuis, and while he has his own struggles and concerns, the potential he has outweighs any idea of bringing Torres back into the fold.
Ramon Ramirez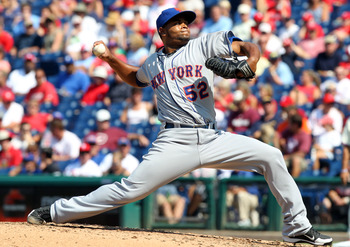 Hunter Martin/Getty Images
The other part of the Angel Pagan trade, Ramon Ramirez was supposed to be the guy that would really help New York's bullpen issues.
He helped all right—in making the Mets bullpen even worse.
Ramirez regressed in 2012, going 3-4 with a 4.24 ERA, which is by far his worst season since 2007.
He was a reason why the San Francisco Giants bullpen was such a vital part of that 2010 World Series run. After being traded from the Boston Red Sox in the middle of the 2010 season, Ramirez appeared in 25 games for the Giants and posted a 0.67 ERA.
His success continued into the 2011 season, but it appears the Giants shipped him out of town at the right time, like Andres Torres.
It is hard to imagine Mets general manager Sandy Alderson bringing back a lot of the relievers he had in 2012 after most of them struggled mightily. Ramirez was one of those guys, and his spot should be replaced.
Josh Thole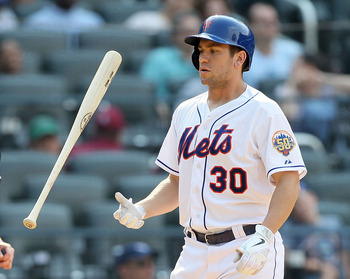 Jim McIsaac/Getty Images
The writing is already on the wall for Josh Thole.
When the Mets acquired Kelly Shoppach last season, Thole knew his starting job was in jeopardy.
It is not a knock on the guy, but he is just not starting-catcher material at the major league level. He is a backup at best, and the Mets probably knew that, since they brought him up back in 2009.
It remains to be seen if the Mets saw enough of Shoppach to give him a new contract, but at any rate, New York needs a new starting backstop.
That does not mean they should give up on Thole, though. He just shouldn't be the everyday guy.
Thole is arbitration eligible and probably will be retained. He does have the most experience in catching knuckleballer R.A. Dickey, and if the Mets re-sign the potential Cy Young Award winner, they will probably want a guy who has experience catching that unpredictable pitch.
Lucas Duda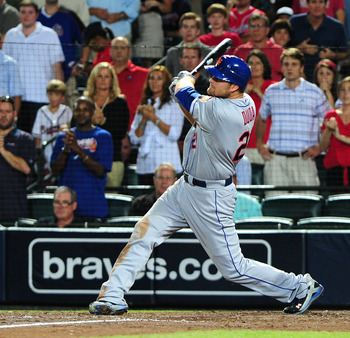 Scott Cunningham/Getty Images
Lucas Duda is not an outfielder, and the Mets should look into getting a replacement.
Duda is a prime candidate to be traded this offseason. Anthony DiComo, Mets beat writer for MLB.com, says that the the most likely way the Mets upgrade their outfield is through the trade market.
Duda is a liability in the outfield and does not have a position on the club right now because he is blocked by Ike Davis at first base. What he does have is a bat, and he uses it well at the plate.
He is a left-handed power hitter, still with a lot of potential. It may not look like it now, but there is some team out there that is probably very interested in obtaining his services for either a first base or designated hitter role.
Sandy Alderson just has to do some homework and find the right deal that makes sense.
Duda should be replaced this offseason, but if he is not, the 2013 Mets gag reel will have plenty of appearances by him and his adventures in the outfield.
Jason Bay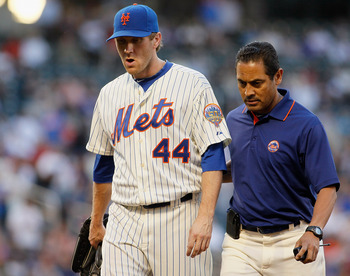 Mike Stobe/Getty Images
Remember, the title states "should" be replaced. So, just because Jason Bay should be replaced does not mean he will be.
Bay is going to be a member of the 2013 New York Mets whether people like it or not. No one is going to take on the money of that ridiculous contract.
Bay's time in New York has been frustrating to say the least. He has not been healthy during his stint in Flushing, and when he has played, he has struggled mightily.
Left field will now likely be platooned between Bay and either Mike Baxter or Jordany Valdespin. That is a tough pill to swallow for a guy making $16 million in 2013.
Just brace yourself for the worst, Mets fans. Bay will be around for another season, but by all accounts, he should be replaced.
Keep Reading

New York Mets: Like this team?