CM Punk, Ryback, Dolph Ziggler and 5 Bold Predictions for WWE Hell in a Cell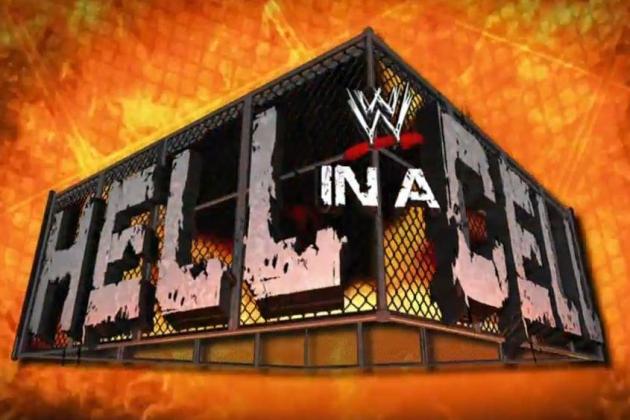 Credit: Wikipedia Creative Commons
WWE Hell in a Cell takes place Sunday, October 28, emanating from Atlanta, GA. The event is headlined by the 26th Hell in a Cell match when CM Punk defends the WWE Championship against the undefeated Ryback.
There are many questions surrounding the finish to that match. According to a report from The Wrestling Observer Newsletter (via WrestlingInc), the WWE is seeking out a way to keep the title on CM Punk while not prematurely ending Ryback's streak.
Another looming question for many fans is whether Dolph Ziggler will cash in his Money in the Bank briefcase at the conclusion of Sheamus's World Heavyweight Championship match against The Big Show.
Questions like these give me the perfect opportunity to make my own bold predictions. Read on to see what outlandish ideas just might happen at the WWE Hell in a Cell pay-per-view.
Begin Slideshow

»
As mentioned on the first slide of this article, the WWE is struggling to book a proper finish to the main event: CM Punk's WWE Championship defense against Ryback. How can the company effectively finish a match where there is always a clear winner—yet make both men look strong.
The answer is simple: book a no-contest.
The first thought that comes to your mind is likely the same one that came to mine: how can you book a no-contest in a Hell in a Cell match?
The WWE is not above producing a Hollywood-style stunt at their events. The Big Show himself has been a part of two ring-breaking moments in WWE history. (The most recent, Vengeance 2011 vs. Mark Henry, shown in the video on this slide.)
One can predict that a similar stunt will take place at Hell in a Cell. We've seen pieces of the Hell in a Cell structure get compromised in the past. This one could cause injury to the referee or provide CM Punk with an opportunity to escape.
While not a happy ending, a large scale stunt involving the Hell in a Cell structure is the perfect way to keep the WWE Championship around CM Punk's waist and keep Ryback's undefeated streak intact.
There is one way to provide the fans with an exciting ending: a big return. However, this bold prediction isn't named Brock Lesnar.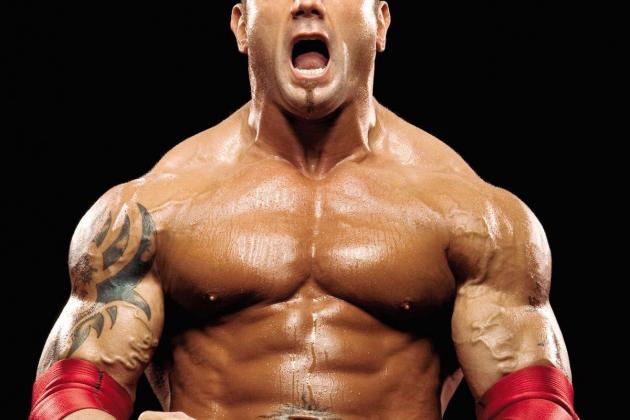 Credit: IGN.com
Just over a month ago, multi-time former world champion Dave "Batista" Bautista commented on a potential WWE return. According to a report from PWInsider, Batista would be open to a WWE return. The former WrestleMania headliner dropped the names of Triple H, The Undertaker and Brock Lesnar during an interview with MMA Uncensored (detailed in the linked article).
One way to turn the fans' attention away from a stunt involving the Hell in a Cell structure—and a CM Punk escape—would be the return of Batista to confront Ryback. The crowd, likely over 18,000 fans, in Atlanta's Phillips Arena would explode upon Batista's entrance, and would be electric during their staredown.
And it could add another potential matchup to what could be the most loaded WrestleMania ever: Ryback vs. Batista.
Ever since Dolph Ziggler won the World Heavyweight Championship Money in the Bank Ladder Match at the July 15 pay-per-view event, fans have awaited his potential cash-in. Hell in a Cell provides a great opportunity for that moment to take place.
Sheamus will defend his World Heavyweight Championship against The Big Show, a man known for punches that pack enough power to knockout any man out. A Sheamus win followed by a Show knockout punch would provide Dolph Ziggler with just the opportunity he needs to cash in his title shot.
But there is a wildcard in all of this—two, actually.
Firstly, the WWE has shown that they are solidly behind Sheamus. He's been heavily featured in multiple commercial campaigns (his Kmart campaign is included in this slide). He's also been a prominent figure in the company's "be a STAR" campaign against bullying. I am not 200% sure they are ready to end his title reign.
Secondly, the WWE already halted the streak of successful Money in the Bank cash-ins when John Cena failed to capture the WWE Championship at Raw 1000. The company might be starting a new streak of losses for the holder of the briefcase.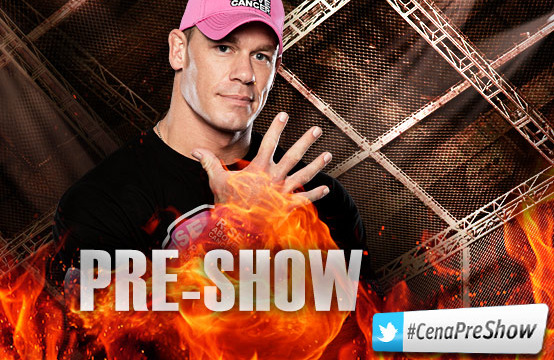 Credit: WWE.com
John Cena is already advertised for the Hell in a Cell pre-show, which will air on Facebook, YouTube and WWE.com. He will be responding to questions submitted via Facebook, Twitter and Tout.
But could he make an appearance on the pay-per-view proper?
The storyline accusations of an affair involving Cena and former WWE Raw General Manager AJ Lee got a response from a surprising WWE Superstar—Dolph Ziggler. Ziggler made some comments about Cena in a backstage interview during Raw.
Could the face of the company respond at Hell in a Cell? It's easily conceivable to have Ziggler make an in-ring appearance on the event, further teasing his potential Money in the Bank cash-in for the World Heavyweight Championship.
I could see John Cena taking that opportunity to respond to Ziggler's comments on Raw, leading to a physical confrontation that does not end favorably for Ziggler.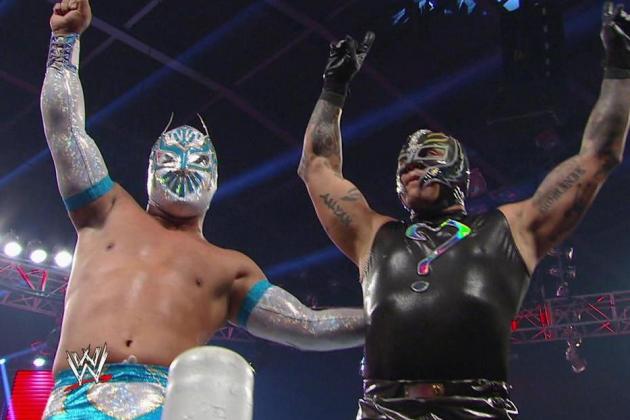 Credit: WWE.com
In addition to the announced matches, I could see two matches added to the event.
Rey Mysterio and Sin Cara face The Prime Time Players
Both teams are announced as competitors on opposite teams of a six-man tag team match for next week's edition of WWE Main Event (also involving Randy Orton and Alberto Del Rio, respectively). On top of that, the WWE is pushing the tag-team division.
Both teams are recognizable, and a pay-per-view match furthers both teams and the division itself. Plus it puts two very popular stars—Mysterio and Cara—on the card.
United States Champion Antonio Cesaro defends against Justin Gabriel
The WWE provided viewers with a surprising finish during Monday's Raw, as Justin Gabriel earned a clean pinfall victory over United States Champion Antonio Cesaro. Cesaro had been a dominant champion since winning the belt at SummerSlam, and Gabriel's win is considered a big upset.
Gabriel's win as in their second recent match, meaning both men are now tied in their unofficial series of matches. A rubber match on the pay-per-view, for the championship, makes perfect sense and would be an exciting addition to the card.
Do you have any bold predictions for the WWE's 2012 edition of Hell in a Cell? Share them in the comments area below!