Michigan Football: Freshman Progress Report Through 7 Games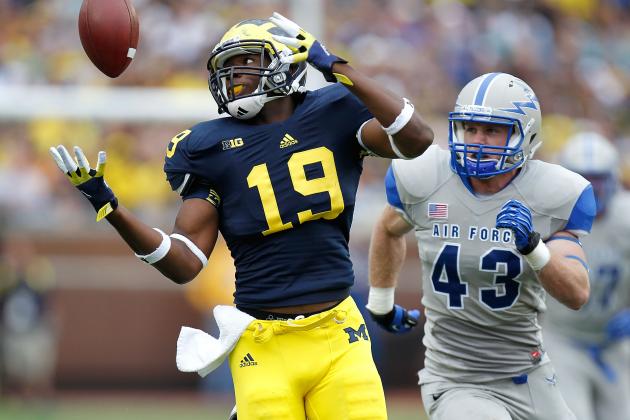 Gregory Shamus/Getty Images

Michigan has had a number of freshmen come up big for it so far this year. Which ones have come up the biggest?
Here's a closer look at the freshmen that have consistently played meaningful minutes for the Wolverines this season.
They are graded on what was expected of them before the season started and whether or not they've met those expectations.
Both true and redshirt freshmen are included.
Begin Slideshow

»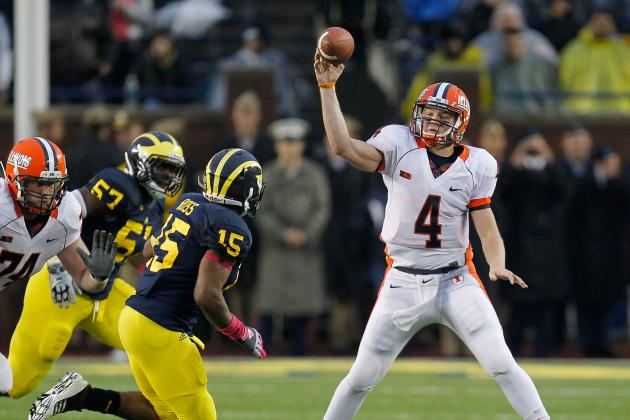 Gregory Shamus/Getty Images

With the crop of linebackers Michigan had returning this year, a redshirt season was not out of the question for Ross.
We knew that a freshman would play at linebacker, but that freshman was expected to be Joe Bolden. Bolden has played a lot, but Ross has played the same amount, if not more than Bolden.
Ross has exceeded my personal expectations by a landslide. I didn't expect him to play at all on defense, with a redshirt season looking likely.
However, this kid is showing flashes of greatness as only a true freshman.
Verdict: Exceeded Expectations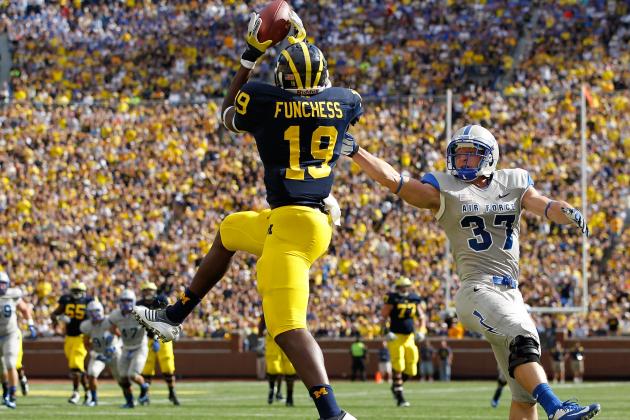 Gregory Shamus/Getty Images

With tight end being such a weakness coming into the season, we knew that both Funchess and Williams would see time.
However, the fact that Funchess has become such a threat is a bit surprising. We really haven't seen the freshman's growing pains or mistakes, as Funchess has come up with huge catches time and time again.
Funchess has arguably made tight end a position of strength, as he looks like he has been playing college ball for a number of years.
Verdict: Exceeded Expectations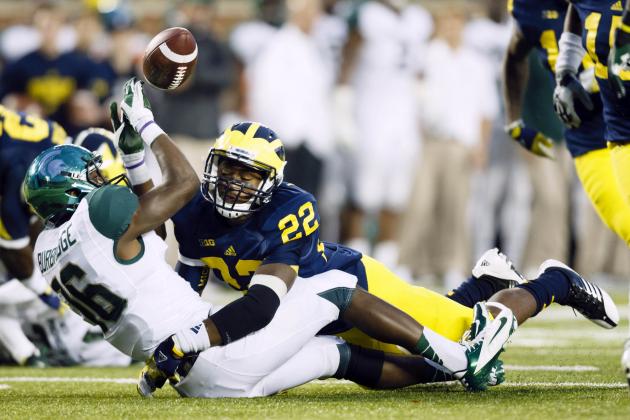 Rick Osentoski-US PRESSWIRE

Jarrod Wilson hasn't been playing as much lately, but was consistently seeing meaningful snaps early in the season. In fact, he was on the field on Air Force's final offensive drive when Michigan absolutely had to have a stop.
With how solid Kovacs and Gordon are at safety, it's really not surprising that Wilson isn't seeing more time.
This is exactly what was expected of Jarrod. He isn't playing a whole lot, but is still consistently seeing time in every game.
Even though Michigan will have veterans Marvin Robinson and Josh Furman back at safety next season, it looks to be Wilson who will be starting alongside Gordon in 2013.
Verdict: Met Expectations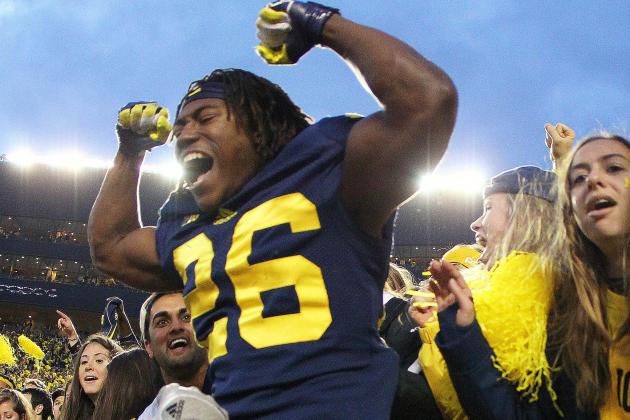 Mike Carter-US PRESSWIRE

Wow, what a spark Norfleet has provided to this kick return unit. I'm not surprised that he's back there returning kicks, but how natural and easy he makes it look is quite amazing.
Norfleet is a big play waiting to happen, as it is only a matter of time before he runs one back.
He has seen a few snaps on offense, but with his explosiveness, there's no reason not to get him involved more often.
It's good to know that this kid will be back there fielding kicks for the next few years.
Verdict: Exceeded Expectations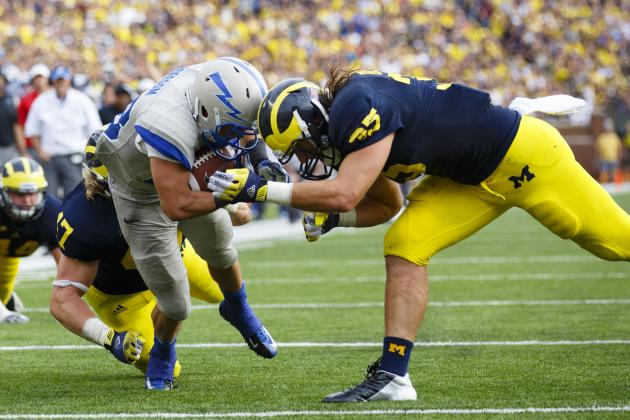 Rick Osentoski-US PRESSWIRE

Most fans had huge expectations for Bolden as a freshman. Rumors even arose about him possibly stealing the starting job away from Kenny Demens.
When Demens struggled through the first few games, that rumor almost came to fruition. However, Kenny then began to play the best ball of his career, causing Bolden to see less and less time.
Even though Bolden isn't playing as much as he was early on, it's actually a good thing. It means that the starting linebackers have stepped up their game in a big way.
Preseason expectations may have been a bit high for Bolden. Both he and Ross are going to be studs at the position eventually, but will likely have to bide their time behind the current starters.
This may not be fair, but calling Bolden a disappointment so far is a blessing disguise because the men playing in front of him have stepped up their game tremendously.
Verdict: Below Expectations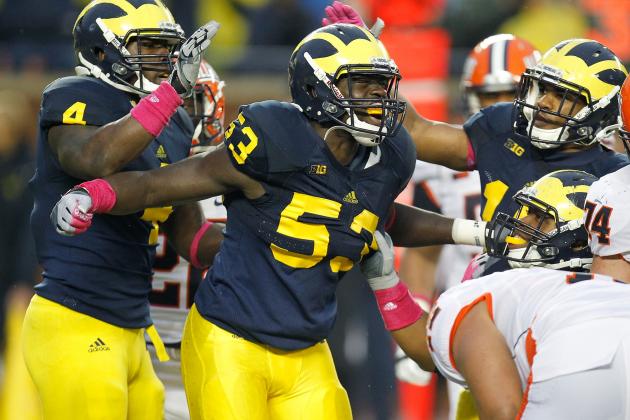 Gregory Shamus/Getty Images

Mario Ojemudia just might be the biggest surprise freshman out of all of them. This kid looked like a no-doubter to redshirt, as he seemed to be a 'tweener between defensive end and linebacker.
I hate to to say this, but Ojemudia to me seemed like a guy that was just never going to contribute at Michigan. Boy, was I wrong about that.
As each week passes, Ojemudia sees the field more and more, playing almost as much as anybody at weakside defensive end.
The fact that Ojemudia has become a big contributor is a complete shock.
Verdict: Exceeded Expectations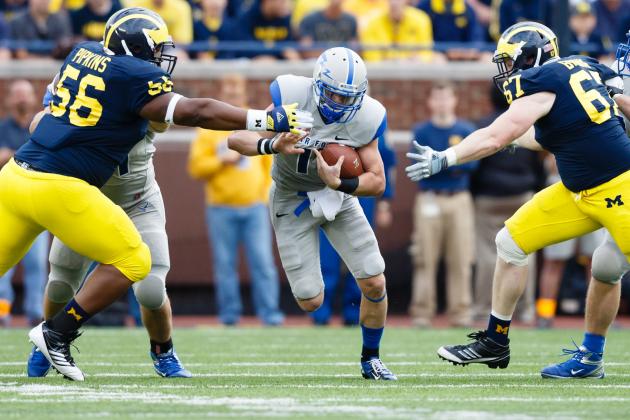 Rick Osentoski-US PRESSWIRE

Ondre Pipkins sure brought a lot of hype with him to Michigan. Some fans even predicted him to be starting by midseason, seeing as how the team was so thin at defensive tackle.
Instead, Will Campbell and Quinton Washington especially have stepped up in a big way and have actually made D-tackle arguably a position of strength.
This has meant less playing time for Pipkins, but we'll certainly take it if it means the veterans are playing well. Pipkins sees the field here and there throughout games, but a bit more was definitely expected out of him.
Verdict: Below Expectations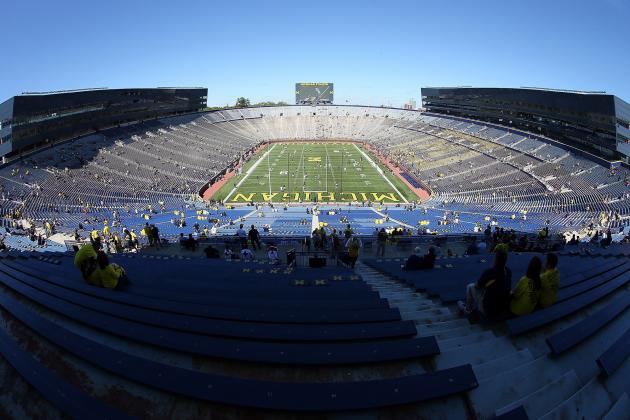 Dave Reginek/Getty Images

We already talked about Devin Funchess, so now it's time to talk about his fellow freshman tight end A.J. Williams.
Williams rarely gets talked about even though he is constantly on the field. The reason for this is because he is purely a blocking tight end and wasn't necessarily expected to have an impact in the passing game.
Funchess and Williams complement each other perfectly, as they both excel in completely different areas.
Williams doesn't get the credit he deserves, but people really shouldn't take his blocking ability for granted.
Verdict: Met Expectations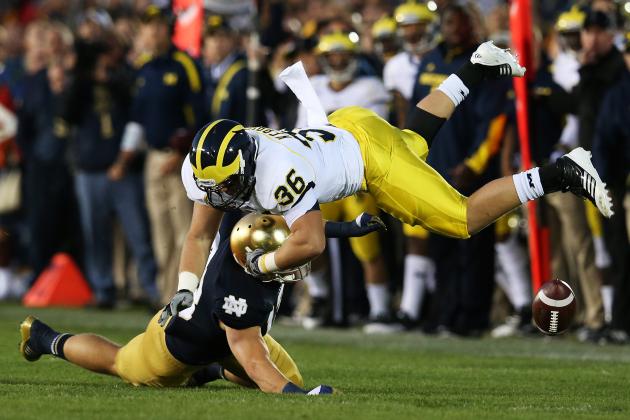 Jonathan Daniel/Getty Images

Joey Kerridge was thought to be a complete non-factor in fall practice and even heading into the first game; he was just another name on the roster that figured to never really see the field.
Instead, he has wound up playing constantly on offense, filling in for the injured Stephen Hopkins. Hopkins seems to be healthy now, but Kerridge may have stolen the job from him.
Only a redshirt freshman, Kerridge is actually a walk-on as well. Whether he or Sione Houma plays fullback in Michigan's future pro-style offense, the Wolverines look to be in very good shape at the position.
Verdict: Exceeded Expectations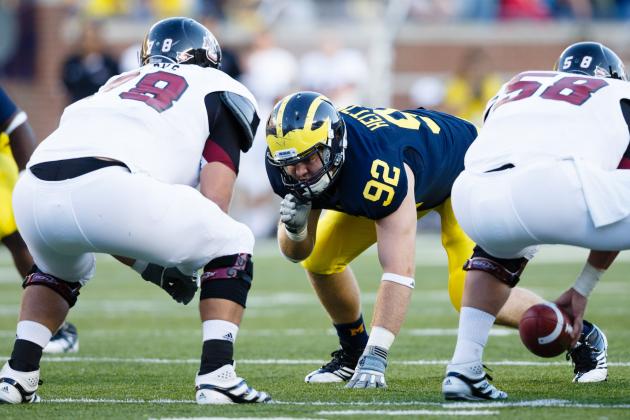 Rick Osentoski-US PRESSWIRE

Keith Heitzman was basically an afterthought through spring ball and even heading into fall camp. Honestly, to me, he just seemed like a guy that was never going to contribute at Michigan.
Boy, was I wrong about him too. Heitzman is seeing the field at D-end as a redshirt freshman, getting meaningful reps every game.
We first saw him early in the game against Alabama, and he has filled in nicely ever since when somebody needs a breather.
He likely won't ever be a starter, but it looks as if he could be a solid backup throughout his career.
Verdict: Exceeded Expectations