Buccaneers vs. Vikings: Final Game Grades and Analysis for Minnesota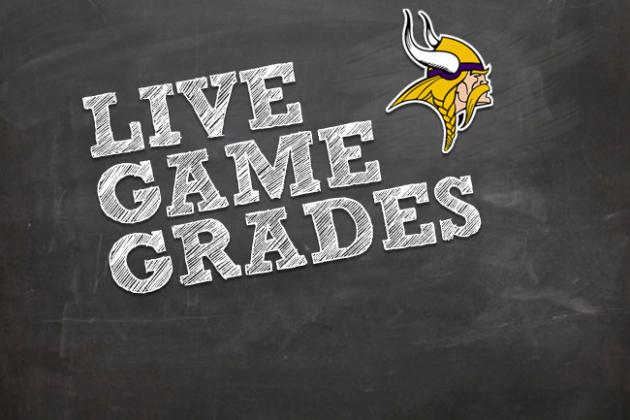 Final Score: Tampa Bay Buccaneers 36 Minnesota Vikings 17
Rookie running back Doug Martin had his best day as a pro, rushing for 135 yards and a touchdown and catching 3 passes for 79 more yards and another touchdown.
The Vikings picked up some momentum in the third quarter, but the offense couldn't make anything happen after the defense played well for a time.
Christian Ponder had his third straight poor game for the Vikings and all the little things that had been going well for the team didn't tonight as the Vikings fall to 5-3 on the year. The Vikings special teams cost them the field position battle early on in the game and Tampa Bay took advantage, putting up 10 points in each of the first three quarters.
Tampa Bay Buccaneers 36 Minnesota Vikings 17
The Buccaneers put the probable dagger in the Vikings with a chew up the clock, 16 play drive that culminates in a 1-yard touchdown plunge by Doug Martin to go back up by 20.
The Vikings stop the 2-point conversion try, but the hill is too steep at this point.
Tampa Bay Buccaneers 30 Minnesota Vikings 17
Adrian Peterson finally breaks the long run that he's been so close to so many times this year, going the distance from 64 yards out and scoring his 4th touchdown of the season. Down 13 with a quarter and half to play, this game is still in reach.
Tampa Bay Buccaneers 30 Minnesota Vikings 10
Buccaneers rookie running back Doug Martin continues to be the best player on the field and he's just wearing out the Vikings defense.
Another weak punt by Chris Kluwe and the Buccaneers start near mid-field. Martin with a couple of nice runs and then the Vikings defense firms up and the Bucs have to settle for another Connor Barth field goal, this time from 38 yards, to go up by 20.
Tampa Bay Buccaneers 27 Minnesota Vikings 10
Well that's certainly not the way the Vikings wanted to start the second half.
Doug Martin takes a short pass from Josh Freeman and breaks a couple of tackles before setting sail on a 64-yard touchdown sprint. The Vikings will have to answer on their first possession to keep this a ball game.
Halftime Score: Tampa Bay Buccaneers 20 Minnesota Vikings 10
Poor punting and then two turnovers put the Vikings behind the eight-ball in the first half as they were constantly in scramble mode. Christian Ponder had another streaky half, making a few nice plays, but also making some poor decisions and poor throws.
Tampa Bay Buccaneers 20 Minnesota Vikings 10
Blair Walsh continues his remarkable rookie season by nailing a 51-yard field goal to pull the Vikings within 10 points with just under two minutes to play in the half.
The big play was a pretty 37-yard pass from Ponder to Jerome Simpson on 3rd and 12.
Tampa Bay Buccaneers 20 Minnesota Vikings 7
The Buccaneers get another turnover on an Adrian Peterson fumble and turn it in to 7 more points on a Josh Freeman 3-yard touchdown pass to Mike Williams.
The Vikings loaded the box on 3rd and goal and left the d-backs with single coverage. Rookie Josh Robinson was right with Williams, but a great throw and a great catch above Robinson's head made for the touchdown.
Tampa Bay Buccaneers 13 Minnesota Vikings 7
The Minnesota Vikings first sustained offensive drive of the game answers Connor Barth's second field goal of the game to pull the Vikings within six points.
Christian Ponder with a nice, outside shoulder throw to Percy Harvin, who made a great catch falling into the end zone to get the Vikings on the board.
Tampa Bay Buccaneers 10 Minnesota Vikings 0
Josh Freeman hits fullback Erik Lorig with a 1-yard touchdown pass off of a nice play action fake and the Buccaneers are up 10-0 on the Vikings.
Another short Chris Kluwe punt set the Buccaneers up at the Vikings 48 yard line to start their drive. The Vikings defensive line got nice pressure on Freeman for most of the drive, but Freeman still made several nice throws, particularly a 26-yard throw over the middle to Vincent Jackson on 3rd and 10.
Tampa Bay Buccaneers 3 Minnesota Vikings 0
The Buccaneers get on the board first with Connor Barth connecting on a 28-yard field goal.
Chris Kluwe punted the ball 20 yards off the side of his foot to set up the Bucs with great field position. Rookie Doug Martin did most of the work for the Bucs offense, breaking off a 41 yard run to the Vikings 17 yard line.
It's been an ugly, ugly start for the Purple offense.
Christian Ponder with two horrible throws, missing Percy Harvin by four feet on quick throw down the line and then misreading a fade to Jerome Simpson, who'd cut off his route.
You can catch the game on the NFL Network starting at 8:20 pm ET. Stay with us throughout the night for live game grades and analysis, with final grades coming down shortly after the game.
Begin Slideshow

»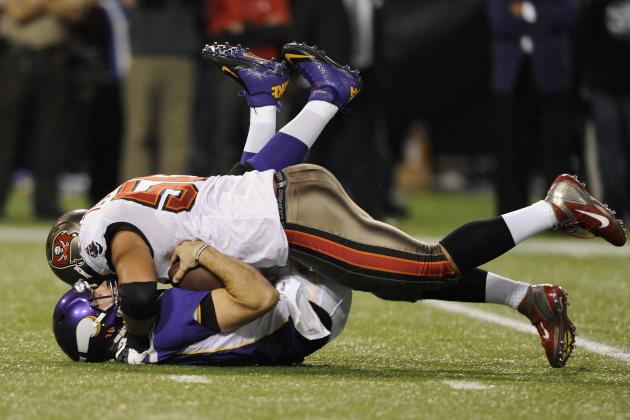 Hannah Foslien/Getty Images

Final Grade: C-
The bottom line is that you aren't going to win a lot of football games when your quarterback is playing at this level.
The Vikings offense has two of the very best players in the NFL in Adrian Peterson and Percy Harvin, but it doesn't do them a lot of good if their quarterback isn't getting the job done.
To be fair to Ponder, as bad as he played, his pass protection was pretty brutal.
On top of that, Ponder continues to make too many poor throws that just don't fit into the "natural growing pains" of a second year quarterback. Missing Percy Harvin by two feet on a swing pattern is just poor passing, not growing pains.
Growing pains are figuring out your check-downs, figuring out how to move in and out of the pocket and figuring out your receivers strengths and weaknesses.
One of the positives with Ponder has been his athleticism, his ability to scramble and keep plays alive with his legs. Right now Ponder is throwing so poorly on the run that it's rendering that athleticism to being useless.
Ponder needs to be coached to stop taking such deep drops on simple plays that end up where he has to make a 12-yard throw just to pick up 2 or 3 yards.
His confidence is going to be very low after another poor game, so the coaches will have to get him to keep his confidence up.
4th Quarter Grade: D
Ponder continues to struggle to make anything happen. He picked up about 50 more yards in garbage time tonight to make his numbers a little more respectable than he probably deserved.
It's no surprise that the Vikings had no deep passing game once again, but tonight there was even very little to be had on shorter routes.
Ponder's confidence is obviously low right now and the coaches will have to get him on the right track or things might keep going south.
3rd Quarter Grade: C
Adrian Peterson did all of the work in the 3rd quarter, getting the Vikings back into the game. Ponder got sacked for a big loss, ran for a nice gain and then had a snap rolled to him on a crucial third down play.
Two pretty poor possessions for the Vikings in the 3rd quarter, but it's hard to put all the blame on Ponder.
2nd Quarter Grade: C
Ponder's second quarter was an improvement on the first, but still a long way from good.
He made great throws on the touchdown to Harvin and the long completion to Simpson, but also made some poor throws and terrible decisions along the way. Missing Harvin by 3 feet on a simple swing route doesn't fall under "growing pains," it's just a terrible pass.
One issue that Ponder has to clean up is that he's dropping back 10-15 yards on a lot of his passes, he's having to make 12 yard throws just to get the ball back to the line of scrimmage.
The Vikings coaches decided to pull the plug on the last possession, directly a result of Ponder not showing that he can get the job done.
1st Quarter Grade: F
Very poor start for Ponder. One misread on a fade pattern to Jerome Simpson, that Simpson had correctly broken off and an ugly throw to Percy Harvin on just a quick hitch play.
Ponder took off and ran on the Vikings last possession, but barely got past the line of scrimmage.
Just 1 of 6 for 4 yards for Ponder in a really ugly quarter of play.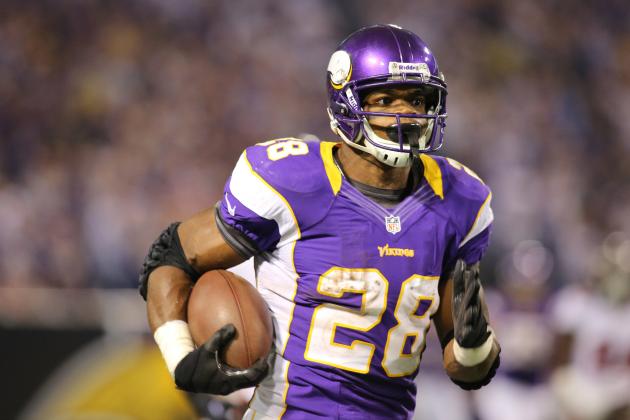 Adam Bettcher/Getty Images

Final Grade: C-
Two huge turnovers that put the team in a hole they couldn't get out of, poor play from the quarterback and really poor pass protection add up to a C- for the Vikings offense.
Given several opportunities to stay in the game in the 3rd quarter, the offense couldn't move the ball at all and any momentum picked up by the defense was stalled.
The Vikings offense is very interesting right now. It shines a very bright light on how important quarterback play is in the NFL when you have two of the most dominant players in the league in Adrian Peterson and Percy Harvin and the unit as a hole is struggling.
4th Quarter Grade: D
The offense was given several opportunities to get the team back into the game, but they just couldn't get anything going the whole quarter.
The offense currently has about two plays that work: Adrian Peterson up the gut and quick looks to Percy Harvin who then makes things happen on his own.
Not a great game for the offensive line, Ponder didn't have a lot of time to throw and was rushed all night long.
3rd Quarter Grade: B
Adrian Peterson gets an A+, but the rest of the unit can't get anything going when the defense makes great plays to get them the ball back.
Ponder is going to have to make a couple of big plays in the 4th quarter for the Vikings to have a chance.
2nd Quarter Grade: B-
The Vikings offense put up 10 points in the second quarter, but continued to be their own worst enemy, with another crucial fumble in their own territory.
Adrian Peterson is running hard and getting yards, but his fumble hurt. Percy Harvin continues to be by far the best player on the team, making a great catch on the touchdown and making a nice run and catch to set up the score.
The line is doing a much better job run blocking than in pass protection, Ponder doesn't have a ton of time to throw and it's apparent that when he's forced to make quick decisions he's not effective.
1st Quarter Grade: D
Adrian Peterson is the only player who keeps the unit from getting an F.
Ponder is making poor decisions and poor throws. The line isn't giving him much time to throw, but he's compounding that by making bad choices.
Jerome Simpson finally got involved, making a catch along the sidelines, but fumbled the ball away and showed very poor ball protection.
The Vikings offense can rely on Peterson and Harvin as much as they want, but if Ponder doesn't start playing better, the offense has no shot.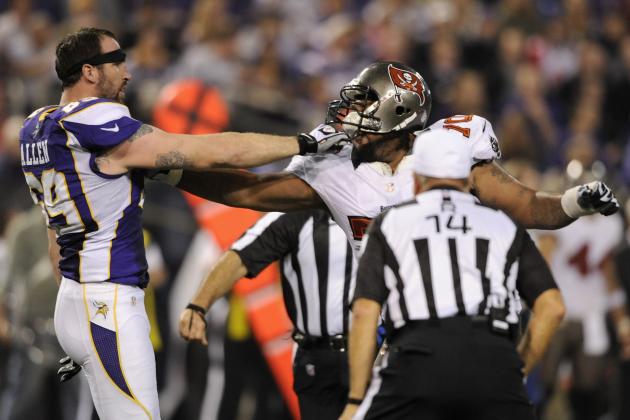 Hannah Foslien/Getty Images

Final Grade: C-
First things first: The defense did not have a great game. They gave up 416 yards of offense and more importantly 36 points.
Having said all of that, they weren't quite as bad as all that sounds.
Early in the game, they were constantly put in terrible field position by their punter, who had a poor game. Then their offense turned the ball over twice in terrible spots.
The defense gave up their share of big plays, Doug Martin was excellent for the Buccaneers and Josh Freeman seemed to come up with a great throw almost every time he needed to.
The defense had a spirited 3rd quarter, but when the offense couldn't convert it in to any points, it seemed to take the wind out of the defenses sails.
The defense ends up with the same grade as the offense, but mostly because Peterson and Harvin kept the offenses grade from being worse.
The Vikings defense competed the whole game, you have to give them that. Even when the Buccaneers made their big plays through the air, the Vikings defenders were getting pressure on Freeman and the defensive backs were right with the receivers, who were forced to make great plays.
4th Quarter Grade: C-
The defense seemed to just wear out in the 4th quarter. After a rousing turn of events in the third quarter, the defensive morale seemed to be sapped when the offense couldn't turn the momentum in to any points.
Tampa Bay put together a 16 play drive that went 87 yards and chewed up over 9 minutes of clock that put the dagger in the Vikings.
3rd Quarter Grade: B
The Vikings defense started poorly in the quarter letting Martin go for the long touchdown. Definitely trending up as the quarter wore on. Jared Allen got the defense and the building going by getting into a pushing match and then following that up with a huge sack of Freeman to get the Vikings offense the ball

2nd Quarter Grade: C
Put into poor field position by their punter in the first quarter and then by the offense fumbling in the second quarter, the Vikings defense is giving up points while not playing that poorly.
They did give up 106 yards rushing to Doug Martin, but much of that was on one long run. They've gotten pressure on Josh Freeman and held him to just 10 completions and 85 yards on the half.
Brian Robison is having a big game and somebody on the defensive side of the ball is going to have to make a big play in the second half to keep Minnesota in it.
1st Quarter Grade: C
Other than a couple of bad plays, not really a bad quarter for the Vikings defense.
They were put in bad spots three different times by Chris Kluwe and they did give up a 41-yard run to Doug Martin, but they've been putting pressure on Josh Freeman and made it tough for the Buccaneers to move down the field.
Brian Robison made a couple of nice bat downs on passes and the interior has done a nice job.
Harrison Smith made a poor decision on a downfield ball to Vincent Jackson, but other than that, the defensive backs have played ok.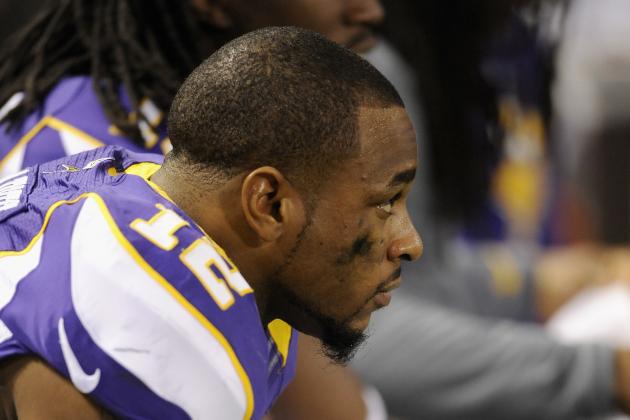 Hannah Foslien/Getty Images

Final Grade: D
Chris Kluwe's awful first quarter dug the Vikings a hole they never really got out of. Kluwe has been having a great year, but it just wasn't his night. It's rare that a few bad punts have such an impact on a game, but it was just that kind of night.
Three bad punts early on gave Tampa Bay great field position that they repeatedly turned into points.
The return game was great as always, but one nice return by Marcus Sherels was negated by a penalty on Chris Cook.
Blair Walsh continues to shine.
4th Quarter Grade: C
Nothing really happened on special teams in the fourth quarter.
3rd Quarter Grade: B+
Percy Harvin busts a 43-yard kickoff return to get the Vikings great field position. Marcus Sherels with a nice 14-yard punt return when it looked like there was nothing there.
2nd Quarter Grade: B
Blair Walsh nails a 51 yard field goal to keep the Vikings in the game.
Marcus Sherels had a really nice punt return negated by a dumb penalty on Chris Cook, just being too aggressive in blocking the gunner.
1st Quarter Grade: F
Chris Kluwe is having his worst game as a Viking to this point.
Three terrible punts have given the Buccaneers great field position every time they've gotten the ball.
Kluwe had two short punts and one that he just flat out shanked off the side of his foot that gave Tampa Bay the ball on Minnesota's side of the field.
Andrew Sendejo had a chance to make a fumble recovery on a punt, but lost control of the ball. You have to take advantage of opportunities like that.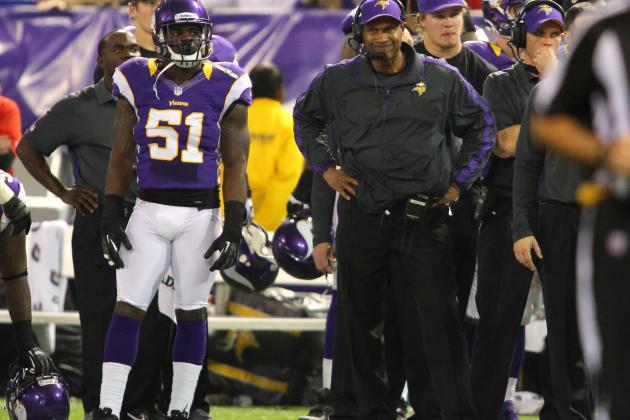 Adam Bettcher/Getty Images

Final Grade: D+
The Bill Musgrave haters are going to have a big week.
The Vikings offense is getting more and more baffling as the year goes on. Believe it or not, the league has seen the quick hitter to Percy Harvin and they're kind of ready for it at this point. It's still our best passing option as nobody else on the teams seems to have the ability to get open beyond 4 yards.
Adrian Peterson is getting his yards, but is still getting too much of it on his own.
If the Vikings are going to keep having play action that wouldn't fool a kindergartner, they should just stop with it. Ponder never seems to be in sync with the backs, either missing them completely or just holding it out in a perfunctory fashion that does nothing but waste some of the precious time that Ponder is given to set up.
Was the 5-2 record a house of cards? We'll see. The schedule certainly gets a helluva lot harder from this point on.
The time for the coaches to prove they belong here is at hand.
4th Quarter Grade: D
The Vikings really didn't seem to be making any useful in-game adjustments. The offense is a mess after Peterson and Harvin.
The Vikings got punched in the mouth early and had no answer all night long. Other than a defensive surge for a time in the 3rd quarter, they were outplayed all night long.
3rd Quarter Grade: C
If they're accepting that Ponder isn't going to make anything happen downfield, they have to make him useful in mid-yardage passing game.
Haven't seen nearly enough medium throws to Rudolph and Harvin. Throws to Simpson seem like wishful thinking.
They're burning way too many downs without getting anything out of them.
2nd Quarter Grade: C
The coaches can't keep the players from fumbling.
Two big turnovers made a lot of the difference in the first half and the Vikings offense is not the type that can come from behind by too much.
They'll need to keep Ponder's confidence up, he seems like he's playing rushed and making dumb decisions.
1st Quarter Grade: D
Just can't give the coaching staff a good grade when their team comes out playing so ugly at home.
No real obvious coaching gaffes, but the team certainly seems out of sync in the first quarter.