Detroit Lions vs. Chicago Bears: 10 Keys to Victory for the Bears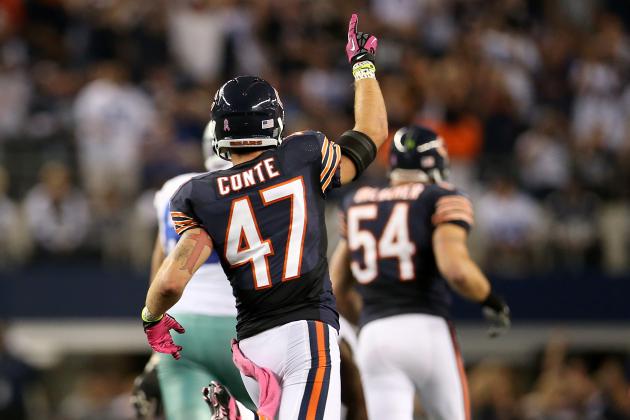 Ronald Martinez/Getty Images

Coming off of their bye week, the Chicago Bears are exactly where they want to be. They have sole possession of first place in the NFC North, and welcome the Detroit Lions to Soldier Field on Monday Night Football this week. While this game may look simple on the outside, there are a lot of things that the Bears need to do on Monday.
This Lions team does not look like the one last year that won ten games and went to the playoffs. This does not look like a team with an unstoppable duo on offense and a big, strong and mighty defense led by Ndamukong Suh.
However, that does not mean it will be a cakewalk for Chicago. The Bears still need to remain focused and take things one week at a time. Specifically, there are 10 things that the Bears need to do in this Monday night game that will lead them to victory.
Begin Slideshow

»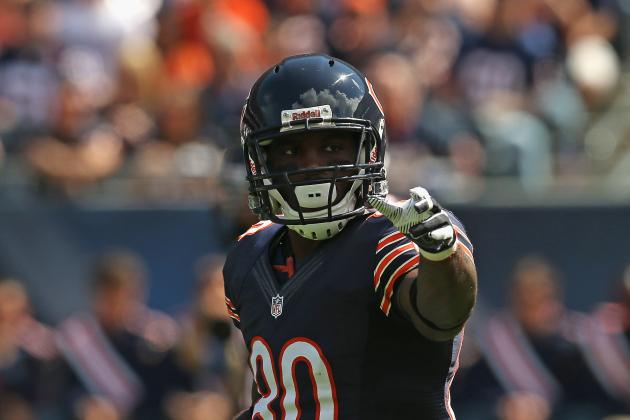 Jonathan Daniel/Getty Images

While the loss of rookie wide receiver Alshon Jeffery may be big, there is a bright side this week in the receiving core: Earl Bennett is back from his hand injury.
Bennett has missed the last few weeks with a hand injury, and has been looking to get back in the action for a while now.
"We're winning and it's tough to sit back and just watch and not be a part of the fun," said Bennett earlier this week. If the Bears ever needed a boost in the receiving core, it would be now. Having Bennett and Jeffery out would suddenly make Chicago's receiving core, one that looked so deep at the beginning of the season, as thin as it has been in years past.
Jay Cutler finally has options on offense, and once again one of those options is Earl Bennett. The Bears need to use him to their advantage, like they did Jeffery. Before he went out last week, Jeffery had 20 yards and a touchdown catch already. If the Bears use Bennett to play opposite Marshall on offense, the receiving core should not miss a beat.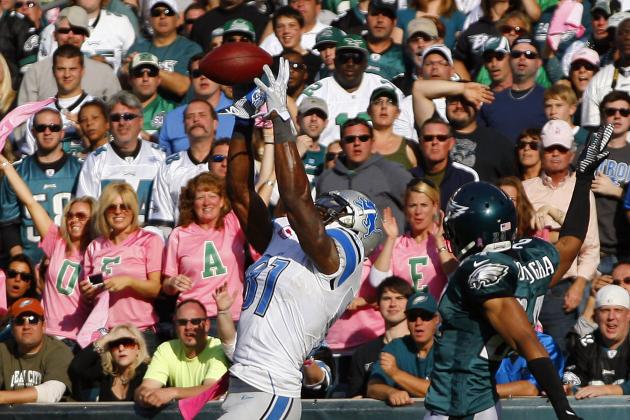 Rich Schultz/Getty Images

Calvin Johnson has not been himself lately. Call it the Madden Curse, or just call it bad play, either way the stats are the stats. Johnson only has one touchdown through the first six games this season, a stat that nobody expected to be so low from Megatron.
That doesn't mean he can't still break loose though. Johnson is one of the best receivers in the game, and he is always a threat, no matter what kind of slump he is in. The Bears need to treat Johnson in this game like they would in any other game against him.
Johnson is a weapon, and an extremely dangerous one at that. Chris Conte, Charles Tillman, Major Wright, and Tim Jennings all need to be on high alert while guarding him on Monday night, and they need to shut him down. If they can do that, the rest of the defense will have no trouble hurrying Matt Stafford and forcing him to make mistakes.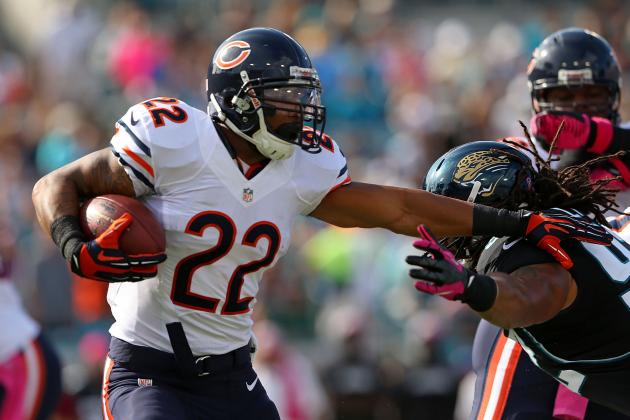 Mike Ehrmann/Getty Images

The Bears still have some questions surrounding their offense. Yes, the team has had no trouble putting up points as of late, but the offense is sometimes slow to get going, and it is going to come back to bite them later on if they don't fix it.
What is one way to get the offense going early? Establish the running game early on in the matchup Monday night. When the Bears establish Matt Forte and Michael Bush, teams are forced to respect the run game. When that happens, it leads to other big plays, like Cutler bombs down the field to Marshall and Devin Hester.
It seems simple to say, yet the Bears need to get it done if they want to have success on offense early in the game. When an offense can keep a defense guessing throughout a drive, it means good things will happen for that offense. The key to keeping Detroit's defense guessing on Monday is to establish the run.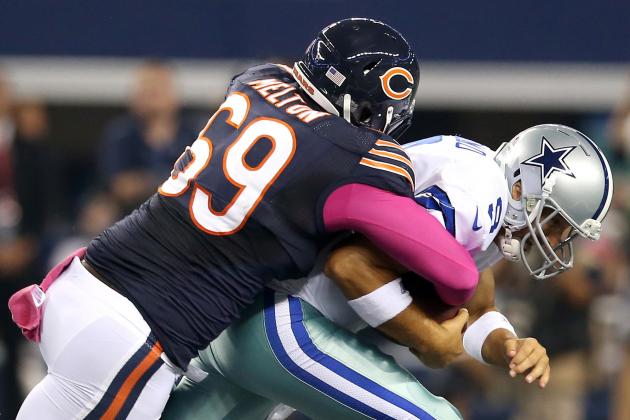 Ronald Martinez/Getty Images

This is perhaps the best defensive squad that Lovie Smith has ever had while being with the Bears, and it's only six games into the season.
The Bears lead the league in takeaways, defensive touchdowns and rush yards allowed per game, come in third in the league with 18 sacks and are also third in pass defense. In short, the defense has been nothing short of dominant this year.
There is still a lot of football left, however, and the Bears need to stay on task. Yes, the defense has been amazing. The takeaways and touchdowns have had Bears fans everywhere going into work on Monday morning with raspy voices and red faces from cheering and yelling so much.
That doesn't mean that the Bears can take it easy, though.
The Bears have a great opportunity to build on their success Monday night, and they need to jump on it. After all, the Bears have been great on Monday Night Football since Lovie Smith took over as head coach—just look at what happened last time they played on ESPN.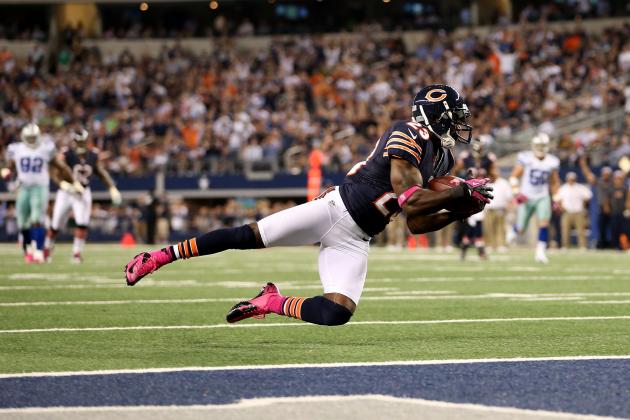 Ronald Martinez/Getty Images

Devin Hester has really done well in the receiving game since he said he wanted to get more looks on offense. In each of the last two games, Hester has made a catch that broke the drive wide open, and opened up plenty of options for the Bears.
The Bears need more of the same out of Hester on Monday.
Hester is finally showing what he can do on offense, something that the Bears have been waiting on for quite some time now. Hester is slowly proving himself to be an important piece in this offense. If he can establish himself, along with Brandon Marshall and now Earl Bennett, the Bears will be right back where they started this season with their deep receiving core.
Hester adds a deep threat with his speed, and it's well known that Cutler can throw the ball down the field deep to him. If he keeps getting big receptions on Monday, it will help seal the deal for Chicago.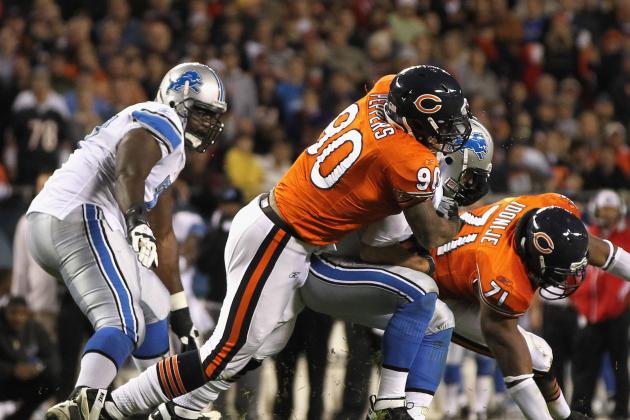 Jonathan Daniel/Getty Images

Ah, yes. We all remember that infamous game last season, in which the Bears hit Stafford and flustered him so much that he threw four interceptions, getting so upset that he resorted to giving a cheap shot to D.J. Moore of the Bears, throwing him by his helmet.
This year, we need to see more of the same out of the Bears.
If Chicago is able to get inside Stafford's head, we all know what is going to end up happening. If they can attack him enough, Stafford will stop worrying about where the ball is going and start worrying about getting pummeled by the likes of Julius Peppers, Henry Melton, Lance Briggs, Israel Idonije, Brian Urlacher, and whoever else the Bears choose to throw in his face.
The Bears know how to play hard-nose football and really get after someone on the opposing end of the field. If they hit Stafford enough, he will make mistakes, and that's where the takeaways come in.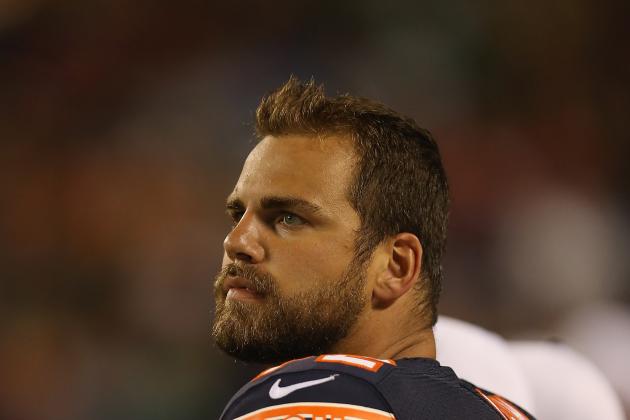 Jonathan Daniel/Getty Images

Last week, Gabe Carimi was off. He had a few penalties and gave up the only sack of the game for the Bears. That being said, they did only give up one sack. The line has been much better since the game against the Green Bay Packers, and Cutler has been much happier since then too.
The key to keeping Cutler happy and keeping the offense flowing is the play of the offensive line. If they get their blocking assignments down and don't let Suh even touch Cutler, it will be a good game.
We saw last season Suh and Cutler didn't get along too well, with Suh throwing Cutler down by his helmet, ripping the helmet off and throwing it to the ground. If the Bears let Suh get cocky, things will get out of hand, and fast. Keep Suh from getting in Cutler's face, and the Bears will have a much easier time on offense.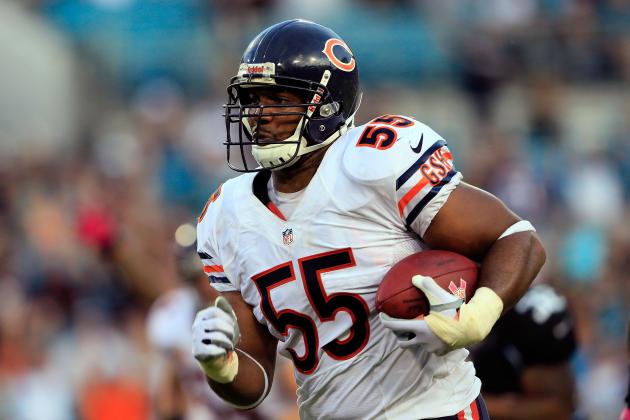 Sam Greenwood/Getty Images

If there's one thing that the Chicago Bears do best, it's create turnovers. They're the best in the league at it, leading the NFL in that category.
Tim Jennings, the defensive player of the month in September, has four interceptions this season. Briggs and Tillman have both returned an interception for a touchdown in back to back games this season, and the defensive line has not been shy about stripping the ball out of the hands of the opponent.
This is the thing that the Bears have always worked on. Any time you see Charles Tillman go in for a gang tackle, take a look at him. Almost every time, he will be punching at the ball, trying to get it loose and give it back to his offense.
On Monday, the Bears need to keep the turnovers coming. Earlier this season, when the Bears took on the Cowboys on Monday Night Football, the Bears picked off Tony Romo five times. If the Bears can do that to Stafford and the Lions, there is no reason the Bears should not be able to leave Monday with a big fat W.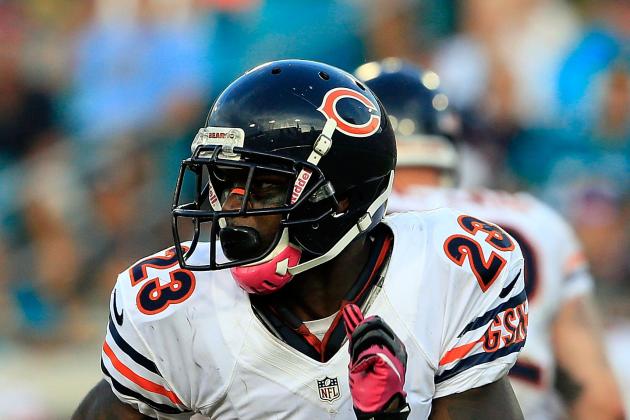 Sam Greenwood/Getty Images

There has been a bit of a lag in the return game this season, and there is plenty of blame to be shared.
Hester has been running sideways, the Bears are committing too many mistakes and penalties and the blocking has been just awful. If the return unit can block better for Hester, then maybe, just maybe, he'll choose to stop running from side-to-side and run straight into the end zone for a touchdown.
As for the penalties, that can be fixed with coaching. Committing a penalty on a return is a result of pure laziness—not wanting to run and get in front of someone to block them so instead choosing to grab a jersey or give a nice shove from behind is unacceptable. The Bears are a better team than that, and they have a special teams unit that has been widely regarded as one of the best in the league in recent years.
If the Bears block better on the return game, fans will see it all come together for the special teams unit, which will help the offense to score early in the game. With a little blocking, the Bears should walk away with a win on Monday.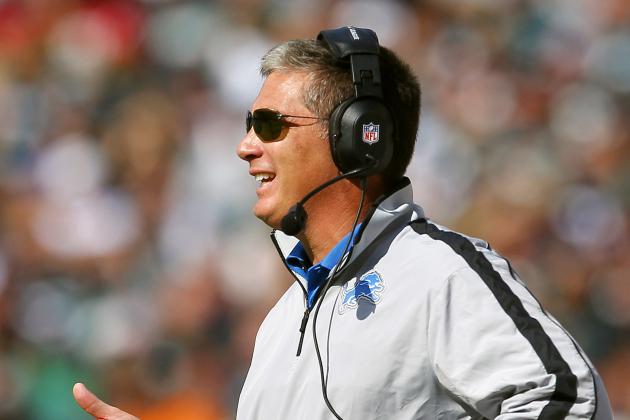 Rich Schultz/Getty Images

Last week, everyone saw a glimpse of the Detroit Lions that took the NFL by surprise last season, winning 10 games and making it to the postseason.
Before that win, the Lions had just one other win this season. So which Lions team is going to show up against the Bears on Monday?
Nobody knows what to make of this Lions team just yet. While they may still have big attitude problems and are not playing up to full potential, the Lions are still a team that the Bears have to be careful about playing.
Yes, the Bears need to be confident, and yes, they need to believe that they are going to win this game, but they should not walk into Monday expecting to be handed a win. That's not how things work in the NFL.
To avoid a big upset, the Bears need to attack Detroit, fire on all cylinders and be ready for anything. This is a team that has upset written all over it in every game they play. It's up to Chicago to stop that from happening.