2009 NFL Mock Draft: March 11, 2009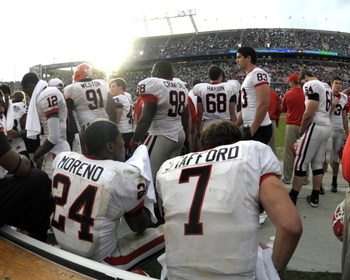 Much has taken place since the close of the Combine and the start of free agency. This is the fourth installment of my mock draft, and it is the first time I have made it available on B/R.
I will probably make changes in the coming weeks, but I will try to keep it as consistent as possible. No trades have been incorporated into my mock drafts, yet at this moment. However, I will eventually take them into account; it is just too early to speculate about Draft Day trades.
The recent developments in free agency have caused a few changes in my selections, and I will talk about these moves in my explanation.
This is only a one-round mock right now, but a second round and a third round will also be available if anyone is interested.
Let's get to the mock draft.
1. Detroit Lions – Matthew Stafford – QB – Georgia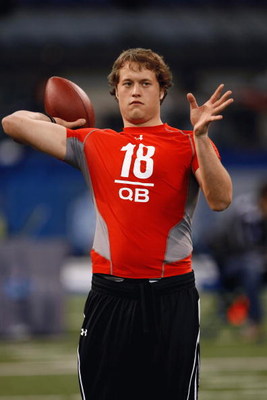 He can make all the throws, some of which today's NFL starters cannot make, and he has tremendous upside with a rocket arm. The Lions need help everywhere and with another pick at No. 20, it's time to make the jump for the franchise's signal caller.
Both Aaron Curry and Jason Smith would project as a more logical and safe pick, but I am a believer that if you do not have a franchise quarterback,you do not pass on one. You should definitely draft a franchise quarterback when trying to rebuild one of the worst teams in league history.
I still do not have Josh Freeman as a first-round talent, but there has been discussion that Tampa Bay will pick him at No. 19, so he will not be available for Detroit at No. 20.
If they do not draft Stafford, I do expect them to draft Aaron Curry, who I believe to be the best player in the draft or Jason Smith, who projects slightly higher than Eugene Monroe.
2. St. Louis Rams – Jason Smith – OT – Baylor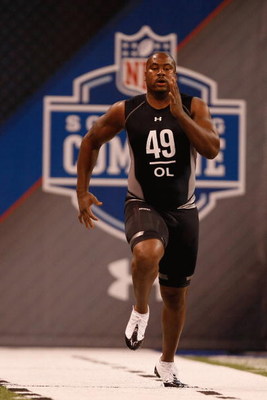 Torry Holt may be on his way out and the Rams could take Michael Crabtree, but the recent release of Orlando Pace means one thing, new left tackle. They would have wrapped up Jake Long last season if not for the Dolphins drafting him at No. 1,
Now they get a shot another shot at an offensive tackle. They can always address the wide receiver position in the second round.
Andre Smith is the most dominant tackle in my opinion, but his Combine issues may be too much to overcome. Eugene Monroe has the pedigree; two other Virginia tackles have been taken in the top 15 the past three years.
Smith, the converted tight end, grades out higher though due to his versatility, athleticism, and upside. If the Rams do look elsewhere I would still expect it to be another tackle.
3. Kansas City Chiefs – Aaron Curry – LB – Wake Forest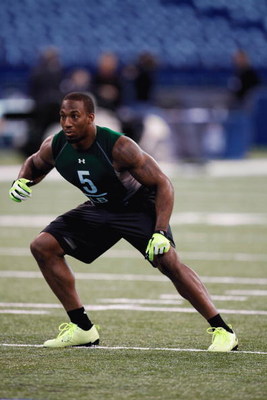 This pick could be the steal of the draft simply because the Chiefs got their franchise quarterback, a veteran LB for the new 3-4, and still kept their No. 3 pick, who may turn out to be the best player in draft.
Curry could very easily be the No. 1 pick and justifiably so. He is versatile enough to play all positions, an added bonus for the 3-4. He makes all the plays, can rush the passer, and has lived up to the hype at every step of this draft process.
If the Chiefs opt to go elsewhere here, I would expect to see them go after another pass rusher to bolster an anemic rush from last season. Brian Orakpo has been solidly moving up boards while Everette Brown and Aaron Maybin have seen their stock drop a bit, but I would expect it to be one of them.
4. Seattle Seahawks – B.J. Raji – DT – Boston College
Up until last week, I had Michael Crabtree slated here for the long haul, but the recent signing of T.J. Houshmandzadeh is too much to ignore now.
Raji did not make the headlines at the Combine like he did at the Senior Bowl, but all that shows me is that he is simply a dominant football player. That's all that matters. It's no mystery that the Seahawks would love to bolster the inside of their defensive line and Raji can solidify it for years to come.
The Seahawks could make a surprise move here as well and snag one of the three tackles left on the board or even make a move for Mark Sanchez since Hasselbeck is not getting any younger.
5. Cleveland Browns – Brian Orakpo – DE/OLB – Texas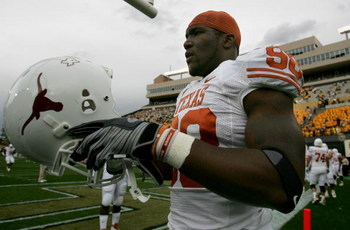 The Browns need help on the defensive side of the ball, and Orakpo can help the Browns' paltry pass rush. Orakpo was a dominant in his senior season at Texas and earned all the honors that come with it.
He can play in the dirt or can lineup in the 3-4. There is a chance he may not be here, but if he is, I have a hard time seeing Mangini passing on this physical specimen. I originally had Malcolm Jenkins slated here before the Combine, but he hurt his stock considerably and will have a hard time getting back in the top 10. If not Orakpo, they could look at Everette Brown or possibly Maybin.
6. Cincinnati Bengals – Andre Smith – OT – Alabama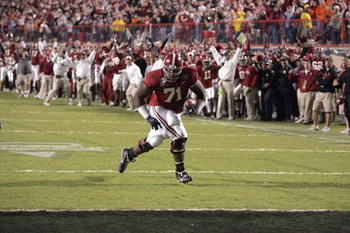 I can't help but love Smith's mauling playing style and finishing ability. If any team is prone to drafting or even talking to players with character flaws, it's the Bengals.
Andre Smith is the most dominant tackle in this draft despite his lack of commitment to hard work. He could see his stock free fall or he can suck it up and put the pieces back together and perform well at his Pro Day. Eugene Monroe would be a safer pick, but I think the potential of Smith wins out.
They could also look at wide receivers after the departure of Houshmandzadeh and with Crabtree and Jeremy Maclin both still available, it is a definite possibility.
7. Oakland Raiders – Michael Crabtree – WR – Texas Tech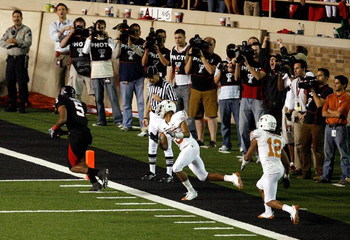 Forget all the Al Davis speed talk and how much he loves faster players, it obviously has not worked in recent years and it is time for a change. While it may not happen because Davis is that stubborn, I truly do believe the Crabtree can flat out play, no matter what he is timed at.
I have seen some say he is destined to bust, but I just don't see it. He flat out knows how to get open and catch the ball in any situation. The Raiders have too much money invested in JaMarcus Russell to keep ignoring the fact that he has nobody to throw to.
Javon Walker is a walking injury bug, they released their former No. 1 receiver Ronald Curry, and their leading receiver of year ago, Johnnie Lee Higgins, had 22 catches last season. Awesome. The Raiders could make Maclin the pick, due to his tremendous speed and versatility, or they could bolster the offensive line with Eugene Monroe luckily still on the board.
8. Jacksonville Jaguars – Jeremy Maclin – WR – Missouri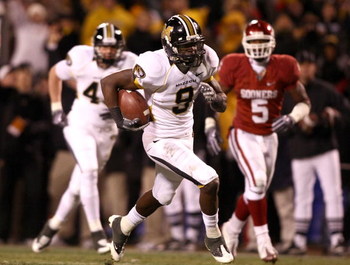 I had the Jaguars slated to take Eugene Monroe here, but with the recent signing of Tra Thomas, I think the Jags can look to shake things up.
Of course that could mean them drafting Mark Sanchez for the future, but with all the trouble former first-rounder Matt Jones brings to the team and the lack of speed at receiver, Maclin looks like a good option.
Maclin is more of a complete receiver than DeSean Jackson was a year ago in my eyes and that can only benefit this Jaguars team.
9. Green Bay Packers – Malcolm Jenkins – CB/S – Ohio State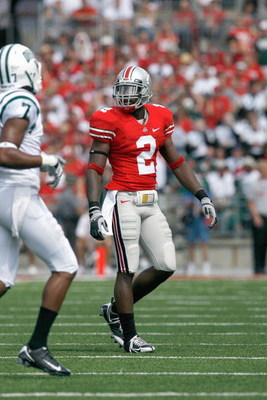 I definitely see the Packers going defense, defense, and some more defense. Malcolm Jenkins was extremely productive in college. After his subpar performance running at the Combine, he could slide a bit, but I still believe he is a top 10 talent.
While 40 times are not important for every position, that cannot be said for corners. However, Jenkins was far and away the top performer in the three-cone drill exhibiting his quickness.
Jenkins would fit right in with the most physical corner tandem in the league, and he also brings the ability to play safety. He is a good tackler with great ball skills.
If they decide to go elsewhere, which is a great possibility, I would expect it to be a pass rusher of some sort, either Brown,Maybin, or possibly even Brian Cushing.
10. San Francisco 49ers – Eugene Monroe – OT – Virginia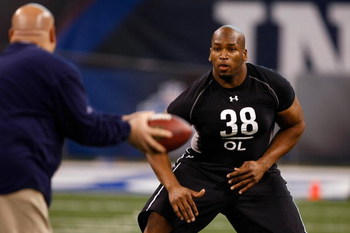 This is much lower than most people see Monroe falling, as he could be gone at No. 2 if things change at the top. The 49ers have many option, including quarterback, pass rusher, wide receiver, and offensive tackle.
Monroe is way too good of a value to pass up here and even if he is, gone I could see them taking a serious look at Michael Oher as well. Monroe is a solid ball player and was the reason that last year's first-rounder from Virginia, Branden Albert, played guard at UVA instead of tackle. With Sanchez still on the board, he cannot be forgotten about as well as Brown and Maybin.
11. Buffalo Bills – Aaron Maybin – DE/OLB – Penn State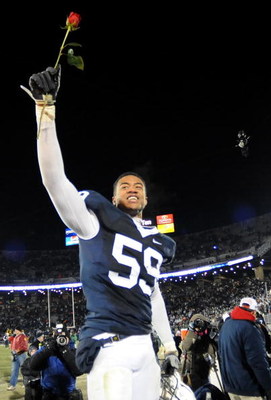 An underwhelming performance at the Combine has some questioning if the redshirt sophomore is ready to take it to the next level, But the videotapes all show one thing; he gets after the passer.
Maybin is small and weak against the run, but nobody gets off the line quicker and that talent alone could be more important than any straight-line speed. Maybin only weighs 250 pounds, but stands almost 6'4". I might be a bit higher on Maybin than some, but that's just how I see it. If not him, than I would expect to see them look at Brown or maybe jump back in for tight end Brandon Pettigrew of Oklahoma State.
12. Denver Broncos – Everette Brown – DE/OLB – Florida State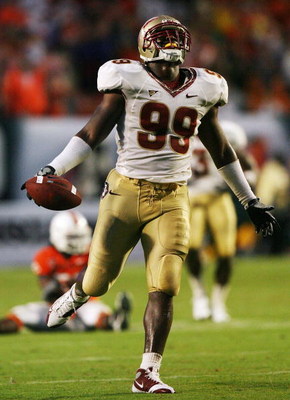 A new defensive system is in place for one of the leagues' worst defenses, and I expect them to take the best available defensive player they can find.
They would have love to add B.J. Raji, but he is long gone at this point. I am not as high on Everette Brown as others, and he does seem to be slipping slightly, but I do think he fits in well enough for Mike Nolan's 3-4 defense.
There is no denying he gets after the passer. He is almost too small for DE, standing only about 6'1 ½" and weighing 255 pounds, but he worked with the linebackers mostly at the Combine and showed he can fit there.
Other options for the Broncos include LSU defensive end Tyson Jackson who is the only worthy 5 technique player available and USC linebackers Rey Maualuga and Cushing.
13. Washington Redskins – Michael Oher – OT – Mississippi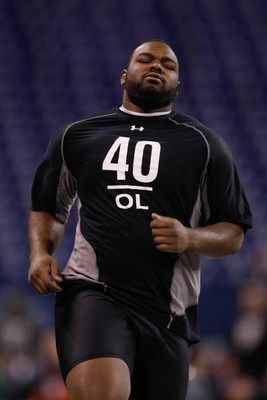 The Redskins could definitely use a pass rusher but the top three pass rushers will be gone. Oher, who was once considered a possible top-five pick and maybe the top OT in the group, has seen his stock slip this season. Oher is extremely difficult to grade, he is dominant in pass blocking, but wavers at times in the run game and does not always play up to his potential.
With the right coaching, I think Oher could be quite the player in Washington and makes the most sense if things shake out like this. If not Oher, I could see them make a move for Tyson Jackson and insert him on the left side or add Cushing to the linebacking corps.
14. New Orleans Saints – Brian Cushing – LB – USC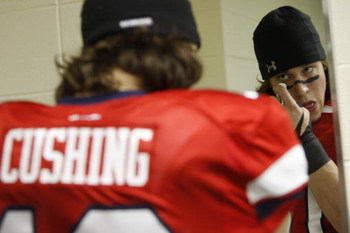 I had serious doubts about the Saints linebacking corps only a few weeks ago but resigning Vilma was a huge move. Other than him though, not much to write home about.
Cushing, who has played all three levels of defense at USC, is as versatile as they come. He is a playmaker who loves the game and plays with great he proved last season that he can stay on the field.

If not Cushing, C Alex Mack of California is the top center on almost everyone's list and could fit nicely there.
15. Houston Texans – Vontae Davis – CB – Illinois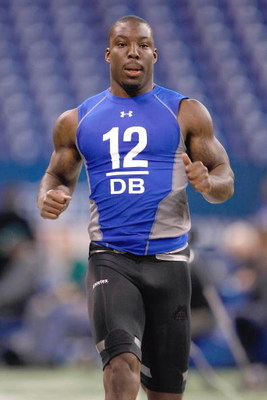 Recently hearing how some teams are extremely wary of Davis has me thinking he may slide down a bit. But the Texans' deficiency in the secondary is obvious, and Davis can help out anywhere.
His gambling playing style and lack of dominant work habits may hurt him a little bit, but his physical tools are too much to pass on. Davis can also play safety at the next level and this makes him even more valuable.
If Davis is gone, I would expect the Texans to take a look at a another pass-rushing type to take some of the heat away from former first-round pick Mario Williams or possibly look at running back Chris "Beanie" Wells to help out Slaton, but I think defense is more of a priority in the first round.
16. San Diego Chargers – Rey Maualuga – LB – USC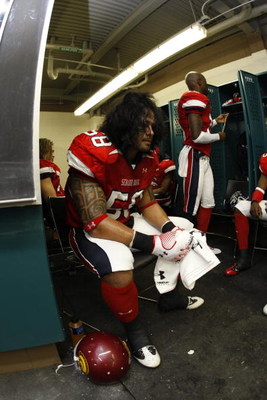 If they are lucky, the Chargers have a shot at Maualuga this late. Remember, despite having an 8-8 record, the Chargers went to the divisional round of the playoffs without their best defensive player last season and do not have many holes to fill.
Maualuga is a wrecking ball of player who flies downhill and is the hard hitter in the draft. The Chargers just agreed to a deal with LaDainian Tomlinson so the speculation of taking a running back here has gone out the window.
17. New York Jets – Mark Sanchez – QB – USC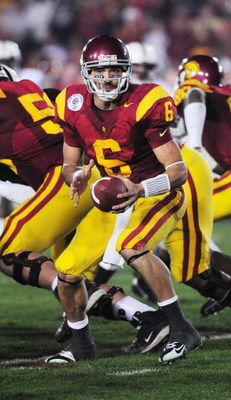 I hate myself for this one. I do not really believe Sanchez will fall this far, and if he does, I think someone might jump up for him. But if he does fall this far, I hope the Jets learn from their mistakes in the past. Sanchez just needs to throw with his receivers at his Pro Day again, and I think he will regain his status at the top of this draft.
Many believe he could be a huge bust in this draft, but I beg to differ, especially with those people who say he would have been a top five pick next year. If that is the case, then you obviously believe in his talent and now he just has more time to learn your system rather than dominate in college, so get him now while you can.
That said, the Jets need a QB and they get it here.
Most likely Sanchez will be gone and the Jets will turn their sights to a WR such as Hakeem Nicks, Darius Heyward-Bey,or possibly look at Tyson Jackson, whom I believe to be a good pick for this team. They could also take a luxury approach and add a running back such as Knowshon Moreno.
18. Chicago Bears – Hakeem Nicks – WR – UNC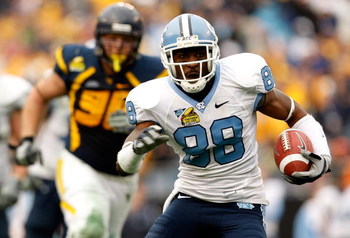 WR Percy Harvin of Florida grades out higher in my opinion, but he is far too similar to Devin Hester for the Bears. WR Darius Heyward-Bey of Maryland could also be a possibility.
At a different position of need, the Bears could look at DE as well. Their pass rush declined last year, and with DE/OLB Larry English of Northern Illinois and Clay Matthews of USC available, they could become the choice. I like Nicks because he is a physical, tough player, who makes tons of tough catches and fits nicely into a Chicago team that needs a wide receiver.
19. Tampa Bay Buccaneers – Darrius Heyward-Bey – WR – Maryland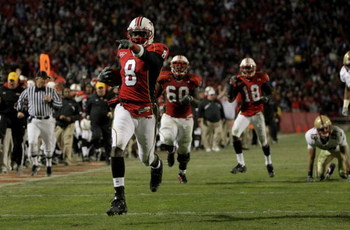 Despite their attempts to make a run at a QB this offseason, I still don't see Josh Freeman being workthy of a No. 19 pick. After being the fastest man at the Combine, it's not possible for Heyward-Bey to hide anymore. Vastly under-utilized in College Park, his upside is as high as you can imagine.
The Bucs severed ties with Joey Galloway and they need a new replacement. If it is not DHB, they could look to improve anywhere on the defense as well.
20. Detroit Lions (from Dallas) – Clay Matthews – DE/OLB – USC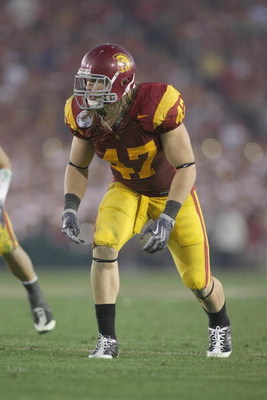 It is impossible for me to continue to ignore how high some people have become on Clay. He has scouts buzzing across the league and could step right in and help this defense. The former USC walk-on has played his way all the way up to the first round and could even move higher.
He is the lesser-known LB of the USC big three that will go in the firs round.
If not Matthews, the Lions could look at CB, another linebacker like English or James Laurinaitis, or maybe reach for a tackle like Eben Britton of Arizona.
21. Philadelphia Eagles – Brandon Pettigrew – TE – Oklahoma State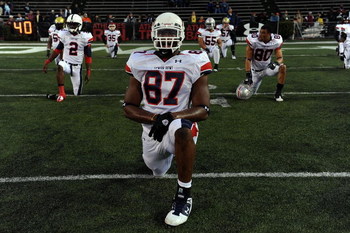 The top tight end in the draft could definitely be gone by now, but not everyone in front of the Eagles has a glaring need for a tight end. A change up from the usual first round tight end, Pettigrew can do it all and most importantly knows how to block.
He is no speedster, as his Combine showed, but he is just an all-around good football player. Plus, the Eagles could use him since the L.J. Smith era is over.
Brent Celek became a name to recognize late in the season for them, and Pettigrew is a good compliment to him.
The Eagles could also look at tackle, wide receiver, or running back, but with a another pick at No. 28, I think they can afford to wait, especially at wide receiver and running back.
22. Minnesota Vikings – Percy Harvin – WR – Florida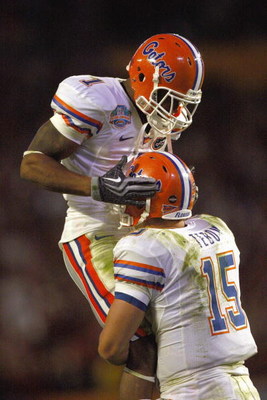 Percy Harvin is probably one of the most scrutinized players in the draft. Whenever he is on the field, he simply produces, but for whatever reason everyone continues to look at him with a big asterisk on his forehead. He is not the picture of health but he makes plays and could light up the Metrodome for years to come with Adrian Peterson.
The Vikes made a move for Sage Rosenfels recently, so I do not think they would bite on Freeman here. They could look at center with Alex Mack and Max Unger on the board, since Matt Birk is gone. A defensive tackle like Peria Jerry or offensive tackle Eben Britton could also be good fits.
23. New England Patriots – Louis Delmas – S – Western Michigan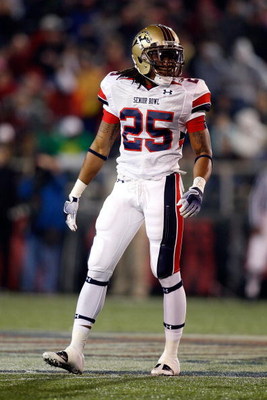 The Patriots have options with these picks. I still think the Patriots could and should make a move for Knowshon Moreno if he is available here.
With the trading of Vrabel, the Pats could look at linebackers, since they are not getting any younger at that postion with the exception of Jerod Mayo. So English and Laurinaitis are possibilities.
Delmas is one of the fastest rising prospects in the draft. The only safety worth drafting in the first round, he will fit in very nicely with what the Patriots want to do alongside Brandon Meriweather. Put on some film of this kid, and you can see what he can do.
24. Atlanta Falcons – Peria Jerry – DT – Mississippi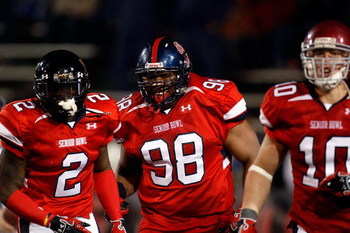 This Falcons team had a shot at Glenn Dorsey last season and opted for Matt Ryan, looked like it worked.
So this season, the Falcons have a shot to get the defensive tackle they want with Peria Jerry. A disruptive interior lineman, Jerry may be gone by this point, and the Falcons will be fortunate to get a shot at him.
If he is gone or is not the choice, I would expect to see them draft a linebacker such as English, Robert Ayers of Tennessee, Clint Sintim of UVA, or maybe a cornerback like Alphonso Smith or another defensive tackle like Ron Brace.
25. Miami Dolphins – Connor Barwin – OLB – Cincinnati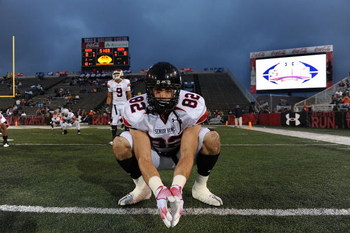 It is tough to ignore how high some people have become on Barwin and his versatility, and nobody intrigues me more when it comes to drafting then Bill Parcells. I would expect to see the Dolphins address the DE/OLB (it's not Parcells' style to draft a flashy wide receiver). With the recent developments in free agency, I could also see them look at a cornerback for their No. 25 pick.
26. Baltimore Ravens – Alphonso Smith – CB – Wake Forest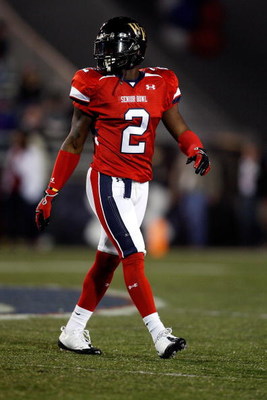 It is no secret that the Ravens' defense has changed drastically' and they definitely need some youth at cornerback and possibly linebacker.
Alphonso Smith is as talented as they come with his size being his only hitch. He can jump and has all the ball skills you could ask for. A proven playmaker, Smith would be an immediate impact to this secondary. Again, linebacker English is a possibility and if a DHB falls this far I cannot discount his vertical speed as a great weapon for Flacco's deep arm.
27. Indianapolis Colts – James Laurinaitis – LB – Ohio State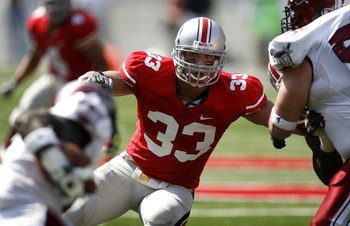 With Marvin Harrison out, I cannot deny that the Colts want to find a receiver. They could take a shot on Kenny Britt of Rutgers or pair up Anthony Gonzalez with former teammate Brian Robiskie of Ohio State, but they have other needs to fill.
They could reach for a defensive tackle like Ron Brace or Evander "Ziggy" Hood here, but I think its too early. A lot of people may be throwing Laurinaitis out of their first round because of the 4.8 40 time, but I cannot deny that I have something for Ohio State players and the production he had in college is undeniable. He fits the bill with the Colts' desires to get more strength in the middle of the defense.
28. Philadelphia Eagles (from Carolina) – Chris "Beanie" Wells – RB – Ohio State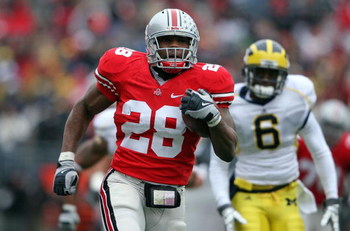 With their second selection in the last seven picks, the Eagles still have a shot at the best running back. I think Knowshon grades out higher, but he is too similar to Westbrook in my opinion, leaving the door open for "Beanie". A much bigger back with power and surprising speed, Wells provides a great compliment to Westbrook, who is unlikely to ever last a full season. If not a running back here, I could see the Eagles going after Eben Britton right away.
29. New York Giants – Kenny Britt – WR – Rutgers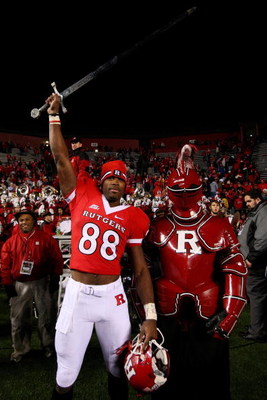 Jerry Reese has done nothing but dominate the draft since taking over as GM, and I do not expect it to stop now.
There is no denying Britt's size, speed, and athleticism as well as putting the Rutgers team on his back last season and rallying them from 1-5 start to win their bowl game. Britt is a local product and the Giants should know all about him.
If not Britt, I could see the Giants looking at another wide receiver like Robiskie, since the Plaxico Burress situation is far from over, and they need a bigger guy to put in. They did a great job on the defensive side of the ball in free agency and have few glaring needs at this point.
30. Tennessee Titans – Robert Ayers – DE – Tennessee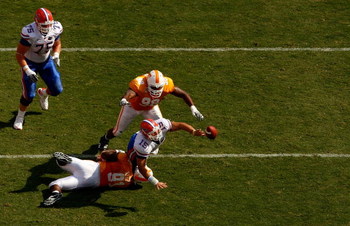 The last two years I remember asking myself exactly what the Titans were doing when they shocked everyone by drafting Chris Johnson and Michael Griffin, but it seems to have worked for them. So, predicting their pick is somewhat up in the air, especially at this point in the draft.
With Haynesworth gone for good, the Titans could look at Ron Brace to fill in, and I cannot deny that possibility as well as their need for a No. 1 receiver, but they never seem interested in drafting a No. 1 wide receiver.
Ayers is a true 4-3 pass rusher, who some love and others are a bit skeptical on, and I happened to read that the Titans are on the high side. He is the best value for this team at this point as well.
31. Arizona Cardinals – Knowshon Moreno – RB – Georgia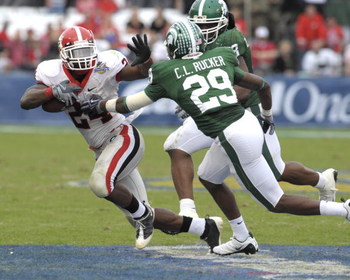 I do not expect Knowshon to last this long into the draft, but the way things have fallen, I do not know where else he would go. But if Knowshon is available, the Cards should be ecstatic.
A guy that does it all, he will not blow you away with top-end speed, but he is amazing in the open field, has tremendous quickness and burst, catches the ball out of the backfield, pass blocks, and provides a different energy that not many players possess.
If he is gone, I would expect to see either Donald Brown of UConn or LeSean McCoy of Pittsburgh be the choice, the Cards can let Edge go and pair up the rookie with last year's rookie Tim Hightower. Other possibilities include Mack, Unger, Britton, or maybe an outside linebacker.
32. Pittsburgh Steelers – Tyson Jackson – DE – LSU
It is doubtful that Jackson will still be on the board, but I expect to see the Steelers draft the best available player/value at DE, OT, C, or CB.
He ran a rather mediocre 40 (4.96), but he is no speed rusher. He could set up as a big LE in a 4-3 or anchor a defensive end spot in the 3-4 like the Steelers. He sets up as that 5-technique defensive end that the Steelers need.
If not Jackson, I would look at an offensive line position, possibly Unger, Mack, or Britton. They could also draft a cornerback like D.J. Moore of Vanderbilt or Darius Butler of UConn.
Keep Reading