On December 15, 2008, Auburn University shocked the college football world by announcing the appointment of Gene Chizik as their new head coach. Now, almost four years from that very day, Auburn should get ready to announce the departure of Chizik.
It was a hiring that was baffling from the start.
In his two seasons with Iowa State from 2007-08, Chizik's head coaching resume looked anything but promising.
In his inaugural season, the Cyclones finished 3-9 and 2-6 in Big 12 play. The team ranked 114th in total offense and 94th in total defense.
In his second season in 2008, the Cyclones won their first two games of the season before dropping the remaining 10. They finished 2-10 and 0-8 in Big 12 play. The team ranked 67th in total offense and 112th in total defense.
Somewhere in those two seasons, Auburn Athletic Director Jay Jacobs found a silver lining and offered Chizik the gig.
He must have dug really deep to find that one.
This season, Chizik's Tigers are 1-5 and in the midst of a five-game losing streak. Even more startling is the fact that the Tigers are 0-4 in SEC play for the first time since 1980. The Tigers last went without a win in SEC play back in 1950.
The Tigers currently rank 117th in total offense and 66th in total defense.
Sound familiar?
How should Auburn address Chizik
Sure, some may argue that Chizik delivered the Tigers a national championship in 2010—their first title since 1957. But was it really Chizik? Or was it more a direct result of Cam Newton and his freakish athletic abilities?
Put it this way: The old lady in the wheelchair down the street could have coached the 2010 Tigers to a national title.
As it stands, Chizik is currently 31-15 at the helm for the Tigers. Take away the Newton-led 14-0 season and Chizik sits at a mediocre 17-15.
Coincidence? I think not.
Now, in his fourth year at Auburn, Chizik has already recorded at least five losses in three of those seasons. The last time the Tigers lost at least five games in three seasons in a four-year span was from 1975-78 when they went 20-22.
But those same Chizik supporters might lead you to believe that that's all water under the bridge due to Chizik's "impressive" 3-0 bowl record in his first three years with the program.
However, besides the 2010 BCS title game, the Outback Bowl and Chick-fil-A Bowl are hardly victories you would write home about.
They also seem to forget about the fact that this season, at 1-5, the Tigers stand a good chance to miss out on a bowl game for only the second time since 1999.
But while the number of losses the Tigers have accumulated through six games is alarming, it's more so how they're losing them that's most shocking.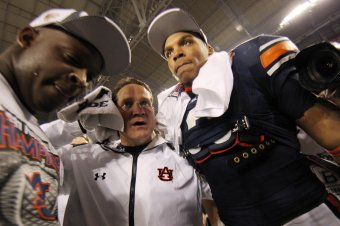 Matthew Emmons-US PRESSWIRE
You know the old saying, "you've got to beat the best to be the best"? Well, the Tigers have proved it works both ways.
In losing to Ole Miss 42-20 this past weekend, the team has shown you've got to lose to the worst to be the worst.
The victory snapped Ole Miss' 16-game SEC losing streak. The Tigers now take over sole-possession of the longest current losing streak in conference play with four.
If these games were only two quarters, we might be looking at a completely different Auburn team.
In four of their five losses the Tigers have either been tied or led at halftime. A large contributing factor to their meltdowns is the fact that they've been outscored 62-3 in the fourth quarter of games.
Ouch.
The most nonsensical argument pro-Chizik is that the former-Auburn Defensive Coordinator is lacking in good recruiting classes.
However, the evidence points to the contrary.
According to ESPN, Auburn has boasted a top-25 recruiting class every year since 2006. That includes recruiting classes ranked in the top-5 in 2010 and 2011.
While it's true that great recruits don't always turn into great college football players, the fact that Chizik has been able to do close to nothing with so much talent is mind-boggling.
It's most noticeable on defense.
Under Tommy Tuberville from 1999-2008, the Auburn defense was one of the fiercest in the nation. Year-in and year-out they'd finish in the top-5 of the SEC and close to the top in the country.
Under Chizik, they've finished 10th or worse in every season.
Tuberville's current team—Texas Tech—ranks No. 4 in total defense this season.
Need I say more?
While the argument against firing a coach only two years after delivering a national title is understandable. It also has to pose the question: how long does Auburn want to continue playing subpar football?
There is no evidence backing the mindset that Chizik's philosophies and strategies have actually worked. The only notable improvement was on the offensive side in 2010, and Chizik has Newton to credit for that.
So why waste a couple more years dwelling in the cellar of the SEC just to "do the right thing" in regards with Chizik?
Paying Chizik's buyout clause is a manageable amount to pay to get a fresh start and a chance for a much-needed change in direction.
Chizik needs Auburn more than Auburn needs Chizik.
It's time Auburn lets the rest of the college football world know that.
All information from this article was gathered from ESPN and sports-reference.com.
You can follow Sebastian on Twitter at @SP7988