BCS Standings 2012: Week 8 BCS Rankings and Bowl Game Projections
Will AJ McCarron lead No. 1 Alabama back to the BCS championship game?
Jamie Squire/Getty Images
The first BCS rankings of the 2012 season were released tonight, and as always, they had a few notable surprises.
Alabama took the top spot as expected, but it was Florida taking the No. 2 ranking over Oregon that will have everyone talking.
The SEC conspiracy theorists will surely be in an uproar this week. Remember, though, there's still seven weeks and a lot of football left to be played. A lot is certainly going to change before the final definitive rankings come out in early December.
Here are the current bowl game projections for each of the 25 teams in the first BCS rankings.
25. Texas Longhorns: Meineke Car Care Bowl of Texas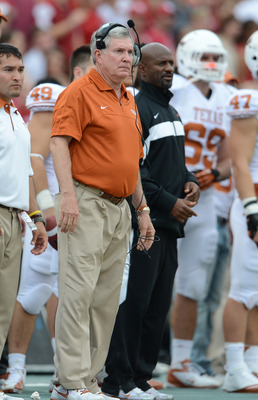 Mack Brown
Matthew Emmons-US PRESSWIRE
Texas has already lost two Big 12 games, which means it's going to be an uphill battle for the Longhorns to win a conference championship this season.
Mack Brown's squad still has tough matchups with Texas Tech, Iowa State, TCU and Kansas State on the schedule. And another eight-win season might be the most reasonable expectation.
If the Longhorns end up as just another Big 12 also-ran, they'll probably play in one of the conference's lower-tier bowl games, most likely the Meineke Car Care Bowl.
No. 24 Iowa State Cyclones: Holiday Bowl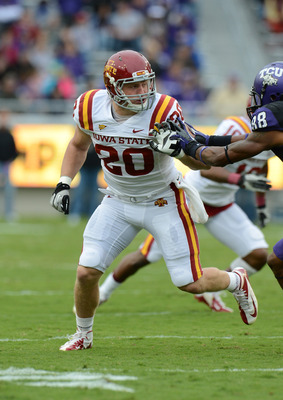 Jake Knott
Matthew Emmons-US PRESSWIRE
Iowa State may not be a Big 12 powerhouse, but the Cyclones are the type of tough team that nobody wants to play this year.
Paul Rhoads' squad is 4-2, and their two losses are to teams that are both ranked in the top 20 (Kansas State and Texas Tech).
It would be a real reach to say this team is going to climb much higher than this, especially with matchups with Oklahoma State, Oklahoma, Texas and West Virginia still left on the schedule. However, the Cyclones should still end up in a decent bowl game, like the Holiday Bowl, when all is said and done.
No. 23 TCU Horned Frogs: Buffalo Wild Wings Bowl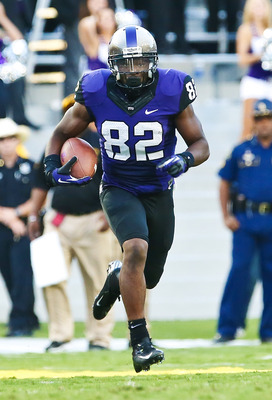 Josh Boyce
Kevin Jairaj-US PRESSWIRE
It will be interesting to see how TCU fares without QB Casey Pachall for the rest of the season.
The Horned Frogs are currently 5-1, but they have to face a brutal schedule in the second half of the season, which includes matchups with Texas Tech, Oklahoma State, West Virginia, Kansas State, Texas and Oklahoma.
If TCU can somehow finish 9-3, that would be a major achievement. But the more likely scenario would see them finish 8-4.
If that happens, the Horned Frogs could still end up in one of the Big 12's better bowl games, such as the Buffalo Wild Wings Bowl.
No. 22. Boise State Broncos: Poinsettia Bowl
Chris Petersen
Brian Losness-US PRESSWIRE
Boise State is considered to be the consensus favorite to win the Mountain West right now. However, the Broncos may ultimately end up falling to a very underrated 6-1 Nevada team in the season finale.
If the Broncos finish second in the conference behind the Wolf Pack, that means that they'll likely be headed to the Poinsettia Bowl, where they lost to TCU back in 2008.
Since they won't be in the BCS bowl conversation, it seems almost inconsequential where Boise State ends up this year. The real focus should be on next season, when the team will be competing in the Big East.
No. 21. Cincinnati Bearcats: Belk Bowl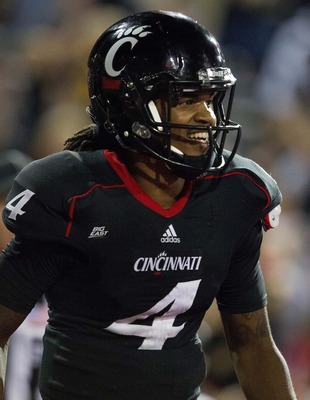 Munchie Legaux
Rob Leifheit-US PRESSWIRE
Louisville and Rutgers appear to be the top two teams in the Big East this season. But considering that Cincinnati is now 5-0, you have to count the Bearcats as legitimate conference contenders as well at this point.
They definitely have a shot to win the league title. However, if the Bearcats end up coming up short and finishing behind the Cardinals and the Scarlet Knights, they'll most likely end up getting an invitation to the Belk Bowl, which is given out to the Big East's third-place finisher.
No. 20 Stanford Cardinal: Holiday Bowl
Stepfan Taylor
Mark J. Rebilas-US PRESSWIRE
Stanford still theoretically controls its own destiny in the Pac-12 North. But in order to get to the conference championship game, the Cardinal would have to beat Oregon State, Oregon and UCLA in consecutive weeks at the end of the season.
If they lose one or two of those final three games, and Oregon and USC both make BCS bowls, Stanford will probably end up in one of the Pac-12's top non-BCS bowl games, most likely the Holiday Bowl.
No. 19 Clemson Tigers: Chick-Fil-a Bowl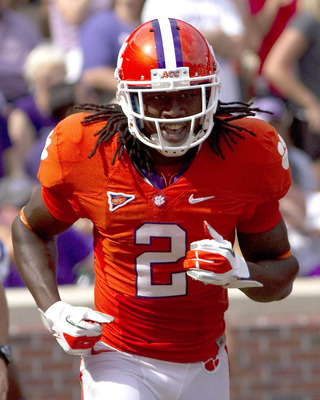 Sammy Watkins
Joshua S. Kelly-US PRESSWIRE
Clemson's going to need a team to knock off Florida State in order for the Tigers to end up back in the ACC Championship Game for a second straight season.
That could certainly still happen. However, if the Tigers don't end up winning the ACC, but still finish with a better record than Virginia Tech, they'll likely end up getting the conference's top spot in a non-BCS bowl game, which is the Chick-fil-A Bowl.
No. 18 Texas A&M Aggies: Music City Bowl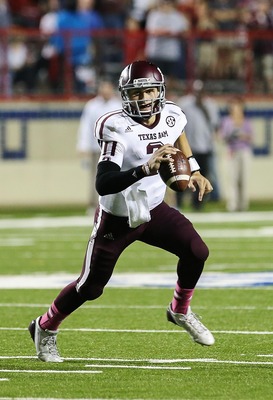 Johnny Manziel
Kevin Jairaj-US PRESSWIRE
Texas A&M has been one of the most exciting teams in the country due to the play of explosive dual-threat freshman QB Johnny Manziel.
The problem is, we don't really know how good the Aggies are just yet, considering the only ranked team they've beaten was Louisiana Tech in a game they barely survived, 59-57.
With tough upcoming matchups against SEC West foes such as LSU, Mississippi State and Alabama on the horizon, it's likely that the Aggies will finish with at least three losses.
If Texas A&M finishes with a 9-3 or an 8-4 record, the Aggies will likely end up in one of the SEC's lower-tier bowl games, most likely the Music City Bowl.
No. 17 Texas Tech Red Raiders: Alamo Bowl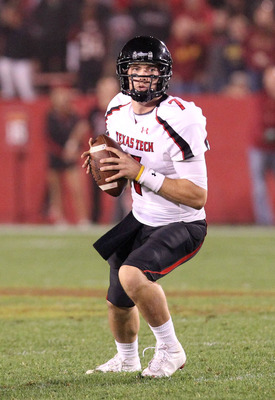 Seth Doege
Reese Strickland-US PRESSWIRE
Texas Tech rebounded from a blowout loss to Oklahoma in Week 6 in a big way, as the Red Raiders destroyed West Virginia, 49-14, on Saturday.
The win moved Tommy Tuberville's team to 5-1, but it still remains to be seen if the boys from Lubbock can actually contend for a Big 12 title this year.
The upcoming schedule includes plenty of tough matchups with the likes of TCU, Kansas State, Texas, Oklahoma State and Baylor.
Ultimately, the Red Raiders will likely win eight or nine games and end up playing in the Alamo Bowl in San Antonio.
No. 16 Louisville Cardinals: Russell Athletic Bowl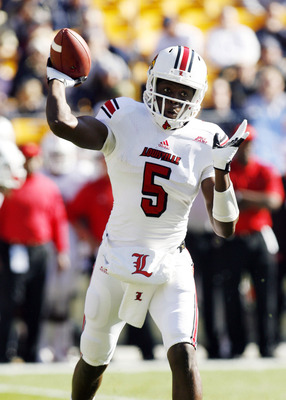 Teddy Bridgewater
Charles LeClaire-US PRESSWIRE
Louisville hasn't exactly gone out and dominated the competition so far this season, especially on the road. However, the bottom line is the Cardinals are now 6-0, and they've got a great shot to win the Big East this season.
Judging from the way things look now, it seems like the conference race will likely come down to a crucial showdown with Rutgers on the final Thursday of the season.
If the Cardinals lose that game, they'll end up filling the Big East's slot in the Russell Athletic Bowl down in Orlando.
No. 15 Rutgers Scarlet Knights: Orange Bowl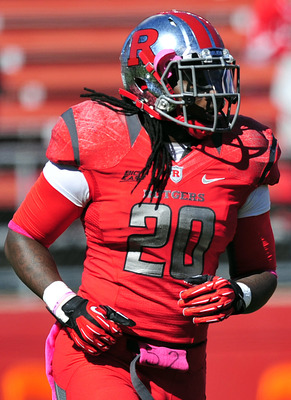 Khaseem Greene
Joe Camporeale-US PRESSWIRE
Rutgers has never made it to a BCS bowl game before, but it looks like the Scarlet Knights have a great opportunity to end that drought this season.
Kyle Flood's squad has sprinted out to a 6-0 start, and the Knights have already picked up three critical conference victories.
The Rutgers defense, which is led by Big East Defensive Player of the Year favorite Khaseem Greene, is one of the most stout units in the country.
The Knights will get a run for their money from both Louisville and Cincinnati. But if they can ride their defense to a conference championship, they'll end up down in Miami Gardens for the Orange Bowl.
No. 14 Florida State Seminoles: Orange Bowl
EJ Manuel
Melina Vastola-US PRESSWIRE
Florida State may have been knocked out of the national championship race with a shocking loss to N.C. State in Week 6, but the Seminoles still look like they're the team to beat in the ACC.
They've already gotten by Clemson, which means that they're on track to win the Atlantic division and make it to the conference championship game, where they'll likely end up playing Virginia Tech.
If Florida State takes care of business against the Hokies, the Seminoles will most likely get an Orange Bowl invite, as that's where the last seven ACC champions have played.
No. 13 West Virginia Mountaineers: Cotton Bowl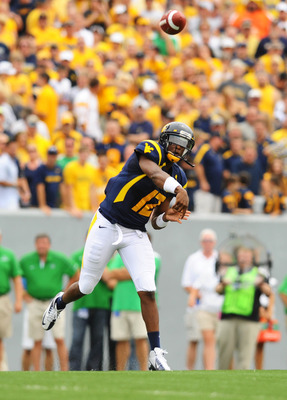 Geno Smith
James Lang-US PRESSWIRE
Even though West Virginia just got blown out by Texas Tech, the Mountaineers definitely still have a chance to win the Big 12.
In order to that, however, they'll have to beat two teams—Kansas State and Oklahoma—that are currently ranked in the top 10.
If West Virginia loses one or both of those games, they won't win a conference championship, and they won't make it into a BCS bowl game.
Still, even if they finish 9-3, QB Geno Smith and the rest of the Mountaineers will still likely end up in a quality bowl, most likely the Cotton Bowl.
No. 12 Mississippi State Bulldogs: Gator Bowl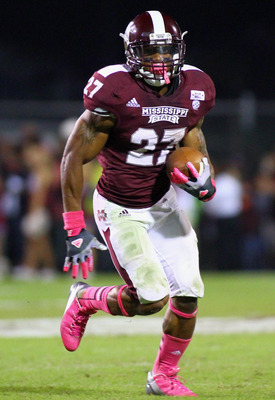 LaDarius Perkins
Spruce Derden-US PRESSWIRE
Mississippi State has had an impressive 6-0 start to the season. However, you have to remember that the Bulldogs' schedule is back-loaded with a grueling four-game stretch that includes games against Alabama, Texas A&M, LSU and Arkansas.
The team would be lucky to finish with a 10-2 record, but it seems that 9-3 would be a more reasonable goal.
If the Bulldogs do indeed finish 9-3, they would likely be headed back to the Gator Bowl in Jacksonville, which is where they actually ended up at the end of the 2010 season.
No. 11 Georgia Bulldogs: Chick-Fil-a Bowl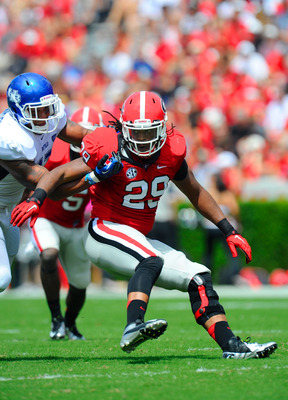 Jarvis Jones
Dale Zanine-US PRESSWIRE
Georgia is still alive in the SEC East race, but that loss to South Carolina in Week 6 has now pushed them down to third in the division pecking order.
If the Bulldogs lose to rival Florida down in Jacksonville in Week 9, but still manage to finish with a 10-2 record, they should end up getting an invitation to the respectable Chick-fil-A Bowl.
No. 10 USC Trojans: Rose Bowl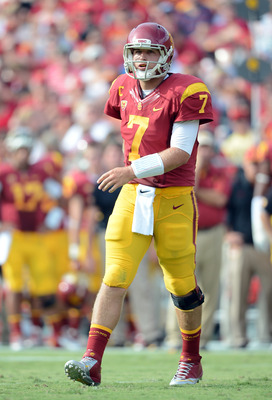 Matt Barkley
Harry How/Getty Images
USC has to have a lot of things break right in order for the Trojans to get back into the national championship conversation.
Still, if the team goes on to win the Pac-12 South and finishes in the top 14 of the BCS rankings, they could still end up in the Rose Bowl if Oregon makes it to the BCS championship.
Even if they finish with a 10-3 record, the Rose Bowl would certainly love to have the Trojans, who always drew a big crowd and put on a good show the five times they ended up in Pasadena during the Pete Carroll era.
No. 9 Oklahoma Sooners: Sugar Bowl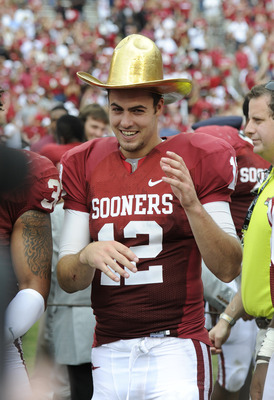 Landry Jones
Matthew Emmons-US PRESSWIRE
Oklahoma's loss at home to Kansas State in Week 4 certainly doesn't look as bad as many originally made it out to be now that the Wildcats have moved into the top five of national rankings.
The Sooners have managed to rebound after that disappointing defeat. In the last two weeks, they've really started to heat up, as they combined to score 104 points on Texas and Texas Tech.
Even if Oklahoma isn't able to overtake Kansas State in the Big 12 race, the Sooners still have a great chance to end up getting a BCS at-large invitation to play in a game like the Sugar Bowl.
No. 8 Oregon State Beavers: Alamo Bowl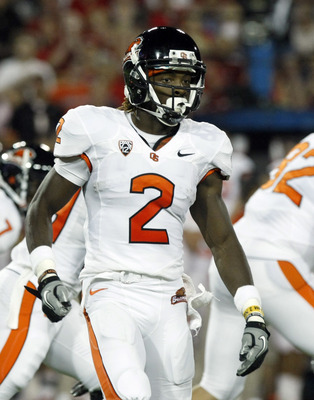 Markus Wheaton
Rick Scuteri-US PRESSWIRE
Oregon State has done a terrific job of putting last year's disappointing 3-9 campaign in the rear-view mirror, as the Beavers have come out and won their first five games this season.
Unfortunately, the team recently lost budding star sophomore signal-caller Sean Mannion to a knee injury. Obviously, that isn't good news, considering that the Beavers have upcoming matchups against tough Pac-12 opponents Utah, Washington, Arizona State, Stanford, Cal and Oregon.
Oregon State will likely drop at least two of those games without Mannion. But the team should still be able to finish with at least a 9-3 record and end up in one of the Pac-12's better non-BCS bowls, most likely the Alamo Bowl.
No. 7 South Carolina Gamecocks: Cotton Bowl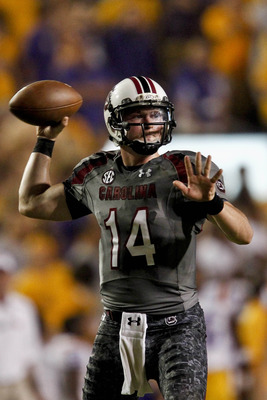 Connor Shaw
Derick E. Hingle-US PRESSWIRE
Even after Saturday's loss at LSU, South Carolina still controls its destiny in the SEC East. However, the Gamecocks will have another tough road test against Florida in Week 8.
If the Gamecocks lose to the Gators, that would put Florida in the driver's seat in the East division.
Still, if South Carolina can rebound and finish 10-2, Steve Spurrier's squad would likely end up in one of the better non-BCS bowl games, such as the Cotton Bowl on Jan. 4.
No. 6 LSU Tigers: Capital One Bowl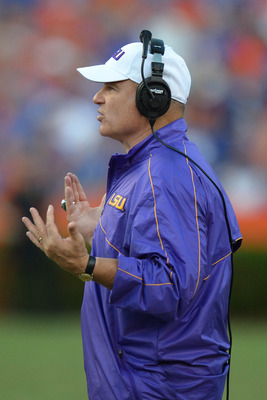 Les Miles
Jake Roth-US PRESSWIRE
Even though LSU already has a loss on its resume, the Tigers are still very much alive in the national championship hunt.
Of course, the key game on their schedule is the Nov. 3 matchup with No. 1 Alabama.
If LSU loses that game, not only will the Tigers not win the SEC West, they likely won't make it into a BCS bowl game.
If Les Miles' squad doesn't get an at-large BCS bid but still finishes with a 10-2 record, LSU would likely play in the Capital One Bowl in Orlando on New Year's Day.
No. 5 Notre Dame Fighting Irish: Fiesta Bowl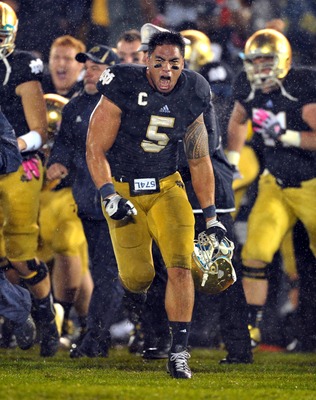 Manti Te'o
Matt Cashore-US PRESSWIRE
It sure did take a while, but it finally looks as if Notre Dame is once again one of college football's elite.
The Irish have ridden a dominant defense, led by emerging star pass-rusher Stephon Tuitt and All-American-caliber linebacker Manti Te'o, to a 6-0 start to the 2012 season. The team already has big wins over Michigan State, Michigan and Stanford.
If Brian Kelly's squad can beat BYU, Oklahoma, Pitt and USC in the coming weeks, Notre Dame would likely end up in the BCS Championship Game. If they slip up once, however, the Irish would still have done enough to end up in a BCS bowl, most likely the Fiesta Bowl.
No. 4 Kansas State Wildcats: Fiesta Bowl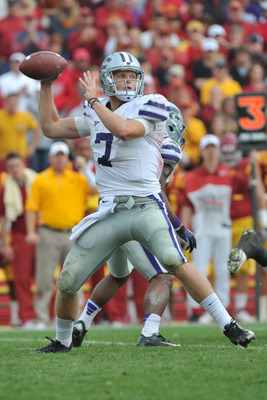 Collin Klein
Peter G. Aiken-US PRESSWIRE
Not many media outlets picked Kansas State to win the Big 12 this year, but it doesn't seem like QB Collin Klein, RB John Hubert, LB Arthur Brown and the rest of the Wildcats really care.
Klein, Hubert and Brown have been three of the best players in not just the conference, they've been three of the best players in the country at the halfway mark of the season.
If the three veteran playmakers continue to play at their current level, Bill Snyder has a chance to add a second Big 12 championship trophy to his office.
If the Wildcats do end up winning a league title this season, they'll find themselves out in Arizona, playing in the Fiesta Bowl in early January.
No. 3 Florida Gators: Sugar Bowl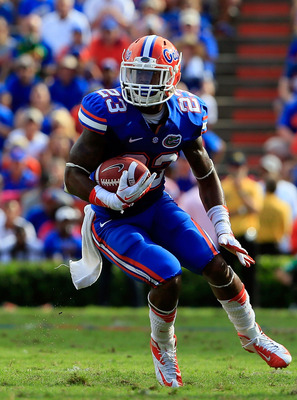 Mike Gillislee
Sam Greenwood/Getty Images
Will Muschamp had to endure a rough inaugural season in Gainesville last year. But Muschamp is showing this year why he's one of the best young head coaches in college football.
Florida has started the season 6-0 and the SEC East looks ripe for the Gators' taking.
If the team can find a way to survive back-to-back games against division foes South Carolina and Georgia, and if the Gators beat Florida State in the season finale, they'll go into the SEC championship with an undefeated record.
Even if they lose to a team like Alabama in the Georgia Dome, the Gators should still be able to make it into the Sugar Bowl if they finish 12-1.
No. 2 Oregon Ducks: BCS Championship Game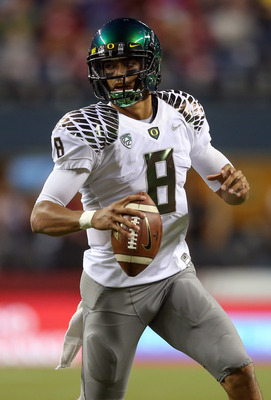 Marcus Mariota
Otto Greule Jr/Getty Images
Oregon had to replace QB Darron Thomas and RB LaMichael James, who had helped guide the Ducks to a Rose Bowl victory last season. However, Chip Kelly has plugged in some equally explosive pieces into his dangerous spread offense, and the unit hasn't missed a beat.
The talented backfield trio of QB Marcus Mariota and running backs Kenjon Barner and De'Anthony Thomas has the Ducks currently averaging 52 points per game.
The only team left on Oregon's schedule that looks capable of knocking off the Ducks is USC.
Still, this team has the offensive firepower to get by the Trojans, run the table, and make it back to its second BCS Championship Game in the last three years.
No. 1. Alabama Crimson Tide: BCS Championship Game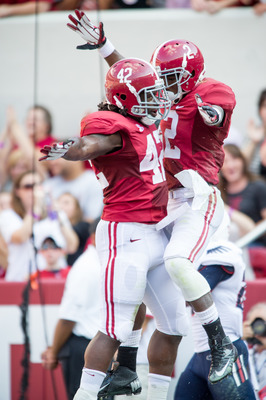 Eddie Lacy
Michael Chang/Getty Images
No school has ever won back-to-back national championships during the BCS era, but it looks like Alabama has a great chance to be the first.
The No. 1-ranked Tide are not only the most talented team in all of college football, it's also the best prepared and most well-coached squad in the country as well.
QB AJ McCarron, RB Eddie Lacy and the best offensive line in college football, led by Barrett Jones and Chance Warmack, have the 'Bama offense running smoothly and efficiently.
The defense, which had to replace some key veteran leaders, has gotten some big contributions from LB C.J. Mosley, NT Jesse Williams, CB Dee Milliner and safety Robert Lester, who have all stepped up in a big way.
The road back to the big game certainly isn't an easy one, especially with key matchups against Mississippi State, LSU and Texas A&M coming up. But Nick Saban will certainly have the Tide ready for the tough challenges ahead.
Keep Reading