Spain vs. France: 5 Matchups to Watch in the Upcoming World Cup Qualifier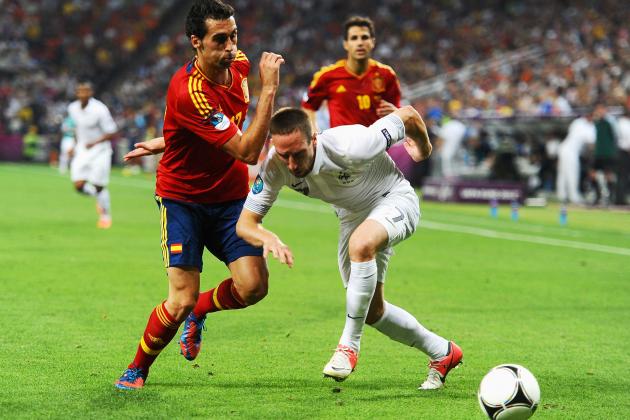 Laurence Griffiths/Getty Images
Franck Ribery and France look to upset top-ranked Spain in World Cup qualifying.
France and Spain have gotten off to strong starts in the FIFA 2014 World Cup qualifying so far. Both teams are 2-0 heading into their head-to-head matchup on Oct. 16. This contest features some great matchups of some of the world's greatest players.
Spain kicked WC qualifying off with a 1-0 win over Georgia, followed by an impressive 4-0 shutout of Belarus. Few expected Spain to stumble in qualifying, especially since they are the top-ranked country in the FIFA rankings.
Things do get more difficult for Spain, however, as they host 13th-ranked France. France started on a similar pace with a 1-0 win over Finland and a 3-1 win over Belarus.
Injuries have plagued France early, which won't make things any easier against the defending world champions. With Abou Diaby, Rio Mavuba and suspended defender Mapou Yanga-Mbiwa all out for the match, there are some significant matchups to watch come Oct. 16.
Begin Slideshow

»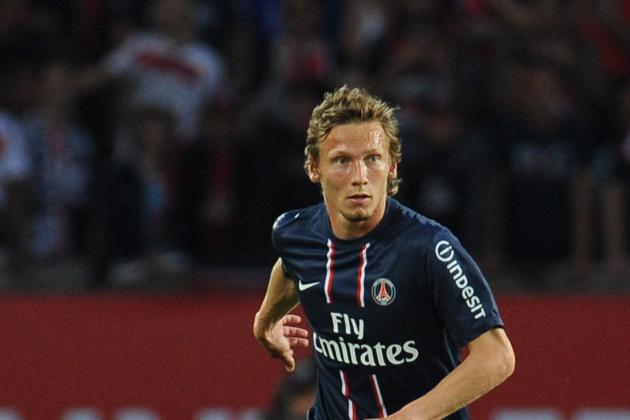 Valerio Pennicino/Getty Images
Clement Chantome will have his hands full against a deep Spanish midfield.
Joining the French squad due to an injury to Lassandra Diarra, Clement Chantome will fill in at midfield against one of the most talented midfields in the world.
Spain counter with a deep list of talented midfielders, showcased by Xavi, Andres Iniesta and Xabi Alonso. Spain haven't allowed a goal in their first two matches and will look to extend that streak against France.
Chantome is a hard-working midfielder with solid ball-winning abilities. He will need to put those skills to good use against Spain.
The 25-year-old doesn't have a lot of international experience, but matches against the best in the world can provide that in a hurry.
"It felt odd when I was told that I had to join (my compatriots) at Clairefontaine," he said (via ESPN.com). "I am very happy to join up with the France team. I feel pride at achieving this goal. This is a result in the hope that it is only a step, because the goal is to get back at the top level."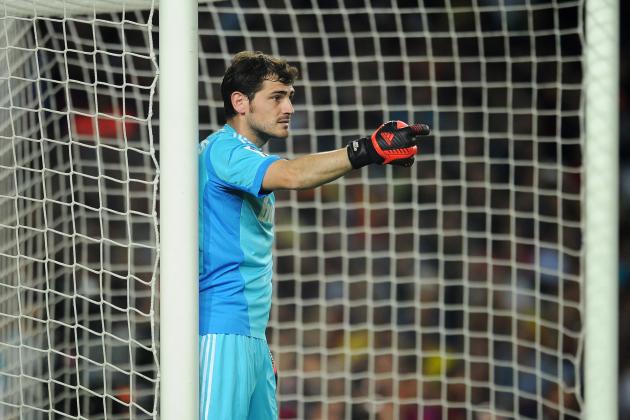 Jasper Juinen/Getty Images
Iker Casillas may be one of the best keepers in the World.
Iker Casillas is undefeated in World Cup qualifying. In 28 career appearances, he has 21 wins and seven draws, giving up just 11 goals in that time.
France have a talented front, but it is very young and inexperienced. Of the four goal scorers so far for France, only one (Franck Ribery) has previous experience in WC qualifying matches.
Karim Benzema is another French goal scorer who should draw the attention of Casillas. Benzema hasn't found the back of the net in two WC qualifying matches this year.
The Spanish keeper is working on six straight shutouts. The last time Casillas conceded a goal in WC competition was back in the first stage of 2010, in a 2-1 win over Chile.
It's a tall task to get a ball past Casillas, but obviously France will need to do it if they want to pull off an upset.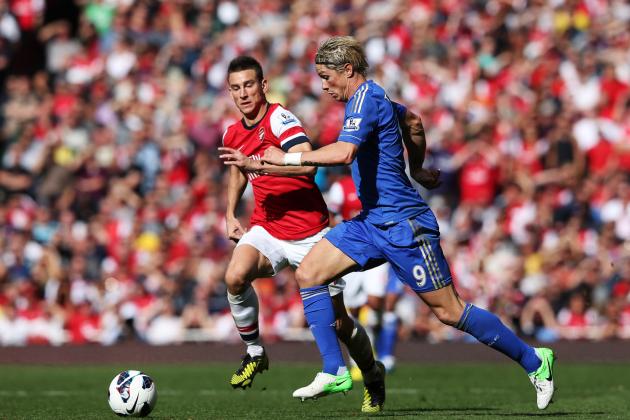 Richard Heathcote/Getty Images
Fernando Torres leads a potent Spanish attack against France's talented defense.
Fernando Torres and David Villa have 15 combined goals in WC qualifying matches—Villa has the slight edge, with eight of the goals.
But it's been Pedro who has led Spain in scoring, with three goals in two matches. The 25-year-old is playing in his first WC qualifying and taking advantage. He recorded a hat trick against Belarus, adding another threat to an already talented Spanish attack.
The strength of the French is their defense. They will have their hands full against Spain. With Mapou Yanga-Mbiwa and Patrice Evra patrolling the defense, pressure will be crucial.
It's strength against strength in this matchup. The best performers in this match will give their team a solid shot at a win.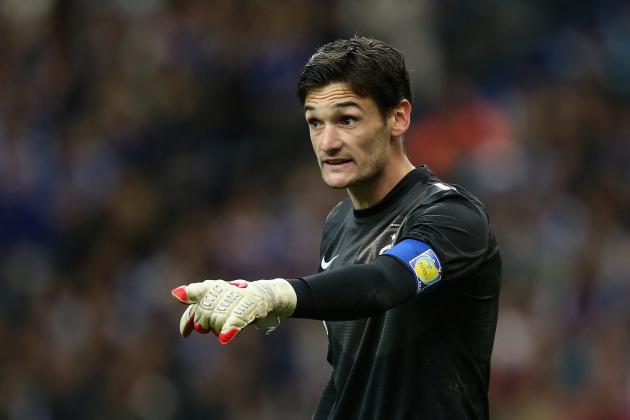 Julian Finney/Getty Images
Undefeated so far, Hugo Lloris looks to keep that going against Spain.
Keeping eyes on Spain's attack, once they get behind the French defense, it will be up to a talented goaltending duo in Hugo Lloris and Steve Mandanda.
Mandanda is 4-2-1 in seven WC qualifying matches, but hasn't appeared this season. Lloris is undefeated with a 5-3-0 mark in his eight WC qualifying matches.
Neither goalkeeper has faced Spain, but they both have significant international experience. Both have had their share of shutouts and are very capable keepers.
It won't be an easy task to keep Spain off the board, but the French do have some momentum. They will need to overcome injuries to the back line and get some timely saves in order to be successful against Spain.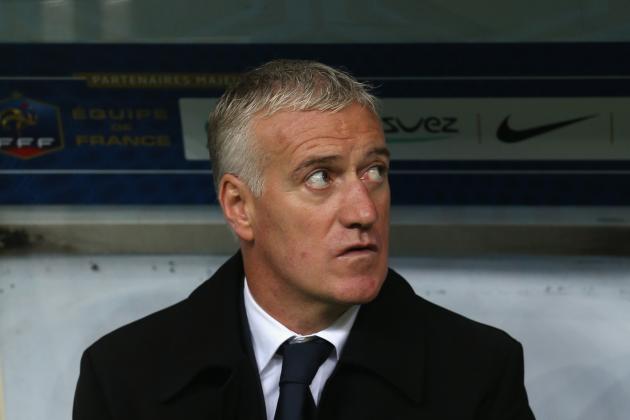 Julian Finney/Getty Images
Didier Deschamps looks for his first marquee win as head of the French National Team.
Often lost in the shuffle of such a talented match up is the battle that wages between the coaches. With top-ranked Spain and 13th-ranked France, there is no shortage of talent.
That puts pressure on the respective managers to put the right pieces in the right place at the right times. Didier Deschamps and Vicente del Bosque aren't strangers to important games.
Deschamps went 82-41-41 as manager of Marseille. He is near his 200th career win; a win over Spain gets him one step closer. This is his first go-round as head of the French National Team—a win over Spain would be a big spark for his team and his career.
Across the pitch, Del Bosque has been in charge of Spain's National Team since 2008. Del Bosque has won nearly 90 percent of his matches at the helm of Spain. With his team of defending World Cup Champions, Del Bosque looks to stay undefeated in qualifying matches this season.
As much as battling is done on the pitch, there should be just as much on the sidelines between these two managers. Their decisions could have a significant impact on this highly anticipated match.