Steelers vs. Titans: Pittsburgh's Biggest Winners & Losers from NFL Week 6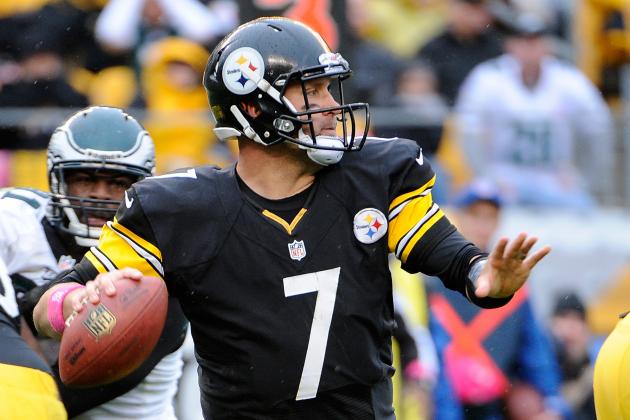 Joe Sargent/Getty Images

On Thursday Night Football, the Pittsburgh Steelers lost to the Tennessee Titans by a score of 26-23. The game was a rough one for the Steelers, with a ton of injuries and some good and very bad performances. It certainly wasn't pretty.
Here's a look at the Steelers' winners and losers from Week 6 action.
Begin Slideshow

»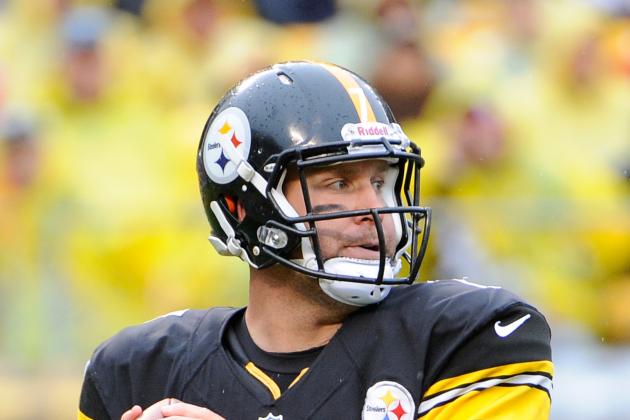 Joe Sargent/Getty Images

Once again, the Steelers wasted a great offensive game by their quarterback and his receivers. Roethlisberger gets the big win tonight for setting a record for most passing yards by a Pittsburgh quarterback.
Eclipsing Terry Bradshaw is huge in this town and something that everyone has expected from Roethlisberger after he started his career with quite a bang.
In the game itself, Roethlisberger was good but not great. He did plenty to put this team in position to win, but the running game and the defense let him down. He threw his second interception. That alone is wonderful because it took so long, but it put the Steelers behind further at the half.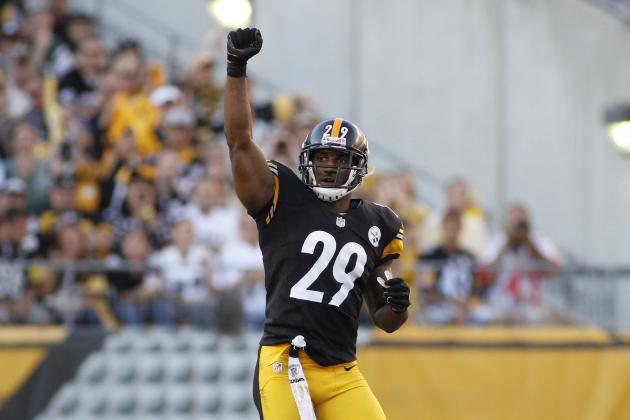 Justin K. Aller/Getty Images

This has been a season to forget for the defense. Ryan Mundy has been a huge part of the failures for Pittsburgh's secondary. Tonight, he was so bad that even the coaches couldn't bear to see it anymore.
It's very telling that Robert Golden dressed for this game finally. He was terrible too on special teams, but the Steelers compounded that by starting Will Allen in Troy Polamalu's spot. That's a clear slight to Mundy, who's been useless defensively this season.
When Allen was hurt, Mundy was back in the game and quickly made a few bad plays that helped the Titans get the momentum and get the Steelers further behind. It was so bad that the Steelers put Allen back in with a stinger instead of watching more from Mundy.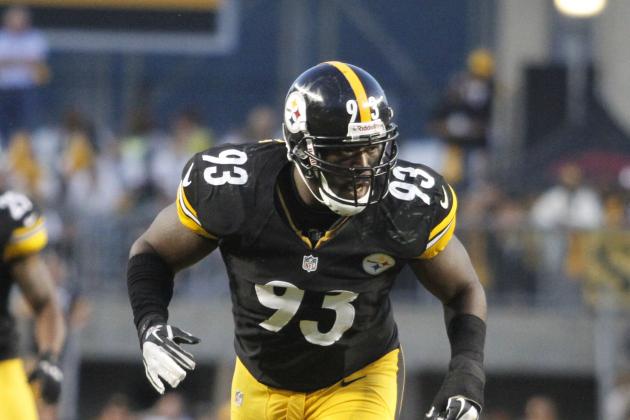 Justin K. Aller/Getty Images

Substituting for the injured LaMarr Woodley, Worilds was one of the only bright spots for this Pittsburgh defense. He recorded his third sack of the season and generated pressure more often than we've seen out of the Pittsburgh backups.
Worilds' play this week and last week brings up the question about earlier this year when the Steelers suffered through Chris Carter in James Harrison's spot. With the lack of pressure in those games, it's a good question as to whether or not Worilds could have made a difference.
The defense was poor tonight, but Worilds should be commended for some excellent play.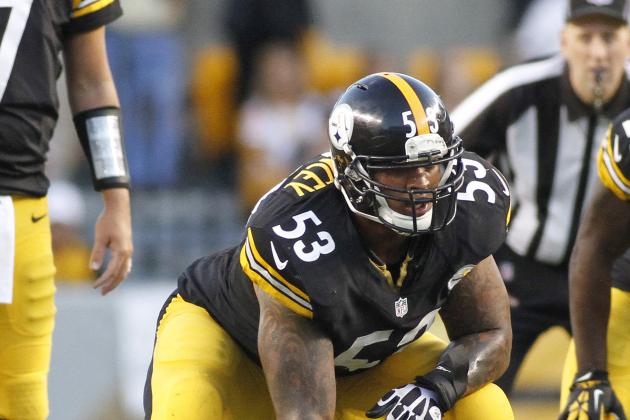 Justin K. Aller/Getty Images

Maurkice Pouncey came into the year finally looking healed and healthy after two straight seasons ended with high ankle sprains. That all came crashing down tonight as Pouncey was one of many Steelers who had to be taken out of the game hurt.
The Steelers desperately need a healthy offensive line and haven't yet played this season with a fully healthy unit. Pouncey is the key to the group because he's the best of the five. Doug Legursky is a fringe backup at best, although he's better as a center than at any other spot.
Pouncey's injury could have massive effects if he must miss time. The Steelers are already weak on the interior and cannot afford to get any worse, particularly in run-blocking. They were awful there tonight after Pouncey's injury.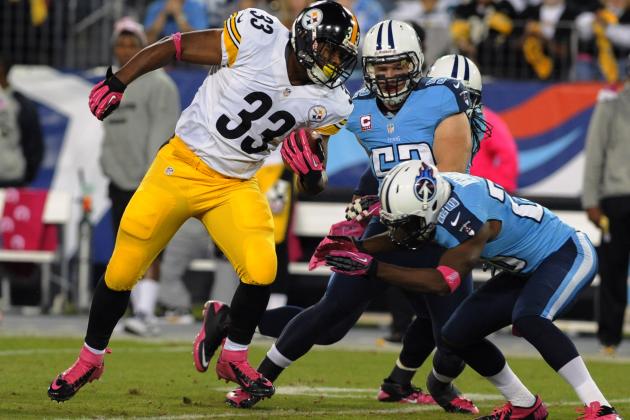 Al Messerschmidt/Getty Images

Before an untimely injury knocked him out of action, Redman was having an excellent receiving game and was finding some limited success on the ground.
It's rare with this combination of receivers to see a runner lead the team in receiving yards, but Redman led the Steelers with four catches for 105 yards. That's pretty impressive, but doesn't even tell the whole story.
Redman was elusive during this game and made Titans defenders miss a lot of tackles after he'd caught the ball. He had two huge pass plays that set up his night and both were things of beauty.
The Steelers will have to hope that he's not hurt too badly. They really need him healthy if they're going to turn this awful season around.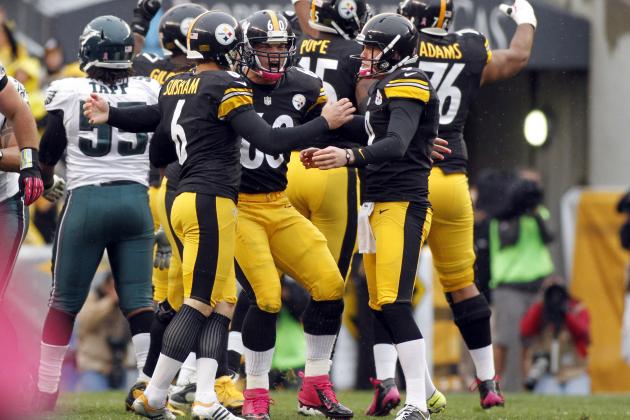 Justin K. Aller/Getty Images

The special teams stink. When has that ever not been true in Pittsburgh?
The tally tonight is pretty ugly. I won't include an ill-advised long field-goal attempt to win the game. Mike Tomlin's coaching in this game was awful and he deserves a big F for the way he handled things. But that wasn't the only miss by the specialists.
Drew Butler, who's done an excellent job this year on punts, had one blocked after the middle of the line disintegrated immediately after the snap.
The kick coverage units were awful and continually allowed the Titans to get big returns on kickoffs. The Titans made several ill-advised decisions to take a ball deep out of the end zone and they looked good every time as they skipped past Pittsburgh tacklers.
Robert Golden made his first appearance and was awful on special teams with two bad penalties. This is another unit that needs to figure it out or there will need to be coaching changes.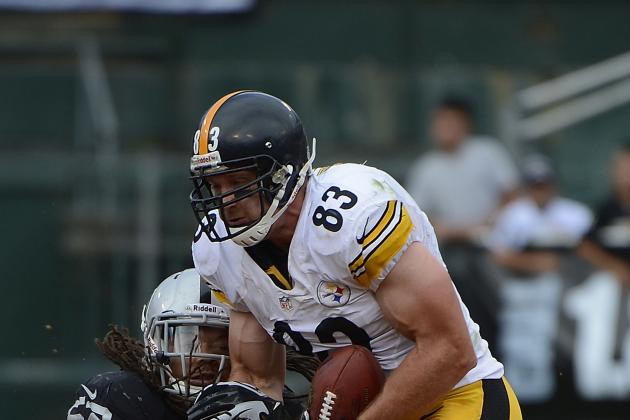 Thearon W. Henderson/Getty Images

Miller had a nice night for the Steelers and bailed the offense out continually on broken plays and third downs. Miller had a team-high six catches for 67 yards in this game. It was more of the same for a player who is going to start entering Pro Bowl conversations very soon.
Miller also had the honor of catching the pass that broke the passing record for Ben Roethlisberger. He also had a little record movement of his own when he moved into third place on the team's all-time receptions list. That's pretty elite company for a tight end and proves just how valuable he has been to Pittsburgh.
Miller has been revitalized in Todd Haley's offense and is the big reason the offense has been so dangerous and has become the best in the league at converting on third down.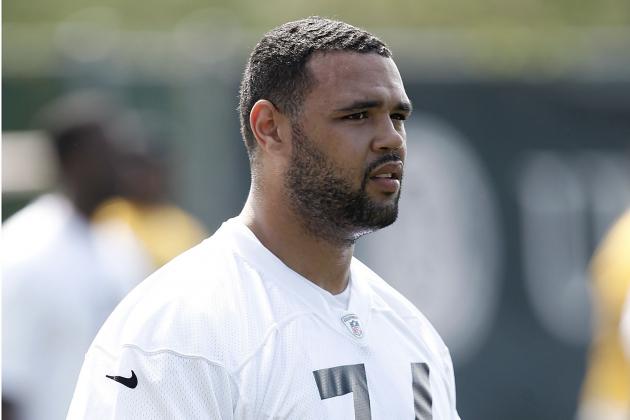 Jared Wickerham/Getty Images

Every time Mike Adams finds his way onto the football field, I cringe a little bit for Ben Roethlisberger's health. Adams is completely unprepared to play tackle at the professional level and it continues to show.
He was marginal in run-blocking tonight but continually was a turnstile for the Steelers in pass-blocking. The scary thing is that tonight's play is an improvement over his injury substitution during the Denver game. Until Adams gets some things figured out, he's going to struggle.
The technique is sloppy, the execution is poor and the effort isn't there. He is coming along much more slowly than the team hoped and he is a huge disappointment.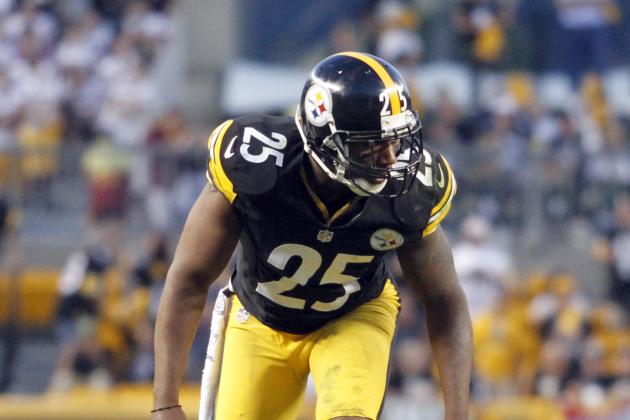 Justin K. Aller/Getty Images

There's the Pittsburgh secondary that couldn't stop people from running out of an old folks home and then there is Ryan Clark. In a lost season for the defense, Clark has been consistently good. He's playing within the rules, too, and helping this team win.
He nearly came away with an interception, which might have helped Pittsburgh get into the win column, and he made play after play while the rest of the secondary seemed to take the night off.
I'll excuse Cortez Allen from that for a couple of good plays, but Ike Taylor, Keenan Lewis and the strong safeties were awful.
Clark is covering more ground than ever and looks much younger than a guy who's actually in his early 30s. It's very impressive and hopefully this is the season where Clark gets some consideration for a Pro Bowl bid.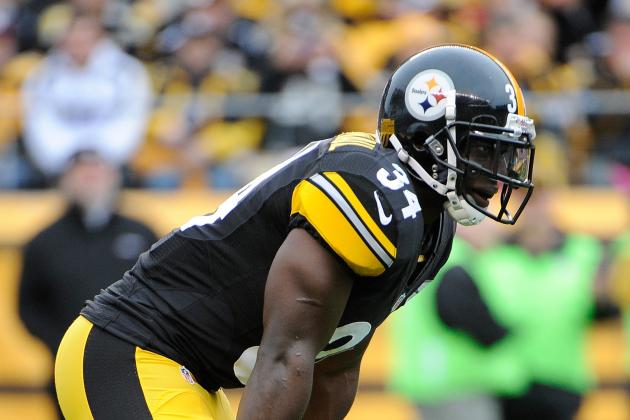 Joe Sargent/Getty Images

Mendenhall had such a successful week last time out against the Eagles and was a big reason why the Steelers won that game. Unfortunately, the Steelers couldn't improve upon that this week. Mendenhall didn't look right from the beginning and then disappeared.
He's nursing an Achilles injury now that hopefully isn't serious. Of all the team's backs, Mendenhall is uniquely capable of playing behind a bad line. He can cut back and create an entirely different look, and he must be defended differently. If he's out for any length of time, it's bad news for Pittsburgh.
Mendenhall is also suffering as he plays to prove he's healthy and ready for a big contract. At this point, he hasn't earned it and won't unless he can stay on the field longer than a game at a time.