Minnesota Vikings' Most Disappointing Players Through 5 Games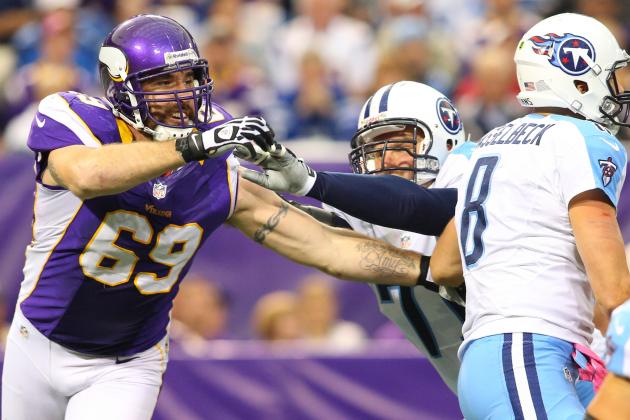 Adam Bettcher/Getty Images

Before anyone gets too bent out of shape with that headline, let me clarify: The Minnesota Vikings have achieved above and beyond anyone's wildest dreams so far in 2012.
At 4-1 and atop the NFC North, the Vikings appear to be so far ahead of schedule that talking about what's been disappointing so far is almost comically negative. The Vikings' front office and coaching staff insisted this summer that the team was not in rebuilding mode, that they just needed an offseason to incorporate the new players into the system.
All those who watch the team closely just rolled their eyes and hoped for the best.
Five weeks in to the new season and our eyes have stopped rolling.
Every year in the NFL there are a couple of teams who nobody saw coming, who get on a roll and end up being far better than anyone had predicted. It's a momentum league—just last year, the New York Giants got into the playoffs on the last day of the season and then steamrolled their way to the Super Bowl.
Any disappointment anyone has toward any Viking right now is just nit-picking. All units are playing well and the momentum ball is getting bigger and bigger in the purple's favor.
Having said all that, allow us to do our "Skip Bayless ripping LeBron James" imitation and mention a few players who could step up their game in order for the Vikings to stay on their successful course.
Begin Slideshow

»
Hannah Foslien/Getty Images

Is John Carlson becoming the Vikings; version of Tsuyoshi Nishioka?
For the uninitiated, Nishioka was the shiny new free agent toy the Minnesota Twins dropped $10 million on two years ago, who, it turned out couldn't hit, field or throw very well.
He did have pretty good hair, but in the end, the Twins decided that wasn't enough and recently cut ties with him.
Carlson is getting beat up a bit for being a no-show so far in his Vikings career. Minnesota signed him to a five-year, $25 million deal this offseason in the hopes that he would pair up with his fellow former Notre Dame buddy Kyle Rudolph to give the Vikings a two-headed monster at tight end.
It was no secret to anyone that Carlson was damaged goods when the Vikings signed him; he missed all of last year with a torn labrum and then hobbled through training camp with a couple of nagging injuries.
He's been healthy for a month now, but he still hasn't shown anything.
What the Vikings saw in Carlson was a 6'5", 250-pound athletic kid who's proven he can play in the league. Carlson was very productive his first two seasons in Seattle, catching over 50 passes both years, averaging over 10 yards per catch and scoring 12 touchdowns.
In 2012, Carlson has 2 catches for 1 yard. I wasn't a math major, but that projects to about 7 catches for 3.5 yards on the season, give or take a few inches.
All joking aside, the Vikings were obviously hoping for more bang for their buck when they signed Carlson. He's been given limited opportunities, but he's now put him self in a situation where he needs to earn his chances.
Rookie fullback/tight end Rhett Ellison did just that against the Titans, making two catches for 35 yards.
It's a long season and we have to believe that Carlson will be called on at some point, we just hope that his skills haven't atrophied to an unusable point by then.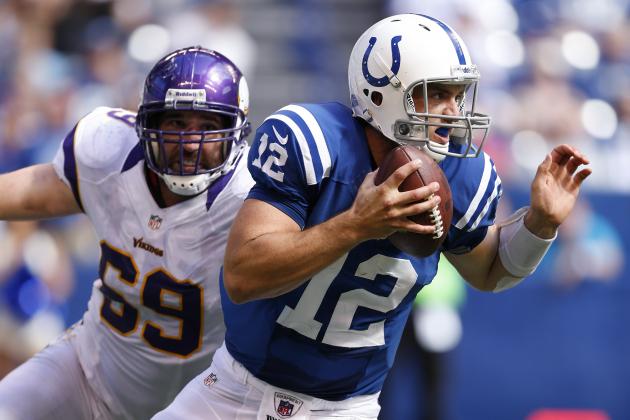 Joe Robbins/Getty Images

Ok, we told you we were going to be nit-picking here.
I'll couch the following by saying that Allen has played pretty well so far this year, it just hasn't translated into stats. And Jared Allen would be the first one to tell you that when your team is winning, who cares about stats?
We'll get the numbers out of the way first: Allen has just two sacks and 11 tackles in the season's first five games.
Are those numbers anyone would have expected out of Allen this far into the season?
Absolutely not.
Does winning trump those numbers?
Absolutely.
Anyone who follows the Vikings knows that Allen's contributions can't be measured solely by the stat line. Allen is the team's motor. He's the emotional compass that the rest of team rallies around.
The numbers might not be what he would like them to be, but Allen is certainly being productive. He's getting double-teamed, which is leaving holes for the likes of Jasper Brinkley and Chad Greenway. He's pressuring quarterbacks, giving the back end a shorter coverage window.
Allen is the type of player who ultimately measures his season by wins and losses, so he has to be happy with things so far. We'd all love to see him get more sacks and more tackles—and surely we will—but for now, just being a key cog in a defense that's playing great football will have to do.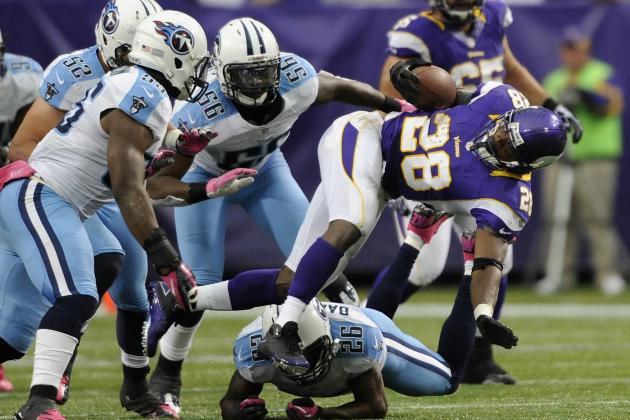 Hannah Foslien/Getty Images

Those who've watched Adrian Peterson his entire career know that he's the best running back in the NFL.
No other current back has Peterson's combination of speed, power, agility and grit that's made him the best in the game since his first day in the league.
The most often heard refrain from Vikings fans about Peterson has always been something like this, "Imagine if he ever had anywhere to go!"
Without crunching the numbers, it seems that of Peterson's 96 attempts rushing this year, he's been hit at or near the line of scrimmage on at least half of them.
The Vikings are doubly lucky in that in Peterson and Percy Harvin they have two of the very best runners in the league after initial contact. Unfortunately for Peterson, most of that initial contact comes from defensive lineman and middle linebackers.
The Vikings' offensive line is playing infinitely better than it did last season and it continues to gel as the season moves along. What we need to see from the line (and from the coaching staff) isn't more opportunities for Peterson, but better opportunities.
You can see Peterson's confidence and determination growing each game as he comes back from reconstructive surgery on his left knee. He's been very close to popping several long runs and it seems like just a matter of time until he does.
What we'd like to see is more running room for Peterson at the point of attack. Too many times, he's getting hit just a moment after taking a handoff from Ponder.
The line is getting better each game, they need to continue to do so.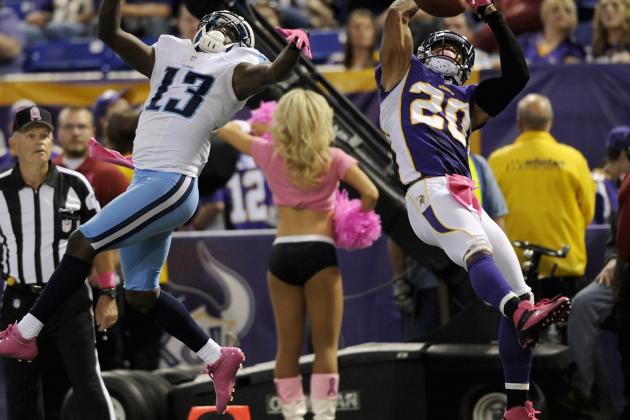 Hannah Foslien/Getty Images

The Vikings' secondary in 2011 was historically bad.
What a difference a year can make, huh?
Is asking for more interceptions absurdly greedy when talking about a group that couldn't cover the Williams Wall in 2011? Perhaps, but it's their own fault—the 4-1 start has us getting greedy.
Antoine Winfield and Harrison Smith have led a resurgence in the Vikings secondary that makes them unrecognizable from last year. Those two along with Chris Cook, Josh Robinson, Jamarca Sanford and Mistral Raymond have all put their best foot forward so far in 2012, and that group might be reason number one why the Vikings have turned things around so quickly.
So here's the deal: in order for the 2012 season to continue to be an unmitigated success, the defense is going to have to get more takeaways.
Over the history of the NFL, it's almost always the teams that lead the way in turnover ratio that find success.
The athleticism is obviously there. Josh Robinson has the speed to stay with anybody in the league. Chris Cook has turned a couple of frustrating years in his favor by using what he's learned to become a very good cover corner. Smith and fellow rookie Robert Blanton are both great athletes who make up for their lack of blazing speed with smarts that can't be taught.
Five games in and the Vikings only have two interceptions. That has to change.
Call me greedy.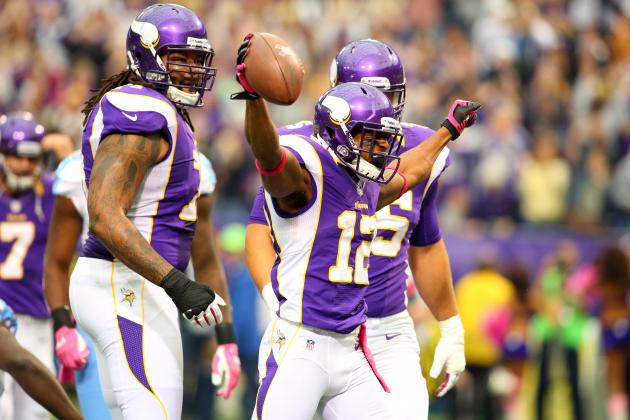 Adam Bettcher/Getty Images

Seriously, that's all I've got right now. The 180 degree turn this team has made is nothing short of remarkable.
Not only are they winning ball games, but they're playing smart, efficient football that lends itself to continued winning. Sure, there have been some rookie mistakes and some questionable play calling, but there's never been a football team that didn't have that.
Christian Ponder hasn't had a huge game yet. Adrian Peterson hasn't really broken out yet. Jared Allen has two sacks in five games. Our two big free agent signings to help the receiving corps have barely shown their faces so far.
And yet, here we are, 4-1 and on top of the division.
The Vikings are 4-1 because they are playing as a team on both sides of the ball. The offensive and defensive lines are playing much better than last season and the secondary is a hundred times better.
Things will turn for the worse at some point. They're bound to. When they do, it will be important that they stick together as a team and stay disciplined.
Back each other up. Pick each other up.
And keep feeding Percy Harvin.