Toronto Raptors: 5 Reasons Bryan Colangelo Has Built a Contending Team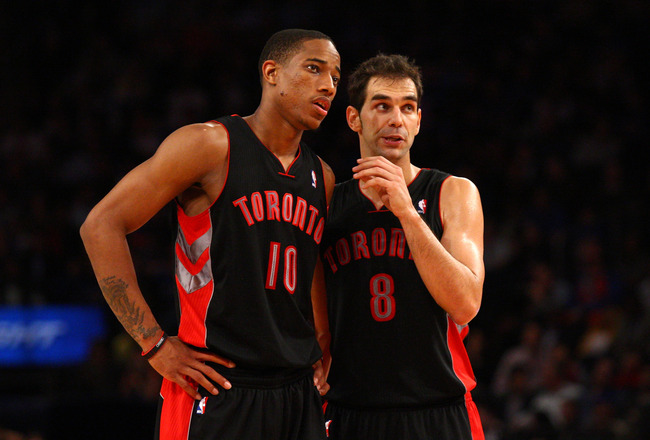 Chris Chambers/Getty Images
The Toronto Raptors, over the years, have been a disappointing team in the NBA. However, Raptors general manager Bryan Colangelo has finally built a contender. It took a while, but it finally looks like the Raptors are going to be a contender for years to come.
It has took a couple of trades, a lot of draft picks and a lot of patience, but the Raptors are ready to compete for a playoff spot.
It's not going to be easy. After all, the Atlantic Division improved a lot in the offseason. It's not a lock that they will make the playoffs this year, but Colangelo has put the Raptors in a position to at least challenge for a playoff spot this season.
Things will only get better as the years go on.
Depth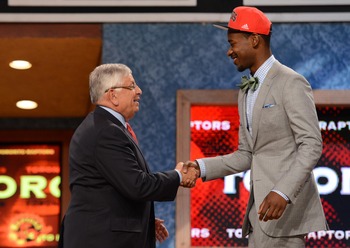 Jerry Lai-US PRESSWIRE
The Toronto Raptors don't have a superstar. Their starting five doesn't have a huge name in it. What the Raptors have is depth. While it's not the best in the league, it's nowhere near the worst.
The Raptors have a good mix of veterans and young players that are ready to take the floor when they need to. Players like Jamaal Magloire, Ed Davis and 2012 first-round pick Terrence Ross all have the potential to help the Raptors, and they all should this season.
Colangelo also went out and added John Lucas III to go along with players like Alan Anderson, Aaron Gray and Linas Kleiza.
In a long season, depth can be a determining factor of who makes it to the playoffs and who doesn't. The Raptors hope their depth is good enough to be one of the teams that makes it.
Patience with Prospects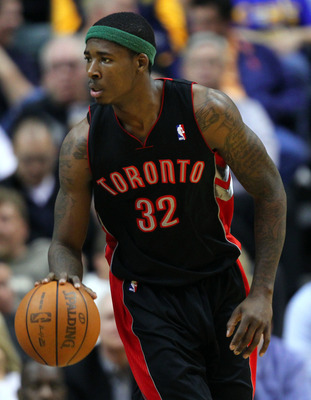 Michael Hickey-US PRESSWIRE
There is no doubt that the Toronto Raptors are a young team. There are eight players currently on the Raptors roster that were born in 1987 or later. That means eight players are 25 or younger. While that usually isn't conducive for a contending team, the Raptors hope that their youth can overachieve.
In the past, when the Raptors had much higher draft picks, prospects had big expectations heaped upon them. Chris Bosh did fine. Others, not so much.
Recently, the Raptors' draft picks have been high, but not high enough to to get some of the best prospects in the class. As a result, the team has taken players that take a few years to reach their full potential. Players like DeMar DeRozan and Ed Davis have yet to reach that full potential, and this year, fans are hopeful for a breakout season for both of them.
Not Many Rash Moves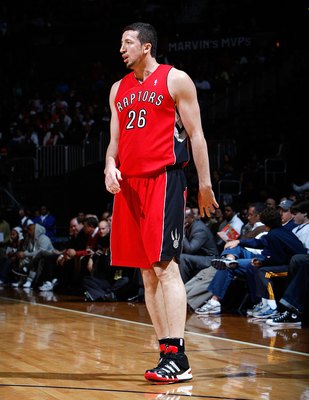 Kevin C. Cox/Getty Images
There's no way that it can be said that Bryan Colangelo hasn't made any bad moves. Anyone whose seen Jermaine O'Neal and Hedo Turkoglu in a Toronto Raptors uniform can attest to this.
While those moves didn't exactly bring the Raptors success, they didn`t bring doom to the Raptors either. Luckily, Colangelo hasn't made any moves that have seriously hurt the Raptors' development as a contending team.
Veteran Leadership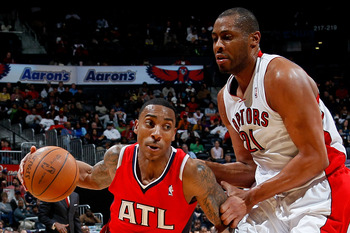 Kevin C. Cox/Getty Images
While most of the Toronto Raptors' veteran leadership is provided by Jamaal Magloire, the Raptors have the veterans to lead the young players on their team. Alongside Magloire, the Raptors have Jose Calderon, John Lucas III and Alan Anderson.
If the Raptors' young players are going to develop correctly, veterans are going to need to teach them the ways of the game.
Kyle Lowry
Jayne Kamin-Oncea-US PRESSWIRE
Kyle Lowry is being profiled specifically because of what he can bring to the Toronto Raptors' lineup.
Not since the days of Jerome Williams have the Raptors had a player like Lowry. Lowry plays the same type of game as Williams, and he could be the player that fans get behind the most in this new era of Raptors basketball.
The thing is, with Williams as the hard-working, blue-collar player on the roster, the Raptors were successful and made the playoffs regularly. If Lowry can have that same type of effect in Toronto, then there are good things ahead.
Keep Reading

Toronto Raptors: Like this team?