St. Louis Cardinals vs. Atlanta Braves: Team Grades Following NL Wild Card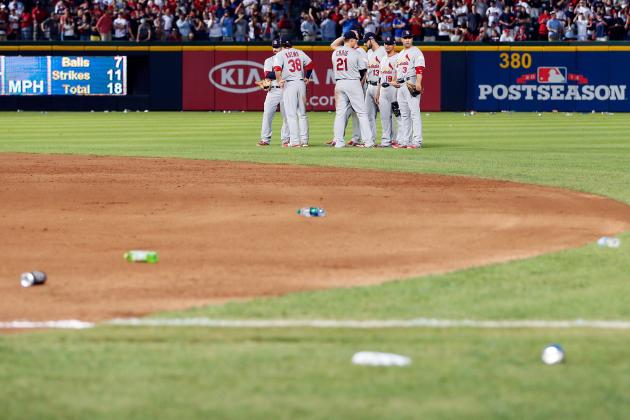 Kevin C. Cox/Getty Images

The St. Louis Cardinals earned a date with the Washington Nationals tonight after they defeated the Braves 6-3 in Atlanta.
They now will host the Nationals Sunday afternoon at Busch Stadium at 3:00 p.m. Eastern time.
In a game that will be best known for an absolutely botched infield fly call, the Cardinals took full advantage of Atlanta's mistakes to advance.
Here is a quick breakdown of how both teams fared in the first-ever Wild Card playoff game in Major League Baseball history.
Begin Slideshow

»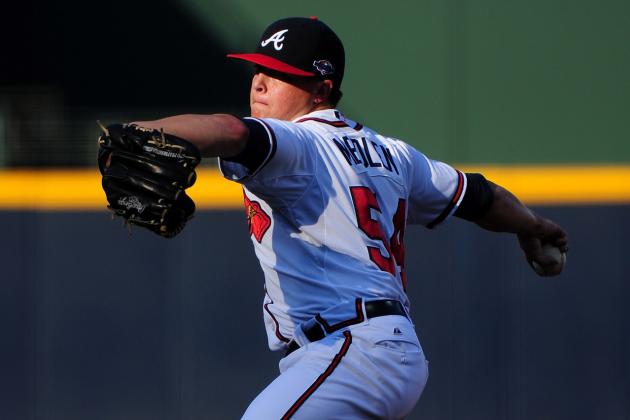 Scott Cunningham/Getty Images

A solid outing for Kyle Lohse for the Cardinals.
Lohse scattered six hits and allowed just two runs, working two outs into the sixth inning. He threw 57 of his 81 pitches for strikes and got stronger as the game moved along.
After a bad second inning where he could not get Braves hitters to chase pitches out of the strike zone. Lohse settled down after allowing David Ross' two-run homer and gave his team a good chance to win.
That is all you can ask in a do-or-die game.
Kyle Lohse: A-
Kris Medlen's starting debut in the postseason was a very good one.
He came out throwing strikes and had to work around a costly Chipper Jones throwing error that turned an around-the-horn double play into a three-run fourth inning.
Medlen only put on four runners on base with his arm through six and a third innings, throwing 59 of his 92 pitches for strikes. Scattering three hits and a Matt Holliday plunking in the elbow, Medlen struck out four, scattering three hits and a Matt Holiday plunking in the elbow, and allowed just two earned runs out of the five that were charged to him.
Kris Medlen: A-
Lance Lynn retired the only batter he faced to close out the sixth. Edward Mujica could not survive the seventh after a triple and a two-out single to Michael Bourn. Marc Rzepczynski retired Chipper Jones on two pitches after Jason Heyward blooped a single over short.
Mitchell Boggs was wild, but got incredibly lucky after that very bad infield fly rule call to give St. Louis the second out.
Jason Motte, after the delay, was brought in to get the last four outs.
A wild last out of the eighth inning after that lengthy trash delay saw him walk Brian McCann, but he rebounded with a strikeout. Motte found his tempo in the ninth for the first couple outs, but Chipper's infield single kept the game alive.
Cardinals Bullpen: B
Chad Durbin faced one batter for Atlanta, but couldn't retire him on a grounder to short. as Andrelton Simmons threw away the throw to home.
Jonny Venters recorded the final out of the seventh, but allowed his inherited runner on third to score.
Eric O'Flaherty worked around a base runner in the eighth, inducing a double play.
Craig Kimbrel retired the Cardinals in short order in the ninth.
They were not stoppers, but they had their hands tied with bad defense.
Braves Bullpen: C+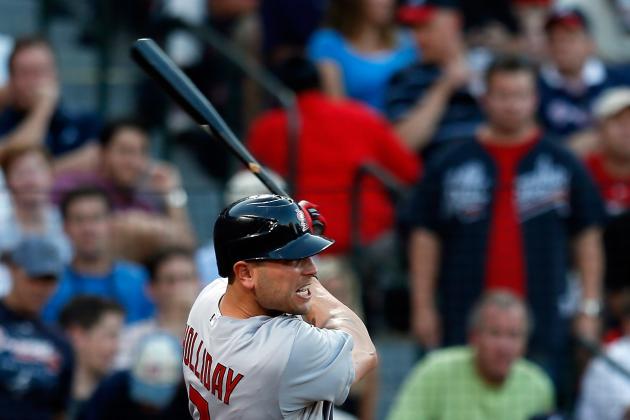 Kevin C. Cox/Getty Images

Cardinal hitters took better advantage of fewer chances early to put five runs up off of Kris Medlen and another run off the Braves bullpen.
They stranded just two of the 10 runners they put on.
They did not draw any walks, but they certainly were more patient at the plate starting with Medlen's second time through the lineup. They got the big boost with Matt Holiday's two-run homer in the fourth.
Cardinals Hitters: B
Atlanta's hitters showed more patience with Lohse and the pen, drawing 12 hits. They could only score three runs and stranded 12 runners in their 6-3 loss.
Dan Ross had the big two-run homer, but that was the only hit of the night with runners in scoring position as the Braves went one-for-eight tonight in that department.
They had their chances, but they just could not deliver.
Braves Hitters: D+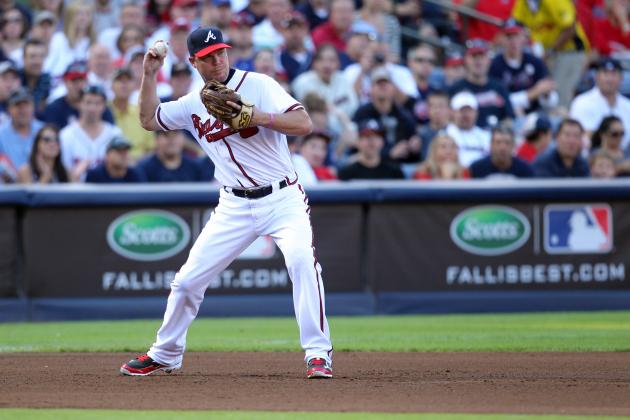 Daniel Shirey-US PRESSWIRE

Boy, did the Braves defense let them down.
Three errors allowed two unearned runs to score, including the big blow on a botched throw to the plate by the shortstop in the top of the seventh.
Fredi Gonzalez, who always seems to be under fire for something, made some questionable tactical calls as well. He called for a safety squeeze in the fourth trailing 3-2 after successfully surprising the Cardinals with an infield bunt hit by Dan Ross the batter before.
Gonzalez should get some credit for starting Ross for struggling catcher Brian McCann as Ross' two-run home run in the second gave Atlanta a 2-0 lead early.
Defense: F
Coaching: C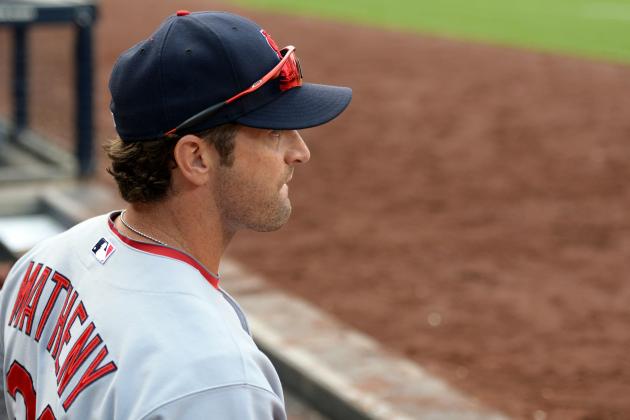 Jake Roth-US PRESSWIRE

Mike Matheny's playoff debut went about as smoothly as you could expect.
He pressed the right buttons with his pitching changes, had extra bench players to pinch-run and hit as he needed and trusted his closer, Jason Motte, to get the last four outs after his bullpen was not quite as sharp as he would have hoped for.
The Cardinals only stranded two runners on base tonight, and Matheny and his defense did not hurt the team. The more you do not notice defense or managers in a game, the better.
Coaching: A
Defense: B+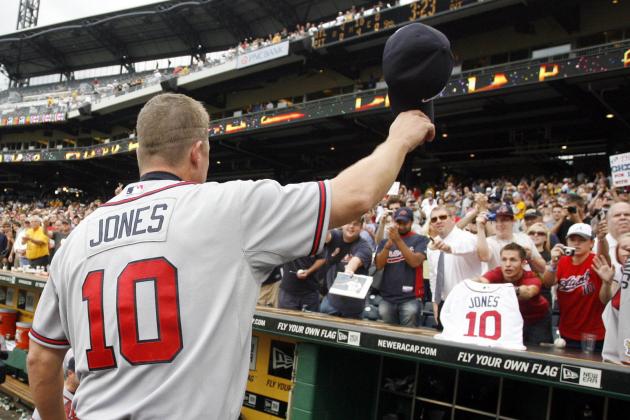 Charles LeClaire-US PRESSWIRE

This game will forever be remembered by an absolutely horrible umpiring call and a 20-minute delay for fans throwing garbage on the field.
For the teams themselves this was a cut-and-dried playoff game.
St. Louis was better in all aspects of the game, and the Braves squandered a very good start from Kris Medlen, who gave them every chance to pull ahead and win.
The Cardinals executed well and did what they needed to win.
Final Grade: A
The Braves could not string anything together at the plate and played very sloppy defense which cost them this game.
Final Grade: D
To blow one of the most important calls of the year, the umpires deserve an F and the fans do as well for such boorish behaviour. They had every right to be upset, but they could have forced the Braves to forfeit after throwing those bottles all over the place.