20 Sports Movie Moments That Will Make You Cry
Image via wavyflight.com
They say that life imitates art. Well, sometimes art can imitate life just as much. At least that's how we'd like to describe some of the sports movies we've seen, because they're some of the sappiest flicks out there.
While you sit there watching Rudy for the millionth time with a roomful of Notre Dame fans, it's not even worth the effort of holding back those tears. After all, just like in real life, no matter if your team wins or loses, we bet you'll be shedding some saline.
So instead of watching your typical dude flick, full of explosions and great heists, pick up a box of tissues, grab a bottle of wine and post up in front of your computer to see which sports flicks have your heart, for better or worse.
Don't worry, thousands of sports fans share the same sentiment.
Begin Slideshow

»
While this scene lacks the full drama that shows why you might be crying—and it's not exactly the first movie you think of to tear up over —the scene in the locker room (NSFW) where the team comes together and turns on their head coach Bud Kilmer (Jon Voight) is pretty good stuff.
Maybe not tear-worthy, but inspiring nonetheless.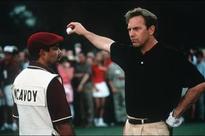 If you have a heart, you just feel for the guy.
Instead of playing it safe, dude listens to his gut, and goes for the win. The entire tourney is pulling for him, and he comes trough. Props to the writers for not sticking to the usual loser-to-winner script, even though the final shot does happen to go in the cup.
Not even a genetically engineered Russian machine like Ivan Drago could prep for the old school training methods of Rocky. When you see the outcome of the fight (we won't spoil it for you), it's easy to see why the good guy won.
This flick single-handedly was the reason so many kids wanted to be a karate kid for Halloween. You can't tell us that you don't think of this finishing move any time you even try to balance on one foot.
We had to sneak in to see this movie while in ninth grade, only remembering that a guy's eyeball pops out during a tackling scene. But when we went back and watched it again, we found out that we either heal as a team, or die as an individual. All it takes is that extra inch. Great stuff.
Bombay does it again. After promising Gaffney she'd "get her chance" when confronted about playing time, he inserts her to replace regular goalie Goldberg to face the tournament's leading scorer.
When it pays off, the Ducks rule the junior hockey world.
Technically a documentary, but let's be honest, it's about sports, so it makes the cut. An open depiction of what struggle is like for inner city kids, it hits a nerve when William Gates says, "If I don't make it to the NBA, don't forget about me."
On every level, that speaks volumes to those who chase their dreams, but end up failing.
The entire movie shows how Billy Beane (Brad Pitt) is a tireless worker, who takes a loss in the third week of April as hard as a season-ending defeat in the World Series. So when he pops in that song of his daughter singing to him, and talks about how he's staying true to the small-market A's, the eyes get a little teary.
To be honest, we've never actually watched the entire movie all the way through. We'll pick it up in the middle, carry it out until the end, or start from the beginning, or fall asleep by the middle.
But the portrayal of Gehrig's speech is undeniable, so it makes our list.
Okay, so it isn't the sports that make you cry in this scene, but besides "Show me the Money!" it's by far the most infamous line. Sixteen-year-old boys bust out the line at every homecoming dance, so that has to account for something.
What happens when you mix the drama of George Knox (Danny Glover) confronting his over-the-hill, rundown starting pitcher Mel Clark (Tony Danza)? A bunch of extras waving their arms like angel wings, and the best diving catch ever seen by a pitcher to send the Angels to a pennant victory.
We just can't help it. Little G-Baby was the heart and soul of the inner-city Kekamba baseball team. When he gets shot accidentally in this gang-related shootout, well, it hits us pretty hard.
Before the world believed in miracles, team USA heard their coach inspire them. With that, history was born. Did we get too deep for you? Good. This was a win for 'Merica.
For anyone who loves baseball, this should be your favorite sports movie. It's about the little guy, who happens to get discovered with a divine talent, and makes it big time. It follows the traditional script, but if it works, don't fix it.
Even if you haven't seen this movie, if you're a sports fan, you know what the story is all about. Anytime a sports movie involves a small town joining forces with its high school team, and they win together, it's always a solid combo for tears.
How do you bring a team together? Talk about an unfortunate tragedy that relates the past with the current. When we watch this scene, we just listen, and let the tears fall off our face.
Every kid remembers tossing the ball in the backyard with their dad, so when Ray Kinsella (Kevin Costner) figures out that his dad happens to be one of the players that comes back to his cornfield baseball diamond, well, it brings back memories to everyone who's ever played little league.
Chilling. Even just watching this before adding it here, we got a little teary-eyed. The culmination of David beating Goliath and the birth of the "Minnesota Miracle Man" make for an emotional punch.
Who knew Disney would take this Cinderella story and turn it into a real NHL team?
We're overcome with emotions when imagining a packed college football stadium, with upwards of 100,000 fans, screaming Rudy's name. When he makes that sack, the tears finally flow. You just better hope you still have a couple tissues left for when his teammates carry him off the field.
We pinpointed this specific scene, because while watching the flick, it's the one that makes us cry like a schoolgirl the most. But after watching this video, highlighting all the inspirational parts, we can't help but be motivated to do something great.